SKINNY BEACH HOUSE: A LITTLE PIECE OF HEAVEN IN GALLE SRILANKA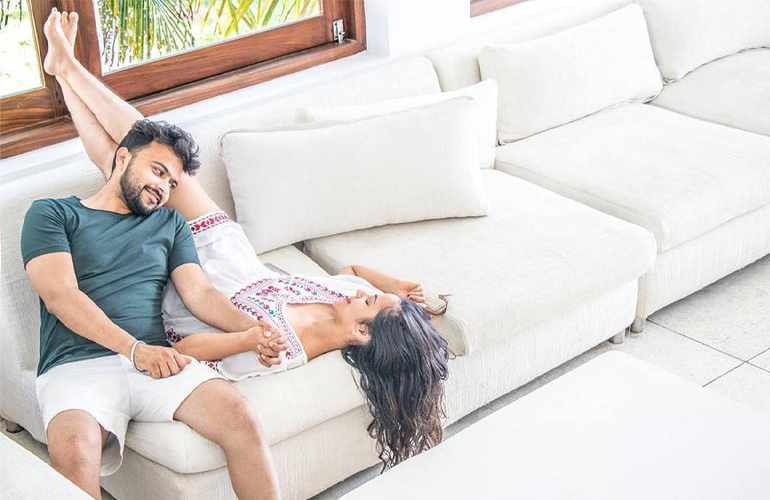 Lost in the childhood spirit,
Living the adulthood with happiness.
Rejuvenating at the skinny beach house
in the luxury suite,
Leisure time was a bliss, the gainful pursuit!
Not a mere resort,
It was a glamorous place-
we neither had to hurry nor catch any pace,
Adventurous snorkelling ,
Basking under the sun in the hammocks,
Pampering besides plunge pool
and the sumptuous food..
the stay at Skinny was super cool!
*****
It is widely believed that some memories are forever; they don't fade and can't be erased. And after visiting the Skinny Beach House in Southern Sri Lanka, I find myself thinking this to be true. For us, one of the best hotels in Galle. It is hard to imagine ever forgetting the spectacular experience of living in this cozy, beach house in Sri Lanka's quaint little Galle District. From the picturesque landscape to the languid luxury of villa-style living, everything was wonderfully dreamy. And this kind of perfection, you don't forget!
LOCATION
When we were first planning our stay in  Galle, what sealed the deal for us was its great location. Skinny is located on Sri Lanka's gorgeous palm-fringed, beach-lined vista. It is a stone's throw away from popular tourist destinations such as Galle Fort and the exotic township of Unawatuna, yet cloistered in a cocoon of nature's very best.
When we finally reached the beach house, I realized that we made the right choice. Skinny is close enough to the local attractions but secluded enough to allow you absolute privacy. The lovely decadence of direct beach access was the cherry on top. After all, seclusion and romantic ambience are of utmost importance for the two of us.
CLASSY INTERIORS WITH SPLASH OF TURQUOISE
Be not deceived that this is all that Skinny has to offer. Skinny is a sweet haven of contemporary stylistics and modern amenities. I particularly loved the elegant white and turquoise palette used to furnish the interiors.
Top-class fixtures and fittings made of local hardwood add to the minimalist décor. The property has two floors, perched atop a narrow, long plot of beach-facing real estate. Both floors are airy and spacious, allowing you to unwind in the wake of fresh, fragrant wafts of sea breeze.
The ground floor is a large, chic living room, replete with designer furniture which promises comfort and luxury. This room provides access to a private sundeck which is ideal for sunbathing, relaxing or even a romantic candlelit dinner.
You can access the white, sandy shore of the Dalawella Beach right from this deck and enjoy a lazy swim or exciting snorkeling experience, whichever you prefer. And if you do not want to go that far, you can always lounge beside the private plunge pool that is also on the property.
The ground floor is a space for recreation and relaxation. But what we liked more was the upper floor, with it cozy huge bedrooms and sizeable balcony. The view from the balcony is magnificent beyond words. We watched the sun rise and set above the teal-blue waters of the Indian Ocean every single day.Yes, that's how extraordinary that view is!
Even more remarkable that nature's delight is the painstaking effort gone into making Skinny a luxuriant abode. The beds in both bedrooms are large and comfy with micro-gel pillows and 400-thread count linens. The air-conditioning is wonderful, the closets nice and big, and the safe sturdy and well-sized. The master bedroom also had a fridge, which honestly, was quite a convenience. Though we were mostly using this room, the other made for a great place to keep our luggage, shopped goods and other vacation gear.
Other than the living spaces, the amenities were also rather brilliant which makes Skinny one of the best hotels in Galle Sri Lanka. The bathrooms are mosaic-tiled chambers with high ceilings and fancy fitments. A stock of organic toiletries and pristine, fluffy towels is also provided. Ah, I could shower under the warm spray of the oversized showerhead for hours!
Here's a vlog of our time spent at one of the best hotels in Galle – Skinny Beach House:
POOLSIDE DATES
Coming to the kitchen, it has all the regular appliances including a Nespresso coffee machine. We cooked several meals ourselves. But every now and then, when we wanted to eat some local delicacies, we simply asked the house manager to prepare a meal. You can request them to make both Sri Lankan and western food for you, and trust me, the food you get is going to be absolutely delicious.
Another thing we both loved about Skinny is that it offered high speed fiber line WiFi without any extra charge. This greatly added to the ease with which we stayed there since we often needed to check up on work related things and fast internet connectivity was easily accessible.
We also had the option for requesting to have a 5000 TV functional. However, we didn't feel the need to ask for it since we had much else to keep us occupied. And whenever we needed some in-house entertainment, the fancy Harman Kardon Aura Wireless Bluetooth Speaker system at our disposal was more than enough to keep us hooked.
Also every other day, we drove down to a nearby tourist hub such as the Unawatuna Beach or the Yatagala Raja Maha Viharaya and even the Japanese Peace Pagoda. So rest assured, we did not miss the TV though it's great that they have the option.
BE READY FOR A HEARTENING WELCOME
Warm welcome and excellent hospitality by our dear host ' Cecilia Jensen. She is the owner of this resort but is so down-to-earth and amicable. She welcomed us with so much love and affection, that it felt like home away from home! We are so glad that we chose this place for our stay! Absolutely contended. If you want to book your stay, you can contact these two directly.
All-in-all, staying at Skinny was a very special experience, and some of the credit definitely goes to the wonderful set-up they have here. If the ambience is so fabulous, the romance is naturally heightened, isn't it?
****
Do leave a comment to tell us if you agree that Skinny Beach House is a little piece of heaven? We'd definitely return for the love and warmth of our hosts and the peaceful setting of this gorgeous hotel in Galle.
Thanks to Cecilia and Sashika for allowing us to experience their gorgeous retreat, Skinny Beach House.