STRASBOURG CHRISTMAS MARKET – WHERE THE MAGIC BEGINS…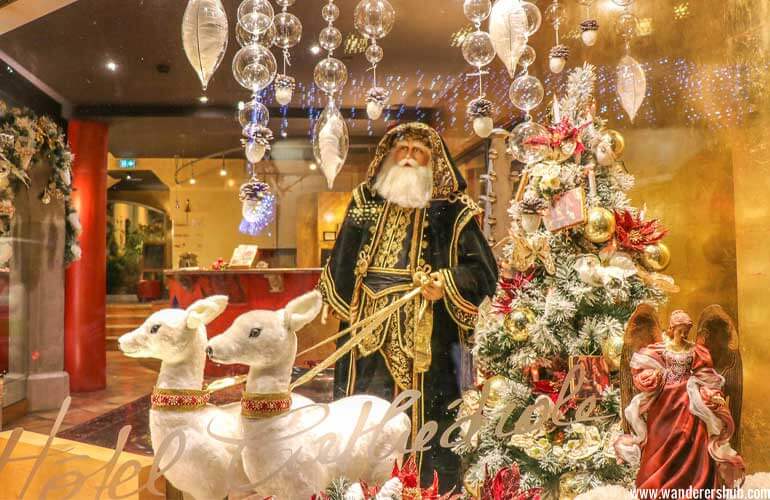 Strasbourg Christmas Market is a lavish affair that boasts of great mulled wine and best hot chocolate in the Alsace region of France. From Nativity scenes to ice skating, this extravagant market offers a little something to excite every wanderer. It is the birthplace of Christmas festivities and no wonder it draws around 2 million visitors every year. In fact it is one of our favorite Christmas Markets amongst all the others that we visited this year.
We would highly recommend each of you Christmas lover to definitely visit Strasbourg Christmas Market if you have an untiring stamina and a penchant for buying trinkets for the season's festivities. Make sure you plan your trip in advance, much like any other grand adventure, as this Christmas market can be exhilarating and at the same time quite difficult to navigate around too! That is because it is one of the biggest and most opulent Christmas markets in Europe. And oh! those picturesque lights and chandeliers. You'd be blown away the opulence of this another world for sure.
HERE WE SHARE 10 REASONS WHICH MAKE STRASBOURG CHRISTMAS MARKET OUR FAVORITE ONE.
THE ENTICING CHRISTKINDELSMÄRIK FESTIVITIES
Wish to experience a true Alsatian Christmas and be captivated by the enamoring aura during the festive time? Christkindelsmärik Strasbourg is where you need to be.
Every year Strasbourg Place Broglie – one of the main squares of the city hosts the biggest Christmas market in the world. It attracts millions of Christmas revelers who come looking for X'mas baubles, inspirational gifts and hot punch. You can spend hours scouring the shops for the shiniest tinsel or the perfect Christmas gifts for your loved ones. Just wander around 300 wooden chalets
This market is an ideal place to purchase wooden figurines, delicate porcelain, embroidered tablecloths, handmade toys, and other decorative items. Not just travelers but even locals love themselves a cup of hot wine and shopping with loved ones at Christkindelsmärik Strasbourg.
OTHER CHRISTMAS MARKETS
Watch the town come alive in the evening and transform into a glimmering sea of colours at all of Strasbourg's Christmas markets. Now Strasbourg hosts several other amazing markets besides Christkindelsmärik. And when the decorative lights turn on at the advent, it create an atmosphere that is just otherworldly.
At the Food Market of Alsace, you will find an array of stalls serving local treats like bredle, baguettes, maenele, mulled wine, and foie gras. Fresh farm produce of Alsace is up for grabs at the Place des Meuniers.
Merchants display a wide gamut of colorful knick-knacks near the Strasbourg Cathedral. The Children's World at Place Saint Thomas, the Place Benjamin-Zix, the Place d'Austerlitz, the Place du Temple-Neuf, and the Place du Marché-aux-Poissons, around the Palais Rohan are the other popular spots where you can find Christmas Markets as well.
THE UNBEATABLE SPIRIT OF CHRISTMAS
Strasbourg twinkles strikingly with a million fairy lights particularly when the dark skies are filled with countless stars. Shops in every street and square of Strasbourg are decked up with festive decor and sparkly ornaments. The air smells of sweet cinnamon – just loved it. Strasbourg showcases the best of French and German yuletide traditions. But the showstopper for us has to be the huge Christmas tree at the Kleber Square. It is the true and the highest decorated Christmas tree of Europe and what a beauty! Watch the magic unfurl and be a part of the traditions from bygone era.
PLACE GUTENBERG
Located opposite the Strasbourg Cathedral is Place Gutenberg. This square is named after the inventor of the modern printer – Johannes Gutenberg. Every year a guest country village is set up, like in 2018, Finland took the centrestage.  Finnish cultural heritage and culinary delights really took tourists by surprise. The traditional art and crafts from various regions of Finland were really fascinating. This market provides an interesting insight into the festive culture of Finland.
Place Gutenberg is also known for its legendary Blue Christmas tree. Don't forget to take a picture with the blue teddy.
PLACE KLÉBER
It wouldn't be wrong to call the Place Kléber as the beating heart of Strasbourg. It is the largest square in the city and was named after General Jean-Baptiste Kléber. Kléber was a local lad who became the central figure of French Revolutionary wars. His mortal remains lie under his statue in the square. It would make for the perfect starting point for your Christmas market experience. Even otherwise there is so much life to this square that there won't be a dull moment.
The Great Christmas Tree can be found right here which is about 30 meters high. At the strike of 5 PM, you can even see Christmas tree light up. There is also a tradition of leaving presents under this tree that are then gifted to the needy. With the nightfall, the gigantic tree awakens with the lights and music and entire area comes to life. Afterwards, you can visit the 18th-century Aubette Palace whose inner decor is said to be the "the Sistine Chapel of abstract art."
DAZZLING LIGHTS
The city of Strasbourg sparkles more brightly than the Milky way during the Christmas season. Rows of half-timbered houses with shimmering tinsel and lit facades whose reflections can be seen scintillating in the canals seem like a fairytale come true. Just taking a stroll along with your favorite people is the most magical way to spend your X'mas holidays.
The Capital of Christmas can take you on a journey full of surprises as each street is illuminated in its own special way. It is no less than a magical light show where everything from twinkling barrels to fireflies, chandeliers, and kilometers of fairy lights is put on display.
DIVINE GERMAN-FRENCH FUSION
The heavenly aroma of vin chaud, spices, hot chocolate, and baked goodies fill the lanes of Strasbourg. The 'Germanic' influence on the local cuisine is obvious. Stalls display neat rows of local delicacies like bretzels which are pretzels but the softer version, choucroute, gingerbread, roasted chestnuts, myriad varieties of sausages and pastries. Don't forget to try out traditional Alsatian cuisines and mulled wine. That would be indeed needed to keep you warm.
HISTORICAL ARCHITECTURE
The Strasbourg Cathedral is a Gothic marvel that held the record of being the world's tallest building for over two centuries. If the mesmerizing high ceilings fail to take your breath away then head over to the medieval astronomical clock in the corner. The stained glass windows and the sweet sound of the choir will remind you of the Notre Dame in Paris. Don't miss out on the panoramic view of the town from the bell tower of the cathedral and the nativity set up.
RICH HERITAGE
The Strasbourg Christmas market is backed by its four centuries of rich traditions. It has a distinct historical and cultural identity compared to the rest of France. Beyond the winding streets and charming canals decked up in festive fervor, is a world filled with rich history and travel experiences. You can also be a part of Saint-Nicolas parades, midnight masses, and Les Noëlies during November and December.
Within Strasbourg, the island of Grande Île is a UNESCO World Heritage Site. It contains Place Kléber, Strasbourg Cathedral, and la Petite France. La Petite France is a historical quarter that used to be the home of tanners, millers, and fishermen. A walk down this street is hard to resist and we really loved the magical shower of lights at this street.
MUSICAL CONCERTS
The French sure know how to herald the birth of baby Jesus. Advent musical concerts are held at various locations in Strasbourg. Soulful music, jazz, orchestras of various musical instruments bring to life the miracle that took place 2000 years ago. Witness a good musical concert going around and you'll remember it for a long time.
MORE INFORMATION
PLANNING:
This Christmas world sure has the power to leave you teary eyed. You wouldn't want to say Goodbye so soon like us. We had planned a day trip but ended up spending our night here. There's a lot that you can do in a day in Strasbourg. Well you can make out from our pictures taken in the dead of night. It took us good 5 hours to reach Strasbourg from Rothenburg which I think was well worth it. There is TGV operational from Paris which takes about 2 hours 20 minutes to reach Strasbourg making it all the more convenient for travelers. Strasbourg is definitely great for a day trip from Paris.
WHERE TO FIND THE CHRISTMAS MARKETS:
Strasbourg isn't all that a big city so one wouldn't expect a lot of hullabaloo initially but French think otherwise. There are a total 11 Christmas markets – all of which can be found in the city's centre. For your convenience, here I'll mention the names of all 11:
Place de la Cathédrale, Place Broglie, Place Kléber, Place du Château, Place Gutenberg , Place du Temple Neuf, Place des Meuniers, Place du Marché aux Poisson, Place Grimmeissen, Place Saint Thomas
GET READY TO WALK:
Just make sure you plan well and stay safe. Wear good walking shoes as you'll then be able to maneuver through the various markets easily. No you wouldn't need the entire day to walk around but if you are anything like me then you'd want to walk and walk endlessly to get the feel of the atmosphere and a hang of the market. Also dress in layers as the evenings are quite chilly around the Christmas time.
DON'T MISS OUT THE ICE SKATING FUN:
Locals and travelers both enjoy ice skating and it is hard to miss. It is right in front of the Great Christmas tree so you do not have to figure out a route to reach there.
BEAT THE QUEUES:
If you do not like chaos and people bumping into one another during the Christmas season then there are a few ways you can avoid the queues. Weekdays in the first week of December usually are lesser crowded. For that matter, early morning hours, say the opening hours (10AM) work the best.
If Christmas is the most wonderful time of the year then Strasbourg France Christmas Market is the most wonderful place to be in the entire world. And if given an option to visit just one market amongst various Christmas markets in Europe, go ahead and plan for Strasbourg's without any doubt. You'd be a happy happy soul and will return with bucket full of precious memories and tons of magical pictures.