A ROMANTIC MOUNTAIN RETREAT AT LIVING HERITAGE KOSLANDA SRI LANKA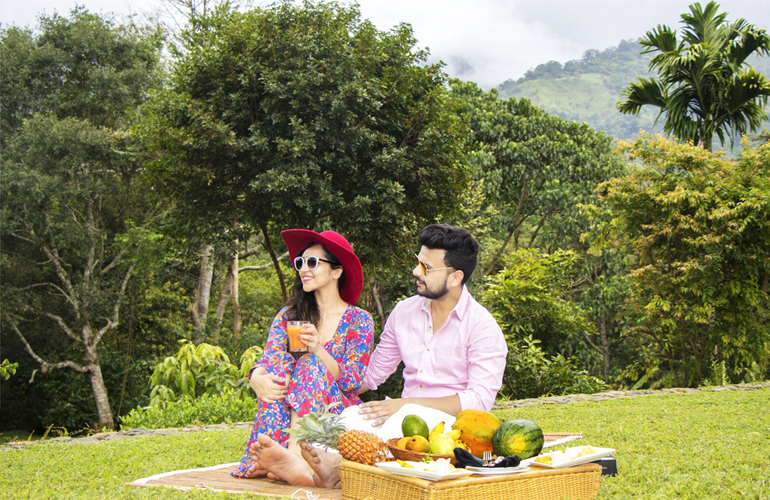 Recharging and reconnecting with oneself at this magical place,
Everything beautiful and full of solace!
Beside your better half
Basking in the sun, bathing under the stars,
Lighthearted moments and only good laughs!
Have you ever wondered what Heaven would be like in case it exists? Maybe, maybe not. But there are some places that give you a glimpse of beauty so exclusive, so divine, you can't help but label them "Heaven on Earth".
We are happy to claim that we have been to one such place called Living Heritage Koslanda Sri Lanka. A secluded luxury boutique property nestling amidst the mountains of central Sri Lanka, this resort is a temple of tranquility and nature's splendor.
The owner Lucy, has gone to great lengths to keep this luxury resort Sri Lanka's wondrous secret; there are no signboards and barely any advertising to draw in customers.
No wonder Living Heritage Koslanda is a sweet sanctuary for solitude seekers. It's something straight of a honeymooner's fantasy.
LIVING HERITAGE KOSLANDA SRI LANKA: FIRST IMPRESSIONS
Surprising as it may be, this property spans over 80 acres and houses just 6 sizeable suites. These well-planned accommodations promise unparalleled privacy and peace; an experience that cannot be described.
When we walked into the property, I felt that we had moved into another realm altogether. There was nothing to distract us from the blissful surroundings; there were no sounds but the pitter-patter of nature; in fact there was nothing on our minds but the pleasure of serenity.
For a moment I wondered if it was real at all – this place is truly too good to be true. And we were told that the view is even prettier after some rains. My only thought was "Can this possibly look any more spectacular?"
ROOMS AND DECOR
While the ambience is the highlight, the suites are not far behind in terms of luxuriance. They are spacious and well-lit with all kinds of modern amenities at the guests' disposal.
The décor is a fusion of Sri Lankan artistry and new-age architecture. I was immensely impressed by the attention to detail and understated grandeur of it all. It was like living in my own house which was magically transformed into an uber-lavish space. Our suite had a private courtyard and a private open garden.
The villas are so extravagant that they have a jacuzzi and private shower as well. We were staying in one of these and trust me, there's nothing more romantic than bathing under the stars in your own private mini-pool.
If you're a hard-core nature-lover, the newly constructed forest pavilions, perched atop a timber platform, would perhaps be more alluring.
SOLITUDE, GOOD FOOD AND AMBALAMAS
I have to admit though; even our suite was like a fairytale house, the best of memories are from the time spent outside our room, out in the open. Apart from the breathtaking views and calming quietude, there is much else to enjoy in Living Heritage Koslanda Sri Lanka.
If you're interested in sampling authentic Sri Lankan cuisine, there is a local chef dishing out delicious, traditional delicacies cooked on a woodfired stove. In fact, we loved the food which was extremely flavorful and quite inventive. But if food doesn't excite you, maybe the ambalamas will.
These are courtyard-like shaded areas where you can sit, chat and enjoy the views with your significant other. We even chit-chatted with Lucy who was there in LHK during our visit and we got to know more about the resort in the bargain.
INFINITY POOL OVERLOOKING THE PADDY FIELDS
The staff directed us to some of the best spots that were a must-visit. Best of all, is the infinity pool which overlooks a beautiful, tree-covered valley. We had to climb a few steps to get to it, but we were well-rewarded.
The view, the water, the love – we were left super impressed by the setting of infinity pool. In fact, we spent most of our time there once we got to know where it was.
One quite evening, we waited for the sun to actually set behind the paddy fields and that stunning moment of the glorious sunset we witnessed there has been imprinted in our hearts forever.
HIKE TO THE WATERFALL
But I still maintain that I enjoyed the waterfall far more than the infinity pool. Strolling down hand-in-hand, reaching a bubbling river, bathing in its secluded water – that's just perfect for honeymooners, isn't it?
The waterfall is 20 minutes hike from the resort, and yeah it is a private waterfall. So, expect no one to be there and having the waterfall all to yourselves once you reach there.
ECO-FRIENDLY INITIATIVES
What amazed me most is that apart from being a magnificent resort that is great for couples, Living Heritage Koslanda is also a boon to the environment. They have a forestation project underway on the property since the owners' desire is to promote ecological development and sustainable living as well.
We highly respect such initiative in general. But when combined with the brilliance of this resort in terms of rich experiences it offers its guests, I am compelled to commend the dualistic vision Living Heritage Koslanda represents.
HONEYMOONERS, ARE YOU LISTENING?
In fact, I think that this resort is an ideal getaway for newly married couples. Having your honeymoon in a place this exclusive is sure to ignite love and passion in a very special way.
Merely walking across the greenery, exploring the forest and gazing at the star-studded night-sky; everything becomes so much more intimate and memorable at Living Heritage Koslanda Sri Lanka. It is a certifiable romantic paradise, no less.
I have to say, staying here will be one of my fondest holiday memories, all through my life. No wonder, I would recommend this resort to everyone and especially couples looking to kickstart their married life with a fantastic honeymoon.
KNOW BEFORE YOU GO…
Living Heritage Koslanda Sri Lanka is definitely an unrecognized and an underrated living boutique and a luxury hotel. There were so many perks of staying at this resort and in fact, they were umpteen in number!
So here is a curated list of some of them-
Surrounded by extra-ordinarily beautiful forests to provide you with a perfect retreat in nature's arms
An option to choose from different options – like a spacious suite or a forest pavilion to have the delightful time of your life
Excellent hospitality with sumptuous food and mouth-watering presentation
A perfect destination for honeymooners with love-infused aura and things like an outdoor Jacuzzi to relax at.
A private waterfall to breathe in the fresh air and feel moist water droplets on your face
Special discounts and amazing deals in the autumn season i.e. from September to November
Acres of land to walk on and talk about life and blessings
An infinity pool to swim in and super comfortable cushioned seating all over the area to laze around while reading a good book and sipping in your favorite drink
LHK is awarded with the certificate of excellence and several awards – so no doubt on its authenticity too
Antique infrastructure and mystical places to rejoice at
What did you think of our romantic stay at the Living Heritage Koslanda? If you enjoyed reading this post then please let us know by leaving a comment in the box below.
******