The City of Lakes is more than just lakes! Things to not miss out on in Udaipur
Khamma Ghani Sa, Padharo Mhare Desh!
Unpopular Opinion – Rajasthan is not just deserts and humidity. It is a beautiful place with rich history, the culmination of traditions, beautiful architecture, and extreme hospitality. This was our experience in the state which led to our recommendation to visit. Weekend plans don't help you get through Goa, but surely, Udaipur. There are numerous things to do in Udaipur, like sightseeing, shopping, relaxing, immersing in history with delicious food attractions.
While it is easily reachable from different parts of India, a fully packed 1/2 day trip can seem fulfilling. Here is a list of things to choose from for your "Udaipur things to do" list.
Romantic Dinner at Sheesh Mahal (The Leela Palace)
Spending an exhilarating day at Udaipur can seem to be easy, but spending the night becomes choosy. Well, a romantic dinner under the stars, overlooking the lake and mountains with a beautiful view of the mountains and other palaces is THE THING TO DO.
Surprise your partner with a dinner date at Sheesh Mahal, The Leela Palace which helps you indulge in the royalty of kings. We ordered a Thali which was fulfilling, yet we suggest you have individual dishes. Don't miss out on the mango variations they offer, if in season.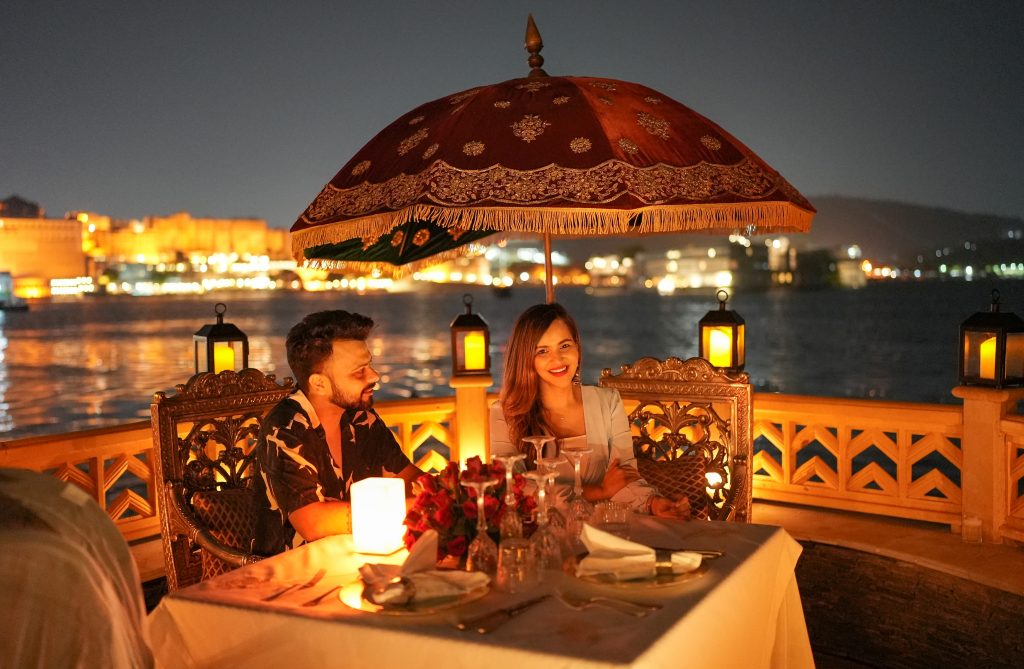 Boat Ride at Lake Pichola
Being in the city of Lakes definitely calls for some action. A boat ride in the city can be heartwarming in the evening as the serene views it has to offer is worth it. A ride in the evening can definitely bring peace and tranquility. It is not so expensive yet worth every penny. We undertook one at Lake Pichola.
Get Lost in time at the Ahar Cenotes
Ahar Cenotes is a collection of royal cenotaphs (memorial tombs) built in honor of the Maharanas of the Mewar dynasty. These tombs are dedicated to the rulers and their queens who have passed away, in forms of structures to be remembered forever. The place is a royal heritage and is surrounded by lush green gardens.
We strongly suggest hiring a local guide to understand the history of this place, coz our guide made the experience better.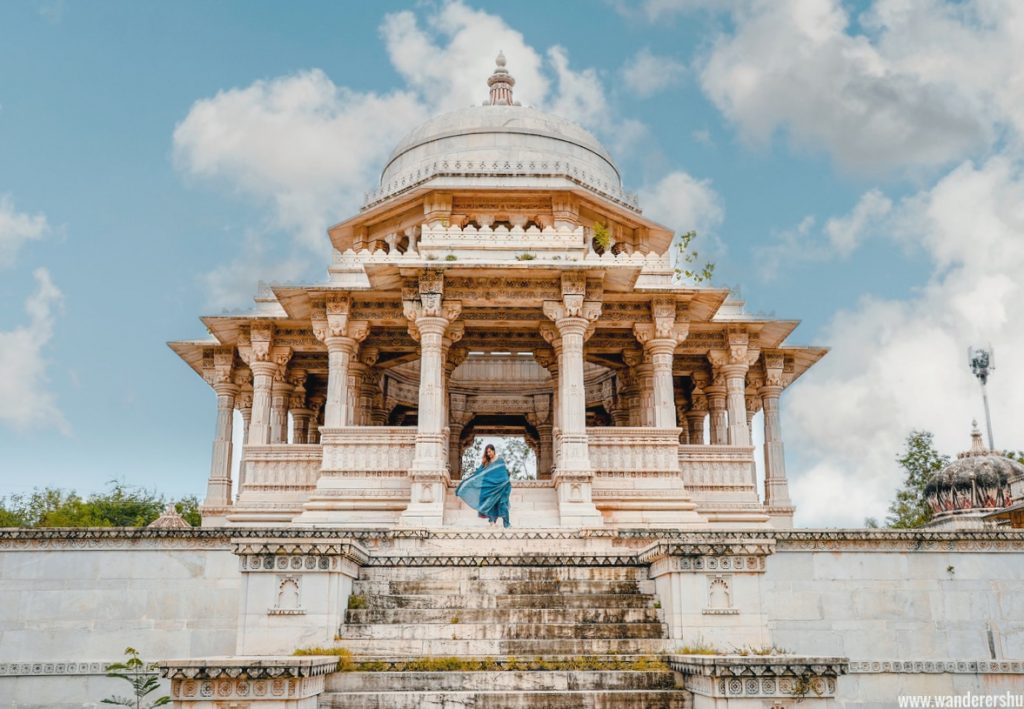 Sunset at Lake Pichola
While Udaipur seems very connected, the boat ride can be helpful to make your trip more romantic with the sunset. The city of lakes is known for the best sunsets, and spending one either before/after the boat ride can be wonderful. It's one of the best Udaipur attractions to look forward to.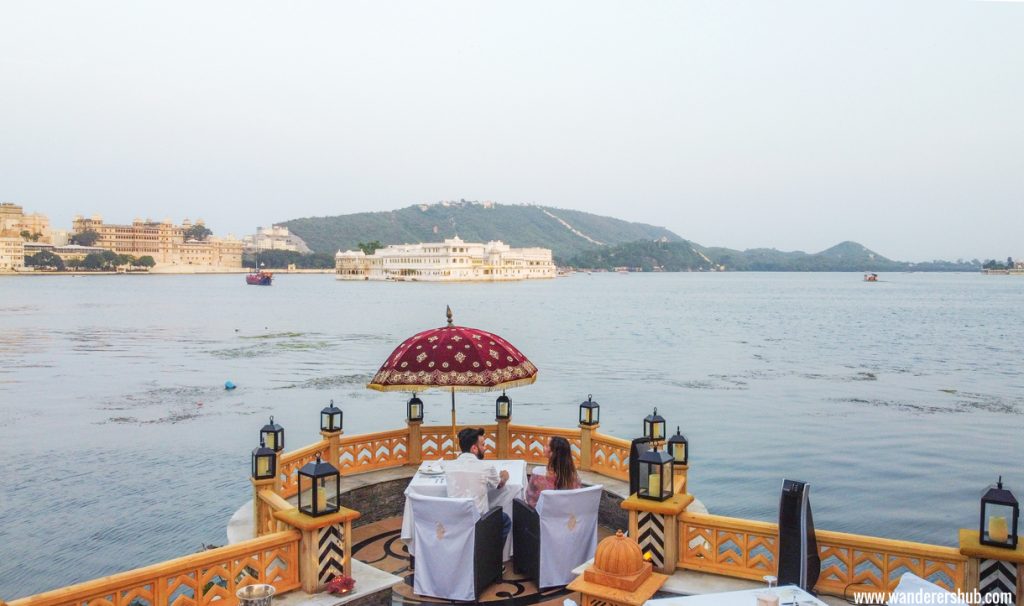 Just Can't miss the City Palace Tour
Udaipur sightseeing is incomplete without the city palace tour. The city palace is a grand royal palace portraying the history of the Mewar Dynasty and a glimpse into their architectural style. The palace tour consists of various sections like the Amar Vilas, Badi Mahal, and Moti Mahal among others. The best time to visit the palace is in the morning, as per us.

Picture time at Saheliyon Ki Bari
Translated as the Courtyard of Maidens, it is a well-known garden of the city with perfectly trimmed lawns, textured marble work, and magnificent fountains. This is the perfect place for photography and your Ghoomar Reels, as this place offers a wide array of backgrounds with the coolness of Bari's architecture. While we went here during the noon, we suggest you go either during morning or evening for an even more pleasant experience.
Lunch at Jagat Niwas Palace
Done roaming and are looking for some delicious dining? Udaipur things to do include a heavy lunch at the Jagat Niwas Palace. The place looks like a Haveli with a rooftop restaurant for a lake view too. It is also located on the banks of Lake Pichola, giving close proximity to other places. If you go by our taste buds, definitely try-out panner, cheese naan, and tandoori chicken there.
Visit Bagore Ki Haveli
The royal mansion known as Bagore Ki Haveli boasts a massive 138 rooms. It was converted into a museum long ago and has one of the longest turban galleries and divine art pieces from the place's ancient history. It is situated on Gangaur Ghat, so visiting the places can be bundled together. The best time to visit the same would be right after lunch to spend a blissful evening.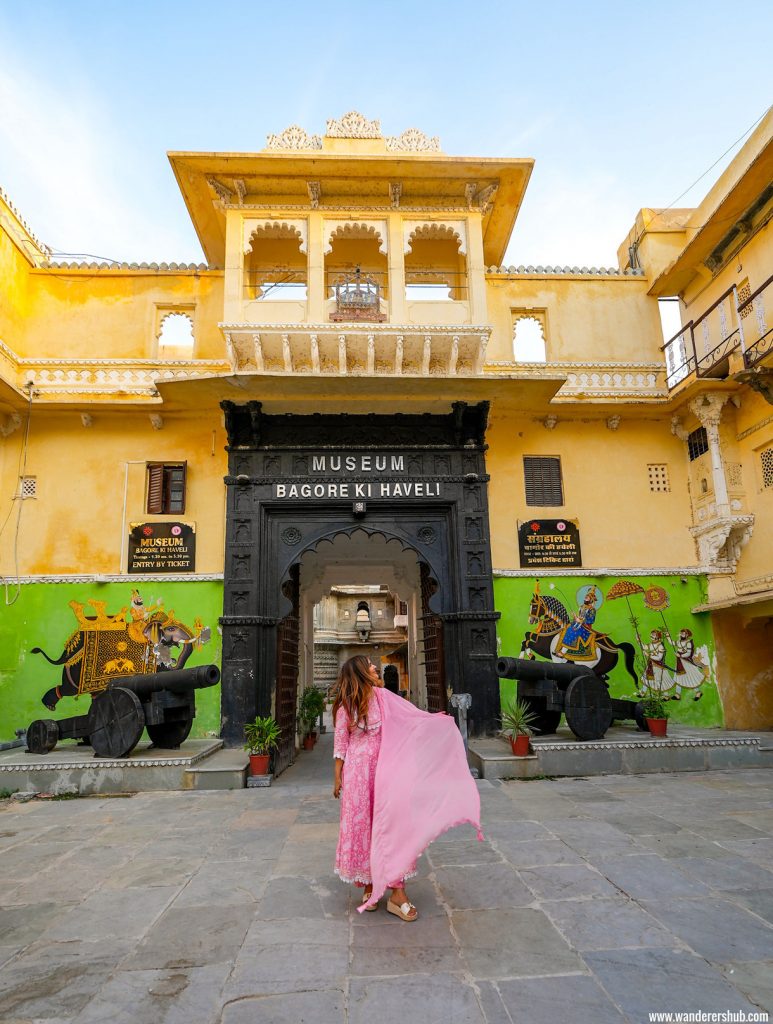 Catch a stunning sunset at Monsoon Palace
Sunsets at the Monsoon Palace are bundled with ghats and food can be places to visit in Udaipur in 1 day. Also known as Sajjangarh Palace, the sunset experience here is bundled with panoramic views of the Aravalli Hills and the city. Recommended by us for the best group pictures and romantic getaways.
Tour Ambrai and Gangaur Ghat
Ambrai and Gangaur Ghats are located on the banks of Lake Pichola and are surrounded by various landscapes. It is also home to various mansions like the Bagore Ki Haveli and good food joints. You can tour the ghats by walking and a must try to do while touring is savor some street food and chat at Sukhadia Circle.
These are our best recommendations that will help you find your peace and find what you've been looking for. While all of our travelers are mesmerized by things to do in Udaipur, they have a few questions that usually are unanswered. So here are the most-asked questions along with the best answers according to us.
How to reach Udaipur? (from Mumbai and Delhi)
Udaipur is a well-connected city in Rajasthan with connectivity by Air, Trains, and Roads. A flight from Delhi or Mumbai airports to the Maharana Pratap Airport, Udaipur, will cost you around 3K-4K per person and the travel time is around 1.5 hours. While the train will be a little cheaper, the time taken includes around 10-12 hours. With great connectivity through national highways and expressways, a self-drive can take 10-13 hours while a bus can take much longer. You can choose the mode you find best, according to your budget.
Suggest some good places to eat in Udaipur.
Known to be a lovers' paradise, these are a few food places to visit in Udaipur in 2 days which has traditional Rajasthani and International cuisines to offer, well some of the best places to eat out are:
Ambrai
Jaiwana Haveli Rooftop Restaurant
Khamma Ghani
Millets of Mewar
Palki Khana
What is the ideal time to visit Udaipur?
The ideal time to do Udaipur sightseeing is during the winter months, from October to March. The city boasts pleasant weather at that time as the state is usually hot for the other part of the year, hence plan accordingly. It is also the peak season so you can expect some crowd in the place, though sightseeing and tourist activities are in full swing this time around.
Which are the best shopping places in Udaipur?
Udaipur attractions include some of the best traditional handicrafts, textiles, jewelry, and artifacts. With a maximum of local shops that tend to offer everything, bargaining works here extensively. Here are a few markets you can explore, to get what you're looking for:
Hathi Pol Bazaar
Rajasthali
Bada Bazaar
Bapu Bazaar and Shilpgram
Mochiwada