8 THINGS YOU SHOULD DEFINITELY DO WHILE YOU ARE IN PALAMPUR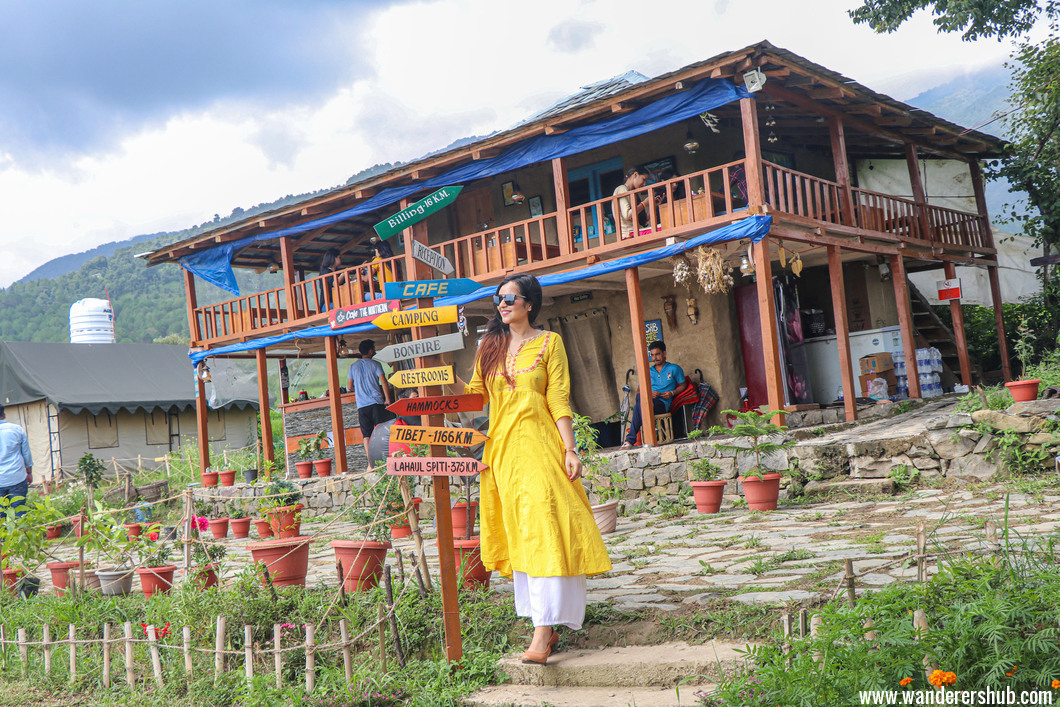 Himachal Pradesh proudly boasts a number of picture-perfect hill stations and Palampur is one of them. This scenic town dotted with lush tea estates, striking hamlets feels like a breath of fresh air for the weary city dweller.
The best thing – it makes for an ideal (long) weekend getaway from Delhi! Recently, I got a chance to visit Palampur, Himachal Pradesh again after a good 5-6 years, and the beauty of this pretty town surely left me awestruck to say the least.
I was completely enchanted by the verdant green stretches of tea gardens, gurgling brooks, remnants of British architecture, and magical glimpses of Dhauladhar range!
Palampur has all the ingredients that turn a simple vacation into an unforgettable one! Our own getaway to Palampur, Himachal Pradesh was during the monsoons when the constant drizzle, mist, and lush greenery added to the romance in the air!
Of course, the icing on the cake was the fact that Himachali locals are one of the warmest and friendliest that we've ever come across.
WHAT WE LOVED ABOUT PALAMPUR?
Sipping way too many cups of tea day and night without having to worry about anything.
Relaxing amidst the verdant hills with cutest Himachali people for company.
That joy of experiencing Palampur during the monsoon season.
Feasting on breathtaking views from Bir.
Relaxing and simply admiring nature in its best way.
Hiking aimlessly and enjoying paradisaical beauty of Palampur.
Picture postcard backdrops everywhere in Palampur Himachal Pradesh
HOW TO TRAVEL TO PALAMPUR HIMACHAL PRADESH
Palampur is really well-connected by rail, roads, and even flights from neighboring areas. The closest airport is Gaggal in Dharamshala which is just 25 km from Palampur (roughly one hour drive). There is Bhuntar Airport as well which is 58km away from the hill station.
As for those considering to travel to Palampur via train, the hill station has its own train station namely Palampur Railway Station. This is well linked to major cities including Pathankot and Kangra.
If you are traveling by road, then Palampur is a 9 hour easy drive from Delhi. Government buses and HRTC buses run at regular intervals through the day between Palampur and Delhi.
THINGS TO DO IN PALAMPUR HIMACHAL PRADESH
Palampur, Himachal Pradesh never fails to mesmerize with its natural beauty, ancient shrines, and many picturesque tea gardens. It has that charm to get travelers into an automatic chill mode.
This hilly town impresses with its gushing streams passing through the hills, offering travelers enough to do for a couple of days and more! I wanted to check out all the hip and quirky places around, and also needed to satisfy the adrenaline junkie in me.
I wasn't disappointed to say the least. Let's take a look at some of the things to do in Palampur.
1. EXPLORE PALAMPUR TEA GARDENS
Known as the tea capital of Northwest India, Palampur boasts many tea gardens in its vicinity. In fact, the Dharamshala-Palampur road is dotted with many tea gardens that invite you to stop and admire them.
Visit them for a visual treat and photo ops. Carpets of green with a backdrop of the mighty Dhauladhar range and you – all in one beautiful frame!
The Palampur Cooperative Tea Factory is worth a visit too – entry is free, but requires the permission of the manager.
2. LUNCH AT THE NORTHERN CAFE, BIR
This quaint little café was a lucky find for us and fitted perfectly with the peaceful, romantic vibe of Palampur.
Tucked away like a little secret near the landing site for paragliders of Bir, the Northern Café offers the best view of the valley and a great menu to boot!
We didn't mind waiting for our order as it was cooked fresh, besides the views of the sunset and paragliders landing held us captivated!
When in Palampur – try out the famous local delicacies like Patroda, Lungru Pakodas, and Braha flower chutney.
3. PRAY AT BAIJNATH TEMPLE
Just around 17 Km from Palampur is located this ancient Nagara style temple dedicated to one of the many avatars of Shiva – Lord Vaidhyanath.
Vaidhyanath is the 'Lord of Physicians', so many throng to this temple to pray for good health and relief from serious ailments. The splendid architecture and backdrop of the mountains make this temple a must visit in this region.
4. PARAGLIDING AT BIR AND BILLING
You can fly in Palampur. Literally! Paragliding is relatively new in India. But Bir and Billing offer one of the top 3 spots for paragliding in all of Asia! Gliding over the hills and rivers getting a real birds-eye view of the valley can give adrenaline rush to anyone.
You take off from Billing at the height of 2290 meters, and land at Bir at a stature of 1400 meters. The total session goes on for 15-20 minutes.
People interested in paragliding can opt for a video recording of their flight, and I highly recommend to go for that. The extra fee would completely worth it! In fact, carry your own GoPro if you have one.
Since we were visiting Bir during the monsoon time, of course, there wasn't any chance of enjoying the activity. But we have already made plans to go back, do overnight camping, and enjoy paragliding during the season time!
Best time to enjoy paragliding: October – June
Price: 2000 – 2500 INR
Additional 500 INR for GOPRO video
5. FIND PEACE AT SHERABLING MONASTERY
On a picturesque winding road between Bir and Baijnath lies the Palpung Sherabling Monastery. The drive is as captivating as the destination where rolling hills of pine give out a heady scent and fluttering prayer flags seem to send prayers your way.
The Monastery is colorful and besides schools, colleges and accommodation for the monks, it also has a canteen, snack and gift shop.
Address: Sansal – Palpung Sherabling Monastery Road, Keori, Himachal Pradesh 176125
6. AN EVENING STROLL IN SAURABH VAN VIHAR
Saurabh Van Vihar is an ardent attempt to protect the rich wildlife and biodiversity of the area. It has been named after and dedicated to memory of the young martyr, Capt Saurabh Kalia.
Just 4 km away from Palampur, Himachal Pradesh, this park is worth a visit for its beauty and for a chance to see a wide variety of birds and plants. It is a favorite amongst the locals for an evening stroll or as a picnic spot over weekends.
7. A FUN RIDE FROM PALAMPUR TO PATHANKOT IN THE TOY TRAIN
Kangra Toy Train offers amazing views of little Himachali villages, tea estates, and of course, views of the Dhauladhar that can leave you sighing endlessly! The train runs from Pathankot to Palampur and takes about 6 hours in total to cover the entire stretch. The cost for this ride is 250 INR.
It makes way through one station to another, crossing stunning locations, waterfalls, gurgling mountain streams and green fields. Expect the train to be crowded so those who are pressed for time can opt for a shorter ride between Kangra and Ahju. Definitely my cup of tea!
8. VISIT ANDRETTA
All the artistically inclined souls must not miss out on Andretta – a little artists village just 11 km away from Palampur, Himachal Pradesh.
This quaint little village was set-up by an Irish lady – Norah Richards. She moved her base from Lahore in the 1920s to this village and lived all her life here.
Later many legendary artists including Sobha Singh and B.C. Sanyal moved to Andretta and left a mark on this village. So, make sure you take a pitstop over here during your visit to Palampur, Himachal Pradesh!
FOOD JOINTS YOU JUST CAN'T MISS EATING AT IN PALAMPUR
You cannot miss eating at these places when in Palampur. These food joints are popular and sure to delight your senses.
Gurudwara Gali Panipuri– Panipuri is the most popular Indian street food. And in Palampur, you can find the tastiest panipuri at Gurudwara Gali of Palampur, Himachal Pradesh.
Shakti Soda– This little blue, old wooden shop speaks a lot about the beauty of the Old Palampur. Shakti Soda shop is almost 50 years old and it stands tall in the centre of Palampur market. You'll be served the best soda in town here!
Joy Restaurant– Papri chaat is a yummy street food relished all over India, and in Palampur, you simply cannot miss eating this delicacy at Joy Restaurant. Apart from Papri Chaat, dahi vada and rasmalai are visitor's absolute favorites.
ADDRESS: MAIN MARKET, PALAMPUR, HIMACHAL PRADESH 176061
The Blue Hills Cafe– Italian cravings? The Blue Hills Cafe is the place to be in Palampur, Himachal Pradesh. It is a lovely hangout run by a couple of youngsters. We'll recommend you to try white sauce pasta, Kangra tea, and veg chilli balls here.
ADDRESS: H.NO.1 WARD NO.1, PANDOL RD, SHASTRI NAGAR, PALAMPUR, HIMACHAL PRADESH 176061
Mr. Veggie Naan–  You can binge on scrumptious amritsari naan and chutney at Mr. Veggie for breakfast or lunch.
Gobind Rasmalai & Chola tikki– Tempt your taste buds and you wouldn't forget the taste of chole tikki at Gobind Rasmalai & Chalo Tikki. You get the best in Himachal at Gobind Corner.
If you are a night owl then you can head out for a stroll through Nehru Chowk after 11 PM. Angelica's Ice Cream shop remains open until midnight so don't forget to grab a tasty cup or cone of ice cream.
The whole region around Palampur, Himanchal Pradesh has plenty to explore if you have the time and inclination. You could travel 40 km further north to Dharamshala and McLeodganj – the home of the Dalai Lama. You can explore monasteries, temples and markets there.