PLANNING EL NIDO, PALAWAN – THE BEST OF EL NIDO, COSTS, & THINGS TO DO
For the taste of very best of the Philippines beaches, surreal landscapes, and an action-packed adventure, add El Nido, Palawan, Philippines to your must-visit list. A cluster of 45 tiny islands forms the most enchanting travel destination in the world. Pretty beaches, azure blue waters, and enough to explore for a week of travel, that's what waits for you here. Goes without saying, El Nido demands a mention on your bucketlist and the pictures that are going to follow in the post are a validation for the same.
We arrived in El Nido on a warm, sunny day and were not at all shy or reticent to strike a conversation with the local Filipinos. That is the kind of character Filipinos have. So down to earth and so fun-loving. The tone for our trip was set, and we couldn't wait to explore what was in store for us in this island paradise. So, before we dig into the best things to do in El Nido, let's take a look at some guidelines and planning details.
TRAVELING FROM MANILA TO EL NIDO, PALAWAN, PHILIPPINES
The easiest way of getting from Manila Airport to El Nido is by flying directly to Lio Airport via AirSWIFT. But the cheaper way of reaching El Nido is by taking a flight to Puerto Princesa, which is also cheaper, and later taking a 5 hours shuttle to reach El Nido town. The second way of reaching El Nido might be a bit tiring but it is recommended for those who wish to explore Puerto Princesa as well.
We opted for the second option as we wanted to keep the pace of our trip relaxed and of course, save a bit of money as well.
Flights from Manila to El Nido, Palawan run four times a day.
Flights to Manila from El Nido run four times a day.
Flight prices can range anywhere from 5,500 PHP to 7,500 PHP depending on the season.
Direct Flight from Manila to El Nido and vice versa takes about 55 minutes.
P.S – The jeep ride from Puerto Princesa to El Nido will take about 750 PHP per person. Make sure you sit on the seats in the front rows to avoid nausea and discomfort. The ride is going to be a bit bumpy.
BEST HOTELS IN EL NIDO, PALAWAN, PHILIPPINES
The best thing is that there are a range of hotels available for travelers of different budgets in El Nido. You can look through all the luxury and budget hotels in El Nido and book online. We did a huge research to find an accommodation to suit our tastes and provide us with all the creature comforts along with a fascinating location. We ended up booking a stay at MaryGold Beachfront Hotel. It is not your typical luxury hotel but is located on the jetty, and assures magical evening sunsets for the guests. Also, the rooms were neat and clean. Plus we never had to experience any power-cuts here. Book Online.
In general, you can check for El Nido hotel price range and guidelines below:
Luxury travelers can opt for overwater Bungalows: 12,000 – 15,000 PHP starting range.
Beachside Air conditioning room in El Nido (near jetty): 2500 – 4500 PHP
A nice air conditioning room in El Nido centre: 1500 – 2500 PHP
A budget fan room in El Nido – 800 – 1000 PHP
Basic room with fan in El Nido – 300 – 600 PHP
Some of other recommendations for hotel stay in El Nido would be El Nido Garden Beach Resort and El Nido Resorts Miniloc Island.
WHERE TO EAT IN EL NIDO?
There are a myriad of restaurants in El Nido offering a variety of delectable cuisines in vivid settings. Below are few of suggestions for eating out in in El Nido.
A typical veg meal at a local restaurant in El Nido will cost around 200 PHP.
A meal at a restaurant in a resort will cost anywhere between 200-500 PHP.
A can of beer at any regular store will cost you 35 – 50 PHP, while a beer can at a bar will cost you between 40 – 70 PHP.
A bunch of bananas will amount of a meager sum of 25 PHP.
Some of the best restaurants that you must try eating out at are:
TRATTORIA ALTROVE
It is one of the finest Italian restaurants in El Nido serving some of the best pizzas and pastas at competitive prices. A pepperoni pizza here would set you back by 410 PHP. Trattoria Altrove is in the main town and is often packed with foodies. Making reservations isn't possible. If you wish to avoid the crowds, you can eat out at Altrove en route to Las Cabanas Beach. The food served there is just as tasty.
Address:  Calle Hamma, Calle Hama, Barangay Buena Suerte, El Nido, Palawan, Philippines
REPUBLICA SUNSET BAR
You must eat once at Republica Sunset Bar during your visit to El Nido. May be you can grab a table and enjoy the sunset after a day of island hopping and zip lining in El Nido. Savor your taste buds with the delicious Spanish cuisines and go back home after experiencing the most beautiful sunset of your life.
Address: Lugadia, Corong-Corong beach, el Nido, Palawan 5313, Philippines
HAPPINESS BEACH BAR
A cool and atmospheric hangout bar in El Nido which boasts of top class cocktails as well as hipster swings. Try hummus and pita sandwiches here. The must-visit restaurant for healthy eaters. Also, offers a great variety for vegans and vegetarians, which is a rate in El Nido.
Address: Serena St, Barangay Buena Suerte, El Nido, Palawan, Philippines
A Complete Palawan Philippines Itinerary
EL NIDO TO CORON
<pKeep time on your hands if you wish to travel from El Nido to Coron. Boats run only 4 to 5 times per week and the trip can be 3 to 4 hours long (a bit bumpy depending on the weather). Also to give you a fair warming, keep in mind that the boats are often cancelled for days when its not suitable to sail.
You can read more about traveling from El Nido to Coron.
BEST THINGS TO DO IN EL NIDO PALAWAN
There is so much to do in El Nido, Palawan that you'll never fall short of activities to do on this island destination. Pristine blue waters and crisp burgundy sunsets will give you company each day. All the pictures will turn out to be postcard perfect. You can get a little glimpse in our gallery only. Check out some of our top recommendations when it comes to this amazing archipelago.
1. EL NIDO ISLAND HOPPING TOUR
When people visit El Nido, Palawan, Philippines, they have one thing dominating their minds. It's to go Island-hopping around the breathtaking Bacuit archipelago. This protected area boasts idyllic lagoons, karst cliffs, sinkholes, and vast stretches of the clear blue waters. Since there are so many islands, the island hopping tours are grouped into Tour A, B, C and D. Take your pick or do all – one thing is assured, no matter which one you take, they are all stunning!
If you'll ask our pick then we would recommend you to do Tour A and Tour C. Both of these tours are well-worth your money and time spent. You can join group tours as they are inexpensive and well-organized.
2.  SWIM TO THE SECRET LAGOON
You'll come across the secret lagoon as part of tour A. Why secret? Because this magical little lagoon can be accessed only through a small hole in a big limestone karst wall. Once inside, you'll be in this magical little place with cooler water since the surrounding karsts provide ample shadow. The surreal ambience by itself will make you feel that your visit to El Nido, Philippines was worth every penny you've spent.
3. ZIPLINE BETWEEN ISLANDS
Want that adrenaline rush in these idyllic surroundings? Check out the Zipline at Las Cabanas beach. For around 700 – 1100 PHP, you can shoot across the skyline on a 750 m long zipline from one island to the other. For the best views, take the sunset flight and zoom across orange skies – the experience will stay with you for a lifetime!
4. NACPAN BEACH, EL NIDO PALAWAN
Just when you thought it couldn't get any more beautiful, Nacpan beach will hit your senses with its amazing beauty. It is, after all, the most beautiful beach in El Nido, Philippines! The pristine beach stretches along almost 4 km and is lined with coconut trees giving you the perfect backdrop for your Insta photos. Once you reach the tip, you'll find it splitting into another beach, the Calitang Beach. Chill out on the beach beds and order your fill of fresh coconuts and seafood. Did I hear you say.."Ah! life is good!"
5. BE AWED BY THE BEAUTY OF LARGE LAGOON
Dark limestone karsts dot this lagoon and the color of the water has to be seen to be believed! The only problem now with the new regulations is that you have to choose between the Big Lagoon and the Small lagoon in Tour A.
So, it's wise to plan in advance and if you'd like to do both, keep a few days extra in hand. And yes, you have to take a kayak into the lagoons as the traditional Filipino boats are not allowed into the lagoons- adds to the adventure, right?
6. WATCH THE SUNSET AT LAS CABANAS
If you manage strike up a conversation with the locals in El Nido Philippines, many will ask you the question- "Have you seen the sunset at Las Cabanas?" This naturally means that the sunset at the Las Cabanas beach is the most spectacular! Don't miss out on the beautiful orange hue that the skies taken on as the sun sets behind the karsts into the vast expanse of the ocean. Of course, there's also sunbathing, swimming and the beach bars to hold you there for hours.
7. SHOP AT EL NIDO'S PUBLIC MARKET
Great for all your necessities and also a transport hub, this market will reward you with the freshest fruits, veggies and fish if you go there early enough (around 4 am). Great for grabbing a safe and healthy fresh fruit breakfast before heading out for bike trips towards Nacpan!
8. VISIT SNAKE ISLAND
Named so because of the natural S-shaped sandbar that connects it to mainland Palawan, it is popular with tourists because of its fine powdery sand. This is one of the most looked forward to stops in Tour B.
9. RELAX AT SIMIZU ISLAND
This popular lunch stop in Tour A is one of the small islands dotting Bacuit bay. You'll see massive Karsts jutting out of the ocean. There's even one that's shaped like a tulip! The karsts seem a little different here and some have holes that make you wonder what caused them.
10. SPLASH AROUND IN THE SMALL LAGOON
Sitting on the northern side of Miniloc island and a short ride away from the El Nido town itself, lies the small lagoon. It's often the first stop in Tour A. What makes it a must do is its vertical limestone walls that enclose an almost perfect circle of clear blue green waters. Splashing around in these waters is a super fun thing to do with your kids.
11. SPEND TIME AT THE MATINLOC SHRINE
A rundown abandoned shrine is the last thing that you'd expect while exploring the tropical paradise of El Nido. However, this shrine to the Virgin Mary still demands a visit, simply for the mystery and also some amazing view points.
12. DIVING EXPERIENCE IN BLUEST WATERS OF EL NIDO
When speaking of major attractions in El Nido, Palawan, Philippines – diving naturally occupies one of the top spots. With 30 or more dive sites at your disposal, you have a huge choice when it comes to enjoying views of fabulous underwater coral and marine world. You can set aside a day for diving in case you are a beginner diver. Palawan Divers is a popular diving centre in El Nido, and you can trust them for your first dive.
I'd recommend diving in South Miniloc in El Nido as the coral reefs in this part are stunning and the waters so blue. Other amazing diving site options include North Rock near Bacuit Bay and Nat Nat.
13. HIKE THE NAGKALIT-KALIT WATERFALLS
These are two waterfalls with a pool in between to swim. How cool is that? These waterfalls are best visited during the rains. In summer, however, they are less than impressive, though you still may enjoy the hike of an hour or two through lush forests to reach the falls.
14. GET INTRIGUED BY THE HELICOPTER ISLANDS
As the name suggests this island is indeed shaped like a huge Helicopter! What you will enjoy about it are the nice beaches and dive trips. Of course, its unique shape as seen from a boat would give you many photo ops!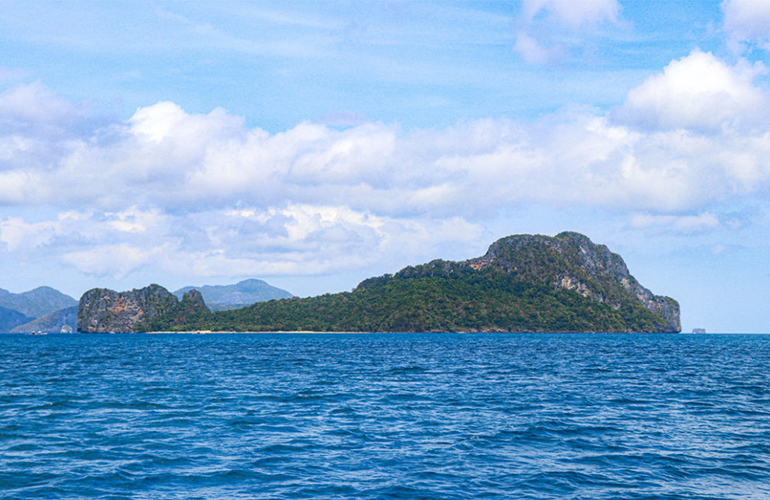 15. ENJOY SERENITY AT THE COMMANDOS BEACH
The mysterious story of the 7 Japanese commandos who lived here towards the end of WWII may draw you to this island. They say no one knows how these soldiers lived and what happened to them, but their names are written on rocks around the island.
ABOUT MOTORBIKE RENTAL IN EL NIDO
When it comes to exploring El Nido on your own, renting a motorbike for 350 – 500 PHP makes the best sense! We rented ours from the kiosk in front of our hotel, MaryGold for some days, and recommend them wholeheartedly.
ATMS IN EL NIDO
Always carry enough cash for all your food, tours and rentals in El Nido. There are just 3 ATMs in El Nido and they quickly run out of cash! The more popular BPI Bank ATM on Real Street usually has a long queue, and the other two are at the Municipal Hall on G. Del Pilar Street.
Hope all this information regarding the island destination will help you plan your trip well. Write in the comments below if you have been to El Nido and what did you like the most there?
*****
Disclosure: Some of the links in this post are affiliate links. This means we will earn a small commission, at no cost to you, if you click on our recommendation and make a purchase.