ROMANCE ATOP A TREE TOP IN KERALA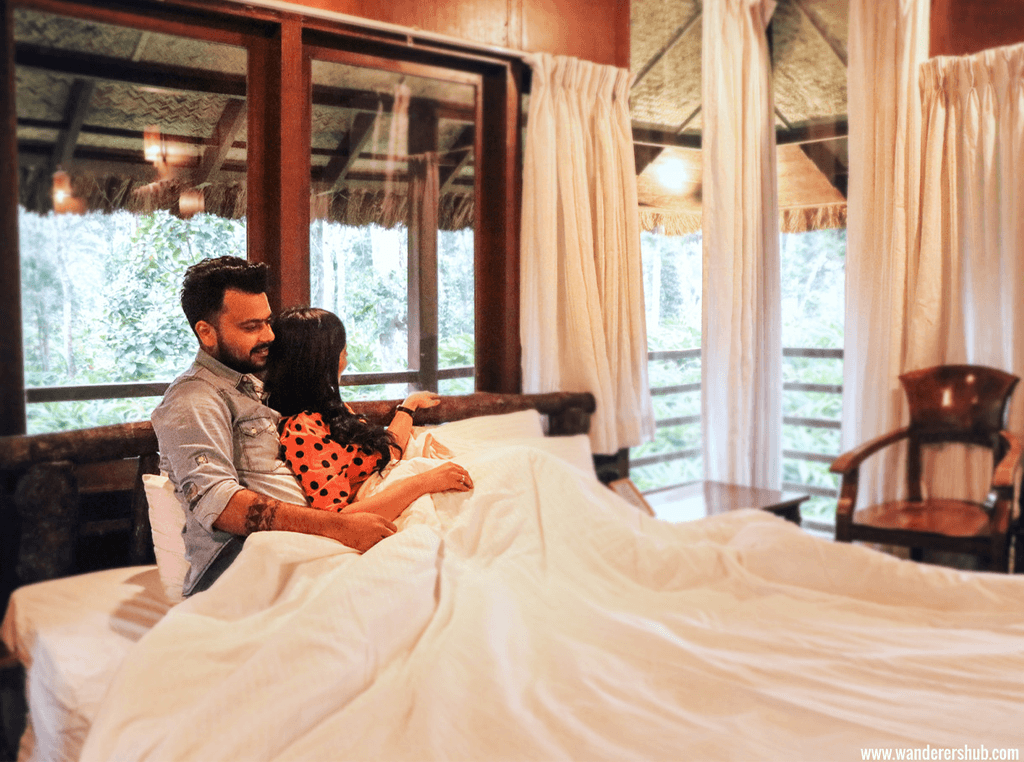 We relished adrenalin-filed romance atop a tree top at Carmelia Haven Resort in Thekkady. Thrilling, intimate and oh! So dreamy – everything in proportion for setting the romance ablaze! 
Thekkady was our second stop on our 2-week trip to Kerala and we stayed in this beautiful resort called Carmelia Haven. It is set in the midst of cardamom plantations and tea estates. The heavenly smell of fresh spices and hearing the chittering and singing of birds made us happy all the time. We were awestruck by the untarnished views of the exuberant tropical adobe ahead. Plus, privacy was 100% assured in our treehouse at Carmelia Haven, Thekkady Kerala. This resort and it's staff definitely knows how to pamper its guests completely.
ACCOMMODATION AT CARMELIA HAVEN THEKKADY KERALA
We had two options as far as the accommodation was concerned – could choose the jacuzzi villa or the treehouse. We were glad to choose the treehouse. There is also an option to stay in a family suite if you want some time with your children and friends, in big lavish suites! The treehouse at Carmelia Haven is set amidst greenery and has a pretty spacious bedroom, bathroom and a living room with standard resort amenities like a television and guest supplies. The most interesting thing about the treehouse is the sit-out; you can sip tea listening to birds chirping or you can just sit out reading a book all day long. The view of the green canopy assures you the relaxed feeling of truly connecting with nature and is an afternoon to remember for a long time.
FACILITIES AT CARMELIA HAVEN, THEKKADY
Carmelia Haven Resort in Thekkady has many facilities to keep you engaged inside the resort. You can cool yourself off with a refreshing swim in the swimming pool or you can get rid of all that stress in your muscles and joints, Ayurvedic style, in the Ayurvedic Spa. They have a bunch of rejuvenating treatments and detox therapies ranging from 3-days to 27-days programs. Unfortunately for us, the swimming pool and spa were closed.
The resort also has outdoor sporting options – a tennis court and a basketball hoop. There is a table tennis board in the games room of the resort for you to beat your loved ones fair and square in a game of ping-pong. There is a kids park if you're there with kids and a multi-cuisine restaurant where delectable cuisines are served. We especially enjoyed the open-air evening time tea setup at the resort and asked them to prepare the best meter long tea. This was followed by a cookery class conducted by the in-house chef and Bharatnatyam performance in the evening to set the mood for us! They have a special plantation barbeque planned in the evening for all the guests to sit around a bonfire enjoying traditional barbeque and chit chat. Take a look at the pictures and you'll see what our stay looked like –
There is also the Nattukoottam, a conference hall with an accommodating capacity of 300 people. The travel concierge and the reception are there to help you with anything related to your stay or your trip.
VISIT TO KAILASAM AT CARMELIA HAVEN THEKKADY KERALA
Carmelia Haven has a good number of activities to keep you occupied but one activity that you must not miss is a visit to Kailasam. it is a plantation little further from the resort where the owners of Carmelia stay and is open to anyone who has a knack for adventure. They take you around the plot in a special 4×4 jeep, passing a cardamom factory and acres together of cardamom plantations. Those views from the top are unbeatable and perfect for those Instagram pictures. The plantation is big enough, you can walk all over the place spotting colourful butterflies. You can also trek at various spots and listen to bird calls if you're interested; a lot of exotic birds move in and out of Thekkady.
There is a small brook passing by the entrance where they have made a check dam to collect water. They take you boating on paddle rafts along the brook where you can go fishing. Our friendly guide, Sooraj,  ensured that we had the best time in Kailasam.
ATTENTIVE STAFF & SERVICES
The staff is pretty attentive and friendly. They cater to all your needs in the resort and will clarify about anything related to Kerala. Everybody welcomes you with a warm smile and does their best to make your stay feel homely. Our guide to Kailasam, Sooraj,  is definitely worth a mention. He was very accommodating and cheerful. The staff have planned out a variety of activities; plantation walk, barbeque and bonfire, they even let us cook amidst nature. Harsh made celery soup and I made papaya curry. Preparing a dish from something that was grown in the premises is a thrill in its own. We supremely enjoyed that.
Carmelia Haven offers typical Kerala style cuisine on banana leaves. They have the cutest tea kiosk for your refreshments. All in all, if you want to spend a relaxed week out of your typical work schedule, in the middle of nature, this is the perfect resort. Not to worry, if you have kids as this is a kidult resort with an adventurous theme. If you had always wanted to stay in a treehouse then you'd not find any better deal than this one. You can book your stay at Carmelia Haven, Thekkady. It won't disappoint.
IN SHORT –
First Impression – WOW, What a fab view and so close to Mama Earth.
Staff – So friendly and always there to help you.
Food and Drink – Pretty delectable especially dosas.
Bed and Bath – Comfortable and cozy with sublime touches.
The Crowd – Almost families and couples.
In a nutshell, Kidult is fun with awesome cardamom vistas.