ENTICED BY THE HISTORY OF DELHI? VISIT THESE MONUMENTS
Saying that the capital territory of India, Delhi, has a rich history will be an understatement. In veracity, Delhi is all about history. All the history buffs traveling to India should keep a few days aside for exploring the astonishing forts, palaces, monuments, buildings, and empires built in the ancient times. Check out the comprehensive guide to all historical places in Delhi, for they are a must-visit attraction for every wanderer.
1. THE RED FORT
Red Fort, also called 'Lal Qila', was built in 1638 by Mughals. 'The Pride of India'– Red Fort captivates the attention of travelers, owing to its architectural splendor. What's typical of the fort is its construction, which is done in hu blocks red sandstone. Back then, the 33m high walls of this striking monument were constructed in order to prevent it from invaders.
It became extremely famous during the independence of India when Jawaharlal Nehru gave his freedom speech and hoisted the national flag.
For travellers, light and sound show held in the morning hours at the fort is a breathtaking experience. It certainly adds stars to the entire experience of this majestic place. Lying on the banks of Yamuna River, this magnificent attraction should be on the list of all visitors in Delhi.
Address: Netaji Subhash Marg, Chandni Chowk, New Delhi, Delhi 110006
Opening Hours: 9:30am – 4:30pm (Tuesday to Sunday)
Entry Fee: INR 10 (Indians), INR 150 (foreigners)
Audio Tour in Hindi/ English: INR 60/100
Sound & Light Shows: For Adults: INR80; For Children: INR30
Photography: Allowed (Video INR 25)
Nearest Metro Station: Chandni Chowk Metro Station
Hotels Near Red Fort:
1. WelcomHeritage Haveli Dharampura
2. Hotel Ariana Inn
Restaurants Near Red Fort:
1. Chand Hotel Restaurant
2. Karim's
2. QUTAB MINAR
Located in Qutb Complex in Mehrauli, South Delhi is the tallest minaret in India – Qutab Minar. Tapering up to a height of 72.5metres, this tower was constructed by Qutub-ud-din Aibak in 1193. It looks like a masterpiece of Indo-Muslim artwork that was built using red sandstone.
This edifice has been taken care of well as it is extremely significant for the Indian history.
At the foot of this minaret lies the first ever mosque of India – Quwwat-ul-Islam. There are many other monuments siding the Qutub complex, which includes Jamali Kamali Mosque, Jahaz Mahal, Quli Khan's Tomb, and Adham Khan's Tomb.
Address: Aurobindo Marg, Mehrauli, New Delhi, Delhi 110030
Opening Hours: 6A.M – 6P.M, closed on weekends
Entry Fee: INR 10 (Indians), INR 250 (foreigners)
Photography: Free
Nearest Metro Station: Qutub Minar Metro Station
Hotels Near Qutab Minar:
1. Clarion Collection
2. Qutub Residency
Restaurants Near Qutab Minar:
1. Cherie One Qutub
2. Thai High
3. INDIA GATE
'The Spot of Indian Pride and Sacrifices' – India Gate is truly a point of bravery that was built in 1931. Located on the Rajpath, India Gate was earlier named as "All India War Memorial".
This war memorial raised in honor of over 70,000 Indian soldiers who were killed during the World War 1 looks gorgeous in the evening lights. No wonder, hundreds of local Delhites flock around this spot every evening to enjoy alone time with their partners or have a picnic with their families.
This prestigious monument is 42meters high and was designed by Sir Edwin Lutyens. After the Bangladesh Liberation war, a structure, compromising of black marble plinth, with reversed riffled, topped by a war helmet was constructed under the Memorial Archway. This was also circumscribed by four eternal flames called Amar Jawan Jyoti, which has been serving as India's Tomb of the Unknown Soldier since 1971.
Wandering around the site would give you immense pleasure and satisfaction as a visitor.
Address: Rajpath, India Gate, New Delhi, Delhi 110001
Opening Hours: 24×7
Timings: Open on all days
Entry Fee: Free
Nearest Metro Station: Kendriya Terminal
Hotels Near India Gate:
1. Belmond Governor's Residence
2.The Taj Mahal Hotel
Restaurants Near India Gate:
1. Veg Gulati
2. Andhra Bhavan
4. RASHTRAPATI BHAWAN
Rashtrapati Bhawan (Presidential House) is one of the prime attractions of Delhi that was designed by Sir Edwin Lutyens. It is a 340-room building that is marked for its stately atmosphere, beautiful corridors, as well as nicely-done lawns.
"The Glory Of India"- Rashtrapati Bhawan is the center of power and the official place for the President of India.
It was formerly called Viceroy's House. Constructed with a mix of Indian and European styles, the building was inaugurated in 1931. On both sides of the building are Mughal Gardens which offer a surreal effect to the entire setup.
A comprehensive guided tour of the building will include sections like Lutyens' Gallery, Gift Museum, Durbar Hall, Ashoka Hall, and Children's Gallery.
Address: New Delhi, Delhi 110004
Opening Hours: Tuesday – Saturday, 10am – 5pm, closed on Sunday & Monday
Entry Fee: Free but entry is restricted to authorized persons only
Photography: Free
Nearest Metro Station: Central Secretariat Metro Station
Hotels Near Rashtrapati Bhawan:
1. Le Méridien
2. The Claridges
Restaurants Near Rashtrapati Bhawan:
1. Bistro
2. Madhuban Fine Dining
5. JAMA MASJID
One of the biggest mosques in Delhi, Jama Masjid (Masjid-i-Jahan Numa) was built by Mughal Emperor Shah Jahan in the 16the century. This 40meter high minaret is built of it'strips of red sandstone and white marble.
Its construction began in 1644 and was completed in 1656. This eye-catching mosque has a magnificent interior as well as exteriors.
Jama Masjid was constructed by 5,000 workers. It's an architectural marvel with three huge gates, five-storeys having a protruding balcony, and adjoining edifices with calligraphy done on them.
Address: Chandni Chowk, New Delhi
Opening Hours: 7am – 12noon, 1.30pm to 6.30pm (Open all days except during prayer hours)
Entry Fee: Free
Photography: Allowed at INR 200
Nearest Metro Station: Chandani Chownk
Hotels Near Jama Masjid:
1. Hotel Bukhara Inn
2. Hotel Bombay Orient
Restaurants Near Jama Masjid:
1. Al Jawahar Restaurant
2. Karims
6. SWAMINARAYAN AKSHARDHAM TEMPLE
Travelers wouldn't want to miss a chance to visit the Swaminarayan Akshardham Temple, i.e. the largest Hindu temple in the world. Built on the lines of Akshardham Temple of Gujarat, Akshardham Temple was constructed in 2005. It is spread over an expansive area of 100-acre and it sits on the banks of Yamuna River.
Akshardham stands as the adobe of god, with its prime attractions as an intricately carved monument, musical fountain, high-technology exhibitions, and beautiful gardens. This 43meter high temple has been constructed using Rajasthani pink sandstone and Italian Carrara marble.
A number of exhibitions on display take tourists through different journeys like the giant screen film on Discover India, cultural boat ride, and so on.
Address: Noida Mor, New Delhi, Delhi 110092
Opening Hours: Tuesday – Sunday, 9:30am – 6:30pm, closed on Monday
Entry Fee:
Complex Entry: Free | No Ticket
Exhibition: Ticket (available 10am – 5pm)
Adults: INR 170
Senior Citizen: INR 125
Child (4-11 yrs): INR 100
Child (below 4yrs): Free
Musical Fountain: Ticket
Adults: INR 30
Senior Citizen: INR 30
Child (4-11 yrs): INR 20
Child (Below 4 yrs): Free
Photography: Not allowed. Mobile phones not allowed
Nearest Metro Station: Akshardham Metro Station
Hotels Near Akshardham Temple:
1. Goodwill Hotel
2. J P Hotel & Resorts
Restaurants Near Akshardham Temple:
1. Premvati Food Court
2. Cafe Lota
7. HUMAYUN'S TOMB
Humayun's Tomb is one of the landmark sites of Delhi that is the tomb of the Mughal Emperor Humayun. The monument was built in 1570 by Queen Haji Begum, the widow of Humayun. The architecture of the tomb has been inspired from Persia and it bears an uncanny resemblance to the renowned Taj Mahal.
Humayun's Tomb has charming garden squares lined with water channels as well as pathways. It is the same site from where the last Mughal Emperor Shah Jafar was taken into custody by the British in 1857.
Address: Mathura Road, Nizamuddin, New Delhi, Delhi 110013
Opening Hours: All days, 6am – 6pm
Entry Fee: Free
Photography: Still photographs free, INR 25 for video filming.
Nearest Metro Station: JLN Stadium
Hotels Near Humayun's Tomb:
1. The Oberoi
2. The Lodhi
Restaurants Near Humayun's Tomb:
1. Kit Kat Kitchens
2. Cafe Turtle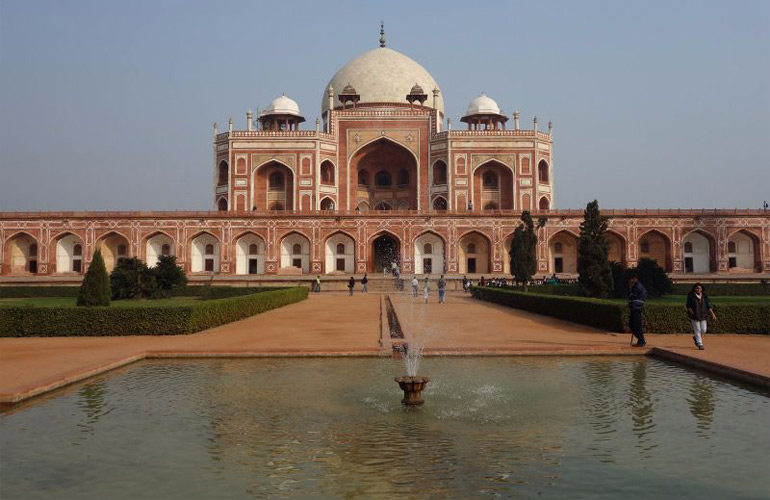 8. PURANA QILA
A regular weekend stop for locals, Purana Qila is one of the oldest standing monuments of Delhi. Built by Humayun and Sher Shah in the 16th century, this fortified settlement is extremely impressive.
With the walls of the fort rising to 18meters, the first glimpse of the fort gives a sight of magnificence. It is extremely popular for its light and sound show that takes place each evening.
Address: Mathura Rd, New Delhi, Delhi 110003
Opening Hours: All days; 7AM-5PM
Photography: Free (still camera); 25INR (video camera)
Nearest Metro Station: Pragati Maidan
Hotels Near Purana Qila:
1. La Sagrita
2. Ahuja Residency
Restaurants Near Purana Qila:
1. Cafe Lota
2. Whole Foods Health Shop Cafe
9. JANTAR MANTAR
Set in the heart of Delhi is a modern sculpture garden called Jantar Mantar. This ancient observatory was constructed in 1794 by Maharaja Jaisingh of Udaipur. A charming atmospheric place with picturesque vistas, Jantar Mantar was built with a primary aim to predict the time and movements of sun and moon.
This lovely structure has always attracted a lot of visitors from across the world because of its accuracy in astronomical movements.
Built of brick rubble, visitors can see instruments such as Samrat Yantra, Ram Yantra, Misra Yantra, Jai Prakash, and Niyati Chakra inside the monument; all of them being used for astronomical calculations. More than that, it is a beautiful site for sightseeing, especially for those who love the quietness and laidback environment.
Address: Sansad Marg, Connaught Place, New Delhi, Delhi 110001
Opening Hours: All days (9:30 AM – 4:30 PM)
Entry Fee: INR 5 (Indians), INR 100 (foreigners)
Photography: Free
Nearest Metro Station: Patel Chowk and Rajiv Chowk Metro Station
Hotels Near Jantar Mantar:
1. The Imperial Hotel
2. The Park New Delhi
Restaurants Near Jantar Mantar:
1. Agni at The Park New Delhi
2. The Spice Route
10. TUGHLAQABAD FORT
Tughlaqabad Fort is a ruined fort, perched on a rocky hill and is made of rough stones set in mortar. It was built by Ghiyas-ud-din Tughlaq (founder of Tughlaq Dynasty) in 1321on a stretch of over 6kms.
The mighty fort stands as a symbol of the Tughlaq dynasty and is a complete architectural marvel. The crumbling ruins of this fort give an impression of the lost splendor.
Address: Mehrauli-Badarpur Road, Tughlaqabad, Delhi 110044,
Opening Hours: Everyday; 7AM-5PM
Entry Fee: Indians 5 INR; Foreigner: 100 INR
Nearest Metro Station: Tughlakabad Metro Station
Hotels Near Tughlaqabad Fort:
1. Alpina Hotels & Suites
2. Crowne Plaza New Delhi Okhla
Restaurants Near Tughlaqabad Fort:
1. Qureshi – G.K. II
2. Amalfi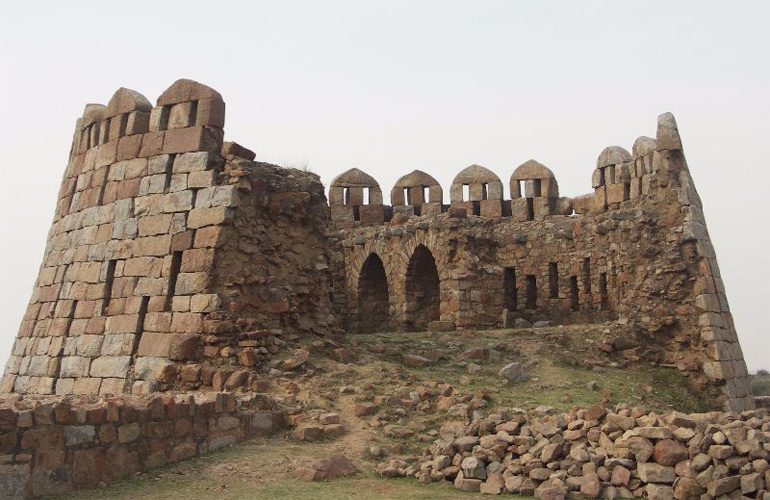 While retaining its historical roots, Delhi has not been far behind in setting itself as one of the most contemporary cities of the world. These long preserved heritage sites clearly give Delhi it's much-needed tourism boost, besides maintaining the flavor of magic and mystery associated with its history. These must be explored in order to unravel the mystery associated with each site.
How many historical sites of Delhi have you been to? Which was your favorite amongst them all? Do you share your experiences? We would love to hear.
Love Delhi? You should read all our articles on Delhi.