Dance, Sing, Rejoice! You're Going to a Big Fat Indian Wedding!
Band, Baaja, Baraat, Bhangra, and Black Label – concoction of all these elements describe an Indian wedding aptly!
There's no other place you'd rather want to be than an Indian wedding. It is sure one experience for any traveler that they'd not want to miss. So while we happen to be attending a lot of weddings every now and then, we decided to do this post especially for the travelers coming to India. If there's one way to make your India's exploration a dilly of an experience, you got to attend an Indian wedding.
If you're as fascinated by Indian culture as I am, you can imagine how excited I was to be attending an Indian wedding last week. The clothes, the dances, the ceremonies! I was a part of it all! It's all I could think about for days. And generally, things that one waits a little too long tend to disappoint. But hello, it was an Indian wedding – could it disappoint? Oh no, Indian weddings can never let you down!
[toc]
Ceremonies, Ceremonies, & Some More Ceremonies
First of all, these weddings have countless ceremonies with mini and sub ceremonies thrown in, in between. And there are so many outfit changes – God bless the bride! It'll seem like she took part in a dressing marathon that lasted a week. But this whirlwind of events, celebrations, and glamor is loads of fun. I was an exhausted mess after the wedding but I'd had one heck of a good time, so it was fine.
The one I attended last week had four functions accommodated in 3 days, which barely left any time for any other thing, including blogging.
The first day, we attended the Mehndi + Sangeet +Jago function (yes! All in one), followed by an engagement the next day, and finally the wedding. And after the wedding day, we even had a reception next day in the evening. So, it was a cocktail of all the functions one can ever imagine!
A Guide On Picking Your Outfits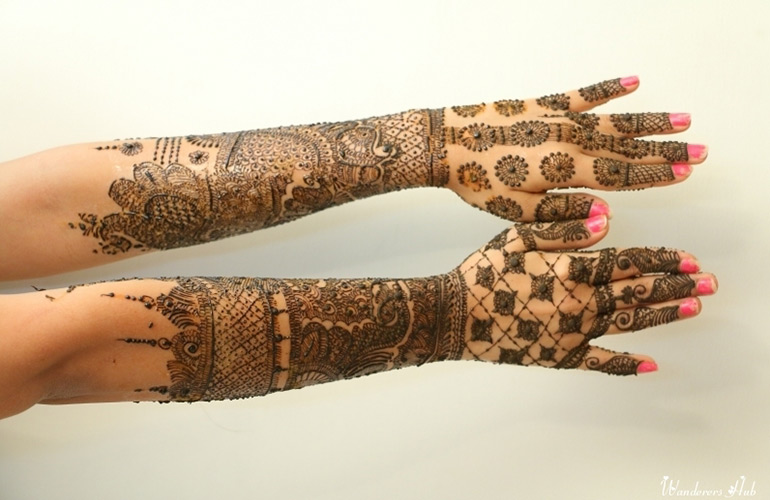 Now the First Day or Mehndi function was a casual affair – don't take the word 'casual' too casually! The welcoming dinner for the guests followed by a sangeet ceremony is attended with much fervor and pomp – ladies dressed in high fashion suits and sarees, entire venue decked with candles and flowers, and the bride or groom flaunting the best of the outfits.
Hands are painted with henna, so you need to be really careful! Imagine with that 3-inch heel, heavy outfit, you also have to manage not touching your hands around. Too much for the ladies! But men are relatively free. They can enjoy their share of laughs while raising a toast to the celebrations.
Second Day or the Engagement is more of a grand affair where both the bride's and groom's side are present so there's more crowd. It has more dancing, more food, and actually more of everything.
Third Day was the Wedding. By this time, one gets accustomed to the 'casual' celebrations. Sarees were once a trademark of all girls for weddings, the scenario has changed significantly now. Mostly women prefer wearing skirts with crop tops, long kurtas with lehengas, and jacket shirts with dhotis. There is a major chunk that prefers wearing sarees on the wedding day, and westerner would definitely look good in those.
Mostly women prefer wearing long skirts with crop tops, long kurtas with lehengas, and jacket shirts with dhotis. There is a major chunk that prefers wearing sarees on the wedding day, and westerners would definitely look good in those.
While we were somewhere in the middle of groom and bride's end, so we were a part of all festivities. However, ones who are with the groom are expected to reach a fixed point from where the baraat proceeds towards the venue. The groom sits on a chariot (yes, he is pulled by two horses on a Cinderella sort of cart) and a group of drummers
The groom sits on a chariot (yes, he is pulled by two horses on a Cinderella sort of cart) and a group of drummers moves along with the guests and the cart. You can see people dancing in zest and throwing money in the middle of the road. It'll be an experience like no other.
Fourth Day or the Reception was the groom's side event, which again is all about food, outfits, and more grandeur. It's the first time that the bride and groom make an appearance as a married couple.
Don't get bamboozled on seeing hundreds and thousands of people merrily dancing and enjoying the gala affair! Be a part of their happiness and enjoy the real flavors of Indian weddings.
Safe Picks For Westerners
It is best for westerners to pick gorgeous sarees, lehengas, silk suits, or shararas for the festivities. If you are not too comfortable trying the Indian costumes, opt for Indo-western ones, like dhoti with capes, dhoti with peplum, or dhoti with a crop top.
Long kurtas and Palazzo will look gorgeous if only you can carry them with panache. You may accessorize your clothes with flowers and diamond jewelry as Indians love jewelry. In fact, everyone will appreciate the fact that you took efforts to dress like one of them.
Gifting
If you have received an Indian wedding invite then showering your blessing would definitely do, but gifting something to the couple will be most treasured. There are a lot of things that make for an awesome wedding gift, which includes:
1. Photo frames
2. Mason jars
3. Mug sets
4. Photo collage canvas
5. Wine glasses
6. Keepsake box
7. Monogram glass coaster set
8. Centerpieces
9. Flowers
10. An envelope of money
Five Things Westerners Should Be Prepared For At An Indian Wedding
1. Be Ready To Sleep Less
Indian weddings last an average of three days and each function ends up after midnight (with maximum people ending up tipsy). A typical Hindu wedding starts at 8 PM and is rounded up on next day at around 4 AM. YES!
It goes on for so long – besides the typical dancing, feasting, and drinking, there's more to an Indian wedding – there's customs, rituals, and traditions that are carried out in the long night procession.
If you manage to remain awake till 4, you can be a part of the most touching moments of a bride's family – when they have to let their daughter go to a new home with the groom. The bottom line is, you'll be short of sleep but full of a gratifying experience.
2. Be Prepared For The Best Eating Behavior
It is customary for the guests to eat food, even if they are full at Indian weddings. As Indian consider guests as a god, they'll take care of you and the purest form of showing their respect and love is through offering food.
If you do not eat food they offer, they'll take it as a mark of disrespect. So, even if you aren't really in a mood to eat, it is best to take a bite or two. A week before attending an Indian wedding, start controlling your diet.
Keep a check on what you eat so that you can savor the delicious Indian delicacies. Try new cuisines as Indian meals won't disappoint you.

3. Be Free And Dance
Well, Indians know how to dance, and they know it really well. Westerners can have the time of their life dancing next to the Indian baraat brigade.
Just go with the flow and let lose! Don't be conscious as this opportunity might not come pretty soon the next time. Indians will definitely be helpful in teaching you a move or two.

4. Lots Of Talking
Indian loves to talk. And on an occasion like wedding, you are definitely going to meet a lot of people belonging to different castes and religions. Just as much as you would be interested in knowing about them, they'll be too! Indians are humble and fun people to hang around with. Just don't be shy at all!

5. Go For The Sarees
Even if you are shy of tying one, the opportunity won't present again! It's best to leave your shyness at one end and wear a saree.
Westerners can take help from their Indian friends to decide what exactly will go well on their body structure. A silk saree will be ideally a safe choice and it is sure to make you look adorable.
I have to say though, no one parties like Indians do. They go all out and they do it in style. Be a part of their happiness and Indian or not, they'll treat you like family.
You can sing, you can dance, you can do anything. And all because it's a big fat Indian Wedding! So all you folks who've never been to an Indian wedding before – you're missing out!
Trust me, it's an incredible experience. So, next time you get an Indian wedding invite, you better not say 'No'.
Hope you all liked this mini guide on acing that Indian wedding look and surviving the multiple days of tiring yet fun festivities. Have fun!