2 Weeks Kerala Itinerary: The Only Itinerary You'll Need
Palm fringed coasts, intriguing colonial past, lush backwaters, and verdurous beaches – Welcome to God's Own Country – Kerala. 
For the longest time, Kerala has been one of those beautiful Indian states that Harsh and I longed to visit. Those who have been reading this blog for some time now would know that we both are bonafide beach bums and equally enthusiastic about exploring the mountainside. And where in the world would one get a perfect mix of mountains and sea both getting along with each other in symphony. 
So, finally getting the opportunity to visit this South Indian state on the country's tropical Malabar Coast was a dream come true for us. The best thing – we got to explore the tea-covered hills of the Western Ghats, trip through the backwaters and swim up to the boulders at Varkala Beach. We did it all! In our 2 weeks Kerala itinerary, we have tried to narrow down the places you must visit and explore in a period of 2 weeks. 
Cruising down the Alleppey backwaters
Suggested 2 Weeks Kerala Itinerary
Land in Kochi and make way to Munnar (140 KM drive for 4 hours)
Explore Emerald-Green tea Plantations of Munnar (3-4 days) 
Make way to Thekkady (Periyar) (110 KM drive for 3 hours) (2 – 3 days)
Leave for Alleppey (160 KM drive for 4 hours) (2 – 3 days)
Time to get to Varkala/Marari and explore the non-touristy beaches (3 – 4 days)
Spend some lazy days in the backwaters of Kumarakom (2 days)
Back to Kochi then flight back or direct flight back home from Thiruvananthapuram (TRV) Airport  
Alternate 2 Weeks Kerala Itinerary
Arrive in Kochi and explore it for 2 days 
Stay in Munnar (3-4 days)
Thekkady 
Alleppey
Kovalam
Thrissur
Kochi
My morning dip at the beautiful Varkala Beach
Our Detailed 2 Weeks Kerala Itinerary: Planning & Highlights 
DAY 1 – Embark on an awe-inspiring Journey through Munnar 
Fly into Kochi, arrive at Kochi Airport, rent a car and get set to drive straight for the next 2 hours to Munnar. If you would have made car rental bookings in advance, you'll have the car waiting at the airport. Write this day off because you'll get a bit tired after hours of driving. It would make sense to reach your hotel in Munnar first and get prepared for the adventurous days ahead. 
Upon arrival in Munnar, you'll have time to get adequate rest; try to soak in the spectacular views of tea fields around. In the evening, go for a long walk and keep going till the clouds descend upon you. Don't forget to eat local food at the popular restaurants in Munnar. Keep your Munnar trip plan for the first day, light! 
Striking sunset witnessed amidst tea fields in Munnar, Kerala
DAY 2 – Experience the natural beauty of the rolling hills of Munnar
Wake up early in the morning, go out for a walk, and don't forget to have your breakfast to a stunning view. We stayed in Chandy Windy's Hotel in Munnar where the outdoor breakfast setup offered an exotic masala of striking landscapes. The tranquil setting of our hotel on cliffs and the balmy breeze never really made us leave the hotel early. 
Tea lovers can visit a tea plantation field like Kolukkumalai Tea Estate and learn everything about growing and processing tea. You can sample a range of tea here all whilst enjoying premium hospitality of locals. Enjoy the slow pace of life, plan an impromptu picnic in the rolling hills and surprise your loved one! 
Some of the landmark places you can visit in Munnar on this day include Mattuppetty, Top Station, and Gundala Lake. We rather prefer touring the hills in our own way, stopping here and there, and soaking in what the region has to offer.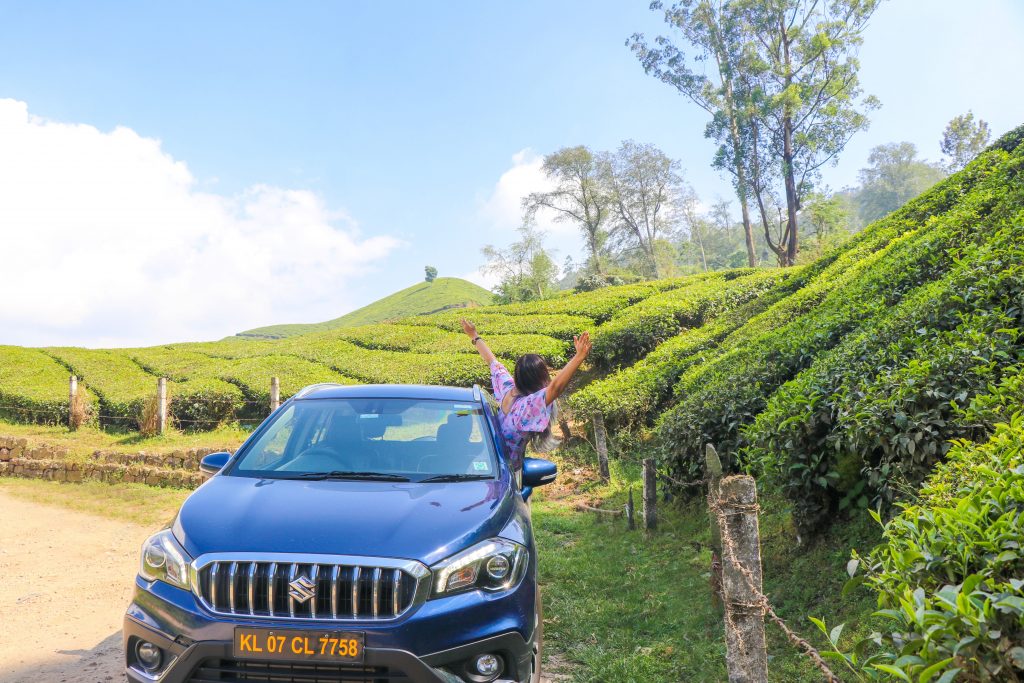 Munnar's paddy fields and tea plantations are totally worth a while
DAY 3 – Sightseeing in Munnar and Shopping
After relishing a hearty South Indian breakfast, head to Munnar market. Some things that you must try from the local markets of Munnar include chilly bhaji, idlis and dosas served on banana leaf, and hot tea. There are a lot of tiny kiosks and shops from where you can purchase aromatic oils, spices, tea, and fresh fruits. Post your tea break, you can brace yourself for a full day of self-exploration. 
Put on your walking shoes and get ready to spot the exotic Nilgiri Tahr wildlife species. You can find these animals in Ernakulum National Park. It is best to start early and reach this park before 9 AM as the waiting queue gets really long by noon time. Also, exploring this park can take anywhere from 4-5 hours, including the waiting time to get your tickets and getting out of the park. There is Anamudi Peak inside this park which stands at 2,695 m and is covered by rare flora and fauna. But, it is no longer possible to trek to this peak these days, unless you've the forest department's permission. 
Drive to Kanan Devan Hills which is located in Idukki. This region is renowned for its tea lineage, virgin forests, and striking plantation views. Take pictures as each and every single frame is Insta-worthy. If time permits, visit Lakkam Waterfalls.
Savoring our favorite South Indian delicacies at Chandy Windys Munnar Kerala
DAY – 4 Relaxation and Spa treatment in Munnar 
Your last day in Munnar itinerary can be all about relaxation and rejuvenating Ayurvedic massages. Harsh and I are big fans of wellness treatments and we make sure that once on any trip we do indulge in these magical body relaxing therapies. And when you are in Kerala, you just can't have enough of Ayurvedic treatments. We tried authentic Shirodhara treatment back at Chandy Windy's and it was the best decision ever. 
Some of the other top-rated spa centres in Munnar include Mayura Ayurvedic Centre, Amber Dale Munnar, and Mayura Ayurvedic Centre.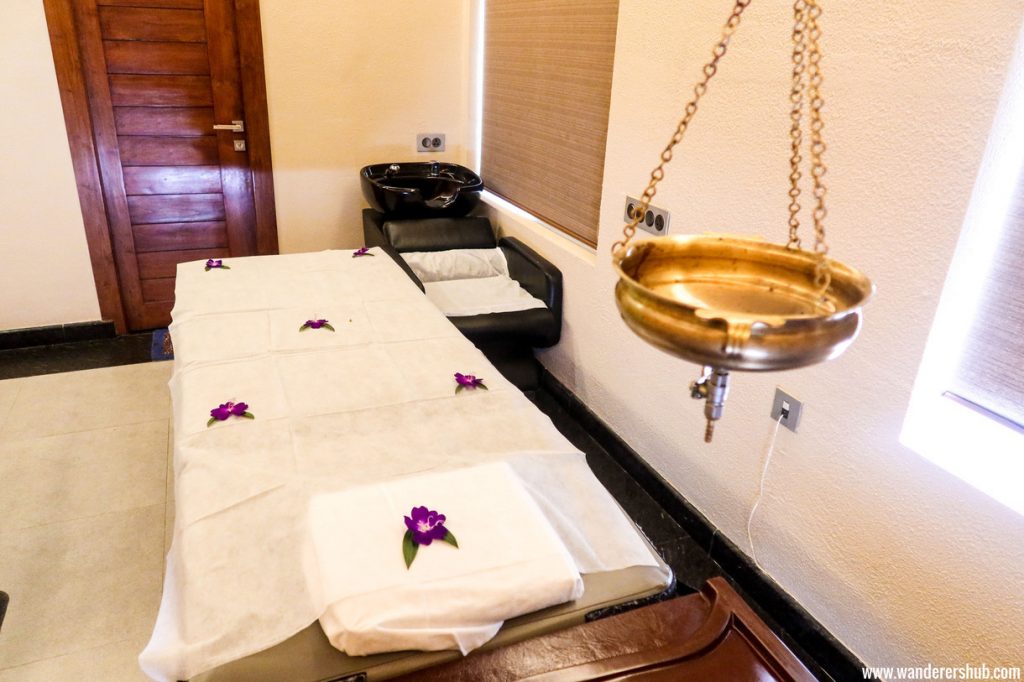 Best Things to do in Munnar (Key Highlights)
Walk through the strikingly gorgeous carpet of manicured green.
Plan evening sunset photoshoots with tea fields stretching miles and miles.
Go for bonfire and romantic terrace dinner organised at Chandy Windy's.
Wander through the colorful bazaars looking for pretty souvenirs to take back home. 
Random tea breaks on the way to Kanan Hills at the tiny kiosks. 
Relish local cuisines on banana leaf and enjoy endless supply of your favourite fragrant tea. 
Here are some things you should keep in mind on reaching Munnar – 
If you are inquisitive to watch a traditional Kathakali performance then you can visit Punarjani Traditional Village in Munnar. It is located at 2nd Mile Kochi – Madurai – Dhanushkodi Road Pallivasal, and is open 24×7. 
Visitors who wish to enjoy trekking in Munnar can plan a day trip to Cloud Farm, Munnar. It is the first campsite in South India situated 2030 meters above sea level. Here you can peak through the clouds and sleep under the stars. 
When touring Idukki region, you can visit Attukal and Cheeyaparra Waterfalls, especially nature lovers. 
Romantic dinner at Chandy Windys Hotel in Munnar, Kerala
Munnar Hotel Recommendations
Munnar was the preferred summer resort of Britishers during the colonial days and that too for a reason. There are a lot of options for all sort of travellers, including solo, couples, and family travellers. Some of the options are listed below: 
Budget-Friendly
Trivers Resort Munnar – This resort is 7km away from Munnar's Tea Museum and is highly rated on Booking.com. It is a well managed hotel and is better than 90% other budget-friendly properties in Munnar, Kerala. 
Eco Tones Munnar – For families traveling to Munnar, this hillside hotel in Idukki makes for a picturesque holiday idea. 
Mid-Range
Kaivalyam Wellness Retreat – It is a holistic health retreat that is situated amidst striking surroundings and tea covered hills. A night stay here would cost you about 5000 INR. 
Fragrant Nature Munnar – A hotel with a fantastic location and an even exceptional room service, Fragrant Nature Munnar is a top-rated property in Munnar. You can gaze at the mist-clad mountains while cozying up at the fireplace , enjoying the fragrance of nature. 
The Fog Munnar – This is a family-friendly resort in Munnar that offers a perfect amalgamation of luxury and nature. The Fog Munnar features luxe rooms from where you get unparalleled views of the hillside. Don't forget to go for a nature walk and pamper yourself with endless spa sessions.  
Luxury
Chandys Windy Woods Munnar – We stayed in this luxury five star hotel located along a hill slope and were blown away by the services. This upscale hotel is about 11 km from the Munnar Tea Museum and you can read our detailed review of this hotel. 
Elakai Premium Luxury Villa – This 350m square luxury villa with lake view boasts of 2 bedrooms and an amazing location, and impeccable staff service. Some of the facilities offered include free parking, a hot tub, and free WiFi. Elakai Villa is about 32km from Mattupetty Dam and 88km from Kochi International Airport. 
Kites Resort Munnar – It is a luxury resort perched on one of the highest ranges of Muthuvankudi about 18 miles away from Munnar's Tea Museum. The views from the hotel are just priceless and the staff is extremely courteous. 
Luxurious pool at Chandy Windys Munnar Kerala
Munnar Places to Eat Recommendations
We loved relishing a good variety of foods typical to Kerala especially Puttu and Kadala Curry. Other than that, the staple dosa and idlis with mouthwatering sambar at Saravana Bhavan. 
You can try appam (rice pancakes) and Kairali Thali (payasam, pachadi and mixed veg thoran) all of this garnished with coconut. 
Top places to eat in Munnar, Kerala are: 
Copper Castle 
Rapsy Restaurant
Guru's Restaurant
Taste the Brew's 
Food with a nice view at Chandys Windy Woods Munnar
DAY-5 Transfer to Thekkady
After you've explore Munnar to your heart's content, it's time to make a move. Your next destination is Thekkady, Kerala. Where Munnar is all about sightseeing, relaxation, and peace, Thekkady is more about scenic forests, trekking, wilderness and high-spirited trails. You'll see tons of tea manors and cardamom plantations all around. At some places, the roads are not well-built so you need to drive carefully. 
Those who do not mind taking a longer route to reach Thekkady should follow this route:
Munnar – Devikkulam – Pooppaara – Udumbanchola – Thekkady
This route will take 4 hours but the excellence of this one makes up for the additional drive. 
Fastest Route to reach Thekkady is :
Munnar – Chithirapuram – Anachal – Rajakkad – Karithode – Nedumkandam – Thekkady
Today will be all about driving down from Munnar to Thekkady and exploring small nook and crannies along the way. You can take pictures along the way and explore Anayirangal dam and Rose Garden if you have the time and energy! 
Our stunning treehouse at Carmelia Havens Thekkady Kerala
DAY-6 Experience Off-the-Grid Stay in a Treehouse 
At a point we felt like we were in the midst of nowhere. We enjoyed an idyllic getaway this day and found quaint little hamlets like no other. Carmelia Haven's sleek treehouse is set in the midst of endless cardamon plantation and is an experience like no other. Having stayed in a host of treehouses in the past, we can clearly say this one topped it all. It was totally secluded away from the jacuzzi suites and family suites. An intimate vacation with nature around, we couldn't have asked for more. We would recommend honeymooners to go for a treehouse stay in Thekkady, Kerala without any second thought. All you have around is 55 acres of lush green spice plantation and ecstasy. 
When in Carmelia Haven's, you don't really have to venture out a lot looking for local experiences. The staff is highly hospitable and they made sure we had fun. We had a cooking class in the evening where we cooked everything organic straight from produce gotten from trees. 
Most of the time was spent appreciating the bespoke treehouse and the walkway that led to our wee beautiful nest. We slept peacefully and woke up to the chirping of sweet birds. 
Your 2 weeks Kerala itinerary trip plan would be incomplete without a visit to Thekkady. 
A lazy day at Carmelia's Haven in Thekkady Munnar
DAY-7 Time to Go High Off-the-Ground to Kailasam 
Staying at Carmelia Haven brought us the privilege of touring their nearby property and an offbeat destination in Thekkady called Kailasam. We started early today and after having our breakfast, got ready to be taken to Kailasam which was roughly half an hour drive from the hotel. 
We were taken to 1500 acres cardamom plantation in a jeep and on the same 4×4 we were taken to one of the most beautiful peaks of Thekkady. You get to see the cardamon smoke house and experience it's production first-hand. Harsh and I were quite reluctant at taking this tour first but it turned out to be one of the best memories of our trip. 
In the evening, we sat down an in-house traditional dance show in Carmelia Haven. Both the dancers showcased their talents; two main styles were performed – Kathakali and Mohiniyattam. We called it the night after having a scrumptious dinner and a really long walk in the hotel premise. 
Option 2 – You can alternatively choose to visit Periyar National Park which is about a 45 minutes drive from Carmelia Haven. If lucky, you'll get to encounter wilderness in its best way. You can go for jeep safari and evening boat rides. Tourists even opt for elephant rides but we do not support the same due to our own beliefs and refrain from doing the same. Some of the animals you can find here include deers, elephants, and wild boars. 
Come here as early as you can to make the most of your time at Periyar National Park! Start at 7 AM if you can. 
Metre chai is a rage in Kerala and we know why!
Best Things to Do in Thekkady, Kerala (Key Highlights)
Serene boating tour in the Periyar Lake where you can also spot some cute baby elephants (only if lucky). 
Find the largest authentic variety of spices including nutmeg, fenugreek and cloves at minimal prices. 
Thekkady Hotel Recommendations
If you prefer refined luxury and elegant stays, then you can look to stay in these hotels in Thekkady:
Mid-Range
Carmelia Haven's Resort – You can't say no to this eco-chic resort which features all the modern amenities one could need to make the holiday, amazing. And at tow is an extremely sweet and friendly staff that ensures you have a holiday of a lifetime in Thekkady. You can read our detailed review on Carmelia Haven Resort and decide!
Abad Green Forest Resort – Located 2km from Periyar Wildlife Sanctuary, this leisurely hotel is an ideal place to unwind in Thekkady after a long day of exploration. Scenic views are guaranteed from all 40 bedrooms. 
Cardamom County by Xandari – Looking for a holistic experience in Thekkady for your family, we'd suggest you to stay at Cardamom County by Xandari. 
Sterling Thekkady – Heading to Idukki's stunning mountains? You must stay at Sterling Thekkady. You'll wake up to the striking vistas of Periyar. Sterling Thekkady offers an array of nature-filled activities for a laid-back holiday experience. Per night stay here would set you back by 4000 INR. 
Spice Grove – This hotel is located besides the Thekkady – Munnar Highway. It is a stylish hotel with spice plantation all around.
Kailasam – a must visit hotspot in Thekkady Kerala
Soaking in the beautiful nature and scenery at Kailasam Thekkady[/caption]
Luxury Hotels in Thekkady
Spice Village – Staying at Spice Village is no less than travel therapy. It is magical hotel in Kerala where you would love to disconnect with the outside world and become one with nature. It is a CHG experience so you can expect nothing less than luxury and excellence here. 
Amritara Shalimar Spice Garden – This luxury hotel in Kerala is all about scents and colour. You'll be surrounded by spice gardens, cool mountains of Thekkady region as well as a gorgeous stream running through the mountains. You can book a night at this hotel for about 4000 INR for a couple.   
Niraamaya Retreats Cardamom Club – It is a secluded hideaway amid lush cardamom plantation offering a luxurious stay to the visitors. This 5-Star resort in Athirappilly is just at the edge of Periyar National Park. A night stay at this upscale hotel would set you back by 9000 INR for a couple.
Thekkady Places to Eat 
Some of the places where you can enjoy a hearty meal in Thekkady are:
Spice Garden 
Ebony's Cafe Restaurant 
Bamboo Cafe
Dosa de Thekkady
It's fun plucking your own fruits and fresh veggies from the trees
DAY-8 and 9 Beach Time Finally! 
Before setting off our backwaters experience, we decided to take a short stay over at one of the beautiful properties at Marari Beach named Amritara A Beach Symphony. An ideal escapade for those looking for a beach property with vintage class in Kerala. 
It was a change of scene as we were now right at the beach after spending a good few days in the mountains and tea estates. It would be best to go for the private pool cottage as it's huge and private. Nonetheless, all the rooms here come with a really big front courtyard and you feel one with nature while relaxing in the private sit out area. 
Technically, since we were at the beach we just decided to comfortably rest a bit and walk along the beach. The food was impeccable and their service was great. We enjoyed our candlelit dinner in the verandah each night and they prepare delectable vegetarian meals. 
The beach isn't really great for swimming so I'd recommend you all to stay in a private beach villa with plunge pool. You can see gorgeous sunsets though on Marari Beach. If you have a shorter than 2 Weeks Kerala Itinerary, you can completely skip Marari Beach and head to Alleppey instead. 
Note: If we could choose, we would have rather chosen to visit Thrissur instead of Marari on our 2 Weeks Kerala Itinerary. This is because the beaches here were not that great and on the other hand we would have rather liked sampling other flavours of Kerala. 
Our plush beach house in Varkala, Kerala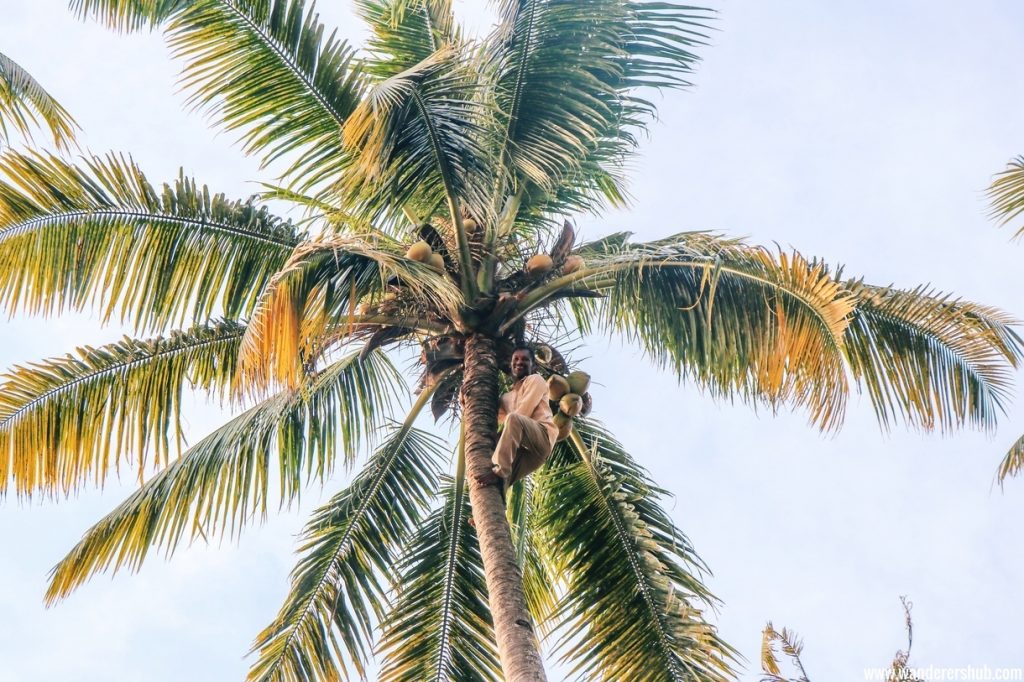 That's how coconuts are plucked from trees in Kerala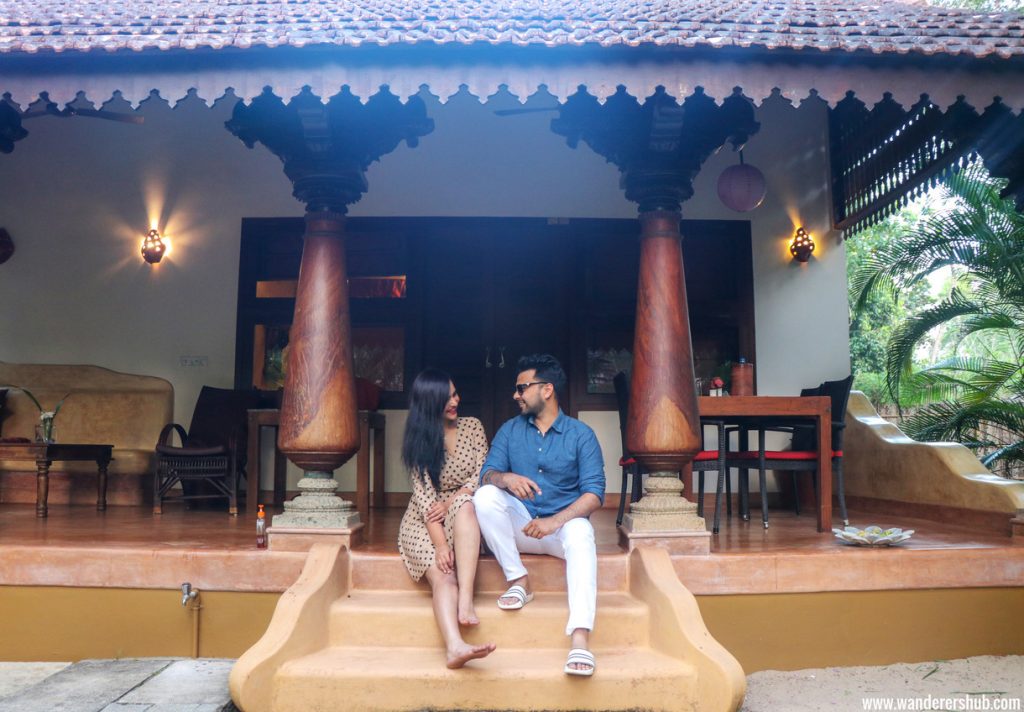 Loved every minute of our stay at Amritara Symphony Marari[/caption]
Day-10 Cruise The Backwaters of Alleppey 
You can surrender yourself to the beauty of Kerala and feel one with the backwater life only on a houseboat tour. It is a popular must-do activity in which you can witness the true beauty of Kerala. Calm, serene waters, colourful vegetation, green rice paddies and so much more. 
These houseboats are available for stay in different categories and of different budgets. You can either hop on a houseboat for a day tour or do it for a day or two. Other than that, you can board either a traditional boat or a modern one depending on your taste and facilities you'd like to experience. We went a for a one-day tour with Spice Routes Luxury Cruises and enjoyed every bit of our trip. The same day we also rented a small boat and explored the canals of Alappuzha in a laid-back style. It's the day to truly get on an invigorating journey and relax with your loved ones. 
Witnessed a stunning sunset in Alleppey, Kerala[/caption]
Lunch aboard Spice Routes Luxury Cruise in Alleppey, Kerala
Backwaters of Alleppey in Kerala
Day – 11 & 12 Experience the untouched Essence of Kerala in Kumarakom 
Our next pitstop was quite close to Alleppey and that made us happy. It was a verdant green village on Vembanad Lake in the backwaters called Kumarakom. After an hour's beautiful drive from Alleppey to Kumarakom, we reached the destination we were looking most forward to exploring – Coconut Lagoon Kumarakom, Kerala. 
No doubt, Kumarakom is a splendid backwater destination and a delight for travellers. I had high hopes pinned on this sleepy little village and it didn't disappoint. Once we reached Coconut Lagoon in Kumarakom, we parked our car right there at the entryway in the parking area reserved for their guests. The catch is that this hotel can only be reached by a boat. So, we had our boat waiting for us at the parking area and glided into our secluded watery paradise within minutes. 
We stayed at Coconut Lagoon, Kumarakom for 2 nights and enjoyed every minute of our stay there. Upon our arrival at the hotel, we were welcomed with refreshing coconut drink and a warm namaskar. 
Coconut Lagoon in Kumarakom – a nice retreat for secluded fun
Some of the activities/highlights of our stay at the Coconut Lagoon during our stay were as follows:
Bird watching – We were given a room overlooking the quiet backwaters which also meant a lot of birds and butterflies were spotted here. Truly every second spent here was rooted in environment and native culture. 
Sunset Cruise – Find your worries drifting away on an hour long cruise looking at the magical hues of the backwaters. That memory of watching the sun setting from a boat was surreal. To witness the riot of colours splashed across horizon tugged at our heartstrings and made us so happy. The sunset cruise service is free for all guests and leaves sharp at 5 PM.
Floating tea shop – This is the way of living in Kerala especially backwaters where locals are dependent on boats to be able to canoe from one place to another. Meet the resident tea lady who serves frothy tea from Chaaya vallam (a wooden row boat). This service is complimentary and runs strictly from 16:00 PM to 17:00 PM. 
Cruising down the Alleppey river to get to Coconut Lagoon Kumarakom
Food at Coconut Lagoon, Kumarakom 
We both absolutely loved the authentic food served at Coconut Lagoon, Kumarakom. Their swimming pool snack bar served in-room and the burgers and wraps were to die for. In fact, without really having the need to have dinner, we signed up for the buffet as we couldn't resist the temptation. The variety really bowled us. Authentic Malabar food and a rustic dining experience are guaranteed. 
Day – 13 Chill out Time at Varkala Beach, Kerala 
Some of the best times we had in Kerala were right at the Varkala Beach. We had booked two-nights stay at a beautiful beach property namely Maadathil Cottages. This coastal getaway was all about stunning Arabian waters, delectable culinary retreats, jagged cliff pictures and rejuvenating holiday therapy. 
You can sit by the seaside, lounge on a hammock with a book and a nice drink and make the most of your time here. It just brings immense happiness to sit by the cliffside and watch the sun go down. Start your day by sunbathing and surfing in the strong currents. Later, rent a scooter to explore the nearby areas as the lanes here are narrow. Varkala is best known for it's hippy vibes and after taking your much deserved dip, make your way to Anjego Fort and Light House. There is no entry fee so just make the most of your time. 
In the evening, come back and get ready to have a romantic dinner by the beachside. Bluewater Beach Resort is just perfect for enjoying a quiet meal listening to the waves crashing on the shore. The staff is extremely friendly and didn't shy away from taking a couple of our pictures. 
We ended this day on a hammock, listening to our favourite music under a starry sky. 
Day 14 – Rest More, Explore More
If you are like us, probably on this day, you'd also like to start your day by hitting the beach early morning. We went for a long walk and came back for our breakfast at the Maadathila Cottage only. After some time, we went for a deep tissue relaxing massage at AyurSoul. You get authentic Ayurvedic treatments here, though the clinic is rustic and not fancy. But I can assure that the services would be more than worth you'd be paying for. 
On your day 14 Kerala itinerary, you'd be able to relax your muscles and rejuvenate your senses. After your massage session, you can head to the long, cobbled stretch of cliffs. Plan a romantic dinner date by the beachside and end your beautiful trip reminiscing all the fun you had on your 2 weeks Kerala itinerary. 
Weather in Kerala (Best time to visit)
Winter season is definitely the best time to be in Kerala. October to February, the weather in Kerala remains pleasant and makes it absolutely the best time for exploration. From March to May, most of the parts of the state remain extremely hot and it might not be the best time to be in Kerala.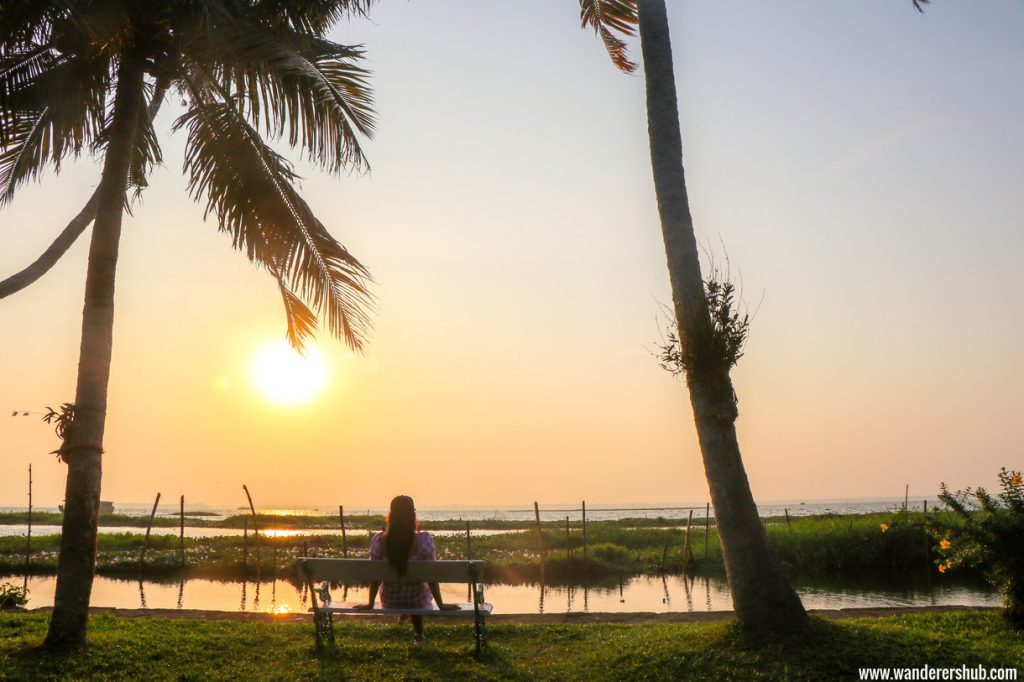 DO you need to Rent a Car in Kerala?
Car rental in Kerala is an excellent idea as you can explore the length and breadth of this beautiful state at ease. There are a lot of car rental companies in Kerala and it is best to book a car in advance. You can look up some rental companies online and compare prices of different cars. Don't forget to check reviews though before choosing one. After checking reviews and comparing prices, you can look for discounts and service locations. When renting a car, make sure you check the car thoroughly for dents and scratches beforehand.