We were awestruck on the thought of romancing in the backwaters of what is famously dubbed as the honeymoon cruise of Kerala. Of course, instantly fell in love with the place and the ambience! It is spacious and packed with different kinds of amenities and a private staff. The captain and the chef were very friendly and courteous towards us.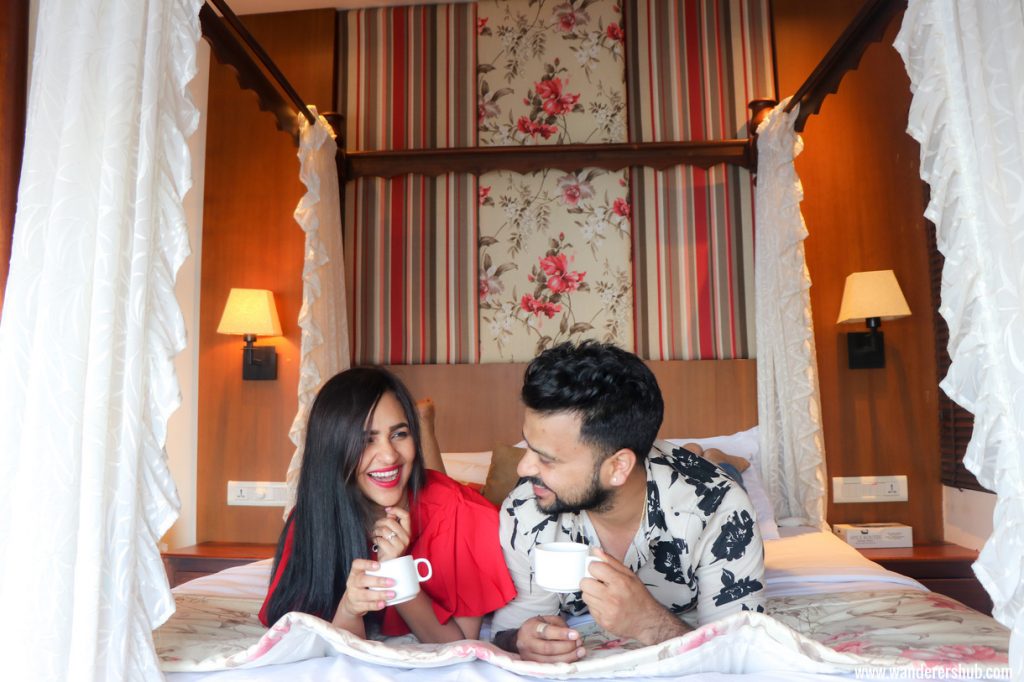 SPICE ROUTES LUXURY CRUISE FACILITIES 
The luxury cruise, in particular the saffron boathouse, gives you the relaxation you deserve. Since it is exclusively made for two people, they have a lot of room and have used the space brilliantly to place a jacuzzi in the bathroom and a sundeck on the upper part. The private dining area allows you to overlook the woodlands on either side of the waterway in the lake of Alleppey while you dine on fresh seafood served to you by a delightful chef. They are air-conditioned rooms and also have a TV, a minibar and a coffee maker, basic amenities you can expect in a hotel room. The boats are not equipped with wifi routers but have good network coverage in the lake. Also when you're back in land, you can access wifi at the heritage home.
Spice Routes also offer a 2-bedroom boathouse that is called the pepper experience, suitable for 4 guests and does not have a jacuzzi.
SPICE ROUTES LUXURY CRUISE KERALA STAFF
Every houseboat along the spice route has a captain and a chef. They personally see to it that your journey is pleasant and a memorable one. Spice Routes luxury cruise in Alleppey, Kerala have employed locals from settlements near the lake as staff members. These locals are familiar with the backwaters and it helps make their livelihood. They are more than happy to clear all your queries you have about the lake or about Kerala in general.
A chef is accommodated to fulfil all your banqueting desires. Seafood is predominantly popular along the route and is picked up fresh. They also have their own kitchen garden at the heritage home where they grow some vegetables. And any other produce is sourced from local markets. Manish, our captain, and John, our chef, were very accommodating and friendly.
CRUISING ALONG THE VEMBANAD CANAL
The backwaters of the Arabian Sea have formed into the biggest lake in Kerala, the Vembanad Lake. It is a freshwater lake and also a part of the Malabar coast. Renting a cruise and coasting along the canal is refreshing to say the least. And this experience should not be missed ever. It is quite the special occasion to relax and forget about all the city stress bugging you, helping you recreate your own self.
The serene flowing river along lines of coconut trees and other flora charms the mind, captivating it in nature's sweet grip. The sights, along with a friendly crew and amazing food is a vacation to remember for a long time.