LA LAGUNA CANGGU BALI: ROMANCING AT THE BOHO PARADISE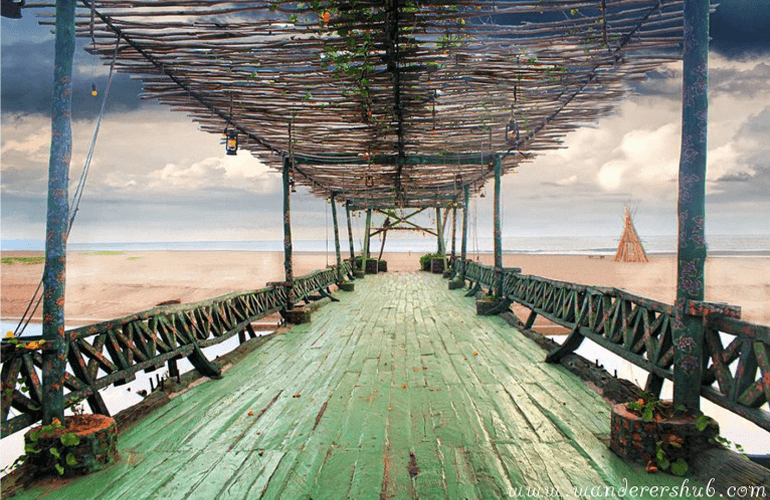 La Laguna Canggu Bali is probably one of the most breathtaking restaurants in Bali. It is perched along the picturesque seaside; the gorgeous decor is what attracts most visitors after a lazy day in the sun. If you are a foodie and you are visiting Bali, this is one restro-bar you must include in your itinerary. Cute little gypsy carts serve as bars serving some of the most exotic cocktails that this restaurant in La Canggu is known for in all of Bali!
Located in Canggu, this restro-bar is usually filled to the brim during the sunset time. Which is when it gives a breathtaking view of the setting sun, so be warned of the kind of crowd you might be in for!
We spent our day sunning ourselves while sipping the tastiest smoothies and margaritas – we bet – you would end up having more than one!
SEATING AREA AT LA LAGUNA CANGGU
The setup of La Laguna Canggu is something straight outta fairytale – so kitchsy and unique. It is actually perfectly summed up as the most 'Instagrammable' place in Bali. For the perfect kind of weather, the alfresco seating option works just fine. The design and attention the detail – bamboo sticks and recycled wood everywhere around and most attention given to green and colorful seats – definitely will make you fall in love with La Laguna beach club Bali.
Our favorite happens to be the bridge constructed over a small river with the perfect seats on it. No prizes for guessing – we sat just there! It was indeed playful, vintage, cheering, and all sorts of romantic! Wouldn't be wrong to term this point as the perfect sunset viewing spot!
Then there was a covered boho yet cosy space for another set of visitors (perfect for the hot weather).
Best Point: Rustic furniture and colourful pillows can be spotted at pretty much every corner of this beautiful restaurant in Canggu!
FOOD AT LA LAGUNA CANGGU
La Laguna Canggu Bali also serves some delicious fresh seafood which is a must try for those in town. Though the menu isn't an elaborate one, but the interiors more than compensate for everything. The place is all decked up with fairy lights at night and is perfect for a candlelight dinner! Either way, day or night, the ambience is one you don't want to miss while on the beautiful island!
You can refer this list of amazing cafes in Bali for your next trip to the island destination.
HIGHLIGHT OF OUR VISIT AT LA LAGUNA CANGGU BALI
The cherry on the top for us or for anyone visiting La Laguna Canggu Bali has to be the wooden bridge. It stretches right from the Laguna to the beach and needless to say, is the perfect picture spot.
On the beach you can see bamboo-wigwams standing pretty! You cannot stop yourself from following La Laguna beach club Bali at their Instagram handle once you have visited it personally!
REACHING LA LAGUNA CANGGU BALI
A part of the charm that La Laguna Bali boasts is majorly its location and you will know that when you see it in real. Those driving down from Kuta (like us) or Seminyak need to head towards Canggu along Jl. Batu Belig. Just follow the path leading to field opposite La Finca until you see a gravel path. That'll take you straight to the Canggu beach. You can also choose to stay back in Canggu as there as many amazing hotels to stay in Canggu.
So, if you love a bohemian hangout, especially with a soft spot for vintage gypsy wagons – La Laguna Bali is your place to be at!
******
IF YOU ENJOYED READING ABOUT THIS GORGEOUS BOHEMIAN PARADISE THEN YOU WILL ALSO LOVE TO SEE OUR 20 FAVORITE PHOTOS OF BALI.