Why is Darjeeling the Perfect Northeast Honeymoon Destination?
Are you still trying to figure out a nice honeymoon destination in India? You need not look beyond the boundaries, because one of the most serene yet exhilarating places is right there when you look towards the Northeast, Darjeeling. 
It is a picturesque town, with lush green valleys covered with floating clouds from above. Darjeeling's honeymoon fulfils the need for personal time and makes the vacation worthwhile. 
We can say this because when we were there we felt like the city had everything a couple could want on their honeymoon – acres of pretty tea estates, the famous toy train ride, stunning colonial architecture and some of the nicest restaurants & cafes.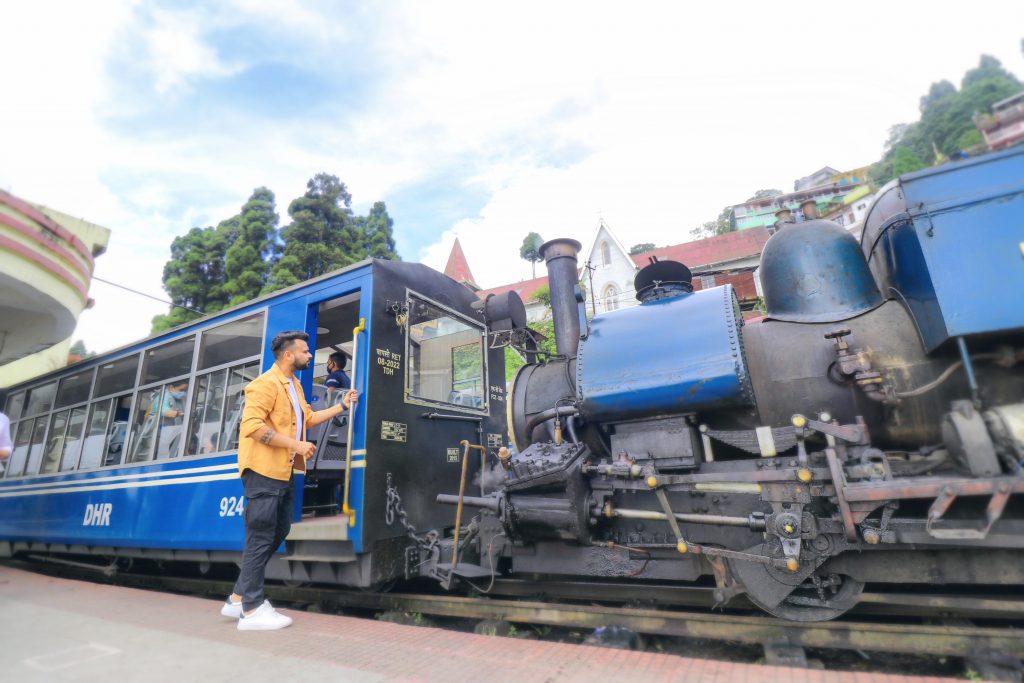 Here are some top picks for the Darjeeling honeymoon which would make your trip one to be cherished for a lifetime.
A Timeless Toy Train Journey: 
A romantic ride on Darjeeling's toy train is going to set the tone for your honeymoon. 
The Toy Train is the icon of the heritage in Darjeeling which has been accorded the UNESCO World Heritage Site status in December 1999, which makes it easier for people to not let this heritage go unnoticed. 
Mini coaches being pulled up by the steam engine up the steep mountains passing through surreal landscapes is something you cannot miss. 
The pace of the train is so slow that you can even see small children playing in the terrain and waving a hand. In 2021, new coaches have also been added with large glass windows and glass roofs to get a panoramic view of the beauty.
Begin your Darjeeling Honeymoon from a toy train ride
Witness a Magical Sunrise from Tiger Hill:
The stunning sunrise from the peaks of Kanchenjunga is a view people wish to see from across the world. Tiger Hills is a place where you can immerse yourself in Himalayan beauty. 
Tiger Hills makes it possible for people to take a panoramic view of Mt. Everest. Tiger hills can be easily accessed through roads or by rail. It is surely worth a visit to give an amazing start to the day.
Sample a Variety of Tea at the Tea Estates:
Darjeeling Tea is claimed to be one of the best teas in the world. And your Darjeeling honeymoon is incomplete if you have not given a visit to their tea estates.
Tea Estates is another unique experience for couples to escape from their daily routine. Walking through the vast stretches of tree plantation discovering various types of tea and sampling favorite brews for the couple surely gives a rejuvenating experience.
Have long conversations at Glenary's
After a long day, who would not want to sit and have good food, and instagrammable pictures!? Well, you got it covered here. Glenary's has remained as the best bakery and cafe in town. They have two outlets, one at Chowk Bazar and the other at Bagdogra, near the airport.
They serve scrumptious food with a marvelous view of mountains and valleys to have an eye upon. In the evening, you can even enjoy the live music. It is known for its hot chocolate, cappuccino, and apple tea.
Catch a Beautiful Sunset at Cafe Readers':
Cafe Readers' is another amazing place to eat with a mesmerizing view. Not only this, it is known for the best sunset view from here. Grab a book from the shelf, order a hot cup of coffee, look out for the pleasant sunset view and relax! Can the evening get better!?
Day Trips from Darjeeling:
1. Kalimpong
A day trip from Darjeeling to Kalimpong is quite easy and popular too. For a day trip, you should visit the east and west parts of Kalimpong. There are some really picturesque places including Dr. Graham's home, Dello Hills GTA Tourist complex, and Mangal Dham in East Kalimpong while Cactus Orchid centers, Durpid Monastery and viewpoint, Army golf club, etc. in West Kalimpong. It's a 2-hour drive from Darjeeling and you can spend around 7 hours including lunch.
2. Namchi
Namchi is a place of culture and religious tourism for a day trip. It is a 2 and a half hour journey from Darjeeling. On the way to Namchi, there are various tourist spots including Jamuni by river Rangeet. 
Some of the highlights for the day trip include a huge temple complex on top of the hill, known as Char Dham. It has a huge statue of Lord Shiva with mini replicas of the four prestigious dhams in India. It also has twelve known Jyotirlingas, Shirdi Sai baba temples, Helipad, monasteries, Namchi rock garden, etc. too.
3. Mirik
It is one of the most popular day trips from Darjeeling. One of the highlights of this place is the central lake that attracts several tourists for boating activities and children for horse riding. There is a 3.5 km walkway in the forest area to give an adventurous experience to the travelers.
Don't want your Darjeeling honeymoon to end?
We know after such an unforgettable journey, you would not like to go home so soon. No worries, because there are many beautiful places to visit nearby. 
Sikkim is yet another antidote to the daily hustle. To escape into the tranquility and solitude, and to spend more quality time with your loved one, Sikkim has so much to offer. 
Sikkim to Darjeeling is 127 km away, thus you can opt for road, rail, or air, whatever fits as per your convenience. Besides this, West Bengal is another must-go place. It is a confluence of unique taste, smells, and sound. If you want to spend time with your spouse, diving into history, heritage, and food add this to your list right now! 
When to go to Darjeeling?
It's no surprise that the best time to visit Darjeeling is throughout the year. No matter what month it is, the town makes people go down with the crystal drops of rain, amber sunlight, wisps of mist and fog, and what not. 
However, the best time for your Darjeeling honeymoon is from March to May and September to November. Some people also pay a visit during December to February which is mostly foggy and cold. So talk to your partner and know if they like it when it is freezing or pleasant!