A Day Around White Town in Pondicherry
Pondicherry is so beautiful, it's like a pond full of cherry moments, xD. Okay, we'll stop with the lame puns.
But hey, Pondicherry in South India is a place with a diverse history and amazing picture spots. While the French occupied the town, it goes on to embrace new and divine structures throughout the place.
Pondicherry, also known as Puducherry is filled with beaches, old town architecture, European textures, and a wide-spread history. While one chooses to do something over the weekend for a day or two, it is a perfect alternative for GOA. One of its most alluring quarters is White Town, a charming area reminiscent of its French colonial past.
While our travel hopes to help you tie in the best experiences, in this travel blog, we embark on a journey to explore the top 12 things to do in White Town, Pondicherry.
Breakfast at La Villa
To start your day right at the White Town, head to La Villa, a quaint café capturing the essence of French heritage. The moment you enter the place, you'll be swept off your feet by the aroma of croissants and coffee.
They provide a fusion of French and Indian flavors and mind you, try to savor all kinds of tastes, yet don't fill your tummy as we have something more exciting planned ahead. Our favorite picks were the Croissants, Chef's Crumble, and the authentic Greek Salad.
Quick Meal at Cafe Des Arts
Cafe Des Arts is known for its artistic fusion and ambiance let with vibrant paintings on the walls. The vibe of this place talks to you, with open spaces and the yellow theme, it's a definite stop in your day-long trip.
While we delighted ourselves with crepes and fruit juices, people had a full breakfast spread with bread and cheese. The place is a relaxing destination offering books and board games too. We suggest you pick up your orders and walk around the town.
Get a Peak into Pondicherry's History
White Town Pondicherry is a treasure of history, and your trip must start with wandering around the streets of Pondicherry. French history can be understood through stories online, yet we suggest that hiring a guide would be better, as they cumulate different stories to make your time worth it.
Oh, and the French Quarter is worth visiting as there is well-preserved colonial architecture with colorful buildings, bougainvillea, and the Government Square which extends the past era. All your hashtags like #Heaven, truly depict this place, so don't miss out on photos and aesthetic videos.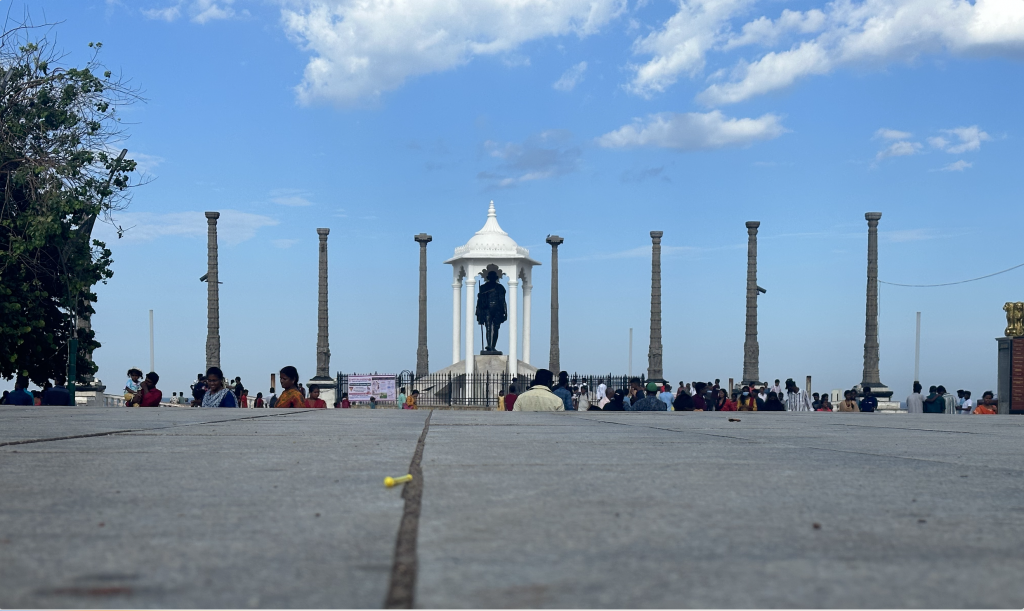 Head for a Photo Walk
Loitering around White Town Puducherry is all you need to do for a great photo walk. While the streets, flowers, balconies, architecture, scooters, wall-arts, and lamp posts keep adding to the beauty, you can head for a few candid pictures and videos.
Couple alert, this is your spot for all romantic pictures. We recommend you walk during the morning hours, as it gives you the perfect mix of shadows and light for your pictures.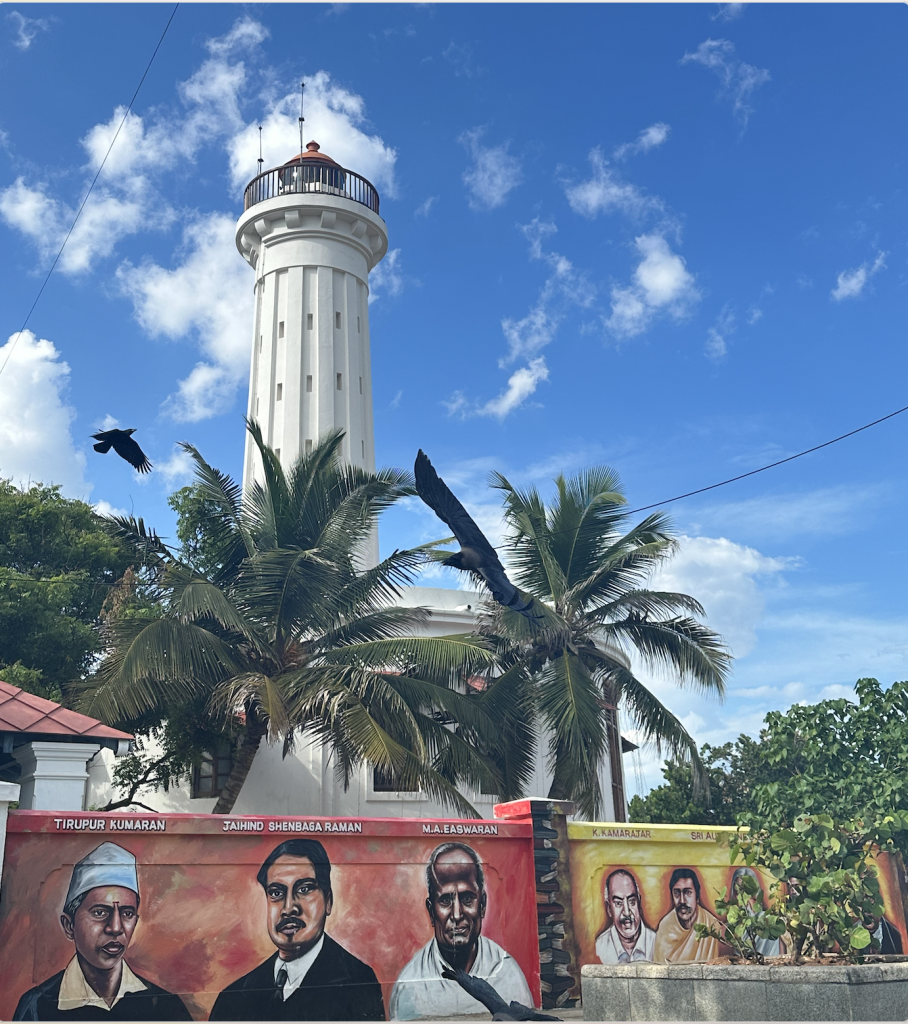 Church Time
Our exploration of the history came in with iconic churches in White Town Pondicherry. You must visit the Basilica of the Sacred Heart of Jesus and the Immaculate Conception Cathedral. Starting off with the Basilica of the Sacred Heart of Jesus, you'll be stunned by the stained glass windows and their architectural style, called the Neo-Gothic.
After spending some time around, head to the Immaculate Conception Cathedral which is a mix of European and Indian design elements and both the places provide the ultimate peace you want in your life.
Lunch at Café Velouti
While things might seem hectic, trust us, they aren't. One of the top things to do in White Town Puducherry is a heavy lunch at Café Velouti. Known to provide Indian, Sushi, and French cuisines, it is a perfect place for all your taste buds.
With delicate design, affordable prices, and a good shade from the heat, it makes up for a good lunch. Blind trust our taste buds? Go for the Spicy Tuna Sushi and Veg Alfredo Pasta.
Tuk Tuk Ride through White Town Pondicherry
To experience Pondicherry like a local, we traveled in a colorful tuk-tuk through the bustling streets. Tuk Tuks' are cycle rickshaws with covering that makes you feel like a local throughout. A ride after lunch is usually a great time as the climate is breezy and good to enjoy. These are very affordable and we suggest you get on one to the Crafts Bazaar, where we're headed next.
Shopping at Crafts Bazaar
Now that you've reached Crafts Bazaar, here's a little about this market. This is the lifeline of the local artisans and they sell unique souvenirs, handloom textiles, handicrafts, and other artworks, that you'll only find here. These are all handmade with the best materials so they might be a little expensive. While I got a basket set and some souvenirs, you should definitely check out the different varieties of cloth they offer.
Divine Time at Shri Aurobindo Ashram
Shri Aurobindo Ashram in White Colony Pondicherry is a spiritual community with positive energy all around. It is named after its founder, Shri Aurobindo, and the ashram showcases his life in images. It is a beautiful experience to know about him and his history, it feels hearty.
Sunset at the Beach
Pondicherry is known for its Beaches. Promenade Beach is one wherein you can witness a great sunset at the beach with some drinks. Set across the Bay of Bengal, the sky is usually pink and orange making it a breathtaking view. You can choose to carry an extra set of clothes if you're up for some beach activities. The beach is quite crowded, so we advise you to find your own sweet spot.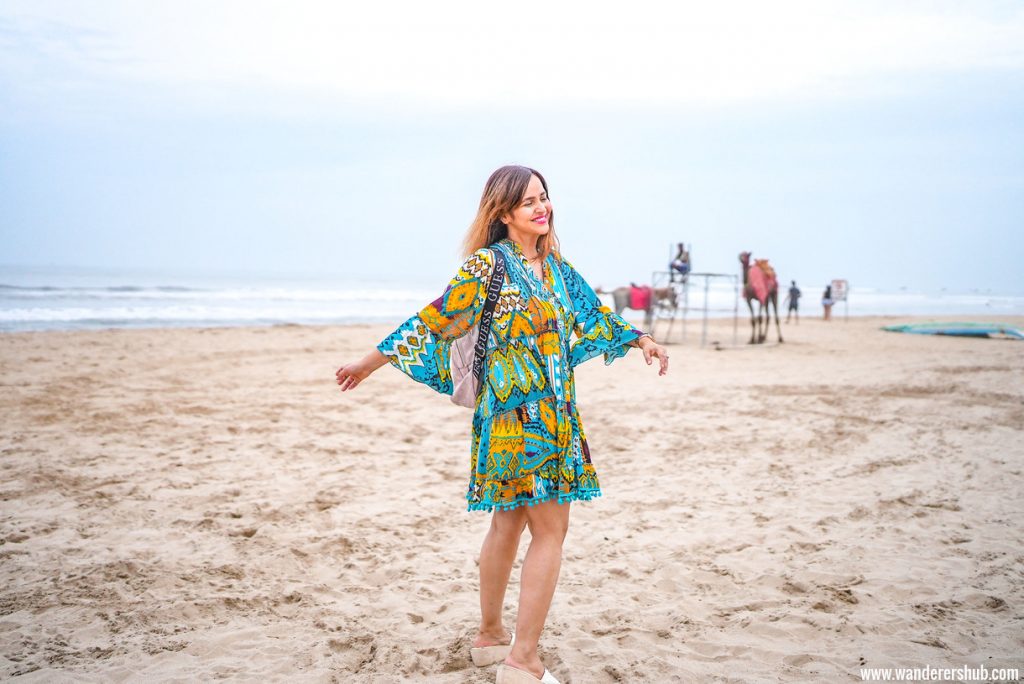 Dinner at Delhiwaala 6
With the day coming to an end, you can go to our 100% recommended North Indian restaurant called, Delhiwaala 6. It provides you with the best paranthas, subzis, and kababs. Our highlight from the restaurant would be the Veg Seekh Kabab and the Dal Makhani. Make sure to call for reservations or you mind end up waiting for a long time. Beware, have some space left in your tummy for some dessert as we head to ……
Dessert at Baker's Street
Baker's Street is the true end of your White Town adventure. White Town Puducherry is home to this patisserie cum dessert shop and they have one of the best pastries and cakes across the town. The desserts are flavourful and aren't that expensive. This is a must-try as one of the 12 things you can do at White Town.
We hope that our recommendations will help you plan a great day-long trip to White Town, Pondicherry. This is a very affordable trip with one of the best architecture, rich history, adrenaline rush, and some delicious food. Let us know if you have any recommendations to add on too. See you in the next one.