Delhi to Munsiyari Road Trip – Itinerary & Planning
Munsiyari is the perfect place to spend some quality time and ward off all your stress gazing at the majestic Himalayas. It is the modern comely hamlet village located in Pithoragarh district of the Kumaon division of Uttarakhand and is a haven for influencers active on social media.
Planning our trip to Munsiyari
We'd heard about it and decided to check it out in October. It's the monsoon season from July to September so October was the perfect time when winter had just begun and it wasn't too cold. It's summer in May and June and it feels blissful to roam the green peaks in the pleasant weather. Adventure freaks would love Munsiyari in December as it's just perfect for skiing. Since there is very less mobile network connectivity, it is a great place to disregard all your electronic devices and just connect with nature. It is better to avoid going to Munsiyari from July to mid September. The weather could play a major spoilsport for your trip at that time. There is heavy rainfall and there are landslides occurring at places obstructing your pleasant vacation.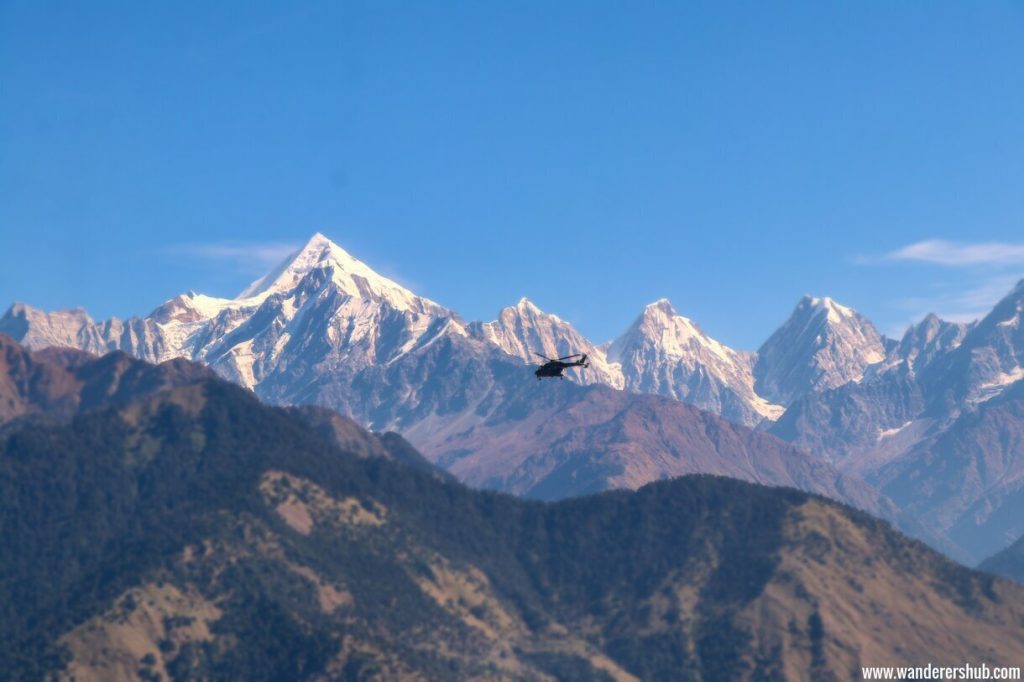 Delhi to Munsiyari Road Trip 
Best Suggested Route –  
Delhi – Bhimtal – Kasauni – Chaukori – Munsiyari – Almora – Mukteshwar – Delhi
If you have five days to spare, you can start from Delhi and visit Almora or Nainital for a day and then continue to Munsiyari. Driving along those scenic routes has a thrill of its own. Nainital is around 300 kilometers from Delhi and Almora is around 65 km from Nainital. Both of them have lots of natural sightseeing places and are worth the visit. Your itinerary will be packed and you'll get a little to no time to really enjoy all that this region has to offer. My suggestion is to have at least a week or 10 days at hand to plan your Delhi to Munsiyari trip.
If you are looking for a week-long vacation, start from Delhi and spend a day in Bhimtal, located around 300 km from Delhi. Nainital and Bhimtal have a lot of lakes where you can go boating, kayaking, and just relax watching the sun disappear behind the mountains.
Then head to Kausani, 120 km from Bhimtal. Kausani, famously known as the Switzerland of India, is a stunning place to spend a day or two. You can then stay a day in Chaukori and then proceed towards Munsiyari. Chaukori has the glorious Chineshwar waterfall in the middle of a pine forest. It is also a town with a lot of temples. The roads at these places roam across hills and have stunning viewpoints at some places and you will have a trip you will never forget.
Things to do in Munsiyari Uttarakhand
There's a lot to do and see in Munsiyari other than sightseeing and bird watching, especially for adventure seekers. This little heaven of Kumaon is not called the 'Little Kashmir' just like that. Though we did not visit the hill station in peak winter months but it is believed that one can enjoy skiing and opt for the popular snow leopard trek during that time. We have a reason to go back!
Prominent Attractions of Munsiyari: 
Birthi falls, Panchachuli Peaks, Nanda Devi temple, Khaliya top are some of the top sightseeing places in Munsiyari. Birthi falls is a 400 feet waterfall and is an amazing place to spend some quality time with your family or friends.
Munsiyari is the starting point of many treks, one of which is the Panchachuli peaks, a group of 5 peaks of snow! This is one of the best places to snow trek in India. Khaliya top is also a great trek to experience and is one of the shorter treks, it's only 6 km. If you like wildlife photography, this is a place you must visit. A photo of the Himalayan monal or the yellow fronted marten against the majestic mountains is a photo meant to be framed.
The Nanda Devi temple is a temple devoted to Nanda Devi, an incarnation of Goddess Durga and is located at the top of Nanda Devi mountain around 8000 feet above sea level. There is a Nanda Devi base camp trek, an 8 day trek around the Nanda Devi and Sunanda Devi twin peaks.
The Tribal Heritage Museum displays cultural artefacts collected by a localite and a retired school teacher Late Dr. Sher Singh Pangtey. He was also a trekker and a local author and has collected traditional and ethnic pieces of both Kumaon and Garhwal regions of Uttarakhand.

Where to Stay in Munsiyari?
Munsiyari doesn't have luxurious resorts at all but offers decent places to stay. We, from Wanderers Hub, found the only better option to stay in at Milam Inn. The hotel offers breathtaking views of the Panchachuli Peak. Best, it was away from the otherwise chaotic Munsiyari scene. The rooms were really clean and the staff was friendly. We checked out a lot of hotels in the area and trust us when we say, this is the only hotel where we could rest our tired souls in the end. The food was great too.
There is a well situated KMVN Tourist Rest House in Munsiyari. It also provides restaurant services where you can fulfil the foodie in you with some awesome local dishes. There are a lot of restaurants serving vegetarian dishes but if you like non vegetarian food, don't forget to try Chachaji's Mutton Curry. It is a local eatery preparing food with Kumaon spices, famous among  locals and tourists alike. The mutton curry thali is mouth watering. Munsiyari is a treat for vegetarians too.
There are a lot of spices and herbs exclusive only to the regions of Uttarakhand and a few parts of Nepal that have a different distinctive taste. If you want to further experience local cuisine, stay at a homestay or a guesthouse providing food. There are many guest houses with amazing views. If you want to stay in a room with a view, you can stay at Hotel Vijay Mount View. You also have the option to go camping in Ramganga if you want something exciting. They offer a lot of adventure sports as well to pump your adrenaline!
Trekking option in Munsiyari
Glacier hiking is walking along a glacier with the necessary equipment. There are three major glacier treks from Munsiyari; the Ralam Glacier trek which is an 8 day trek, the 9-day Milam Glacier trek and the Namik Glacier trek (10 days). The Milam and Namik are some of the larger glaciers and are bigger treks. All the treks have their basecamps in Munsiyari. You go as a small team with a pre-planned trek route.
Network Problem in Munsiyari Uttarakhand 
Network connection is not good in and around Munsiyari. You will get Airtel and BSNL in some parts of the Kumaon belt in Pithoragarh. Depending on where you stay you might get very low signal or no signal. We could have stayed longer in this region provided the network connection wasn't that poor. Development is still taking place and it shall be no later that Munsiyari will become a prominent tourist attraction in Uttarakhand for all.
Finally, Munsiyari is a great place to visit, but not in the extreme winter as the roads connecting to Munsiyari are sometimes blocked by snow landslides. If you visit in March to May or midway September to October, it feels overwhelming to see the Himalayas at a distance and forget all your problems in life. Wanderers Hub definitely recommends a weeklong trip to Munsiyari.