WHAT TO DO IN PRAGUE IN 3 DAYS | THE GUIDE
When you visit this city that seems right of a fairytale on a short vacation, it's hard to determine just what to do in Prague in 3 days. It is challenging but not impossible, to experience most of its unparalleled wonders if you plan ahead. We've already been to Prague from Germany twice in the last three months so have put together this Prague itinerary accordingly.
You need to fit in visits to important cultural sights, the leisure of admiring architectural wonders like the Charles Bridge, and also a taste of Prague's incredible nightlife. Also, you need to have a few moments of solace to appreciate the splendid beauty of this unique Czech city. Worried how you'll do all this in 3 days in Prague? Let us help you out.
[toc]
WHAT TO DO IN PRAGUE IN 3 DAYS?
DAY 1 IN PRAGUE
Head to The Old Town Square and the surrounding areas as it is always bustling with tourist influx. You can devote a full whole day to visit this particular space thoroughly. It includes the Jewish Quarters, Astronomical Clock, or Prague orloj, and the Powder Tower or the Gothic tower in Prague.
(Our suggestion: Take a walking tour to get a feel of the city)
Like a free-spirited bird, wander around the cobbled Praha streets. This is a different experience altogether. Looking at all of its historical and cultural sites will make you admire the place for everything that it holds. We went all the way up on the Astronomical Tower and it was a surreal experience. Got some stunning aerial views of Prague city and the Old Town.
Explore those narrow streets also which aren't in the heart of the city. As you dive deeper and deeper, the city will surprise you with the Pandora Box which will remain in your memories for time immemorial. The area also includes the gripping Czech traditionally styled pubs which really give the true local essence.
Tip– Stop by the pub U Zlateho Tygra for experiencing an amazing and lively Czech nightlife. It is really soothing and a good full stop to the first day of travel. Or, you can even sign up for pub crawling experience which takes you through various night clubs in one single night.
How to Visit Budapest for 4 Days
Fun going on at the Old Town Square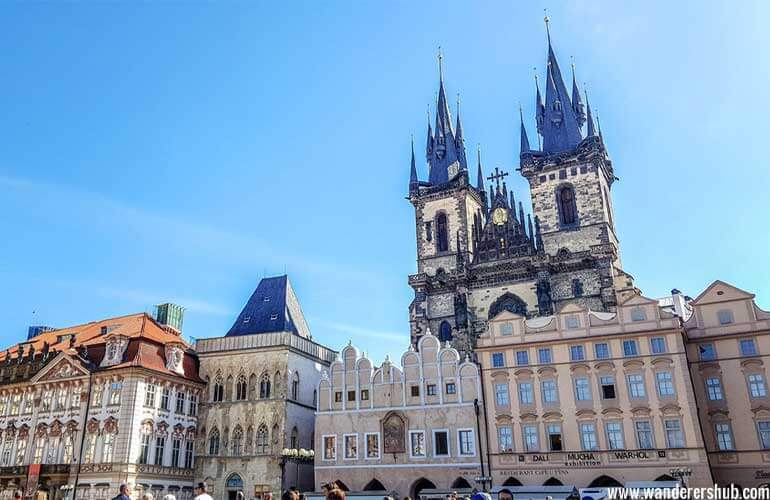 The Old town Square and the Gothic Towers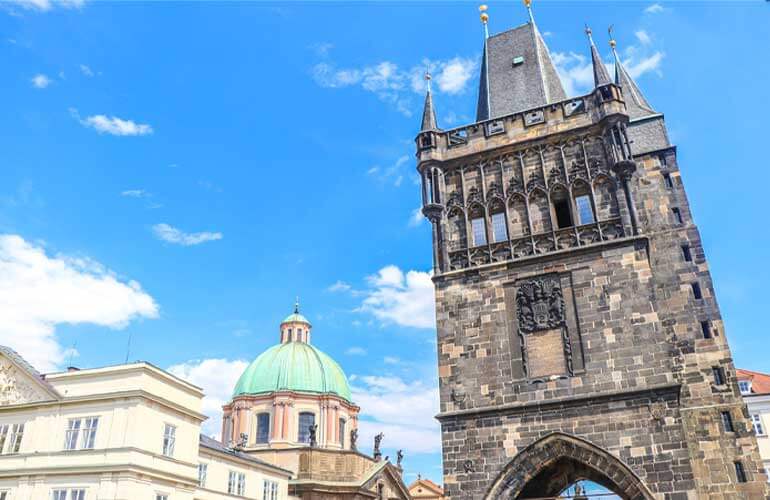 Majestic Powder Tower Prague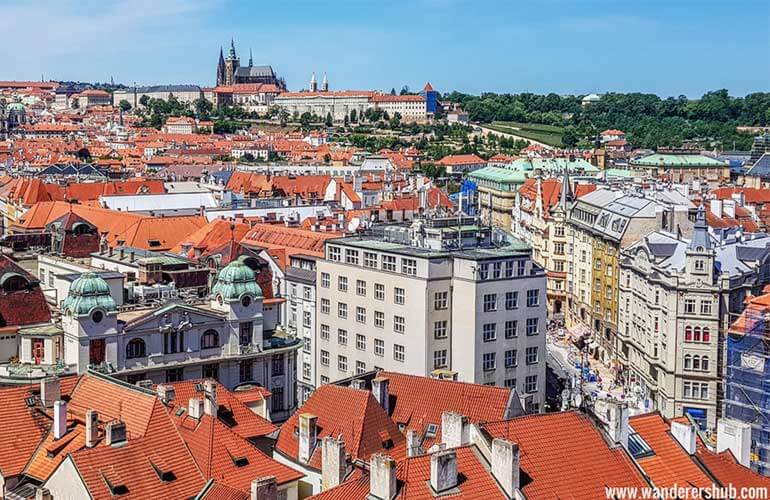 Aerial View of Prague City
Aerial view of Old Town from the Astronomical Tower
DAY 2 IN PRAGUE
For the second day – keep Castle Hill, Charles Bridge, Lennon wall and the Boat Trip. Read about our boat trip experience in Prague.
Castle Hill or Hradcany is one of the major attractions of Prague. It is also marked as the UNESCO monument with a history dating more than 1000 years. Its characteristic feature is being the largest ancient castle in the world.
Charles Bridge is a historical bridge that is built across the Vltava river in Prague with a rich history of first stone laid by the great Charles IV himself. It is one of the most visited sites in Prague. It is lined with large statues and flooded with musicians, painters, vendors and tourists. Its oozing beauty never disappoints to surprise you.
Lennon Wall or the John Lennon wall is a public art landmark in Prague. It has been filled with John Lennon inspired graffiti and is covered with Beatles song lyrics. 100% it is the perfect location for those insta-worthy pictures. It is really essential walk from the Bridge. The square near the wall often hosts market- type activities and public events, celebrations and festivals.
Boat Trip on the Vltava River in the evening is an excellent way to see Prague's best sight illuminated at night. The rides usually start at Dvorakovo nabrezi and continue till Vysehrad and back for which there are plenty of options to choose from.
Hike all the way up to the Castle and it will be worth the views
Everything around the castle looks so beautiful
 Stunning views from the Prague Castle
Historical attractions of Prague
Beautiful Prague scenes – so serene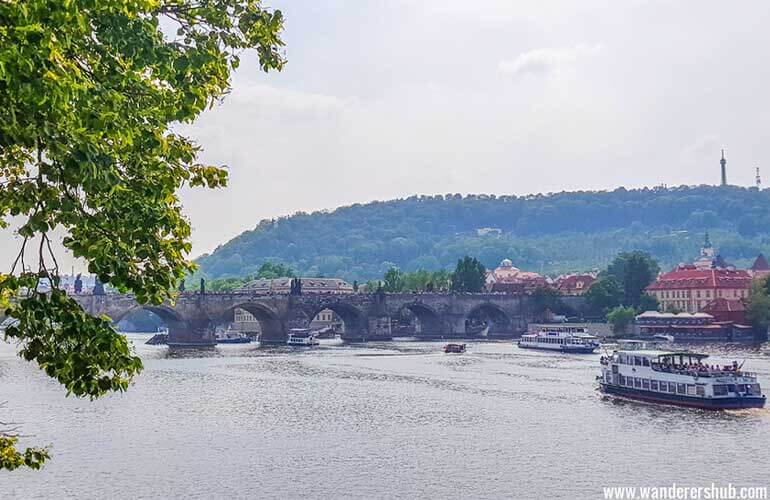 Charles Bridge – looks beautiful even when it's cloudy
DAY 3 IN PRAGUE
Keep the third day to visit the very famous Nationale-Nederlanden building and shopping at Wenceslas Square and Republic Square. Make your way to the Palladium Mall that is located in the Republic Square. There are around 200 shops and is one of the biggest shopping centers of Prague.
Nationale-Nederlanden building – The Prague Dancing House (also called Fred and Ginger) is a fascinating building modelled after the two famous dancers namely Fred Astaire and Ginger Rogers. The two buildings signify those two dancers and is a renowned marvel of Czech architecture.
Wenceslas Square is the famous central attraction of the city for shopaholics. You can get fashion trends ranging from departmental store to multiple high-end and high-street outlets which is really enthralling.
To sum up the third and final day in Prague, watch ballet at the National Theatre or you could spend some time simply sampling different varieties of all famous beers. Probably sign-up for a Prague beer tour?
3 DAYS IN PRAGUE, SORTED?
The famous Dancing House looks so cute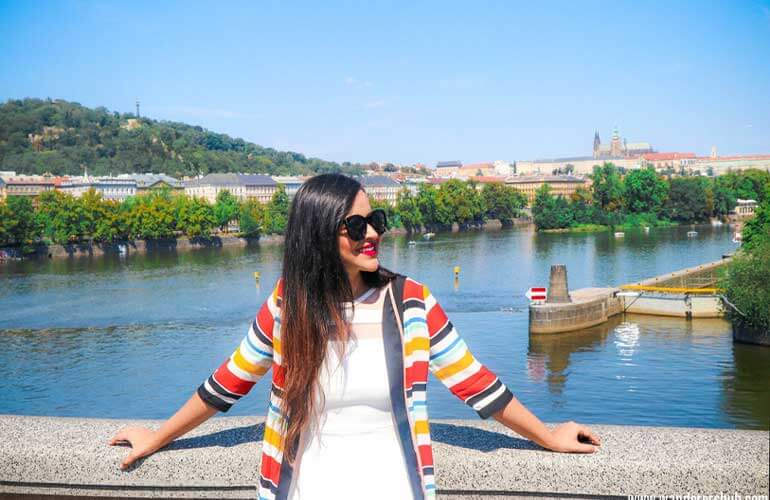 Just outside the Nationale-Nederlanden Prague
Explore the area around the Dancing House
Even after all this if you still have time, take a half-day trip to Kutna Hora. It is an hour drive from the city center. You can visit the Bone Church and St. Barbara's Church. This UNESCO Heritage site would be a welcoming reprieve from the otherwise bustling Prague town.
PRAGUE NIGHTLIFE
One of the major high points of Prague is it's buzzing nightlife of the city. Don't miss the thrill. There are festivals going on always and the shimmery cafes and bars which never fail to entertain you.
Head to Wenceslas Square if you wish to enjoy vibrant colourful Prague nightlife. You just cannot miss the nightlife when looking for what to do in Prague for 3 days.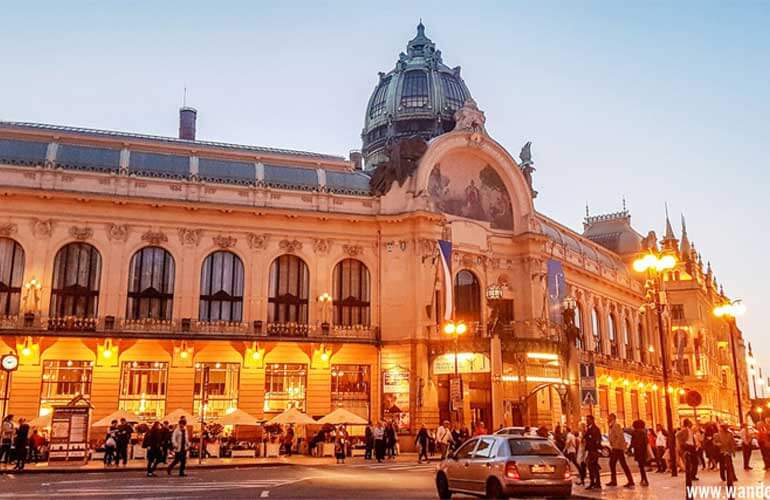 Prague by the night looks so beautiful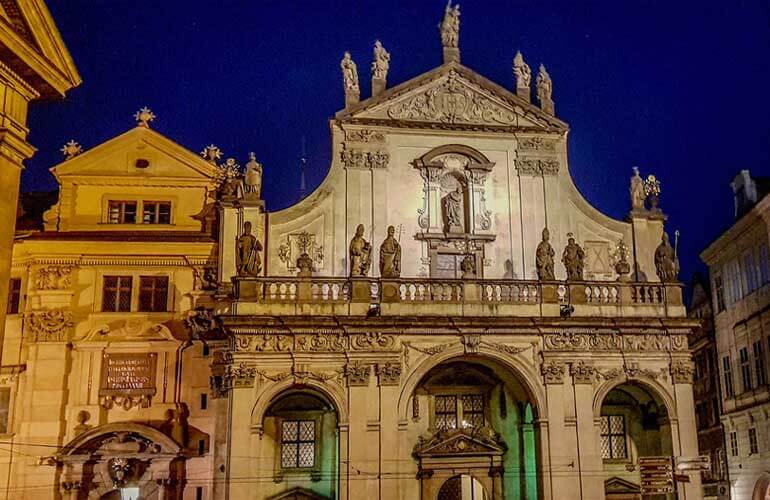 How gorgeous Prague looks by the night!
The major worship point on the Charles Bridge
FOOD RECOMMENDATIONS IN PRAGUE
Don't miss trying the authentic traditional Czech food. Some of the famous delicacies are Trdelnik, potato soup, and the very famous beer.
Make sure you get your hands on the famous 'CHARCOAL ice cream' in Prague.  This one really did taste great, apart from having that Instagram worthy appeal. It was actually mild and quite refreshing at the same time. Don't be surprised if people stop you and ask you from where you got one.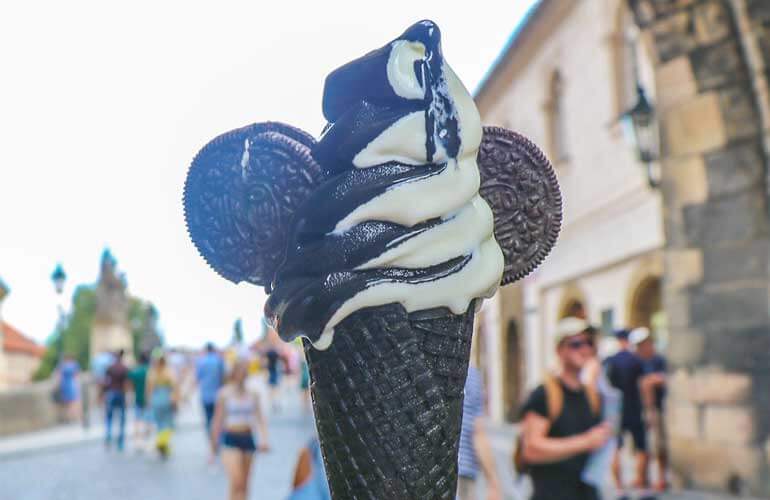 Charcoal Ice Cream in Prague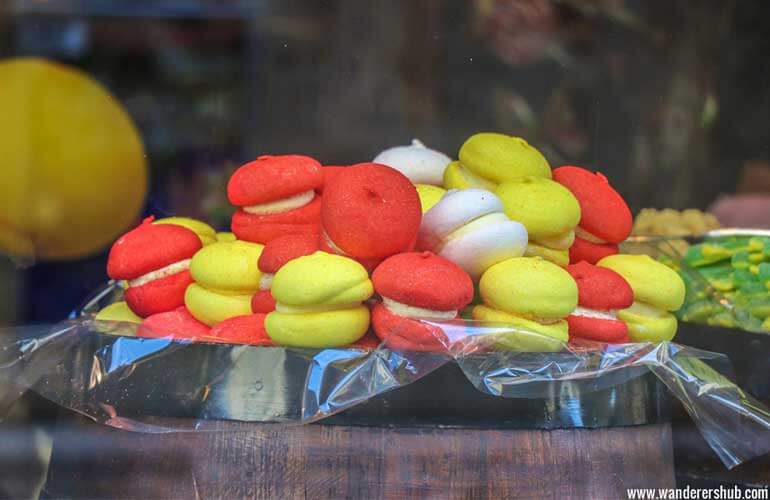 Sample yum macarons at the Little Prague Macarons
HOW TO TRAVEL IN PRAGUE FOR CHEAP – TAXIFY APP
The drivers in Prague are infamous for their hefty taxi prices. So a very useful tip is to negotiate and agree on a price before getting in and starting your journey.
However, a better idea is to download the TAXIFY APP beforehand to save big time on the taxi travel. I established here after two consecutive trips that this app helps travel around Prague for sure cheap rate.
BEST TIME TO VISIT PRAGUE
The best time to visit Prague is late spring and early fall, i.e. the second half of May and months of June and September as otherwise generally the city is too cold to be able to enjoy as a tourist.
You can check our Prague vlog to plan your visit.
PRAGUE HOTEL RECOMMENDATIONS
Searching for hotel is never a herculean task in the capital city. The city provides with plethora of options in different price range. Though with all that, the confusion levels might really seem to be troublesome. So, it is always recommended to get the booking done prior to the visit after proper research.
For that, prepare a list of the places you really want to visit and try finding the hotel near to the area. This will help you save time and money. We chose to get accommodation in the picturesque Zizkov district both the times we were in Prague.
The district is 20-25 minutes walk away from the Old Town. It was indeed a great idea to stay in Zizkov due its proximity to the Old Town and a laidback vibe. There are many Prague accommodation options for those who wish to stay in the Old Town itself.
Outside our Airbnb at Zizkov Prague

PRAGUE TIPS
The popular 'City of a Hundred Spires' never stops to surprise you with the magical revelations here and there. Make a list beforehand and try to visit as many places as you can. We suggest you to start from the most popular one, which is the Old Town Square & move on too the area surrounding.
But do not restrict yourself to the Old Town Square. Go ahead and explore Letna and Zizkov. These areas are beautiful as well.
Never Never Never exchange money on the street (EVER).
Beer is super cheap. There you GO!
Leave your heels at home as you have to tackle cobbled streets and walk a lot. Wear comfortable shoes all the time!
The weather of Prague is quite unpredictable so always carry a jacket to be on the safer side.
So now you know what to do in Prague in 3 days, right?
LET'S HELP YOU KNOW WHAT TO DO IN BUDAPEST