THINGS TO DO IN CORON PALAWAN – A GUIDE TO THIS PHILIPPINE PARADISE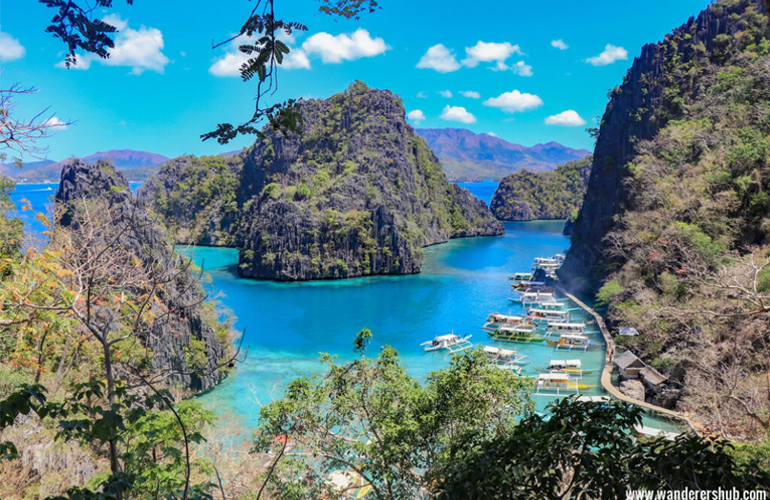 Our Philippines sojourn led us to several unique islands each more beautiful than the other. After El Nido, we heard whispers among locals that Coron is the place to head to next. So, we found ourselves heading to Coron on a fast ferry at the break of dawn. Strong water currents on the day of our journey made the ferry ride a little choppy (read exciting). It took almost an hour and half longer than usual. All through the ride, I kept imagining how beautiful Coron would be since I had heard a lot about it. I kept thinking about all the things to do in Coron, Palawan. So, I didn't mind the 4 hours 30 mins long ride from El Nido to Coron.
I kept thinking – Would it be prettier than El Nido? I certainly had the time of my life in El Nido – truly one of the best island destinations ever. So on reaching Coron, I was wondering if it would be any competition to El Nido at all. What intrigued me was that Coron was similar yet a lot different from El Nido. It wasn't love at first sight for sure but I did fell for it's laidback charm eventually.
[toc]
HOW TO REACH CORON FROM MANILA
While we made the trip to Coron from El Nido, we've been asked quite a few times about the options of reaching there from Manila. Well, there are more than one way to reach Coron, Palawan from Manila. A 1.5 hour flight from Manila will land you at Busuanga Airport which is just a 30-minute drive away from the laid back town of Coron. Or there's the overnight ferry that plies every Thursday and Sunday and takes you from Manila to Coron in 11 hours.
HOW TO REACH CORON FROM EL NIDO
Like I mentioned before, we took the fast boat from El Nido to Coron which leaves at around 6 am and gets you into Coron by 10 am under the right weather conditions. The cost is around 1700 PHP per person. There are slow boats too that take around 6 to 7 hours and cost just around 1300 PHP. Flights are an option but since there are no daily flights, its best to take the sea route.
THINGS TO DO IN CORON PALAWAN
Once there, the next question to cross all minds is what to do in Coron? And if you suffer from FOMO- a major fear of missing out – don't worry! I've compiled this list below to try and give you all the itsy-bitsy details of things to do in Coron, Philippines.
1. THE MANDATORY HIKE UP TO MT. TAPYAS
It's completely worth hiking up the 700 odd steps for the 360-degree panoramic view of the city and a very Hollywood-style "CORON" written in large letter on the hill! There are benches at regular intervals where you could rest a while before proceeding. It took us around 20 minutes and the view from the top was absolutely breathtaking. I would recommend anybody arriving in Coron from El Nido to do this hike the first day itself. Do it for the picturesque sunset view.
2. CALAUIT CORON SAFARI
Calauit safari is a wildlife sanctuary in Coron that attracts tourists seeking a break from beaches and islands in Palawan. We loved being in the company of zebras, giraffes, and other wildlife. The price of this tour is about 2000 INR, depending on the company you book it with. We chose to do half day visit to this park followed by half day island hopping tour.
3. BEST ISLAND HOPPING TOURS IN CORON – TOUR A AND TOUR B
One of the most popular things to do in Coron, Philippines would naturally be the Island hopping tours. Tour A and B are the most popular and bring you the best of the region.
Tour A is the most recommended tour in Coron as it takes you to the stunning Kayangan Lake, Pass Island, & strikingly gorgeous coral gardens for snorkelling. Expect to be served scrumptious seafood lunch.
Tour B includes visiting one of the best diving sites – Barracuda Lake, lunch at Banol Beach, snorkel session at Skeleton Wreck, and visiting Twin Lagoon.
Both tours are around 1200 INR each and give you the most awe-inspiring sights besides giving you an opportunity to mingle with the locals as Kayangan and Barracuda lakes are favorites with the locals too!
4. SWIM IN LAKE KAYANGAN
Well, this is the most popular spot in Coron and deserves a visit. A short 300-steps hike to this lake becomes all worth it as you also get to take pictures at the most photographed point of Coron (the viewpoint where the boats dock). Kayangan Lake is also the cleanest beach in the Philippines so you can imagine the hype. Also, you cannot enter this lake without a life jacket, no matter how experienced a swimmer you are.
Since there's a bit of hike to the lake so remember to wear sensible shoes. The hike itself will give you the opportunity to capture incredible views along the way. What's more, there's a wooden walkway around the lake that adds to its charm. The water is crystal clear and it's no wonder that Kayangan lake and Barracuda lake have been awarded as the cleanest lakes in all of Philippines. But yes, I recommend that you go there early to enjoy its beauty – it gets super crowded later in the day.

5. TWIN LAGOON
Imagine docking at the first beautiful lagoon as though it is a parking space and then finding your way through a small crevice to the second hidden lagoon! That's the mystery and fun of the Twin Lagoons! Ask your boat captain to find a quieter spot around as the lagoon is always packed with tons of tourists. Freshwater and salt water meet at these lagoons, and I was surprised by the water temperatures. They alternate from warm to cold!
6. ENJOY FREE DIVING AT SKELETON WWII SHIPWRECK SNORKEL
Free diving for views of an almost intact WWII ship as schools of fish surround you inquisitively – sounds exciting, right? This one was something out of dream for me, and it's not surprising that it's amongst the best things to do in Coron Palwan. Even if you aren't a diver, you can enjoy snorkelling here. This one is best done early in the morning. Ask your guide to take you there before 7 AM and you'll feel as though you own the place!
7. LUSONG GUNBOAT SHIPWRECK SNORKELING
What makes this free-diving and snorkeling site so interesting is the angle at which this Lusong Gun Boat from WWII rests under the sea. Its rear end is at just 2 feet of depth but its nose goes down to about 20! With a good underwater camera, some out-of-this world shots of the barnacle and coral covered walls can be captured.

8. CORAL GARDEN REEF SNORKELING
Be prepared to treat your eyes to an altogether different saline here at coral garden reef. We found colourful corals that looked huge and formed a carpet of magical surface underneathe. Myriad of shades of blue, pink, and orange can be seen. This reef lies a few kilometres away from gunboat shipwreck.
9. RELAX AT PASS ISLAND
Pass Island is the kind of tropical island that you see in movies! Pristine white sands, stretches of beach lined with humongous coconut trees, and glimpses of beautiful bungalows. Very dreamy and oh so romantic! We loved the time we spent here watching the sun go down into the horizon.
10. IMMERSE YOURSELF IN MAQUINIT HOT SPRING
This two-tiered pool is fed with water from hot springs and makes for the perfect soak after a trek to the top of Mt. Tapyas. It's unique because it is among the very few salt water hot springs in the world! Stacked up rocks make up the walls of the pool and give it a rustic charm. This indulgent soak will leave you feeling invigorated while also sending you into deep thought as you look up at star covered skies.
11. INTERACT WITH LOCALS
This is definitely one of the things to do in Coron, Philippines, because seldom will you find such friendly locals elsewhere. They'll wave to you even as they precariously balance 3 people on a bike, they'll give you sightseeing tips and may even invite you home!
DECENT HOTELS FOR STAY IN CORON
Looking for a decent hotel stay in Coron where you can get all the creature comforts without denting your pocket? Here are a few recommendations for you:
Coron Villa : It is a highly rated property on Google for a reason. Lower prices, amazing services! We stayed in this property for good two days and were impressed to say the least. All pick-ups for island hopping tours were made easily from Coron Villa. A night here would cost you around 2200 INR.
Address: Bgy. 1 National Highway, Coron, Busuanga Island 5316 Philippines
Coron Westown Resort : If you want to stay in a medium-range property with outdoor pools and avant-garde rooms, this is the ideal hotel in Coron for you. Mount Tapyas is an easy hike away from Coron Westown. A night's accommodation in this hotel would cost you around 5000 INR.
Address: Sitio Dipulao, Barangay Poblacion 6
LUXURY HOTELS FOR STAY IN CORON
There are some beautiful luxury hotels in Coron which you can think of for your stay. Here are our few picks:
Two Seasons Coron Bayside Hotel : Considering to come to Coron for your honeymoon or a romantic getaway? Well, I'll suggest you to stay at Two Seasons Coron Bayside Hotel. Per night accommodation in this hotel would cost you around 10000 INR.
Address: National Road, Barangay Tagumpay, Coron, Busuanga Island, 5316 Palawan, Philippines
Busuanga Bay Lodge : It is a five star luxury property in Busuanga Bay, which is just perfect for a romantic holiday. You can book a villa here with your very own private pool to rejuvenate your senses. A night stay here would cost you approximately 13000 INR.
Address: Sitio Lawi, Barangay Concepcion, Busuanga, Palawan, Philippines
At the end of my trip to Coron, I felt I had lost a little of my heart here to the places I visited and people I met. I'm sure my heart will drag me here again one day… till then I'll rejoice in the memories!