BUDAPEST FOOD TOUR: A CULINARY WALK WITH BITEMOJO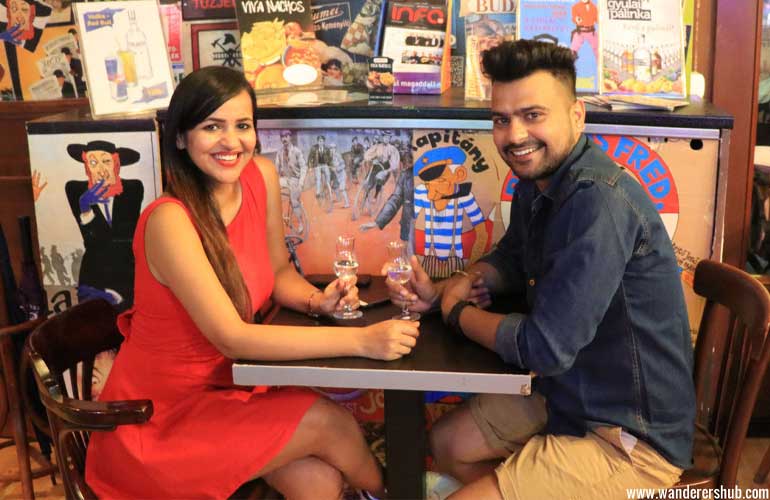 A most novel way of exploring a culture is through its food. This, coupled with our unabashed love for gastronomic pleasure, propelled us to book the Bitemojo food tour in Budapest.
The tour promised 5 delicious snacks/meals, visiting 11 hidden cultural hotspots, experiencing the city like a local, and easy, friendly navigation. It seemed to be a wonderful offering, but guess what? It turned out to be all this and more.
Walk Through the Ruined Bars of Budapest
The way this Budapest food tour is organized is that it takes you around the unique world of "ruin bars". This trend was kickstarted by Szimpla Kert some 20 years ago which was a bar set up in an abandoned Jewish Quarter in Budapest, which has remained uninhabited since. The concept was unique and soon cooped by others, which made ruin bars an interesting, hip nightlife experience, famous all across Europe.
On the tour, we got to see this ruin bar culture in action. The quintessential ruin bar has quirky décor, flea market furniture, cheap drinks, street art, and crowded dance floors. There are some more upscale restaurants in the ruin bar neighborhood too, and this eclectic mix of Bohemia and elegance is quite heady for a first time visitor.
Don't miss checking out these awesome ruined bars in Budapest
BAR HOPPING
Our first stop in the Bitemojo food tour was the Warm Up Cocktail Bar and there we had the choice of pop-up flamingo or green-lantern cocktails. They were nothing short of amazing and wondrous pre-gaming for the upcoming gastronomical delights at Budapest Langos. This is an open, well-lit area where Hungarian street food is served by vendors in little buses and kiosks.
 The Cocktails were absolutely YUMM
The popular recommendation is Langos with Paprika, which indeed is quite delicious. We skipped the third stop since it involved meaty fare, and jumped straight to Muter. This place had amazingly off-beat interiors, and a great concoction of Palinka shots which are lovely Hungarian specialties.
The tour ended with Doblo Wine and Bar which had excellent ambience and a lovely selection of red and white wine. All in all, our wanderings spanned 6 exciting hours from 6 pm to 12 am.
At the end of this Budapest food tour, we felt much closer to the Hungarian culture and way of life. The experience at the Jewish quarter was as insightful as it was enjoyable; what more could we ask for.
If anyone wishes to see Budapest in its most fun, uninhibited avatar, the food tour is the place to start. For us, it was a special and memorable roller-coaster ride.