WHAT TO DO IN BRUSSELS BELGIUM IN 20 PHOTOS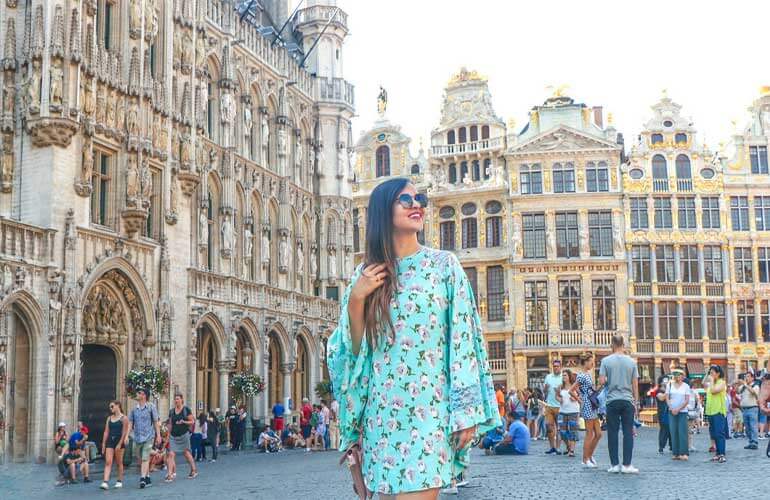 Brussels is a magical city. It is like that magician who has a trick up his sleeve for every single child in the room. With its architectural jewels, cobbled market squares, decadent chocolates, happy people and peeing statues, this capital of Belgium showcases the best of Europe. We have compiled a list of top things to do in Brussels Belgium for you.
WHERE TO GO IN BRUSSELS
There are so many amazing things to do in Brussels Belgium – one of the best preserved medieval European cities. Two words that would perfectly define the city would be hip and historic. I think ideally 2-3 days would be more than enough for you to discover all those prominent sites of Brussels. You can do this either by renting a car or by public transportation. Car rental definitely offers much more ease to travel from one point to another.
The best thing is that if you search for Car Hire Near Me, you'd easily find some smart car rental deals in Brussels. You can even drive from Belgium to France or vice-versa if a road trip is on your mind.
Here I am listing all of my favorites and must visit for you all.
FIRST STOP – THE GRAND-PLACE
Goes without saying, every traveler must pay a visit to Europe's most exquisite city squares – The Grand-Place. This UNESCO World Heritage site was built somewhere around the 17th century. Its medieval architecture is a testament to the luxurious lives of its previous inhabitants. With around 40 guild houses, this stunning square comes alive every day with millions flocking just to witness the splendor.
We absolutely loved spending our time at the Square especially after sunset. The palace just oozes magic by the night. Worth coming back in the evening.
CHECK HIM PEEING – THE MANNEKEN PIS
This little boy might be just 60cms tall but he is Brussels' most iconic and photographed (Peeing) statue. There are a handful of folktales about his existence. You can catch up on these while indulging on some Belgian waffles next door. This little boy also has a sister called Jeanneke Pis and a dog – Zinneke pis, who are also seen relieving themselves. A few steps from The Grand Place will bring you to this statue. The area around is dotted by a chain of scrumptiously tempting waffle and chocolate kiosks.
LUXURY INDULGENCE AT GALERIES ROYALES SAINT-HUBERT
This is Europe's first covered shopping arcade with a strikingly beautiful glass roof. The place exudes a sense of grandeur with its glass ceilings, luxury brand outlets, elegant cafes, delicate confectionery and boutique outlets. All shopaholics need to make a quick stop at Galeries Royales Saint-Hubert. You can find a fancy stores, elegant cafes and finest cultural spaces.
KEEP YOUR EYES OPEN FOR THE STREET ART
Street art is quite rampant in all of Brussels. You don't really need to head to the Comic Strip to uncover the graffiti in Brussels as you can find it pretty much everywhere. It wouldn't be wrong to say that Brussels is an open air museum with artwork covering everything from walls, shop facades and building walls. Keep your eyes open and phones ready to take some nice shots for your Instagram.
JOIN A CHOCOLATE TOUR
No visit to Brussels is complete without indulging in a hearty dose of Belgian chocolates. You can join a tours that will take you to famous chocolatiers in the prettiest streets of Brussels. Or you could design your own tour with a bit of research. We had our Brussels City Pass with which we could join a Chocolate making tour at Choco Story Brussels without having to pay for it.
COMIC TRAIL
One of the best things to do in Brussels is take a simple stroll in the city where you will get to say 'Hi' to the stars of Europe's famous comics. The city officials began laying a trail of comic characters around the city around 20 years ago. Tintin – Belgium's most loved character lives near Manneken Pis. The local tourist department has a map listing the other addresses. When done exploring the comic trail on foot, simply make way to the Belgium Comic Strip Centre – a mecca for the comic lovers.
GREEN TRAIL
Nature lovers do not despair. There are plenty of green nooks in this metropolitan city. One of the best places to visit in Brussels and our personal favourite is the Parc du Cinquantenaire. The Sonian forest is must-visit. Situated on the periphery of the city, it is quiet and gives you a fab opportunity to practice some 'forest bathing'. Fishing is also permitted here.
ATOMIUM AND MINI EUROPE
If this is your first visit to Brussels, you will be lost for words at the sight of this unearthly-looking, steel structure. The Atomium is the replica of an iron crystal magnified 165000 million times! It is to the Belgians what the Eiffel tower is to the French. Adjacent to this mammoth lies Mini Europe – a garden with miniature monuments from all over Europe on display.
BASILICA OF THE SACRED HEART (KOEKELBERG BASILICA)
This architectural marvel also happens to be the fifth largest church in the world. The construction of this church began in 1905 and was inspired by the Basilique du Sacré-Coeur in Paris. Use a Brussels City Card to board a bus and reach this marvel that is situated in the city outskirts.
WHAT YOU MUST EAT/DRINK IN BRUSSELS
Brussels has a fantastic culinary scene awaiting travelers particularly those who love all things calorific. It would be a sin to go to Brussels and not try their famous chocolates, fries, and beer. In fact you can spend days simply trying out Belgian specialties at  renowned cafes and stores in Brussels. Let's start with our favorites first!
CHOCOLATES
Belgian chocolatiers are the masters of their art. Their delicately handcrafted bits of pure delight are happiness personified. Now when coming to Brussels, you can either do a self-guided chocolate tour or simply join a group tour. If doing a self-guided one, do visit Galerie de la Reine in the Galeries Royales Saint-Hubert or the Salon neighborhood during your chocolate tasting tour. Pay your homage to the creator of 'praline chocolates' – Neuhans or visit Pierre Marcolini, a legend in Belgium. Marcolini's chocolate boutique will tell you the story of chocolate from over the seven seas. Leonidas is another famous chain of more affordable chocolates you shouldn't miss. Their philosophy is – you shouldn't be rich to enjoy a really good chocolate.
If you are planning to join a group tour then you must know that a chocolate tasting tour can cost you anywhere from 30€ – 50€. In these tours, you'll get a chance to visit 5 chocolate rooms and taste a piece or two of pre-selected chocolates in each room. To try other flavours, you'll have to pay extra. So, I guess it's best to do a self-guided chocolate tour and save your bucks. Also, in case you have a Brussels City Card, you have an option to visit the Choco Village for free and get an inside peek into the making of chocolates as well. Of course, you get to taste the chocolates for free as well.
WAFFLES
Belgium is the waffle capital of the world. You can have them plain, coated with powdered sugar, with cream and strawberries.. the list goes on. Do try the Liege waffle – a chewier version of the Belgian waffle. Maison Dandoy – Tea Room & Waffles is one of the best places to have Liege waffles. It's divine!
Other than that, you can try eating waffles at The Waffle Factory as you are anyway going to be visiting the Grand Place and the restaurant is right next to the famous the Manneken Pis. Not just that, the waffles are authentic and flavorsome.
FRIES
During our Brussels visit, we also set out to find out how the Belgian fries differ from the French fries. After having one of these savory treats stuffed in a paper cone dripping with a host of sauces and mayo, we came to a conclusion that while the French may have been the first to brand 'pommes frites' under their name, the Belgians are the ones who took it up to the next level. Do try the fries at Frit Flagey and discover yourself what the fuss is all about.
Other places we'd recommend you to visit for some delectable and good portion of fries are Maison Antoine, Friterie du Café Georgette, and Fritland. You may have to stand in long queues to get your hands on one. But it'll be worth the wait.
BEER
Here in Brussels, you get to sample a selection of beers with fries, cheese, chocolates, and just about everything delicious. Check out the Delirium café if you are wondering what to do in Brussels in 2 days. With over 2000 varieties of beers you will have plentiful of excuses never to leave.
COFFEE
Nice and cozy coffee shops are popping up in Brussels every other day so you are not too far from a delightful cuppa for long when in this beautiful city. Cafe de la presse is one of the coolest coffee places to visit in Brussels for nice hot pressed coffee, homemade cakes and bagels.
Just a few minutes away from the Grand Place is Aksum Coffee House. Coffee lovers must stop by here for some flavorsome coffee and passion fruit tart. A lovely place for coffee lovers and foodies alike!
MUSEUMS IN BRUSSELS
Brussels has some of the world's best and underrated museums, some of these are:
Royal Museums of Fine Arts of Belgium
Cinquantenaire Museum
Musical Instrument museum
Museum of Cocoa and Chocolate
Museum of Belgian Brewers
AutoWorld
Belgian Comic Strip Center
Talking about my favorite ones, well, I loved visiting the Auto World quite a lot. It is a vintage car museum in Brussels near Cinquantenaire Park; we got a chance to see a plethora of stunning vintage and sports car in AutoWorld. Entry into the museum without a Brussels City Card would cost you 12€ per person. The museum is 5-7 minutes walk from the Mérode underground station.
Another favorite was the Choco-Story – one of the must-visit for chocolate lovers. We discovered the world of chocolates and learn the art of chocolate making from master chocolatier. Entry charges for this museum are 9.5€ per person. With Brussels Card, entry is free.
DAY TRIPS FROM BRUSSELS
Brussels is certainly an ideal base for visitors looking to explore other prettier cities of Belgium. The Flemish cities – Bruges and Ghent – are the best day trip options from Brussels. Just within a few hours you can commute between all these beautiful cities. We drove from Brussels to Bruges and it took us approximately 2 hours because of the rush tours and some traffic. You can even opt for train travel and it won't take you longer than an hour or so. There is so much to do in both the gorgeous cities. Where in Bruges you get an opportunity to walk by the atmospheric Lake of Love or boat tour along the canals, Ghent's picturesque architecture will leave you unabashedly impressed.
Antwerp is another day trip option from Brussels. It is the diamond and fashion capital of Belgium, most renowned for its rich architectural heritage and ancient houses. It is just an hour drive from Brussels or you can also take a train to reach Antwerp. You'll love marveling at the cobbled lanes and vibrant entertainment scenes when in the city.
You can also plan a day trip to Luxembourg & Dinant especially if you are traveling on a car. Drive through the scenic Belgian Ardennes forests to reach Luxembourg and along the way do not forget to stop by at the Palace of the Grand Duke. It'll take you about two and a half hours by car or four hours by train to reach Luxembourg from Brussels.
BRUSSELS CITY CARD
Consider purchasing a 'Brussels Card' as the city pass offers you free entrance to 41 museums, unlimited use of public transport (buses/trams/metro lines), discounts on some of the top things to do in Brussels Belgium as well as on certain shops and restaurants. You will also get a free illustrated guide with a map of the city so you can plan your day properly.
The Math is simple – more places you visit, the more you save! Visit Brussels have identified some great 24, 48 and 72 hour itineraries for Brussels Card holders. So, you get a chance to see all of what Brussels has to offer and save a lot.