A Little Guide on Pelling, West Sikkim
In a mood to travel to North East belt of India? Well, consider adding Pelling, West Sikkim to your must-visit list. West Sikkim boasts of surreal biodiversity, diverse and exotic flora and fauna species, glaciers, pretty lakes, an extensive range of forests, and much much more making it an ideal place for vacation either with your family, partner or even a solo trip. You can't go wrong when in West Sikkim!
What makes it a more interesting place to discover is the fact that it is still relatively unexplored tiny hamlet in Sikkim. And one can reach easily by car or by availing bus facility from Siliguri. Now let's take a look at what one can do in detail in Pelling.
Pelling is garnering a lot of attention lately
What is West Sikkim Famous for?
Popular for a few of the oldest and holiest Buddhist Monasteries of the world, and offering one of the best views of the south-east face of Mt. Kangchenjunga, West Sikkim is a perfect amalgamation of nature and religious history. West Sikkim owes its tranquillity and calmness to the beautiful and age-old monasteries like Pemayansgtse and Sangachoeling.
Things to do in Pelling, West Sikkim
Pelling makes one beautiful West Sikkim tourist place for both couples and families. Witnessing Pelling and its tranquility & beauty was truly a pleasure. We reached Pelling from Kalimpong to West Sikkim via Namchi and had the luck to seek Lord Shiva's blessings in the ever so famous and equally beautiful Kirateshwar Mahadev Temple. Surrounded by emerald forests and on the edges of the glittering River Rangit, the temple is the oldest in the state. It is famously said, that whoever prays at the Kirateshwar Mahadev Temple, all his wishes are bound to come true if sought whole-heartedly. The temple is also a renowned Hindu pilgrimage site. The main attraction of this temple is the grandly celebrated festivals here, Bala Chaturdashi, in November – December every year, and the Maha Shivaratri festival which falls in February or March.
Among the many things to do when in Pelling, we thoroughly enjoyed the rural part of this region, long walks in the village, getting to know the people residing there, learning about their culture and locals. 
Trekking also took our heartbeats away, quite literally! The beautiful and very well-structured monasteries were a delight to visit, and chit-chatting with the monks sure helped us learn so many new things. The beautiful view made our evenings even more beautiful and just added to the whole experience. It's quite easy to find tasteful food here as it is everywhere! Local cuisines made us lick our fingers and the cozy cafes and restaurants felt just like home.
Arriving in Pelling, West Sikkim was a long trip from Kalimpong, so we decided to stay in our hotel room for a while to wear off the tiredness, and relax. 
The beauty surrounding Shiva Temple in Pelling, West Sikkim
Full Day of Exploring Pelling & Around
Later, we took the full-day trip to Pemayangtse Monastery, the most renowned, three-storeyed monastery in the state of Sikkim and Glass Skywalk, the oldest monastery in the Sikkim, with a beautiful glass skywalk.
Then was our full-day trip to the surreal Khecheopalri Lake, a wishing lake in forested surrounds, and a popular pilgrimage site for both Buddhists and Hindus. And Shingshore Suspension Bridge followed by the mesmerising Kanchendzonga Waterfalls and an overnight stay in Pelling, putting an end to this amazing trip to the West Sikkim.
Here's a list of awesome things to do in Pelling –
We started our exploration by visiting India's first ever glass skywalk and the 137 ft tall statue of Chenrezig. This Buddhist pilgrimage site is a must visit for those magnificent views from the hilltop. 
After that, we started our journey to the Khecheopalri Lake. Visit the Khecheopalri Lake, one of the most sacred lakes in West Pelling, truly mystical and peaceful. It is believed to be a wish fulling lake. It is said that any of your wishes, that you may have will be fulfilled if you wish in the front of this serene lake.
Enjoy an intimate picnic at the Kanchenjunga Falls, Pelling. Take a lot of pictures like we did; you are sure to be enticed by the chilled gushing water splattering everywhere and making everything look beautiful.
Witness the scenic waterfall, Rimbi waterfall enroute to Kanchenjunga Falls, Pelling. Just spending some time there was an amazing experience! We didn't stop here for a long time but did take a picture with the sprouting stream of white. 
Savour the authentic and delicious taste of Sikkim food at Pelling.
Spend a peaceful time at the Pemayangtse Monastery.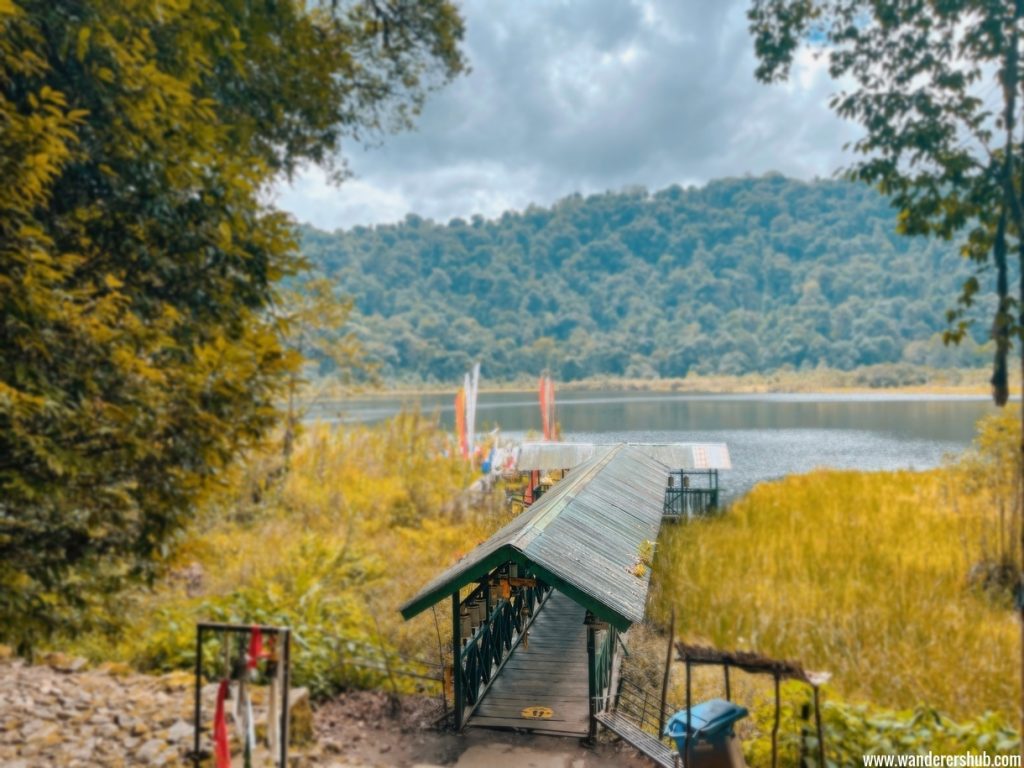 We loved our visit to Khecheopalri Lake in Pelling, West Sikkim
Who wouldn't want to see Kanchenjunga Falls.
Here's a list of some of the best restaurants in Pelling, West Sikkim – 
1. Lotus Bakery – Famously known for its decent and delicious bakery, and amazing food to keep coming back for.
2. Hotel Kabur Restaurant – Their must-try includes Momos and Thukpa.
3. Big Bowl – This one's a winner as along with tasty and hot served food they also have a very friendly staff.
4. Melting Point Restaurant – Known for its great food and a tranquil view to accompany your food with.
5. Havmor – It is famous for serving a variety and tasty vegetarian food.
And, here's a list of some of the best shopping places in Pelling, West Sikkim– 
1. Geyzing Bazaar – Visit Geyzing Bazaar if you want to treasure the memories of Pelling tour. Approximately situated 10 Kms from the center of Pelling, this market was started by a monk of Pemayangtse Monastery, considering the need of the local people and assisting them in covering their daily needs from here.
2. Lama Tenzing Wangdak Place – You must not miss this market in Pelling if you are in the mood to shop. It has a large variety of products which you just can't miss out on.
3. Rural Artisan Marketing Center – You will find traditional clothing along with local crafts, wall hangings, and unique souvenirs for travelers. This place can also be explored for organic local items like Tibetan tea, cardamom, walnuts, etc. The market has rich cultural items and many other things.
4. Rinchenpong Bazaar – It is more a local market however this market offers a lot of options for everyone. You can't return empty-handed from here. From ironware, utensils, rugs, carpets, brassware to traditional textiles, everything is available here. This is one of those places you can't miss out on.
5. Bermiok Bazaar – Located in the center of the city and one of the popular tourist attractions, you'll find a lot of daily use products in this bazaar as it is quite frequently visited by the locals for their needs. Travelers will get a variety of leather products, camel leather items.
Hotel Magpie Chestnut Resort – 
Staying at the Magpie Chestnut Resort added to the whole experience. It's a great place to perfectly witness the beauty of snow-clad Kanchenjunga. It is safe to say that Magpie Chestnut Resort is a sophisticated boutique hotel offering premium services and very warm hospitality. You can easily witness panoramic views of the snow-capped Kanchenjunga Mountain range from the comfort of your cozy rooms. At the same time, you get to relish delicious buffet prepared with a lot of love by the staff members.
Magpie Chestnut is a stunning resort in Pelling, Sikkim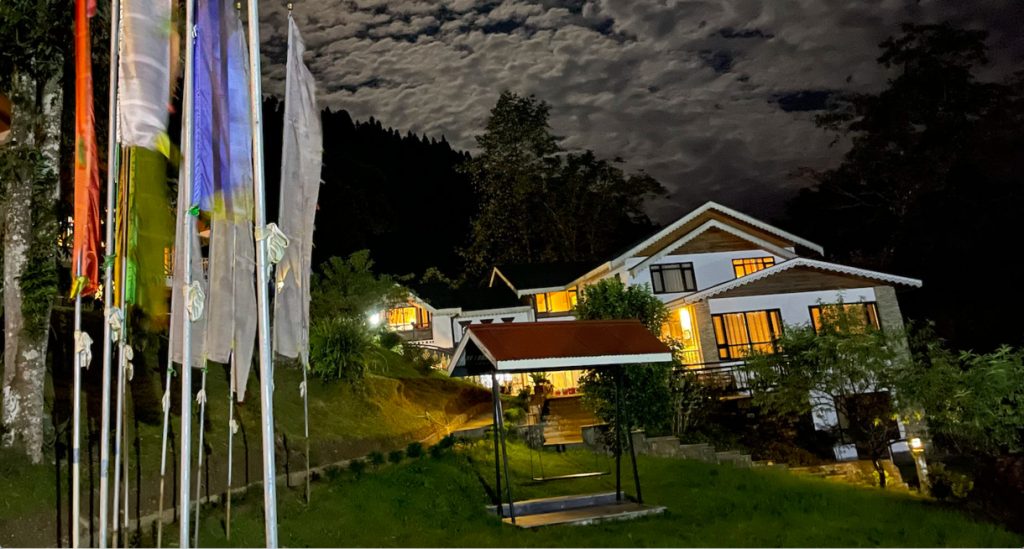 The hotel lit up during the night time.
Other Hotel Recommendations –
The Elgin Mount Pandim – A heritage hotel in Pelling that is recommended for couples and family alike. It is perched atop a hill so the views are unbeatable.
The Chumbi Mountain Resort & Spa – This is a luxury resort in Pelling that is most suitable for nature lovers. The resort offers a feel of Sikkimese culture and is great for families traveling together.
Kaya Gantavya Resort & Spa – An absolutely lovely hotel in Pelling that offers incredible views of Mt. Kanchenjunga. The resort is beautiful and the hospitality is great.
Your Sikkim trip doesn't have to wait anymore. Plan your trip now & hopefully this guide would come in handy!