A GUIDE TO VRINDAVAN: THINGS TO DO & SEE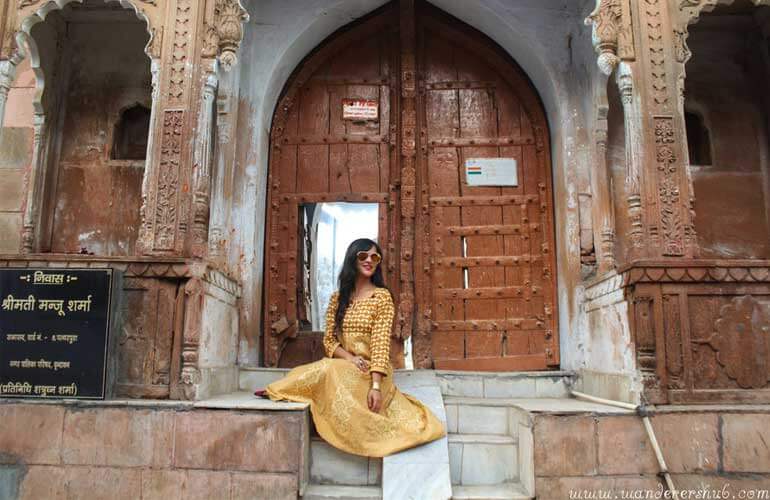 Brightly coloured vintage doors, saints and seers enrobed in saffron, and smiling locals. With so many places to visit in Vrindavan, life is all about love, devotion, and simplicity.
As opposed to the belief that a visit to this holy town might be a cultural shock for many, I'd say it was more of a gratifying experience for us. We were least bothered from seeing dirt or being in a crowd; what melted our hearts was the amount of love that is there.
People in Vrindavan are all about devotion and service. They are so happy about life that even a random argument results in smiles in the end. There is no place for enmity, grudges, or rivalry.
A trip in Vrindavan is a sweet assault to the senses – those smiles, ever-so-happy souls, and those narrow lanes with magnificent doors sure to leave the visitor in you feeling happy.
HOW TO EXPLORE VRINDAVAN?
When staying in Vrindavan, it is best to leave your car parked in hotel and explore the entire town on foot.
Most of the places to visit in Vrindavan are based in narrow lanes and accessing them via car is just not possible. So spend your time walking through the narrow alleyways dripping with colourful history and admiring a township where locals greet all the visitors with warm and infectious smiles.
THINGS TO DO IN VRINDAVAN
Vrindavan is one of the most significant places of pilgrimage for devotees of Lord Krishna. An interesting fact about this town is that there are almost 5,000 temples in this holy land where Lord Krishna spent his entire childhood.
DITCH THE CAR AND OPT FOR AN AUTO RIDE
Spend your days in Vrindavan walking through alleyways, soaking in the love that holds people in its embrace.
Prowling around the town through the narrow streets isn't feasible by a car. You can opt for an auto ride that takes you around the nooks and crannies of the town in a hassle-free way. An auto-ride adds to the town's old-world charm.
GET CLICKED AGAINST THE VINTAGE DOORS
Big, vintage doors bolted and secured with huge locks are a common sighting in Vrindavan. While you walk through the serpentine lanes, look out for the vintage doors as they make for some gorgeous photographs.
SOAK IN THE CULTURE
The holy city of Vrindavan is a treasure trove of unfathomable cultural wealth. It's the ideal place to meet and interact with locals, learn about the life of Lord Krishna, visit revered pilgrim hubs, and devour street food from roadside vendors.
What's more fun is actually listening to the stories of Leelas of Krishna and Radha. Vrindavan is definitely a town where heart rules! Just surrender your heart in the town of over 300 temples and soak in the culture as much as possible.
A GUIDED TOUR OF NIDHI VAN
Onto my favourite temple and must visit place in Vrindavan. Built on the outskirts of Vrindavan, Prem Van is a beautiful temple depicting significant events surrounding Lord Krishna and Radha's existence. No one is allowed to enter the temple premises post sunset.
The temple is never too crowded. It is surrounded by bushy forests all around and a guided tour here is most recommended. Beware as there are many touts acting as guides near the temple.
Hiring one would set you back by 50 INR | Not even a dollar. Make sure you drop by!
VISIT BANKEY BIHARI TEMPLE
Many a followers ardently believe that god really resides in the Bankey Bihari Temple and that is why it remains jam-packed by thousands of visitors on a daily basis. There are a number of vendors outside the main temple complex selling garlands and sweets to offer to the deity.
To experience the real mood of Vrindavan, a visit to Bankey Bihari temple is a must.
SAMPLE MOUTH-WATERING LASSI
If there's one thing even those with an aversion to sweet stuff cannot resist, it is perhaps some ice cold lassi at the heart of Vrindavan.
There's a market near Shri Banke Bihari Ji Mandir known for it's savoury selection of snacks like pav bhaji, chaat, etc. But the lassi take away the cake for being the king of the good stuff! Super thick, creamy and with some cream on top for good measure, a lassi in Vrindavan is an experience!
DON'T MISS OUT ON STREET FOOD
Street food is an intrinsic part of Vrindavan's cultural experience. The best part is you don't have to shell out big bucks to experience the culinary landscape of the town. So, you must try out the mouthwatering tikki, pyaz kachori and an array of Indian sweetmeats including rabri, faluda, kheer and malpuas.
Disclaimer: This trip was made possible by WranglerDenims. All opinions are our own.