SWISSOTEL PATONG – THE BEST HOTEL FOR YOUR STAY IN PHUKET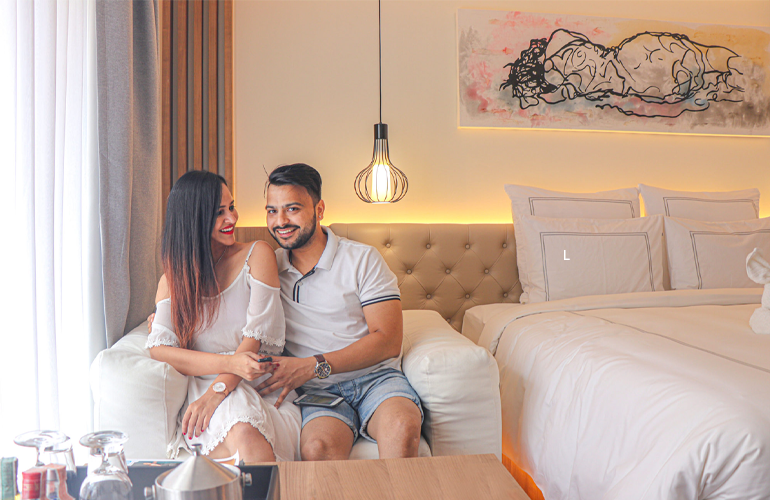 "Whilst on our way to Swissotel Resort in Phuket Patong, it started pouring – starting with a gentle drizzle that soon gave way to heavier droplets. The rain gave us a great welcome, and brought with it an infectious serenity. Everything seemed to have sprung into life as rain washed down the nearby trees, leaving a fresh glint on every leaf."
At Swissotel Patong, we were welcomed smilingly by Kan and Walid – two energetic staff members, and were given a little hotel tour before our check-in to the Signature Swiss Room. I fell head over heels in love with the strikingly gorgeous room the moment I stepped inside. What struck with us the most was the elegant ambience – complete with white bed linen and white lace curtains that veiled the windows. Soon sunlight started streaming in through the windows. We felt that with every ray, a part of us lit up and brought a trance-like meditative calm upon us. Already within a few minutes of having arrived at Swissotel Patong Phuket, newer meanings of fun and exhilaration overcame us and left us in awe of the plush resort.
GETTING COMFORTABLE
Luckily, we had booked one of the newly renovated Swiss signature rooms at Swissotel Patong – a class in its own. The bedroom featured quite a fancy setup – with a large king size bed with a springy mattress and spotless white linen. The bed was cozy and soft, and definitely warranted a nap! Tired after our flight journey, the bed seemed to beckon us and we found ourselves wrapped in the cocoon of its soft luxury!
However, the bed wasn't the only thing to distract us – the decor was uber plush and we could see the definitive Swiss inspiration! The wood-paneled floor added a tinge of rustic to the ambience, while the window curtains emanated an old-school regal vibe. The warm white light was a welcome change. And we enjoyed basking in for a short while, and it illuminated all of the other sophisticated fittings in the room, including a wooden headboard and Swiss hanging lamps. Complete with a sharp wooden coffee table and a study desk, this room at Swissotel Patong was a vacation in itself. We couldn't see why we'd ever want to leave!
AMENITIES – CLASS APART
With a 55-inch LED TV and a state-of-the-art shower facility, the Swiss Signature room was as tech savvy as it gets. We found ourselves attracted to the unlimited access that the TV brought with it- without a single hassle in connecting to our favorite channel. We lay back and it wasn't long before we had to remind ourselves we were on a vacation! There was a coffee machine and all other amenities we could possibly need to make ourselves a hot cuppa when required! However, if you aren't a coffee person, there's even better news. There's a wide range of luxury specialty teas await you so take your pick and sit back with that hot mug!
The bathroom was integrated with sophisticated Purovel fittings. All of which were polished and sparkling clean. All other amenities that could ever come in handy for a family vacation or a romantic getaway were readily available – including a minibar, a flat iron, a hairdryer and an electronic safe. Plus, with a no-holds-barred access to the fitness center and to the kids arena, one can safely say there's enough to be distracted by. There's not a chance to get bored whilst vacationing at the Swissotel Resort Phuket Patong!
IN BALANCE SPA TIME
Spa time at Swissotel Patong Resort was all about self-indulgence and some 'US' time. There were a number of couple spa treatments to choose from, and we went for the stress-relief massage at Swissotel's In Balance Spa. Just one worry here are the tighter massage hours from 9 AM until 7 PM, which call for setting up an appointment well in advance. And this can prove a wee bit difficult. This only proves how amazing their spa services are. We definitely enjoyed our massage time and entered a realm of sensual divinity. At the end of our spa session, we both felt extremely relaxed and rejuvenated.
SCRUMPTIOUS BREAKFAST, LUNCH, & DINNER
Having an Indian chef at your discretion for 24×7 in Phuket is a luxury in itself. We couldn't have been happier when we found out that there was a dedicated Indian chef at Swissotel Patong. We are not very experimental with our food choices and hence need at least one Indian meal a day to keep us going on our holidays.
Glad, Amit – the Indian chef could prepare delectable, Indian cuisine for us all through our stay at Swissotel. Even at the breakfast buffet – there was a section of Indian food offering a selection of lentils, biryani, and many vegetarian meals. We were really impressed, to say the least! Not just Indian cuisines, the breakfast buffet had a selection of Continental, Oriental, Italian, and French cuisines. From a range of freshly baked breads and waffles to coffee, tea, marmalade, and salad – we were spoilt for choice.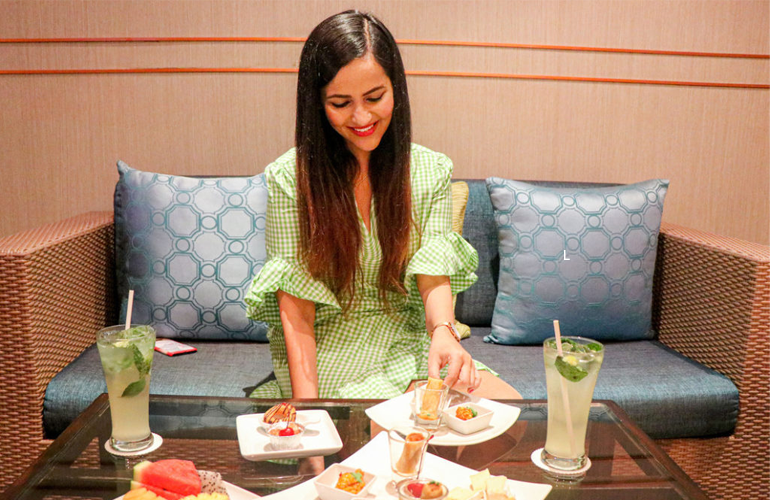 SWISS LOUNGE AT SWISSOTEL RESORT PATONG PHUKET
Swissotel's Signature Lounge sits on the 7th floor next to On Top pool bar, and is a great place for those informal meetings. The contemporary lounge turned out to be Harsh's favorite place as he couldn't get his hands off the pool table. Dress up in smart casuals and head to the Swiss Lounge for relishing a round of cocktails in an exclusive style.
ON TOP POOL BAR
Another highlight of our stay at Swissotel Patong was the atmospheric On TOP rooftop pool & bar – the ultimate hideaway from the bustling Patong City. We simply loved chilling at this bar and enjoying the unique vibe of Phuket from here. And, oh, just can't forget the memory of us watching the sunset together one fine evening.
Spending the day by the poolside, sipping on refreshing tequilas all while enjoying the great ocean views of Patong Bay definitely made life feel a little more precious. There are private cabanas and loungers at the On Top pool bar of Swissotel. Here you can relax all day long and take some supremely instagram-worthy pictures as well.
SAYING SAYONARA
Swissotel Patong Resort was a delight to stay in and we loved every minute we spent here. The elegance and charm conveyed through the carefully installed upholstery and the overall sense of calm it brought to us truly made our vacation worth going the extra mile to travel to Phuket. We'd say, it's especially great for honeymooners and couples on a romantic getaway. In fact, this had to be our favorite spot in Patong!
It's location is certainly the selling point with all the cafes, restaurants, shopping markets being a stone's throw away. The most famous Bangla Street is also just 10 minutes away. And, Patong Beach is simply 5 minutes walk from Swissotel Resort Patong Phuket. A super solid hotel to say the least.
As we said goodbye, our hearts wept a teeny bit but we found peace in knowing that we'd be back soon and would have a spectacular stay every time we visited!
Disclosure: **We would like to thank SWISSOTEL PATONG for hosting us and pampering us so much during our stay. All opinions are our own, like you can expect any less from us!!
Also, some of the links in this post are affiliate links. This means we will earn a small commission, at no cost to you, if you click on our recommendation and make a purchase.