When outrageously fast-paced city life stops beckoning, it's time to head to the hills.
***
Mussoorie is 6 hours drive from Delhi (our hometown) so we decided to go for a road trip one rosy weekend.
Also called 'the Queen of Hill Stations', Mussoorie is perched in the Dehradun District of the northern Indian state of Uttarakhand. The hill station glitters with the sunrise and even night lights once the sun sets.
The nifty roads leading to Mussoorie took us through the rolling hills, quaint villages, striking lakes, knobbly forests, and beautiful gardens.
This Mussoorie travel guide will make it easy to plan your holiday to the hill station:
ROUTE WE TOOK

We purposely took the longer route as we wanted to visit Paonta Sahib Gurudwara first thing, early morning. This way we were able to avoid the traffic of Meerut and UP.
THINGS TO DO IN MUSSOORIE
Take a Dip in the Kempty Falls
Located on the Mussoorie – Dehradun highway is the gigantic fall that somersaults beautifully before reaching the bottom. It is one of the oldest tourist spots that has somehow been ruined in the name of improvement.
The three-tired Falls gush down from a height of about 12 meters and is a perfect spot to picnic or take a dip. Tourists & other Mussoorie Travel Guide recommended a visit to Kempty Falls during the monsoon season as the flow of the cascading waterfall is in its full glory.
You must carry a fresh set of clothes if you wish to take a dip in the fall.
Suggested Read: Why You Should Visit Lansdowne, Uttarakhand
Head to the Mall Road
The Mall is a famous promenade in Mussoorie that is lined with benches and lampposts as well as modern shops, restaurants and a skating rink.
It is a colonial relic that starts from Library Point and goes up to the Picture Palace; the stretch is 2kms approximately. You will experience various spices of life within this short stretch itself.
In one corner, you will see a group of horses being taken from Camel Back Road to Lal Tibba, and in another corner, you will find a woman selling wooden handicrafts, at the same time, she teaches her kid. Hands-on with great bargaining skills? Well you can strike a great deal at the garment kiosks.
Getting some sunshine at the benches on Mussoorie Mall Road
Enter the Adventure Zone
Mussoorie hills are also inviting for the sheer range of adventurous activities it offers to tourists, including zip lining, paragliding, and roller skating.
Kiss the skies as you enjoy zip line adventure by getting harnessed on a rope connected to pulley as you slide at the speed of 50km/h. Mussoorie Lake is the right place to go to for paragliding adventure. Depending on your body strength, choose to paraglide from one of the spots in Mussoorie Travel Guide.
Sightseeing from the Gun Hill
Gun Hill is the second highest peak of Mussoorie that offers spectacular views of Himalayan ranges such as Gangotri, Bunderpunch, Pithwara and the Doon Valley.
A cable car ride from Jhulaghat to Gun Hill is most desired by tourists visiting Mussoorie told by Mussoorie Travel Guide. For sightseeing experience with a difference, book yourself a ride in a cable car. This thrilling 400m Ropeway ride from the misty peak will get imprinted on your mind for a long time.
Operating Hours: 10am – 7pm (winters); 8am -10pm (summers)
A cable car ride is a must to take in the views of the valley
Go for a Romantic Boating Date
A romantic boating break is all a couple can desire when holidaying in the cute hill station – Mussoorie. It is just about a perfect idea to slow down and get onboard a beautiful boat to spend some quality time with the loved ones.
With enchanting valleys forming the backdrop and good Mussoorie weather, boating would just be the perfect way to enjoy a good day.
Add a visit to the Lake Mist to your Mussoorie travel guide – a lake which is about 5kms before the Kempty Falls and is a newly developed picnic destination.
Live in a Jungle Resort
Wilderness calls should always be answered. And we answered them on our trip to Mussoorie. So we booked ourselves for two days at The Sal Woods Resort and Spa that is a luxurious jungle resort, 18kms away from Mussoorie.
With all the luxurious amenities, minus space, the resort was exuding charm amidst the jungle atmosphere.
We loved sitting in the gazebos and seeing the sunsets from there while relishing scrumptious North Indian delicacies. The resort also boasts of some amazing adventure and sightseeing activities.
With all the luxurious amenities, minus space, the resort was exuding charm amidst the jungle atmosphere. We loved sitting in the gazebos and seeing the sunsets from there while relishing scrumptious North Indian delicacies. The Mussoorie Travel Guide resort also boasts of some amazing adventure and sightseeing activities.
Take a Detour to Dehradun
Your trip to Mussoorie can easily be clubbed with a one-day stay in Dehradun. Also the capital city of the state of Uttarakhand, Dehradun is most renowned for the marvelous views of Doon Valley and attractions like Robber's Cave and Rajaji National Park.
Robber's Cave is about 8 km away from Dehradun and is 600m long. The river runs through a cave-like natural formation.
Sit by the Riverside, set your picnic, and enjoy the peaceful setting. Maggi lovers can order Maggi, which they cook with a bit twist.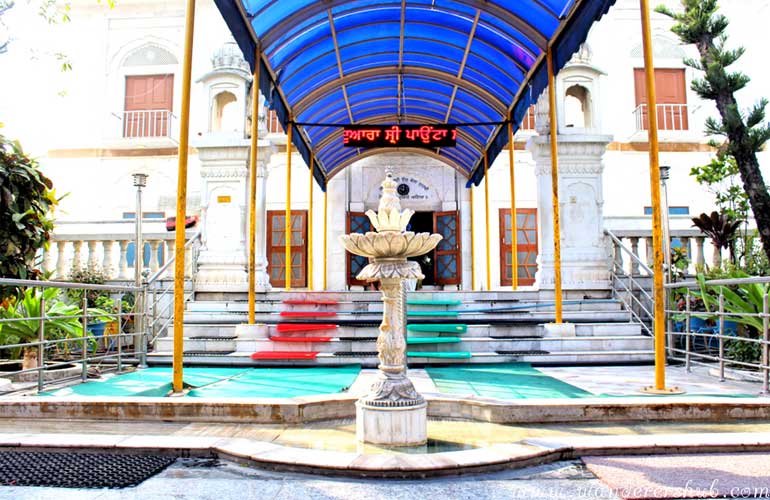 Posing by the riverside at Robber's Cave
Time for Religious Intervention
India is a land of spirituality and practically its impossible to do away without some religious intervention here. So two of the gorgeous religious sites that make to our Mussoorie travel guide are Paonta Sahib Gurudwara and Prakasheshwar Shiva Temple.
While Paonta Sahib Gurudwara is about 44kms (1.30 hours drive) from Dehradun, Prakasheshwar Shiva Temple is 12kms from Dehradun (on Dehradun-Mussoorie road).
From the temple, you can get a gorgeous bird's eye view of Dehradun City.
Into the divine at Poanta Sahib Gurudwara
Entryway of Paonta Sahib Gurudwara
Plan a Day Trip to Beatles Ashram Rishikesh
You could plan a visit to Beatles Ashram in Rishikesh from Mussoorie which is about 2 hours by car by still worth the drive. And of course if you have more time then you could also checkout the Ganges and life unfurling at the ghats mentioned in Mussoorie Travel Guide.
Have some more time to accommodate other Mussoorie attractions? You may:
Make a short visit to the Happy Valley, the spot where Tibetans first arrived in India after fleeing from Lhasa in 1959 under the leadership of Dalai Lama.
A visit to Sir George Everest's House can also be added into your Mussoorie travel guide as it is an ancient house built in 1832 by the famous surveyor, Sir George Everest.
World's highest peak has been named after him and he made his dwelling in Mussoorie for almost 30 years. This house is 6km away from Library Bazaar and can be easily reached by car.
Another significant attraction that you can add to your travel itinerary is a visit to the Camel's Back Road.
This road is named after a rock having the formation of that of a camel's hump. It is about 3-4 kilometers from the Library Chowk in Mussoorie. You can get some stunning photography shots surrounding the valley from this road.
PLACES TO EAT IN MUSSOORIE
India never disappoints you when it comes to food. So no doubt, you get to eat tasty delicacies in this part of the country too. No, there aren't quirky cafes or luxe restaurants, but eating in small food joints and little hideouts have their own flavor.
Kalsang Friends Corner: This two-floor restaurant with more tables than it can accommodate is really popular one in Mussoorie. Head to this restaurant for scrumptious Tibetan and Asian food!
Address: Mall Road, Survey Colony, The Mall Road, Mussoorie, Uttarakhand 248179
Lovely Omelette Centre: An eggie lovers paradise, Lovely Omelette Corner is a must visit for some tasty cheese omelets.
Address: Mall Road | Kulri, Mussoorie 248179, India
Wood Brick Cafe: For sumptous Italian food, you can visit the Wood Brick Cafe. Amazing pasta and pizzas topped with nice ambiance will make for a good time!
Address: Karma Vilas, Mussoorie 248179, India
The Mud Cup: Italian, American or fast food, this kitschy cafe is most renowned for its coffee. Apple Strudel and fresh banana muffins are other must-try delicacies.
Address: Clairmount Estate, Mullingar, Mussoorie 248179
Mom's Kitchen: Home food cravings? Mom's Kitchen is your calling. You'll get just the nicest kind of food having a homely feel. Rice with vegetable curries and macaroni at this place and you are sorted!
Address: Vikas Near Dominos Mall Road Mussoorie
MUSSOORIE WEATHER: BEST TIME TO VISIT
Mussoorie is set an altitude of 1826m and is one of the choicest summer retreats in India. While summers are ideal for trekking and camping, the winters are usually spine-chilling cold.
The hill station remains pleasant round through the year and can be visited at any time, but those looking forward to some adventure should plan a vacation post-monsoon, preferably September or November.
Summers: March – June (temperature is average 37°C, indeed good for sightseeing)
Winters: October – February ( not a good time to travel as its raining and the chances for landslides are high)
Monsoons: Mid-September (Days are foggy and at night the temperature can drop to 1°C.
Do let us know your favorite things to do in the below comment box.