THE TIME WE FELL IN LOVE WITH LIECHTENSTEIN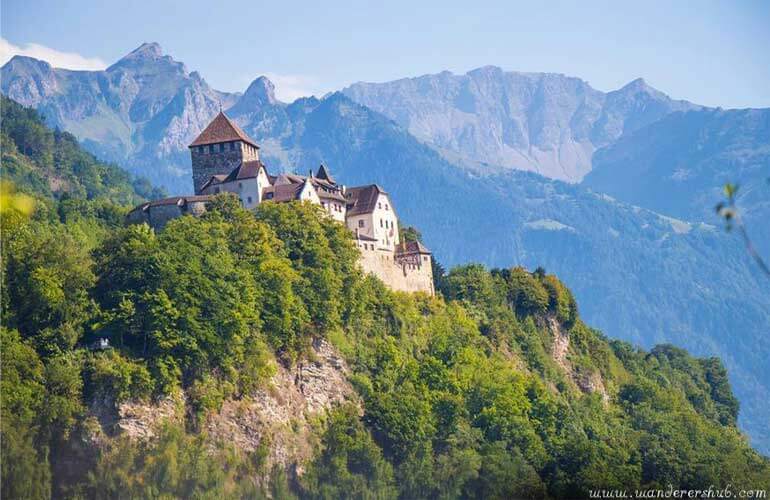 If you've ever wished for your life to be a fairytale, you can visit Liechtenstein and have your fantasy come to life.  
******
The toy train that takes you on a tour across Liechtenstein's capital city – Vaduz – is comparable to illustrations from a storybook. Riding on Citytrain was the highlight of our visit and amongst the one of the best travel experiences we've had so far. Put it on your list of things to do in Liechtenstein Country.
VISIT LIECHTENSTEIN
Though Liechtenstein is a small, small country, it has a glorious charm that makes you want to stay there forever. It is the only remaining state from the Holy Roman Empire and has several beautiful churches.
It also has a lovely castle where the Royal family resides and it is most certainly, a treat for the eye. But even if you are not a culture vulture, and the historic significance of the Liechtenstein does not fascinate you, there's much else to keep you occupied. If nothing else, the scenic beauty of the Swiss Alps will leave you mesmerized and wanting more.
Despite its limited geography, there are several cities you must cover when you visit Liechtenstein Country. Vaduz, Balzers, Malbun and Schellenberg have some of the most famous local attractions. Almost all tourists make sure to take the Vaduz Citytrain tour. And even in my opinion, it is one of the best experiences that Liechtenstein has to offer.
GETTING TO LIECHTENSTEIN
The sixth smallest country in the world sits snugly between Austria and Switzerland. It is easily accessible by rail either from Buchs in Switzerland, or Feldkirch in Austria. When coming from Feldkirch, Austria you need to take bus #11. There is no international airport in Liechtenstein.
CITYTRAIN RIDE IN VADUZ
This citytrain ride in Vaduz takes you around the various tourist sites in the city. If you are generally averse to walking, taking this ride would be a great option. In fact, buying passes to see certain Liechtenstein attractions also entitles you to free rides on the Citytrain.
Do keep in mind that the train has just three bogeys, and often, they are booked for tour groups. So make sure that you book your ticket in advance to avoid last-minute disappointment.
The logistics of booking and timing aside, the citytrain ride in Liechtenstein is like traveling back in time, right to your childhood. The fantastical quality of the journey in a miniature train is so enthralling, so energizing, I felt as if I were in a different world; quite like a dream.
Those 35 minutes were absolutely blissful and I'm sure I'll never forget them. Thankfully, the tour is conducted in both English and German. So it was easy to understand all that was being conveyed. A lovely ambience of quiet revelry was maintained throughout with the local tunes playing in the background.
For anyone planning to visit Liechtenstein, my advice would be – do not miss out on the Citytrain toy ride at any cost. Make your itinerary in a way that coincides with the train ride timings so remember it does not run continuously all day long.
Since the Citytrain is organized and run by localites, you can ask them about the history, culture as well as tourist attractions of Vaduz and Liechtenstein.
The child in you will be absolutely invigorated and it will definitely be an unforgettable experience. Book yourself on the Citytrain ride, Vaduz, and indulge in some innocent, old-fashioned fun!
Look who's having all the fun in Liechtenstein
KNOW BEFORE YOU GO
Liechtenstein is world's one of the most tiniest countries – imagine it is only 25km long by 12km wide. Outdoor enthusiasts have a number of remarkable hiking trails and ski slopes to have the time of their lives in this pipsqueak of a country.
Embedded deep in the alps, one of the things to do in Liechtenstein is a stamp in your passport. Liechtenstein is an independent country with relaxed border controls so you don't really need a visa to visit. However, you can go to the tourism information center and get your passport stamped for 3 Swiss francs just as a memorabilia.
Your visit to Liechtenstein is incomplete without a visit to the capital, Vaduz. Surmounted by turreted castle clinging to the side of the mountains, Vaduz is a minuscule city with gorgeous backdrop.
Aren't you already craving a visit to Liechtenstein? Make sure it is on your itinerary when visiting Austria or Switzerland.
*****
You may also want to refer these guides: