WHAT TO SEE IN GHENT BELGIUM FOR FIRST-TIME VISITORS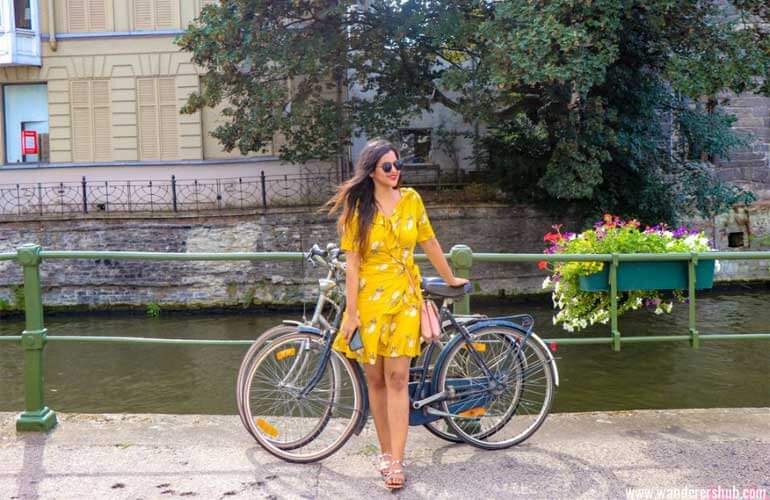 If Belgium is in your holiday itinerary this vacation and you're mulling over which cities you should check out, don't make the mistake of missing Ghent! Wondering what to expect and what to see in Ghent Belgium?
Well, very Amsterdam-y in its feel, Ghent has a vibe that lets you experience Belgian Charm at a more leisurely pace than perhaps its more famous neighbors Brussels and Bruges. While Antwerp, Brussels, or Bruges could leave you struggling to get those Insta-worthy shots of the surroundings from between jostling tourists, Ghent almost seems like a secret that you stumbled upon and got handsomely rewarded! Being a laid back holiday destination, it also offers you plenty to see, capture and experience.Lying at the confluence of Lys and Scheldt rivers, Ghent gets its name from a Celtic word meaning confluence. This fabulous location gifts Ghent a network of waterways that offers tourists the most mesmerizing views of this city and its architectural wonders.
STILL WONDERING WHY YOU SHOULD VISIT?
Well, to give you the low down in a few words, Ghent is quirky, arty, innovative and offers all things Belgian in a style all its own! With a mix of medieval charm and modernity, Ghent has something for every palate! And since we've broached the topic of palates, the foodie in you can rejoice for you'll be spoilt for choice of Belgian craft beers, designer chocolates, mustard that's a 'must-try' and a quirky candy called 'Ghent nose' or Cuberdon!
What's more, Ghent is known as the veggie capital of Europe with Thursdays being dedicated to vegetarian food! In fact, there are more vegetarian restaurants per capita in Ghent than any other European city!
If history, art and architecture are your thing, Ghent complies with quaint stepped roof houses in a row, a castle with a history that inspires awe, cathedrals housing masterpieces, and installations in surprising places! And when dusk falls, Ghent takes on a new avatar thanks to a stunning lighting plan that's sure to leave you spellbound.
WHAT TO SEE IN GHENT BELGIUM?
We met some of the most amazing people in Ghent especially at the bars and restaurants. Locals are the happiest people and so easy to strike a conversation with. You get that laid-back feel while walking around the streets of Ghent, Belgium. Usually, travelers plan on doing a day-trip to Ghent from Brussels or Bruges. Some even plan to stay back for a night or so. Well, here's what to see in Ghent in one day for the first-time visitors.
Stunning views wherever you look
GRAVENSTEEN OR CASTLE OF THE COUNTS
Unarguably, Ghent's most visited tourist attraction, it has a mysterious and sinister look complete with a giant spider web outside giving you an inkling of its past. It was built by the Count of Flanders who perhaps was inspired by the Crusade Castles. It impresses with its imposing structure and gives you the creeps with the tools of torture that it houses.
THE GHENT BELFRY
A UNESCO World Heritage Site, this tower dominates the skyline of Ghent. A part of the famous 3 towers of Ghent, it stands between St Bavo's Cathedral and St Nicholas' Church. If you are superhuman, you may like to actually climb up the 350 plus stairs for a bird's eye view of Ghent from the top. Worry not, if you're a mere mortal like me, you can use the lift.
ST. BAVO'S CATHEDRAL
Spend time gazing at one of Belgium or even Europe's most important artistic masterpieces, the Ghent Altarpiece or The Adoration of the Mystic Lamb at this gorgeous Cathedral. This artwork is a huge complex piece covering many panels and is attributed to the early Flemish painter brothers, Hubert and Jan van Eyck.
ST MICHAEL'S BRIDGE
Offering a panoramic view of Ghent's beauty, this bridge makes the perfect setting for a little bit of romance! And when evening starts to fall, the view takes on a magical glow with all the historic buildings being lit up taking the gorgeousness quotient to the next level! You'll think about falling in love all over again!
STREET ART ROUTE IN GHENT
Street art scene in Ghent is not pretty renowned but it definitely impressed me a lot. The street art in this Belgian city is still underrated. And that is what makes it worth a dekho. Ditch the standard sights of Ghent and take on the Sorry, Not Sorry route. View the map of this route digitally. Simply relax and have fun! You'll be up for an offbeat yet fun experience if you are a street art lover.
GHENT BY NIGHT
Ghent's award-winning lighting plan turns the whole city into a work of art! Every important monument, street, square and architectural highlight is accentuated with a play of light and shadow leaving you awestruck!
BOAT TRIP IN GHENT
The romantic waterways of Ghent are damn inviting. You can never resist the temptation to take a boat trip in Ghent along the River Leie waterfront. Glide past the striking Castle of Counts. Appreciate the colourful buildings of Ghent onboard an open or a covered boat. This 40 minutes boat tour of Ghent would be a perfect introduction to the beautiful Belgian town for the first-time visitors. Enjoy live commentary while admiring the pretty houses of the medieval Graslei.
THE BEST TIME TO VISIT GHENT
Weather-wise May to September is the best with opportunities to enjoy some events too! July, meanwhile, is peak season due to the number of festivals like the Ghent festival, Ghent Jazz Festival, and Dance Festival to name a few. September and October though rainy, have events like the Ghent Festival of Flanders that you can enjoy. January is the least crowded and therefore the cheapest in terms of accommodation. Best – if you don't mind the cold weather (around 6 degrees Celsius).