VISITING ICELAND IN WINTER: THINGS TO KNOW FOR AN UNFORGETTABLE TRIP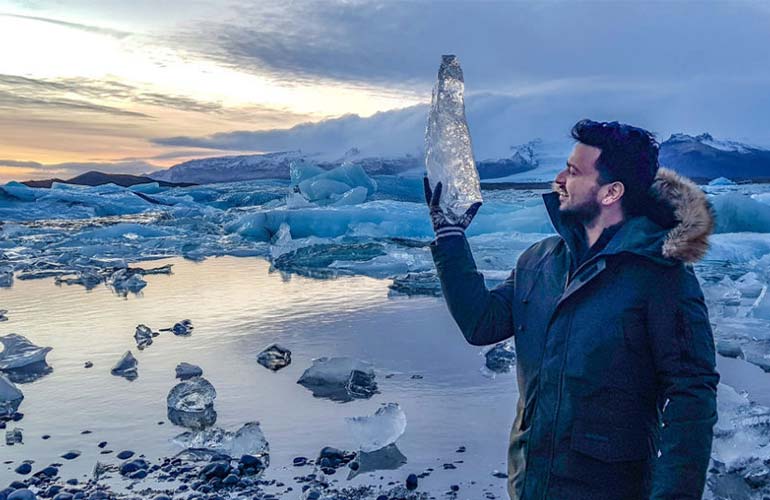 If like us, you have a penchant for venturing off the beaten track, visiting Iceland in December should definitely be on your checklist of delectable holiday options. It's not as bad a decision as it is often made out to be. And if you're looking for the complete low down on the how and why of visiting Iceland in winter, read on!
We've made it easier for you to understand everything regarding planning a trip to Iceland in winter months. Here we've addressed all possible questions being asked on a regular basis on our various social media channels.
[toc]
IS IT FREEZING COLD IN ICELAND IN WINTER?
Considering its foreboding name, you may find winter temperatures in Iceland far more bearable than what you imagined – it's cold but not really frigid cold. In fact temperatures in Reykjavik hover around 0 degrees Celsius through winters – not that scary, right? On our trip to Iceland in December, we did not see any snow!
But yeah, it can get pretty windy making it seem colder than it is. Plus, there are those sudden shifts in weather with rain coming at you in a slant. Here's where the local wisdom will warm your heart- they say there's no such thing as bad weather, just a bad choice of clothing for that kind of weather! So, better come well prepared and pack smartly for your trip to Iceland, especially in winters.
WHAT ABOUT WINTER PACKING FOR ICELAND?
Giving due respect to the local wisdom of Iceland when it comes to weather, the wisest thing to do would be to layer up and get windproof and waterproof! And I don't mean just waterproof jackets – in Iceland, you'd better think of getting waterproof pants and shoes too.
Layer up starting with thermal base layers in wool, top that with a really warm sweater and then the water and windproof layers. Waterproof ski pants over warm leggings would work well to protect your legs, and when it comes to shoes think about getting yourself a pair that gives you good traction to walk on ice.
Check your cute self out in the mirror and you're good to go! And oh.. to contrast all this layering up, you'd still need to pack a swimsuit simply because there's no way you're going to leave Iceland without a dip in at least one of its thermal pools.
A small checklist for winter packing for Iceland would go like this:
Blanket Scarf
Thin inner gloves
Windproof gloves and caps
Waterproof boots (hiking ones)
Thermal undergarments
Wind and waterproof jackets
Fleece midlayer (light sweaters)
Hiking pants
Swim wear
Thick socks / toe warmers
Earmuffs
WHERE CAN WE BUY CHEAPER FOOD IN ICELAND?
The cost of eating out at cafes or restaurants in Iceland is extremely high. An average lunch for two would set you back by $60-$80 easily. Nonetheless, a few grocery stores in Iceland are affordable. Three of them are Bónus, Nettó and Krónan. Here you can buy a meal for $5 – $10 per person. But make sure you have enough stock of food and fruits with you all the times. These supermarkets do not open anytime before 10 AM in the morning, and shut everyday at around 7 PM.
You can trying eating Icelandic food on your visit but if you want to save money here then I would recommend you to bring packed food along with you. Moreover, you can also book accommodation that comes with free breakfast option. Again, low-cost accommodations tend to fill-up fast so act smartly for your trip even in December.
WILL I GET TO SEE NORTHERN LIGHTS 100%?
Seeing the northern lights is on everyone's bucket list, and 'visiting Iceland in winter' ups your chances of sighting them by a higher degree, simply because the hours of darkness are more! But that being said, it does depend on your luck. The sky could be overcast or it could be raining on the days that you are there, and that mars your chances of a sighting.
Be patient, be ready to either drive out to the country side with open skies or take a tour and wait in the darkness for hours on end. When you finally see the lights, you'll be more than compensated for having stayed up! It's the stuff that makes up memories for a lifetime! We know… we were lucky to sight them twice! See – here's why staying for at least 10 days in Iceland in winters is suggested. The more days you are there, the better your chances are.
Even if you are taking tours for seeing the Northern Lights and you do not see them the first time, you can reschedule for free. You can do this until you finally get to see the lights. Isn't that awesome!
You can check Northern Lights forecast at Vedur before booking your tours.
ARE SNORKELING AND DIVING REALLY POSSIBLE IN WINTERS?
The answer to that question is a big resounding yes! Remember you're in the land of fire and ice with plenty of volcanoes and areas with geothermal activity and that suggests presence of tectonic plates nearby. The Silfra Fissure is actually a gap between two tectonic plates and just imagine, you can snorkel there … even in winters! Get with the feeling and imagine yourself swimming in the gap between Europe and North America. Doesn't that make it the most unique diving site in the world?
SHOULD I SELF-DRIVE IN ICELAND IN DECEMBER?
There's no clear cut answer to this in my opinion, and it can be tricky. Though there are several people who do opt for self-drive but with many roads being closed in winters, we thought it was quite a risky proposition and not really advisable. We also saw a few accidents on the South Coast and it was certainly scary. There isn't much life or help available on the South Coast which makes it scarier during winters where the daylight is limited.
Now those who know us fairly know how much we love road trips. But we are not big risk takers and always like to stay on the safer side. So, why not leave the road trip in Iceland option open for the summers and enjoy guided tours in winters!
WHAT IF WE STILL WANT TO DRIVE IN ICELAND IN DECEMBER?
Driving in Iceland in winter, especially December, is not as easy as driving during the summers. This is because there's low visibility, limited day light (about 4-5 hours), and frequent windstorms in winters. It is quite unpredictable honestly. At times, the weather can be a tad too bad. During our day trips from Reykjavik, we witnessed snowstorms quite a few times on the South Coast and Western Iceland. It can be extremely tricky even for the experienced drivers. But I would not discourage you from driving either. If you think you can smartly manage the icy roads of Iceland during winters then you shall go ahead with it. Just remember – it can get stressful to drive through bad winter road conditions so that requires one to be more responsible.
Some tips here:
Rent a 4WD (a four-wheel drive) strictly.
Make sure you have food and water in your car all the time.
Don't even think about off-roading in Iceland.
Highlands are closed to traffic during winters so stay away from that route.
Get a full insurance coverage for your car. Better be safe than feel sorry later.
Don't underestimate strong winds in winter months. These winds can actually rip apart your car's door and the damages would be really expensive to bear.
So just in case you have decided against renting a car in Iceland – simply join the group tours. They are fun! Icelandic guides will share their stories and narrate fantastic Icelandic folklore which will keep you happy and pepped up during the tours.
And just in case you have decided to go around driving in Iceland – make sure to always check the weather forecast on Safetravel.is or road.is before starting each day.
Always carry the following things with you for driving in Iceland in December:
Paper road map
Phone battery and power banks
Drinking water and food
Spare tire and tire changing kit
First aid kid
Snow scraper
Collapsible snow shovel
Emergency blankets
List of important local contact numbers written in a diary
So hope we've answered all the questions you might have had regarding planning your trip to Iceland in December! Have a safe and happy trip.
IS IT WORTH GOING TO THE BLUE LAGOON?
With Instagram going overboard with pictures of Blue Lagoon, you might end up visiting Iceland simply to check out what all the hype is all about. Just keep in mind that it is expensive and can cause quite a dent in your pocket. If the price is a deterrent (quite natural, for the price is steep), fret not! Iceland is full of thermal pools with benefits like the ones touted for in the Blue Lagoon, but unlike the Blue Lagoon, these are completely free!
DO I NEED TO BOOK BLUE LAGOON IN ADVANCE?
If you do have your heart set on spending some time at the Blue Lagoon, do book in advance to avoid disappointment. Slots remain full even in winters. And when there, take full advantage of the free silica mud mask!
Just remember – book your slot at Blue Lagoon (if you are keen on visiting) , a month in advance. Even in December, we did not get any free slot there, and had to come back disheartened.
IS IT CHEAPER TO VISIT ICELAND IN WINTER?
Iceland is actually one of the most expensive countries to live in, ranking third when it comes to cost of living. So, even though it may be cheaper than peak season, you still may find accommodation and food pretty steeply priced. However, this needn't put you off from discovering this incredible island with landscapes so beautiful that they seem unreal and photo ops at every turn. With proper planning and early bookings, you can enjoy all of the above without breaking the bank.
WHAT ARE THE BEST ACTIVITIES TO INDULGE IN?
The list is quite long, from glacier hiking, to bathing in thermal pools. From snowmobiling in the glaciers to taking ice cave tours and from hunting Northern Lights to checking out game of thrones filming sights! Take your pick or simply plan well and do them all!
When visiting Iceland in December then probably the biggest motivation has to the Northern Lights. And second, seeing the natural ice caves. Honestly, we were a bit disappointed with the ice cave formation during our visit which is totally nobody's fault. These caves take some proper weather conditions to develop completely so you can be disappointed like we were. But it is still worth a visit!

IS IT POSSIBLE TO VISIT THE AIRPLANE CRASH SITE IN DECEMBER?
Tours to the plane crash site run even through winter, so yes it possible to visit this unique site in December. However, because reaching the actual site entails a rather long walk (around 2 hours) many people think it's too much trouble for a few minutes spent at the site.
However, if you are hesitant on visiting like we were, join a group tour. It is an ATV tour combined with the airplane crash site. Only a few companies run this tour so book in advance. It would be a delight to see the plane crash at Sólheimasandur Black Beach, I promise!
IS IT ALRIGHT TO DRINK TAP WATER IN ICELAND?
100%. In fact, Icelandic water is the purest as all the water comes from springs in the ground. Buying bottled water in Iceland is sheer stupidity. The water is renowned for its purity and good taste. Just be aware of one thing. Make sure you keep the tap running for cold water for a few seconds as the cold and hot water do not come from the same source. This is the reason why hot water smells of sulfur in Iceland. If you keep the cold water running for a few seconds, there won't be any smell at all. Drink it without any hesitation.
IS IT IMPORTANT TO BOOK TOURS IN ADVANCE?
There's no two ways about this one. Tours get full pretty quickly and you just might end up being left high and dry. So, as I've mentioned earlier, the moment you decide that you're heading to Iceland for your next holiday, get set, plan and complete all your bookings in advance – you may even end up saving quite a bit of money this way!
******