EXPERIENCE FINNFULLNESS AT MARSKI BY SCANDIC HELSINKI HOTEL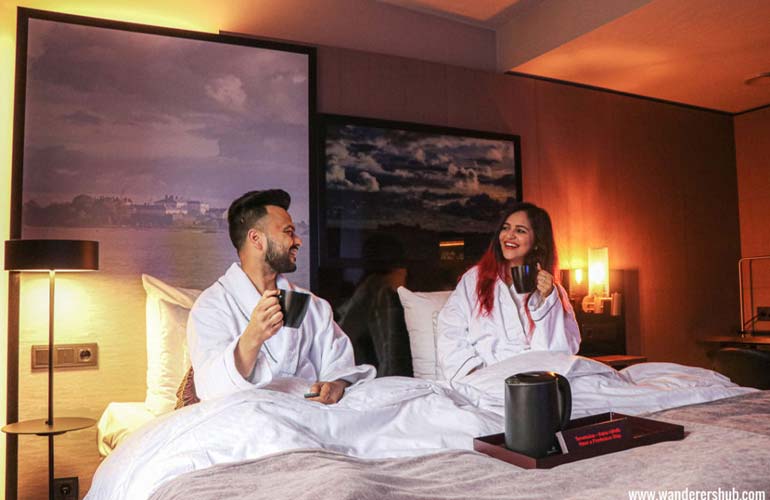 Stepping into Marski by Scandic Helsinki was like walking into luxury. The plush interiors of the lobby and prompt service at the Reception gave us a sneak-peek of the lovely hotel experience ahead of us. As we entered our room, the view took us by surprise. The large bay window overlooked the lively street of Helsinki's Mannerheimintie that the hotel is located by. Our first reaction was to revel in our choice of hotel – we had picked out the best hotel in Helsinki for our stay!
WHY IS MARSKI BY SCANDIC HELSINKI THE BEST BET FOR TRAVELERS?
Marski by Scandic Hotel is well-frequented by travelers from all over the world for a reason – its location in the heart of the city, close to all of Helsinki's delightful attractions. The Mannerheimintie artery runs through the city, connecting locals to many important buildings, stores, and sculptures. In fact, the Stockmann's department store is right opposite the hotel, which makes it all the more covetable for shopaholics and foodies.
Aside from its location, the Marski gets a major thumbs-up for its Finnish reinvention of modern luxury. The rooms have interesting, colorful décor, with the same eclectic scheme that paints the lobby, restaurant, and other common areas. The suites are extremely lavish with great views and much-appreciated soundproofing that blocks ambient sounds.
The in-house dining facility is also great – the Marski Bar and Restaurant has a cool, urban vibe and delectable food options. Most important of all, we found the hotel staff to be very polite and helpful, and their service as prompt and gracious as can be.
A special thanks to Virpi for ensuring we had everything we needed to make our stay comfortable and enjoyable!
WHAT CAN WE EXPECT FROM THE BEDROOMS?
The Marski is known for the diverse options in room size and amenities available to guests. From Single Rooms with ergonomic arrangement of furniture to the roomy, opulent Marski Suite, there are ample accommodation options to choose from. We stayed in a Grande Double room, which was quite spacious and very tastefully decorated.
The room was large enough to accommodate four people, if required, and still have plenty of walking space. It also had an iron/iron board combination and the basic tea/coffee supplies and water kettle.
The fine balance of luxe interiors and casual stylistics made us feel like we're living in a very luxuriant home and not a hotel. No wonder the Marski is often touted as the best hotel in Helsinki.
HOW ABOUT THE FOOD AND DRINKS HERE?
The Marski has several in-house dining options available. Online reviews revealed that the hotel enjoys a great reputation on account of its restaurant and bar too. Their main restaurant – Kuusi Palaa – had a very interesting menu; it offers Finnish flavors and specialties but with a modern twist. They have many all-day-dining options as well as breakfast and lunch buffets.
During our stay, we thoroughly enjoyed having the first meal of the day here. The breakfast spread was lavish and quite delicious – something to look forward to. The breakfast buffet was open to non-residents as well, and there were quite a few walk-ins on most days. Their lunch buffet had a salad bar, soup, main course, and coffee.
Though we didn't stop by for lunch ourselves, I imagine that's quite a sumptuous preparation too.
While Kuusa Palaa is great for an elegant meal with quiet conversation, the Marski bar is full of people and energy throughout the day. It has a beautiful décor and fun vibe, which complements the long, unique list of cocktails they offer here. They even host events and performances at the Marski bar, so you can count on a lively crowd lounging here on most days.
Aside from the signature restaurant and bar, the Marski by Scandic Helsinki also has a cutesy coffee shop called Café 7:01.
This is a street-level café which serves the most amazing aromatic coffee to residents and walk-ins, alongside café-style quick bites. We picked up some snacks from Café 7:01 to munch on the go on several occasions and they were quite tasty each time.
HOW ARE THE GYM AND SAUNA?
For the fitness enthusiasts and sauna-lovers, the Marski is a great place to be. They have a well-equipped gym for a basic workout, where most people can practice their usual fitness routine. They also have a sauna where you can sweat out all your toxins. There are different steam rooms for men and women.
We didn't really have the time to enjoy the sauna experience here, perhaps, one of the reasons we would love to come back and stay at Marski.
WHAT'S THE NEIGHBORHOOD SCENE LIKE?
One of the reasons for the Marski being considered the best hotel in Helsinki is its posh location. As mentioned previously, it offers easy access to many attractions across the city. But some sightseeing spots are at walkable distance, and that's what we really loved. The Havis Amanda fountain and Kauppatori plaza are very close by. I also remember walking to the Obeliski Keisarinnan Kivi memorial. There are also many shops, restaurants, and pubs in the hotel's vicinity.
Simply put, the Marski is in the most upmarket area of Helsinki and you're sure to enjoy such an exclusive stay immensely here.
*****
**We would like to thank Marski by Scandic Hotel for making this trip possible. All opinions are our own.**