DISPATCH FROM DELHI: TO A GERMAN DREAMSCAPE
In March of 2018, we made a dramatic change to our lives- one that we'd been thinking about for a while, but hadn't charted out a plan for. From the hustle bustle of the overcrowded hub that is Delhi, we moved, bag and baggage, to a gorgeous vacation home in the German countryside. It took meticulous planning, and a tireless passion for our dreams, but we made the plunge and there are no regrets!
HOW DID WE GET HERE?
It didn't take us too long to find the perfect home we'd like to settle in for the next – Ms. Anja Plath's vacation home in Middle Franconia caught our eye the first time we had a glimpse. The home looked cozy, warm, and inviting- and we couldn't wait another minute to book our stay! The area is dizzyingly clean and green, pet-friendly, provides a ridiculously fast Wi-Fi, television and dish-washing facilities, among other things.
VACATION HOME: THE DREAMY LIFE
Grub is a hamlet on the fringes of the German countryside in Bavaria. Blanketed by thick green forestry, the village is rustic and transports one back to the images that conveyed the typical English countryside, brought to us by glitzy song sequels in our desi cinema.
Except Grub is different- it is invigorating- a spa for the soul for your Bavaria holidays Germany. For as far ahead as we can see, not a single tree seems out of place, and not a single shade of green that doesn't scream to be adored. Grub beckons not just travellers on short tours wanting to explore the quiet of the German hospitality- of which we'd heard so much!- but those who wish to live life simplified.
Tram-less, cab-less, the morning caffeine-kick-less. Life, simplified. From loud blaring horns and a reliable traffic jam schedule back home to an endless stretch of meadows and a carpet of well-pruned dewy grass, Grub has crept it's way into the deepest reservoirs of our hearts. And we're grateful that we get to live this!
The chirp of the morning birds didn't take too long for us to get used to Bavaria holidays in Germany. The bright tulips flanking our accommodation are promises of sunlight on a gloomy day. But first..
OUR HOST
Our host is an adorable German lady who goes out of her way to make us feel at home. The first meeting with Anja included her picking us up and driving us around after we arrived, as she realised we had no means to commute through town!
As she drove us around, Anja shared details of her life with us that reassured us about our decision. We went grocery shopping, and bought everything we'd need to keep ourselves afloat for the upcoming weeks- including a SIM card and a rental car!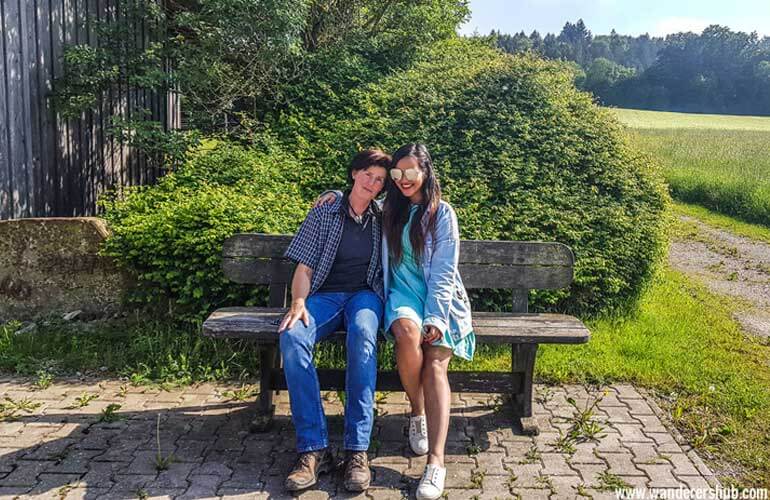 Anja is one of the five women who professionally runs a business of shoeing horses in Germany! Unbeknownst to us, one who shoes horses is called a farrier- a profession that traces back to a rich medieval history in the continent. Also unbeknownst to us, being a farrier is tougher than it sounds.
Luckily for us, Anja invited us to see her at her job and we were left speechless- watching her shoe horses made us wonder at the strength this incredible woman honed in herself! Of course, this was followed by us riding her two loverboys (as she addresses her horses) – Max and Eni.
JUST LIKE A DREAM!
As we neared her beautiful country home, we felt at ease already, having let our guard down at the first conversation with this lovely lady. The house seemed like a dreamscape had animated itself and brought itself to life before our eyes.
Anja's 90 meter-square home is open for up to three guests at a time, all of whom are free to use the washing machine, TV, WiFi, dishwasher etc. Cooking meant buying groceries locally and spicing things up together in the kitchen with a ton of resources at your disposal!
With this lovely lady
We loved that a ravishing garden, blooming with tulips this time of the year, awaited our sight every morning. What's more, we have unlimited access to the sprawling fields around, which makes it an adventure to even wander for a post-meal walk! The nearest restaurant is six kilometers away. It makes cooking an everyday task. One we don't really mind, seeing as how we have some of the freshest farm produce to choose from!
CONNECTIVITY & CREATURE COMFORTS
Grub is situated neatly tucked between other German villages, and is flanked by Schillingsfürst, Feuchtwangen, Schrozberg, Gerabronn, and Ilshofen on every side. However, there is limited to no connectivity to most places – except if you have a car! So cycles or buses might have you flit around in the quintessential German city at the speed of light. But in the countryside, you either walk, or drive yourself around!
We rented a car from Lindenmeyer – as suggested by Anja and struck and INCREDIBLE DEAL!! We'd highly recommend anybody planning to rent a car in Germany to do it with Lindenmeyer.
Living in the quiet countryside has always enticed us! And Anja's gorgeous home stay promises us just that, every single day. The farm life beckons all those who dare to wander!
I'm sure you'd love to stay in this gorgeous vacation rental in the dreamy countryside of Bavaria, Germany.