DISCOVERING BEST CHRISTMAS MARKETS IN EUROPE WITH EURAIL PASS
Europe is perhaps one of the most frequently visited destinations during the latter half of the year. With most places freezing and some places snowing, it is one of the most stunning places you can bring in the New Year. Plus the best Christmas markets in Europe sure are a great tease! But one rarely hears stories of travelers who come back without burning a massive hole in their pocket, because let's face it: Europe is no easy map for the humble traveler. Nevertheless, this mystical land is still worth the Christmas cheer that rolls in as the autumn gives way to a long, festive winter. And we have found a hack for planning your perfect Christmas market break! You just need a Eurail Pass!
PLAN YOUR CHRISTMAS MARKET BREAK WITH EURAIL
Christmas markets seem like the perfect dreamy festive affair, but these wintry carnivals are rooted in a centuries-old tradition: that of the guilds' Christmas exhibition. Which is why, even till this day, most Christmas markets put on display their finest local and freshest crafts. From locally brewed gingery ales and mulled wines, to perfectly fermented, rich doughy breads, there's a little bit of everything for everyone in a European Christmas market.
Our journey to these markets was filled with awe and wonder, only a teeny bit tiresome, but that was before we found ourselves with a Eurail pass. Since we decided to go Christmas market hopping- and not with the intention to fill up our sacks- to partake in every delight this part of the world had to offer, we decided a Eurail pass was the perfect accompaniment to our travels. So travelers usually country hop with the Eurail pass but we used our global pass for Christmas market hopping in different European countries. Of course, an amazing idea to discover different countries and their different traditions.
Mapping out our Christmas hopping trip across European countries
WHY EURAIL PASS FOR CHRISTMAS MARKETS IN EUROPE
Operated by Eurail since 1959, the pass, formerly known as the Europass, allows you to visit nearly 31 European countries connected by the Eurail, which is a fine railroad with a long history of serving tourists to popular destinations across the colourful continent. The pass makes life easier as it allows you to skip long queues and get through to platforms in near-record time! And while you may think getting your personal tickets is your way to go, you might want to rethink this if you wish to go Christmas market hopping.
Most European markets get chock-full during the festive season. And it gets tougher to find your way through crowds. Especially when it comes to taking a bus, train, or even to hail a taxi! Plus don't even talk about how expensive it gets with the Christmas arriving. A Eurail pass is not only convenient but it allows you to hop around at your own pace, unlike day return tickets which don't allow for spontaneous plans! Now we literally made all our plans last minute because we had a 2 months global pass. So we could decide spontaneously.
MORE ON EURAIL GLOBAL PASS AND BENEFITS IN THE NEXT BLOGPOST.
A Eurail pass allows you access to over 10,000+ tourist spots all across Europe with simply a sleek card that fits in your wallet! What's more, you can easily order the card online and pay securely without worrying about cyber crimes. With this humble little card, you can open the doors of the vast expanse of Europe to your Christmas market-hopping aspirations and you won't regret it! Now some may even argue that there are cheaper travel options around European countries which I agree. But then those looking for convenience and fuss-free travel do not have to think twice before investing in a Eurail Pass. In fact in 2019, you can get better and cheaper deals.
Travel on back-to-back trains as many times as you want
Travel at your own pace
See as many Christmas markets as possible
Conveniently Christmas market hop in Europe
If you're wondering what Europe Christmas markets you could hit with a Eurail pass in tow, consider our top picks. These markets swept us off our feet and we nearly felt transported to a different era.
Now our itinerary lists Christmas markets of specifically three European countries – Germany, France and Austria. But you can add as many markets as you may want. As already told you, you can travel to over 31 fascinating countries with a Eurail Global Pass. So, visit as many markets as possible in as many countries as you want. We are already planning to explore Christmas markets of Berlin, Prague and Amsterdam this year.
We explored almost 8 Christmas markets, thanks to our Eurail Pass
VIENNA'S CHRISTMAS MARKET (AUSTRIA)
When in Vienna, you might feel like you're in a movie set, with the most gorgeous, exorbitant set hand made for your pleasure. Vienna is one of Europe's most visited cities, and we could see why!
The architecture, Neo-Gothic and intricately enthralling, is unlike anywhere else in the world. Likewise, Vienna's Christmas markets are well reputed to be the absolute best in the world. Some of the advent art markets are known for their unusual local crafts, which double up as the perfect souvenirs, and for the nice warm punch which is also locally brewed and native to Vienna.
If every Christmas market had an icon, Vienna's would perhaps be the expansive entertainment it puts on display for its visitors. From advent plays to musical concerts, this is the best place to feast your eyes and ears!
A Eurail Global Pass would make it easier than ever to plan your visit to Austria and you can keep a few days specifically reserved for discovering all the gorgeous markets of Vienna, Salzburg, and Hallstatt.
Look how beautiful is this Christmas tree in Vienna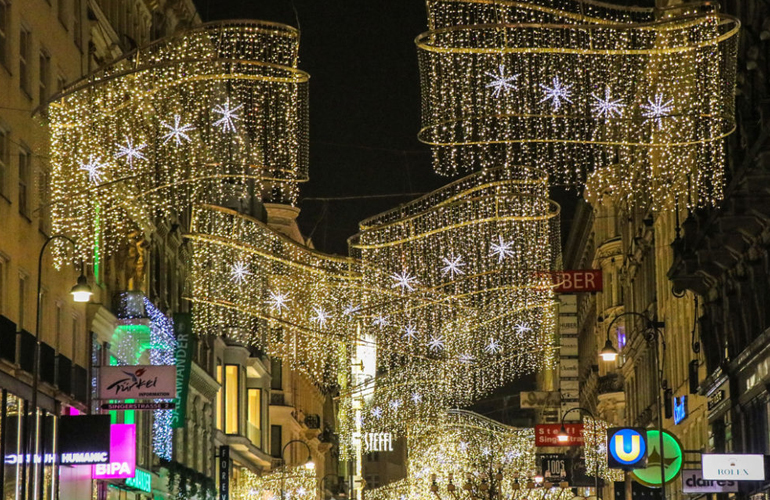 Christmas decorations in Vienna like nowhere else
NUREMBERG CHRISTMAS MARKET (GERMANY)
With over four hundred years of tradition behind this exquisite market, we finally saw what the fuss was all about: Nuremberg's Christmas market can start setting up shop during late November and will continue throughout December. This is one of the best Christmas Markets in Europe without a doubt.
Nuremberg's traditional German Christmas market is best known for its variety of baked goods. From the unassuming baguettes and bread to the famous brews, Nuremberg is a foodie's feast. Perhaps the one thing you can't leave without trying are the bratwurst sausages, attracting sausage lovers from all over the world! We being veggies would have given up at once but then I guess it is a recommendation for you non-veg lovers out there!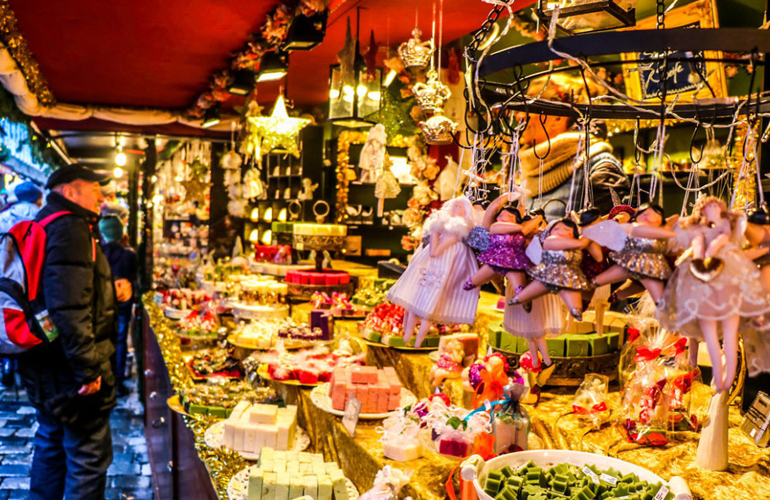 Nuremberg's beautiful Christmas market
Nuremberg's Centre all decked up in Christmas fervour
ROTHENBURG CHRISTMAS MARKET (GERMANY)
Rothenburg's Christmas market is the perfect melting pot of a fairytale experience. Often dubbed as the magical city, Rothenburg famously provided inspiration to a Disney story, which is also why it resembles a magical, mystical castle during the festivities.
With heaps of snow dolloping off rooftops (well this year was an exception), this is one place you could visit to feel like you're in a Disney book! We would highly recommend anyone coming to Europe during Christmas to visit Rothenburg. The best part is it is very easy to hop over to this town from Frankfurt.
Use your Eurail Pass to take a train from any European city, let's say Frankfurt, and get down at the Rothenburg train station. This town is 2 hours away from Frankfurt by train.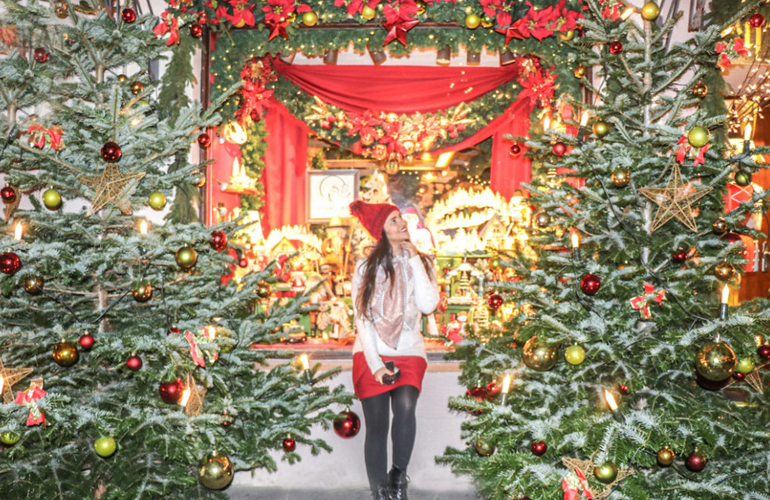 Getting to Rothenburg's Christmas market is easier with a Eurail Pass
Beautiful Christmas markets decorations in Europe
STRASBOURG CHRISTMAS MARKET (FRANCE)
This might be the first French market to make it to the list, but don't let it's inclusion surprise you. Strasbourg, often dubbed the Christmas capital, livens up during this time of the year. Itis lined with kilometers of fairy lights, and nearly three hundred shops to keep you going! This market's popularity has been on a constant rise. And the result can be seen in its record footfall of nearly 200 million visitors from all over the world,
Planning your visit to Strasbourg from Germany is quite easy. And with a Eurail global pass, it would be easier than ever before. Just 5 hours train ride from Rothenburg. The pictures from this market will leave you speechless.
We have already written a detailed post about our visit to Strasbourg Christmas Market.
In the Christmas Capital of Europe – Strasbourg France
Christmas Market decor in Strasbourg France
HEIDELBERG CHRISTMAS MARKET (GERMANY)
Heidelberg is known for it's shipped cream puffs, and the infamous German mulled wine. Just in case you need another reason to be convinced, this is one of the most romantic locations to roam about in. Spread out across seven divisions. This is one enchanting market that might need you to put on your warmest hats and socks before you step out to explore, since the weather around then is unforgiving!
Read More about our visit to Heidelberg
So, now with all this information, you could start planning your Christmas market trip in Europe rightaway. Let us know about your favorite European Christmas Market and we might try and explore it this year.
**We would like to thank Eurail for making this trip possible and providing us with global passes to explore Europe on our on whim. All opinions are unbiased and based on our own experiences using the passes.**