QUIRKY WAYS TO DISCOVER DHARAMSHALA IN HIMACHAL PRADESH TRAVEL BLOGS
Icy peaks and lofty mountains make for a breathtaking backdrop to the home of Dalai Lama in winters. The gorgeous Dhauladhar range cradles the rustic, quaint Dharamshala in its foothills. Today the hill station is densely populated by Tibetan refugees, who have infused their own customs, giving birth to an amalgamation of colonial architecture and Tibetan culture. Travelling to Dharamshala has become easier in the past few years since road routes connect it to major cities like Delhi, Chandigarh, and Jalandhar.
A four-day stay is highly recommended to those on a quest of soul searching. Luckily the hills beckoned us with a friend getting married in Dharamshala, which apparently is his hometown. Double whammy – we got to experience the quaint little town and attend a Himachali wedding at the same time in our Himachal Pradesh Travel Blogs.
WALK THROUGH DHARAMKOT VILLAGE
Dharamkot is a cute, small town in the Kangra district, about 6kms away from Dharamshala. The huge influence that Buddhism has had on the region does not go unnoticed while holidaying in the town.
A peaceful vibe hits every chord of one's soul in this picturesque hill town, which is an overnight bus ride from the  popular hippie backpackers' hotspot – Kasol. Dharamkot is also the ideal base for multiple hikes to Triund, Naddi, Indrahar Pass, etc. Finding a meditation spot wouldn't be a problem as you'll find many. Hours were spent swooning at the gorgeous mountains that can cast a spell on anyone.
INDULGE IN POCKET-FRIENDLY MEALS (PIZZARIA IS A MUST)
Ask any local and the spots they would suggest for pocket-friendly meals in Dharamshala are Anand Momo Corner, Morgan's Palace, and Shiva Cafe – they are kind of iconic in the area. We spent a lot of time in these two while we were there, and must add, the momos at Anand Corner were finger-licking good.
Another great place ideal for a casual pizza party is The Family Pizzaria. The food joint is perfect for those craving pizzas though they are famous for their Egg and Machli Pizzas. We also love their desserts, especially the choco cakes!
It isn't easy to reach this cafe though locals can guide you to the family cafe which is a steep climb from McLeod Ganj to Dharamkot.
Desserts – cherry on the top
FIND THE PERFECT SPOT TO CUDDLE (WITH BIRDS FOR COMPANY)
Dharamshala is a warm and welcoming place. You cannot leave without spending a few hours on the winding roads, hunting for your perfect spot! Just get the Himachali tone right and look for the view that enchants you! in our Himachal Pradesh Travel Blogs we had our share of cuddles and moments overlooking the snowy peaks. Don't just look for Dharamshala places to visit, in fact, make the most of the virgin beauty of this hill station.
Find yourself the perfect spot and surrender
GO PARAGLIDING
If you are one of those who enjoys the occasional rush of adrenaline, go paragliding when in Dharamshala. Paragliding is popular throughout Dharamshala but for the best experience, you must head to Bir. 15-30 minutes of session will leave you awestruck with the beauty around. In fact, Bir is the 2nd best place for paragliding in the world, and it successfully hosted 2015 paragliding world cup. So this aero-sport is highly recommended to one and all!
For those who wish to fly free
SPEND SOME TIME IN TEA ESTATE
It's no secret – We have shown in our Himachal Pradesh Travel Blogs that Himachali tea is prized as some of the best tea all around India. Spread over acres of land – the Tea Gardens of Dharamshala make for beautiful natural landscapes where you can soak in the peaceful environment. The beautifully lined tea estates in the Kangra Valley of Himachal can be easily reached from the Kotwali bazaar.
You need to descend on the road leading to Kangra until you locate a petrol pump on your right side and see a  diversion for Kunal Pathri. A little help from the locals can help. Once you reach – a picnic here would be awesome!
Always happy when close to nature
Tea Estate in McLeod
CATCH AN EPIC SUNSET AT NADDI
It's bedazzling to wake up to the twittering of birds in the morning in Dharamshala. But what's more enthralling is catching the sunsets in the hippie town. If you are particularly up for catching the best sunsets, we'd suggest heading to Naddi – a small town that is 4 Kms away from main Mcleodgang main chowk. Relish all the delicious sunsets – it's nothing less than magic to see the sky change colors. A sense of realization certainly strikes – TO WANDER IS TO LIVE! We live for those perfect sunsets!
Will surely miss these sunsets
When talking about Dharamshala, a mention of the numerous temples that form tiny specks on the landscape is inevitable. However, the temple that you cannot miss on your visit to Dharamshala is The Dalai Lama Temple in Mcleod Ganj. The temple houses an impressive collection of Buddha statues and sacred Tibetan texts. Just sit there and meditate or go for a scenic walk in the evening but don't forget to cover this important Buddhist site during your visit.
The Lama Temple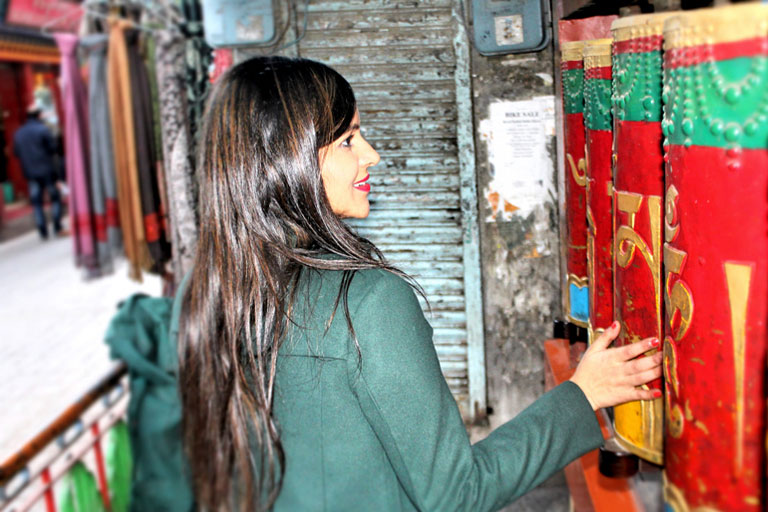 Just mesmerized by prayer wheels
GET STUMPED AT THE HPCA CRICKET STADIUM
The stadium first opened in 2003 though the first international ODI cricket match was played only in 2013. Surrounded by gorgeous Dhauladhar mountain ranges in the background, HPCA makes for a stunning cricket stadium in India. Cricketers sure enjoy their gaming experience while playing at this spectacular mountain outpost amidst natural grandeur. The view is remarkable!
HPCA cricket stadium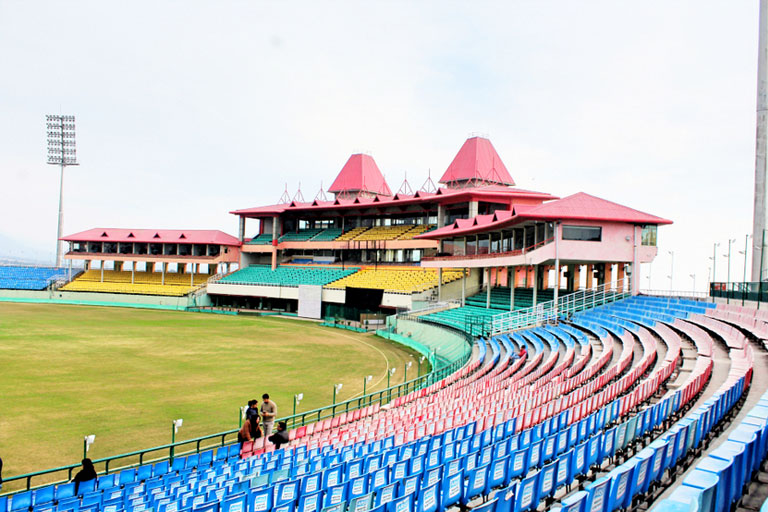 The stunning stadium overlooking mountains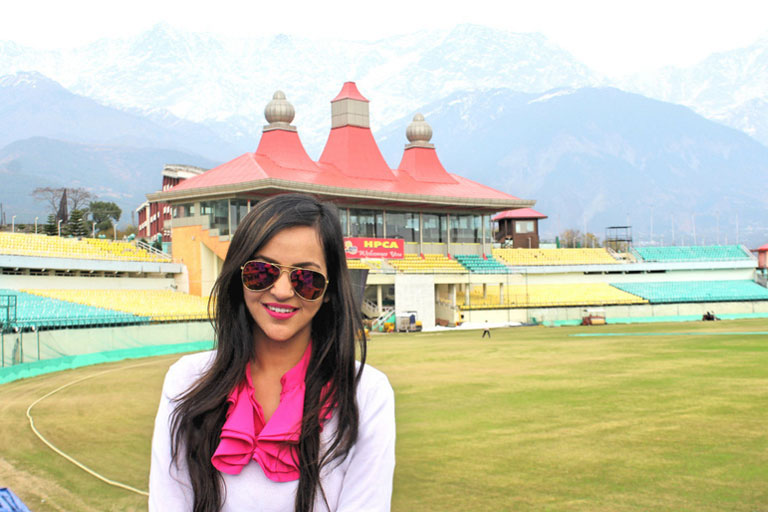 Posing! What else can we do at this gorgeous HPCA Stadium?
EXPLORE ST. JOHN'S CHURCH SET AMIDST WILDERNESS
This stone inspired Anglican church is so beautiful that it'll bowl you over with its beauty. The sense of colonial lifestyle and British fervor dominates this neo-Gothic architectural style that was built in 1852, dedicated to John the Baptist. It is 8 km away from Dharamshala that can be easily reached by a local bus or car. You'll be stunned by the eternal beauty of this gothic church as the mystic walls are made of ancient bricks.
The gorgeous British Colonial St. John's Church
SPEND SOME TIME AT THE MCLEOD GANJ
McLeod Ganj also called the Little Lhasa of Tibet is ideal for long quiet walks or morning meditation with chanting monks. Three kilometers north of Dharamshala, McLeod sees an inflow of travelers, maroon-robed monks, and international crowd. Experience the vibrant Tibetan culture – eat at the open bakeries, shop for Tibetan crafts, and hang out at the Indo-Italo-Israeli-Tibetan food joints.
Mc Leod Ganj mall road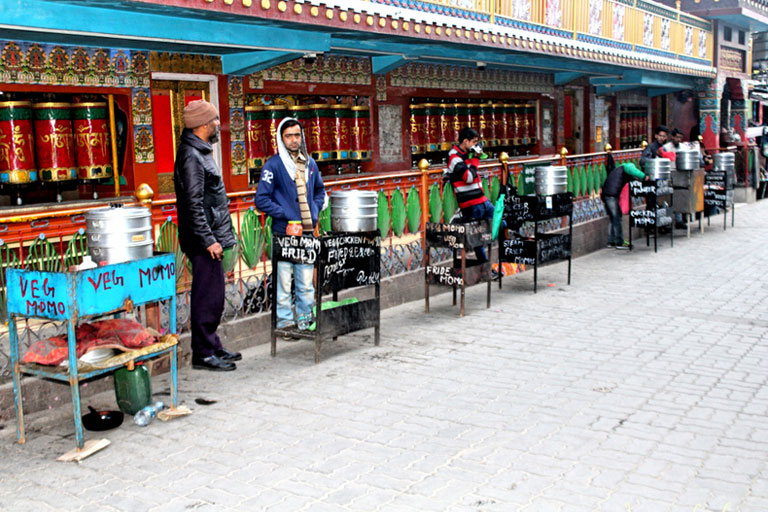 A paradise for momo lover
You cannot say NO to hot steaming momos
HIKE TO THE BHAGSUNAG WATERFALLS
The cascading 30 feet Bhagsunag falls are situated at an altitude of 6,960 feet above the sea level. Just 1500m trek away from the Shiva temple, these falls can easily be reached by following signs from the beginning of the stairs. These falls are not necessarily huge ones but you can definitely enjoy spending some time and relaxing by the makeshift eating joints that serve refreshments. Once you get to the falls, you can visit the famous Shiva Cafe that is a must visit for its tranquility and peace.
Bhagsunag Waterfalls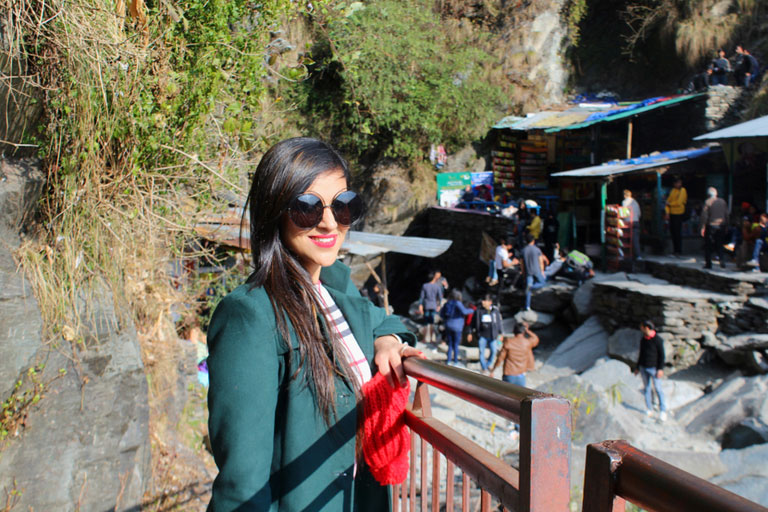 Beautiful viewpoint at the Bhagsu Waterfalls
ATTENDING A HIMACHAL WEDDING IN HIMACHAL PRADESH TRAVEL BLOGS
Learn a lot by reading our Himachal Pradesh Travel Blogs about Himachali culture only by attending a Himachali wedding. As a child, getting dolled up for a wedding, seeing so many delicacies at the exhibit and the opportunity to dance the night away were main tempt for me. But now that I am a grown up, I realize it's the only way to stay close to your roots.
It was a pleasure attending a Himachali wedding that initially started with a long series of hugs, proceeded with the traditional dance of Himachal district – Nati, and ended with the pious tradition of serving multiple cuisines on a patal in a ceremony called Dhaam. Attending a Himachali wedding will always remain a memory close to my heart!
Our friends house decked up with flowers and curtains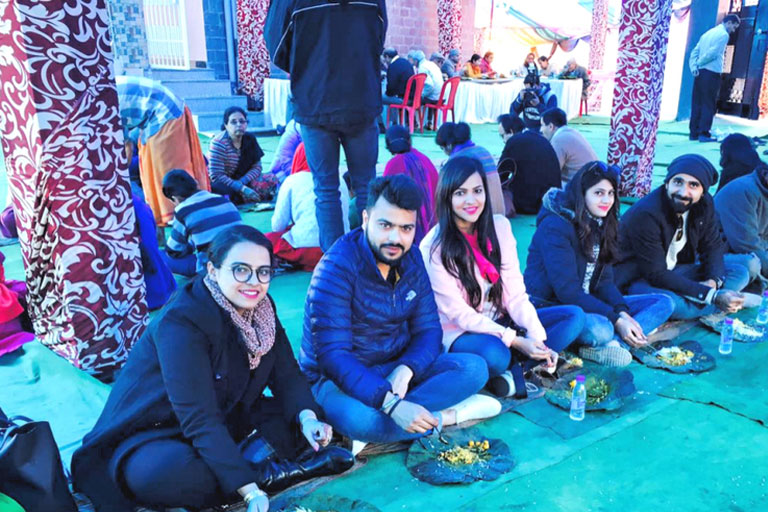 Himachal Pradesh Travel Blogs – Relishing scrumptious food at the Himachali Dhaam
Did you enjoy reading our post or would you like to add other things to do and places to visit in Dharamshala Himachal Pradesh Travel Blogs to the list? What were your favorite parts? Leave us a comment.