WHY IT'S BETTER NOT TO DRINK CIVET POOP COFFEE IN BALI?
Traveling is like a drug! The more you travel, the more you become addicted to satisfy your inner wanderlust. What we learnt while traveling to so many places is that knowledge is limitless. Things we are addicted to can also be the things we know the least about. Doesn't it sound ironical? It is indeed.
If you follow us on Instagram, you must have an idea by now that we both are big-time coffee lovers. From the French press to the drip method; we love coffee just as much as the way it is made. So what would you expect from such big coffee lovers when they get to visit Bali – an island famous for coffee production?
Yes, you got me right! We decided to find out more about coffee production. And for the same visited a coffee plantation farm called 'Taman Ayu' in Bali. It served varieties of coffee out of which the most intriguing was the Kopi Luwak coffee.
Also Check: 20 Photos to Make You Fall in Love with Bali
Happy to visit this green farm house before getting the reality check
CHANCE TO TASTE THE MOST EXPENSIVE COFFEE IN THE WORLD…
Kopi Luwak coffee was the one to capture most of our attention because of the fact that it was made out of civet cat's poop! The thing we usually feel disgusted about at even the mention of it, is used to make our favourite – hot and searing coffee.
The so called aristocratic and playful animal – 'The cat' eats Cherries (also known as the coffee fruit). It then secretes the indigestible parts of the fruit that is used to make the most expensive coffee in the world – LUWAK. The coffee beans are extracted and then sent for cleaning, milling and roasting. Now it is even available in India!
A start-up company – Coorg Consolidated Commodities (CCC) has bought the idea of producing Civet coffee in the state of Karnataka and sells this coffee under the name "Animane". But what makes them different from the one produced in Taman Ayu is, that it completely follows natural process and doesn't cage the cats. Now this is intriguing but I still don't buy the concept as yet!
Dragon fruits galore
Coffee beans all around
 Till this point we weren't aware of the conditions civet cats are subjected to
WHAT'S IT LIKE TO BE AT A COFFEE PLANTATION IN BALI?
These coffee gardens in Bali are fragrant, surrounded by lush green lawns and scenic beauties. A delight for young and old alike! But what is hidden behind these farms with nature's abundance is the torture Civet Cats have to face while the processing of the coffee.
As I said, we tried different types of coffee but we didn't even think of trying the Cat Poop Coffee Bali – reason being the brutality and inhuman behavior faced by the innocent animals. The Civets are coerced to live inside the cages in loneliness. They have no access to the things that make them happy.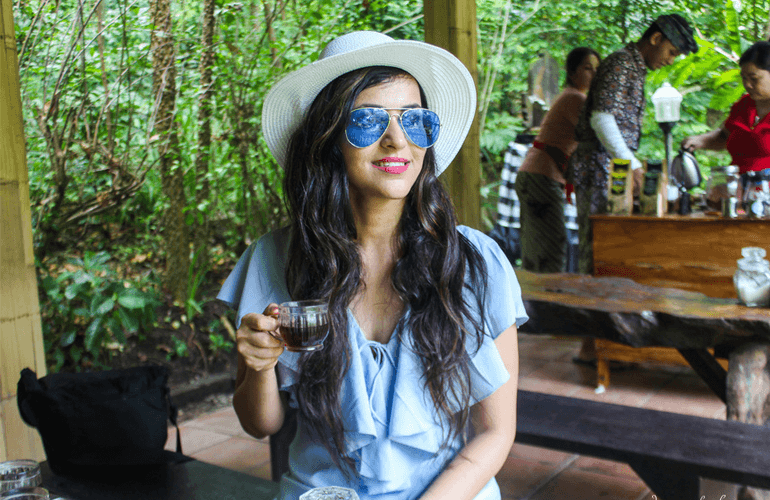 We did enjoy our visit to Taman Ayu but were saddened to see the civet cats
Different types of teas you can try for free
The glorified picture of these coffee farms hides the cruelty, the helpless cats have to face. The topic is still debatable. Many owners at the coffee plantation farms in Bali claim that they keep Luwak in an open environment. That those babies are not subjected to any sort of cruelty. But what we saw with our own eyes is unquestionable.
As travelers, we aren't any experts on this subject but we have the right to QUESTION. Based on our observations, we did not find it ethical to taste that SHIT!!!!
Civet cat caged and kept hungry in there for long hours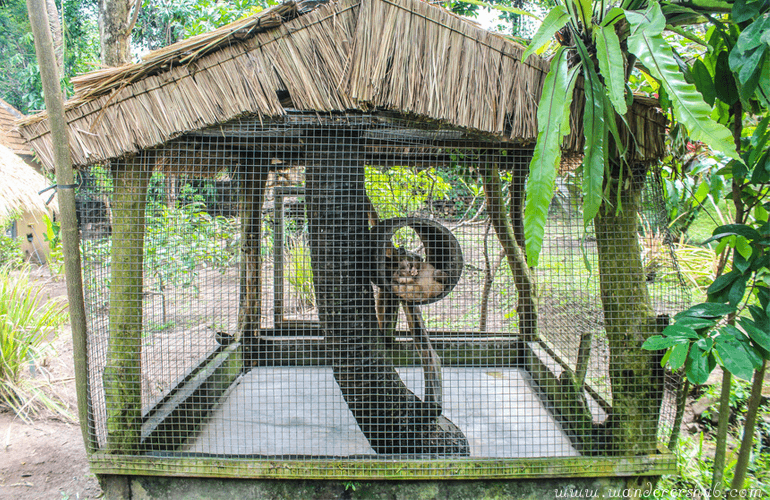 Now you know why you mustn't try cat poop coffee Bali
AN UNETHICAL COFFEE DELICACY
So yes, we did enjoy our visit to Taman Ayu and savored every sip of the coffee we ordered (not the luwak coffee) but have no plans of visiting again. My love for coffee is way too less than my respect and affection for the animals.
There are a lot of social issues that unfold everyday but this one is not very popular or perhaps significant for the welfare workers. So, since every drop makes the ocean we went against the barbaric behavior of a few by not trying the Luwak coffee and deciding of never being to that place again.
However, if we ever learn that the cruelty has ceased to exist, we won't mind being the brand ambassadors for endorsing wide variety of coffee. After all, "Once a coffee lover is always a coffee lover."
*****