SUMMER SANDS BEACH RESORT NEIL ISLAND REVIEW: A TROPICAL OASIS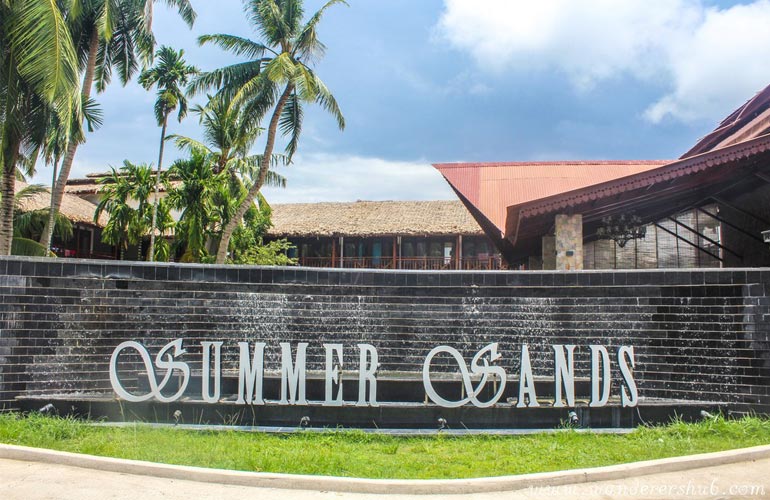 Just a few minutes away from the Neil Jetty lies a haven of serenity – Summer Sands Beach Resort Neil Island Andaman. All amenities and facilities offered at the resort are modern though the atmosphere is dominantly Asian.
As we enter the hotel, we notice there are palm trees in every corner of the beach resort, and a cute little bridge that catches my fancy instantly. The verdant environment of Summer Sands Beach Resort Neil Island Andaman is as good as a lush tropical garden adorned with bright flowers at all corners. We are sure the stay is going to be beautiful.
AMENITIES AT SUMMER SANDS RESORT NEIL ISLAND
The major highlight of the resort is the expansive rooms with a direct access to the pool – sheer bliss! The rooms are extremely basic though spacious. You can spend leisurely time sunning yourself while sipping icy mocktails by the poolside.
It delights our hearts when we are pampered nicely and to say the least, we love good service over anything else. Well, the staff of Summer Sands Beach Resort Neil Island Andaman treated us just how we had hoped for.
From providing extra towels to helping us reserve bikes, they went all out to make sure our stay was comfortable. In fact, they went out of the way to provide us two WiFi passwords so we both could enjoy hassle-free access to the outside world.
BREAKFAST AT SUMMER SANDS BEACH RESORT NEIL ISLANDY
ou get a complimentary breakfast when booking your room at Summer Sands Beach Resort. At first, we weren't really expecting a lot in the breakfast buffet. We got a great spread of food that made us so happy. There were continental, South Indian, and North Indian cuisines in the breakfast buffet. The food was tasty!
The breakfast section was huge. It was divided into two sections to accommodate all the holidaymakers under one roof. Impressed to say the least!
THINGS TO KNOW WHEN BOOKING SUMMER SANDS NEIL ISLAND
The primary reason for us to book Summer Sands Beach Resort Neil Island Andaman was its closeness to all the beaches. Neil Island itself is quite small for you to uncover all the attractions within a day or so. But your accommodation at Summer Sands assures you are happy and having fun within the hotel premises itself.
There were families enjoying holidays at the resort which means Summer Sands sure has a pull for not just couples but families as well. So, for a quiet and enjoyable holiday, you can consider booking a room at Summer Sands Beach Resort Neil Island Andaman.
MORE TIPS
• Summer Sands is a 4-star resort located right on the Ram Nagar Beach. Prices start at 6000INR | 90USD/night. It is best Neil Island accommodation with all great amenities.
• You get free WiFi but it is limited to one user per package.
• Rooms are nothing extraordinary but spacious. You'll love the hotel premises and that cute bridge overlooking the reception.