HOW TO VISIT BHUTAN: PLANNING YOUR FIRST TRIP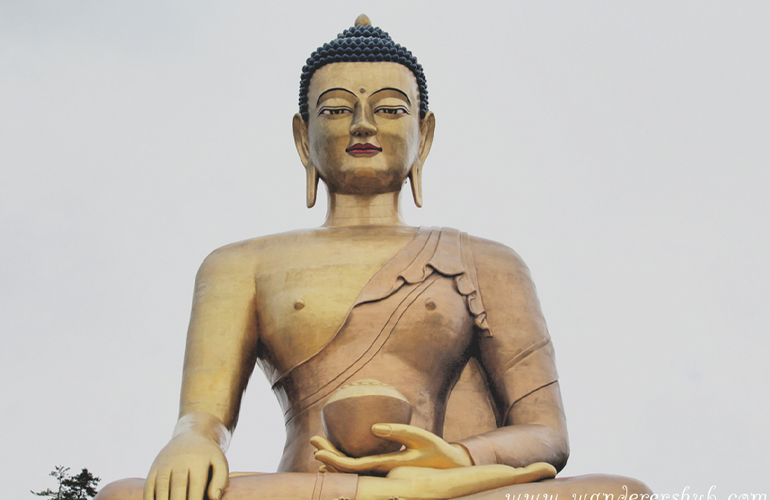 Here's Part 2 of our 6 part series on how to visit Bhutan.
We have already covered the itinerary and day-by-day breakup of planning an unforgettable road trip. Haven't read our popular, comprehensive Bhutan Travel Guide yet?
In this blog, we will cover the planning aspect of the Bhutan road trip, including visa procedure, booking flights, expenses, etc.
Planning a trip to Bhutan needs meticulous planning, to say the least. There's plenty of things I would love to share with you all so that you can plan your trip to Bhutan effortlessly.
HOW TO VISIT BHUTAN – AIR OR ROAD
One way is to fly into the Paro City in Druk Air, take a car on rent, and get exploring.
The other way – the one we opted for to visit Bhutan from INDIA- is to fly into Bagdogra, hire a taxi, drive to Jaigaon. Take the permit from the immigration office at Phuesholing and drive to the Thimphu city. A road trip from Indian to Bhutan would cost you around 60000 INR per person for 6-7 days.
BHUTAN MAP
VISA AND PERMIT TO VISIT BHUTAN
Good news! Indians, Bangladeshis, and Maldivians do not require a visa to enter into Bhutan. Visitors can simply acquire an 'Entry Permit' on arrival from the Immigration Office of Royal Government of Bhutan  Phuensholing, and those flying into Paro can take theirs from Paro itself.
This entry permit is valid for just 7 days, and you cannot explore beyond Paro and Thimphu with this permit. Nonetheless, you can enter other restricted cities/towns such as Punakha and Has by getting the permit renewed from the immigration office at Norzin Lam in Thimphu.
Note: Carry your passport or valid identity card with two passport size photographs to sail through the immigration process seamlessly. Of course, we forgot to carry our passport pictures but luckily were able to get them clicked timely from a studio in Phuesholing. Since the immigration office gets packed right at the opening time, avoiding such mishaps and having all the documents in place can help save time and get through the process, fast.
Non-Indian residents require a visa clearance prior to entering Bhutan, which they can either do by processing permits through an online Bhutanese agent or via a foreign travel agent. On full payment of the travel package (which includes a USD $40 visa fee), tourists can get a visa from the Tourism Council of Bhutan.
Bhutan follows a policy of "low-quantity" and "high-quality" in truest aspect. Tourists (With the exception of Indian, Bangladeshi and Maldivian nationals) are required to pay an official US$250 per day per person to the government in order to sample the life of this hidden mountainous gem. In this way, the country desires to prevent mass tourism from flowing in. This amount is inclusive of hotels, car rentals, a tour guide, and sightseeing. I believe that's a fair deal.
BHUTANESE FOOD
Typically, Bhutanese cuisine is influenced by the neighbors, particularly India and Tibet. The food is less oily but extremely spicy; expect almost all the dishes to be made from chilies. There are some delicacies which you can try (which are too good to miss): Ema Datse (chillies and cheese), Dumplings (momos), and Kewa Datse (potatoes and cheese).
Try to stock up on water and light snacks including cookies, fruits, and chips before you begin your Bhutan road trip. Nonetheless, there's no need to go overboard as there's a lot of cheap and easily available food options in Bhutan.
Finding Indian food can be a bit of a challenge but there are small restaurants along the way, some of which cater to typical Indian gastronomic fantasies. A meal at the roadside restaurant or a shack will set you back by approximately INR 500. There are high-end and exquisite restaurants for you to try Bhutanese cuisines in Bhutan during this amazing road trip. Some of our favorites are mentioned below –
Between Phuensholing and Thimphu
In Thimphu
The Zone
Ambient Cafe
Karma's Coffee
Hotel Tandin
Cafe Himalaya & Bakery
In Paro
My Kind of Place
Mountain View Cafe
Brioche Cafe
HOTELS TO STAY IN BHUTAN
Hotels in Bhutan can either be homely or high-end; both accommodation options tends to be intriguing. There are numerous hotels and traditional lodges where visitors can choose to stay during their visit to Bhutan.
While booking online is pretty much an easy option, we took a different path this time and tried our luck of arriving in the city first and then booking the hotel fitting to our taste. Surprisingly the traditionally built hotels in Bhutan ensure warm hospitality and convenience. A consistent comfort is assured during the entire stay.
Some budget hotels you can choose to stay in are as follows:
Phuntsho Pelri Hotel
Dolemar Hotel
Peaceful Resort
Ro-Chog Pel Hotel
Top-rated hotels to stay in Bhutan:
Taj Tashi
UMA by COMO
Le Meridien
Hotel Norbuling
Hotel Druk Thimphu Bhutan
Kichu Resort Paro
NIGHTLIFE IN BHUTAN
As the sun sets, most of the Thimphu goes to sleep, but not completely. The nightlife in Bhutan, particularly Thimphu, is quite new and a fraction of people likes to rustle up a beat.
There are discos, bars, and music lounges where young and westernized set of people like to party and booze. Mojo Park, Club Ace, and Space 34 are some of the most acclaimed ones in the capital city, which receive crowd including royals, local folk mix, as well as dignitaries. Enter without expectations, smile, enjoy, and get into Bhutanese groove. You'll love it like we did.
Always zesty and cheerful about getting clicked
CAR RENTALS IN BHUTAN
Mini cars ply Bhutan streets and can be hired at a low fare rate. A little bit haggling with the drivers can get you a better price, but they are too sweet to refuse. Those on a package are sorted as they'll have their car rentals included in the same during their visit to Bhutan.
It was easy for us to book ourselves a car as one of our friends had already been to Bhutan, and he introduced us to his driver. We paid 2500 per day car rental for each day, which included pick and drop and sightseeing. To say the least, we were super impressed with our friend, driver Thinley who guided us about each attraction well and even showed interest in taking our pictures. What else can you need!
TIMEZONE
Bhutan is half an hour ahead of India. While India follows GMT + 5.5 Hours, Bhutan has a difference timezone that is GMT/UTC + 06:00 hour. Keep this difference in mind if you wish to commute from Phuesholing to Thimphu via bus as otherwise, you might miss it.
DRESSING IN BHUTAN
Oh! How I loved the way people used to dress up in Bhutan. They are quite stern when it comes to following the dress code. It is necessary for the nationals to wear their national dresses (Gho for men and Kira for women) on all the religious occasions and to places like Dzongs, government office, and monasteries. Gho is a knee-length robe that is tied to the waist and Kira is an ankle-length sari-like garment that is worn with a short jacket (Tego).
So one thing you need to know for how to visit Bhutan is that even tourists are required to wear full pants when entering their religious places as they need to respect their culture. It is best to wear modest casual wear to Bhutan as most of the places you would be going are temples and monasteries. Carry soft-soled yet sturdy shoes and a few lightweight jackets, just in case the weather goes from pleasant to cold.
Don't forget to remove your shoes while entering a religious place and even cap when near their national flag.
PHOTOGRAPHING BHUTAN
Bhutan is one photogenic country where the landscape, nature and the age-old architecture spellbinds. It is a photographer's paradise, and it's a pleasure capturing people and their smiles, as they are happy to do so. Though the people in Bhutan are quite shy to pose but they barely refuse. So, it's a good idea to seek their permission before taking a picture.
There will be numerous photography opportunities for the photographer in you – from landscapes to temples and colorful festivals, everything about this place is fascinating. However, do not click pictures inside monasteries and Dzongs as a symbol of respect for their deity.
CLIMATE OF BHUTAN
Any season is appropriate for paying a visit to Bhutan as the climate is temperate and warm round the year. Spring (March, April & May) is the time when the country is ablaze with a range of gorgeous colors. You can witness flora at its full bloom during this season. During these months, you can also be a part of Paro tsechu festival.
Autumn (September, October & November) is spectacular with clear blue skies and cool temperature. It is the time when willows start shedding their brown leaves.
Monsoon (June, July & August) is generally not a good time to plan your visit to Bhutan as during these months the country receives huge rainfall. You won't be able to go trekking or explore Bhutan to the best.
Winter (December, January & February) is generally cool and also a good time to plan your travel to Bhutan.
EXPENSES
The total expenses heavily depend on the types of hotels you choose to stay in and restaurants you choose to dine. For this country, we chose quaint lil hotels for the days as it was majorly a sightseeing holiday. For food and accommodation, you can expect to spend INR 20000 and INR 15000 on car rental (with driver). Visit Bhutan without expectations and leave the country with a heart filled with positivity and love!
Pin Me: