Mayfair Spa Resort Gangtok Review: Luxurious Best in Gangtok
MayFair Spa Resort & Casino in Gangtok is one of the finest resorts in not just Gangtok but I believe India. Loved and appreciated by the loyal travelers, this expansive award-winning resort assures an experience like no other. It comes with nice ambiance, amazing customer service, and facilities at par with any luxury resort around the world. 
Rooms at Mayfair Spa Resort & Casino Gangtok
There are a number of accommodation options ranging from luxe villas, nice family rooms to grand suites. It is all about those lush green valleys, romance and grandeur that would make it an absolute choice for honeymooners. 
Free Wi-Fi works fantastic and we enjoyed good connectivity at all places. We enjoyed a fantastic view from our grand suite and the balcony was simply striking.
The Award Winning Spa at Mayfair Resort
The Spa, with its tranquil environment and holistic treatment, will wear out all your tiredness of the day. The hotel puts the comfort of the guests first, providing them multiple times awarded Spa services to pamper themselves. What would anyone anyway need after a big day of touring Gangtok.
MayFair Spa is going to entice you on the first look and then you can try a multitude of holistic therapies and treatments that will refresh your senses. You walk in through a jungle and reach the state of art steam, sauna, and Jacuzzi facilities. There's a gigantic buddha statute on the welcome area and we also have a swimming pool indoors. After a nice dip in the pool, we got ready for our spa session. The kind and warm staff will offer services that will blow your mind. 
What a fantastic experience!
Casino & Other Facilities
We spent some time in the casino at Mayfair Spa Resort and though it didn't have a lot of options, we enjoyed our time here. A lot of our time was also spent enjoying modern facilities like the health club, gym, swimming pool, and a games room for children. 
The hotel assures great hospitality and all your needs are well taken care of. The re's a variety of services such as currency exchange for visitors, daily housekeeping, dry cleaning, elevator facilities for disabled guests, food delivery, ironing service, laundry service, as well as playgrounds for the kids.
In the evening, the resort sometimes also organises events and tea parties for the in-house guests. 
Restaurants 
MayFair Spa Resort & Casino Gangtok offers the best dining destinations in town, serving various mouth-watering cuisines making it difficult for you to choose just one. And the exquisite surroundings and their genuine hospitality add the cherry on top. You can take your pick from different restaurants depending on your mood: whether it is trying out lavish buffets, getting drunk at the bar, sampling local delicacies, or enjoying views from a beautiful tea lounge. MayFair offers you a variety of restaurants serving delicious food to choose from:
1) ORCHID: You can never get enough of food at Orchid Restaurant, especially the well-laid out breakfasts and buffet dinners. We totally loved the decor and vibe of this restaurant. All ingredients of food are picked from organic farms so healthy and delicious food is assured. 
2) RUMTEK LOUNGE: A beautiful coffee/ tea lounge with eye-catching hilly views overlooking the iconic Rumtek Monastery. Your perfect spot to savour freshly brewed Darjeeling tea along with tasty snacks and pastries from the bakery.
3) JUNGLE CAFÉ: Your go-to coffee shop for a quick sip & bite, and the best Sikkimese food in Gangtok. You enjoy mouth-watering local delicacies to organic produce  here. Look out for freshly baked cakes, pastries, or even cold coffee. We loved spending time in this mini jungle cafe.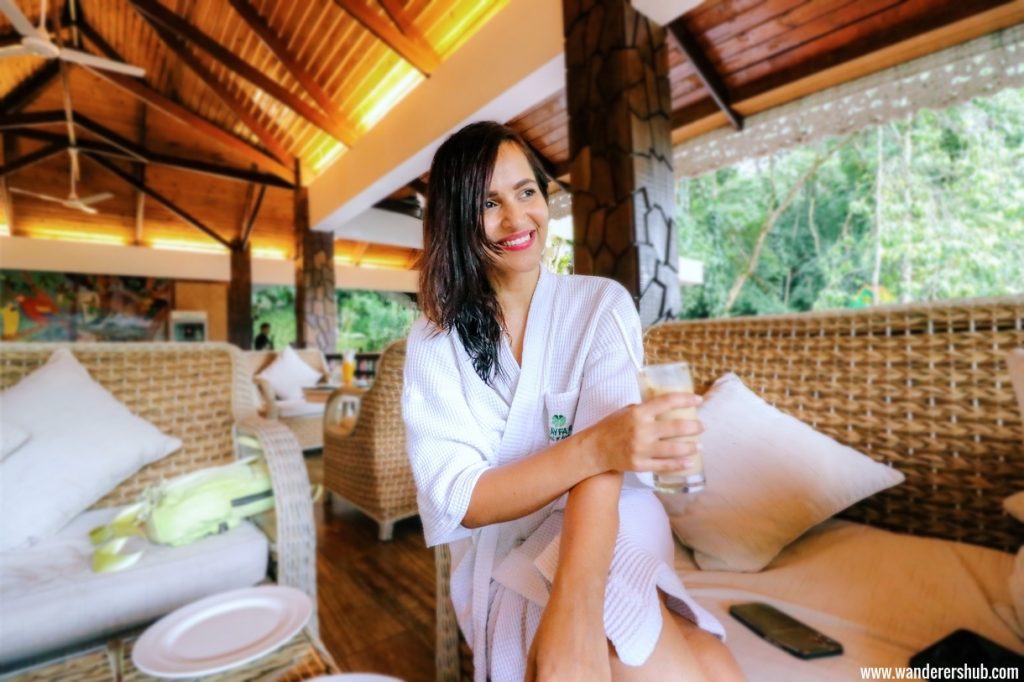 4) TONGBA BAR: Tongba Bar, with its wide variety of drinks and cocktails on the menu definitely matches your definition of getting drunk! It also offers beverages & snacks on the pool deck which makes the whole experience more fun.
We totally recommend you the MayFair Spa Resort & Casino Hotel as it'll one hundred percent live up to your expectations with its amazing service enhancing the overall experience of your trip.