A SWANKY STAY AT NOVOTEL PHUKET KARON BEACH RESORT AND SPA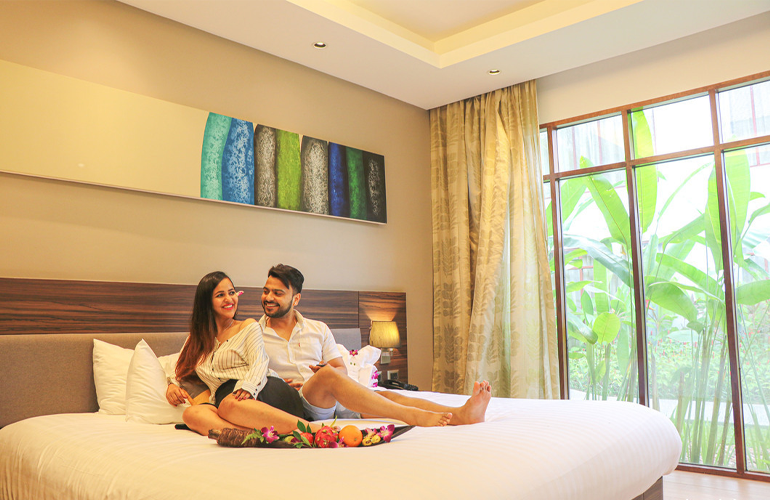 "It was a smooth transfer from Swissotel Patong to Novotel Karon for us after the breakfast. We were moving away from the entertainment hub to a secluded haven where everything was different. Both Harsh and I felt a sense of solace & quieted that was a striking contrast to what we had experienced in Patong. A great change, to say the least."
On our way to Novotel Phuket Karon Beach Resort and Spa, I was staring out of the window constantly, and Harsh was nonchalantly discussing life in Phuket with the driver. Upon reaching this modern regalia, we were served a refreshing mocktail at the humongous open reception. We felt instantly relaxed as we sipped our icy beverages and admired the plush decor at the reception. Soon, Bow, the ever smiling staff member of Novotel joined us to help us complete the check-in formalities. It was time for us to see our plunge pool suite at last!
THE PLUNGE POOL SUITE AT NOVOTEL PHUKET KARON BEACH RESORT
A sense of calm and serenity enveloped us and we were instantly at ease. This was Novotel Phuket Karon Beach Resort and Spa. After having heard so much about this stunning resort, we had finally arrived for our vacation to begin. Despite being in a foreign land, we didn't feel the slightest bit uneasy- everything was taken care of and the staff and locals all seemed in the highest spirits!
NUETRAL TONES & EARTHY TEXTURES
We were soon shown our Plunge Pool Suite at Novotel – our little guilty pleasure on this trip! The suite was one of the most modern plush rooms we'd ever seen- the upholstery and furnishings made it seem a paradise nearly at par with the beauty outside. We noticed that sunlight streamed in through the white curtains falling elegantly from modern-luxe banisters and lit up the entire (huge!) room.
CLASS AMENITIES
This massive room boasts of a master bedroom with a huge king-size bed with the most comfortable cushions you'd have ever laid on! The mattress seemed high quality as well -super springy and beckoning tired travelers like ourselves to have a long lie-in. Designed keeping families and honeymooners in mind, this large 60-sq. feet area comes decked with a large bathtub you can chill in, and with complimentary WiFi access so you never have to leave the tub! Plus, the couch in the adjoining living room folds out into a bed so we just felt there was space everywhere we looked- space to put our feet up and relax!
All the amenities one can possibly think of, was right before our eyes. Two large 55-inch LED TVs first caught our attention. We were stoked at the thought of watching our favorite movie once we headed back from a long day's sightseeing! The bathroom was exquisitely furnished as well – all the fittings were well placed and seemed perfectly in tandem with the vibe of the rest of the suite. We also had our little desk corner, and surprisingly managed to use it while we wrote (and drew!) our itineraries.
A small step away from your door was our very own plunge pool – this had to be our favorite part! The azure blue pool was flanked by gorgeous green trees and we felt like we had our own little private spot to relax and let our hair down. We liked spending a fair amount of time splashing around, but when we finally quietened, it seemed a good idea to carry our coffee mugs out into the pool and sip with our feet dipping into the water.
IN BALANCE SPA – ABOVE & BEYOND SPA EXPERIENCE
One of the reasons we both love Thailand is for the variety of spa and massage treatments one can get here without looking too far. We decided to try out the In Balance massage centre after a day of intense travel, after all we has enjoyed the services of In Balance Spa at Swissotel. So, we made an appointment for a couple's massage session, and truly, it was the best decision ever!
The aromatic fragrances and dim lighting set the tone for our massage treatment. We exchanged smiles with each other. We decided to try the aroma massage treatment, and after changing, simply lay down with eyes closed, all set to enter a magical realm. Within seconds, we abandoned ourselves in the special care of experienced massage therapists only after communicating our requirements. The 60 minutes treatment left us rejuvenated and certainly craving for more…
ALL SPORTS LOVER HAIL CHAMPION'S BAR !!
We had one of the best meals during our stay at Novotel Phuket Karon Resort at the Champion's Bar. It's an open-air, exciting sports-themed restro-bar where you can catch your favorite sports game while chilling with a glass of beer. This bar is next to Oasis Pool and offers an impressive range of starters and mocktails. We were very happy to find out a great variety of vegetarian meals at Champion's Bar. This one is just perfect for casual dining by the poolside.
AN EXPERIENTIAL DINING EXPERIENCE AT THE OCEAN'S RESTAURANT
Whether you want to taste traditional Thai cuisine or authentic Asian cuisine, you'll find yourself dining at the Ocean's Restaurant. We had our breakfast and dinners at this restaurants all through stay, and it was a treat every single time. My most favorite meal from the menu would be the traditional Pad Thai. Finishing off our meals with the restaurant's unique offering – cheese cake – became a ritual of sorts for us. Overall – a sensational dining experience, most recommended for the couples.
FUN FOAM PARTY AT NOVOTEL KARON
There are a lot of fun events organised from time to time at Novotel Phuket Karon Beach Resort & Spa. One such party we got to be a part of during our stay at the resort was foam party. We never thought it could be so much fun to wrap ourselves in foam and groove onto the music with little kids for company. This party is simply perfect for parents holidaying in Novotel as they can let their kids loose and have fun altogether. We loved every bit of it.
COMING BACK?
Our plunge pool suite was super polished yet non-intrusive. We never felt, even for a second, that our private space was being tampered with. Everything felt in order and just how it should be when we returned from the day's travels. With this kind of classy service, we wished we'd spent our own honeymoon in this elegant chamber!
Despite this, we sure want to plan another trip around the Novotel Phuket Karon Beach Resort and Spa. Somehow the narrow winding streets and the fresh exotic Thai food never seem to satisfy us and we definitely were left craving for more!
Disclosure: **We would like to thank Amsterdam Marriott for hosting us and pampering us so much during our stay. All opinions are our own, like you can expect any less from us!!
Also, some of the links in this post are affiliate links. This means we will earn a small commission, at no cost to you, if you click on our recommendation and make a purchase.