A KASHMIR TOUR BlOG TO VISITING KASHMIR IN WINTER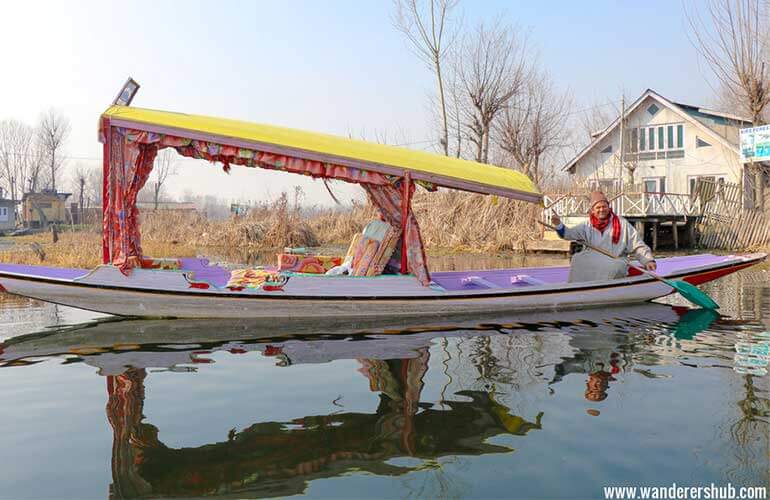 Cradling in the snow
Walking in the forests
Sitting by the rivers and lakes
A perfect blend of the nature
At one place
Kashmir!
Kashmir is a state located at the top of North India. It is usually in the headlines not because of the spectacular beauty but because of the frequent conflicts happening in the state. As expressed earlier that we, despite of the skeptical nature of our near and dear ones, went to explore Kashmir tourist places and made a Kashmir Tour Blog.
Indeed, it was the best thing we did to begin the year 2018 – Shubharam (happy beginning). Amidst the blooming fragrances and white snow, Kashmir and its valleys are so beautiful. We couldn't take off our eyes, couldn't stop smiling looking at the serene destinations in Kashmir. We were internally happy because there was so much love and warmth there. Undoubtedly, the Kashmir tourist places have been hidden behind the projected turmoil and we have unhide them with our this Kashmir Travel Blog.
Is it Safe to Travel to Kashmir? Read what we Think!
EXPLORING OFFBEAT KASHMIR TOURIST PLACES
Kashmir sightseeing is not a usual affair. It is exploring the gifts of nature wrapped at different places in different ways, especially in winters… the time when kangris comes out and power cuts become common. Yes, winters here are quite challenging for the locals.
It was a pleasure for us to sample a whole wide range of experiences in Kashmir as we were there for over a week, which we believe is ideal time to explore Gulmarg, Pahalgam and Srinagar.
It would be best to stay in Srinagar, the capital of Kashmir, for 2-3 days after spending your time in Gulmarg, Pahalgam and Sonmarg. Believe me, nothing in the whole wide world looks prettier than Kashmir, all cast in the snow. Alternatively, you can stay in Srinagar first and then go for day trips to Gulmarg and Pahalgam. Depends on where you wish to base yourself.
Nonetheless, experience striking escapades looming grandly with gorgeous snow-clad mountain peaks forming the backdrop. The best part, there aren't too many people around especially during winters.
Here's a possible Kashmir Travel Blog itinerary for spending 7-8 days in Kashmir in winters:
7 DAYS KASHMIR` ITINERARY
Day 1 – Fly into Srinagar – Pick up a car from the airport – Drive to Gulmarg
Day 2 – Explore Gulmarg
Day 3 – Gondola Ride to Phase – 1 and Phase – 2 (Snow activities)
Day 4 – Drive down to Pahalgam (Explore Awantipora and Apple Valley)
Day 5 – Visit Aru Valley, Betaab Valley and Chandanwari / Horse Ride to Baisaran
Day 6 – Leave for Srinagar (Stay in a houseboat – only if you can bear harsh cold weather)
Day 7 – Explore Srinagar and its many attractions
(You can do a full-day trip to Sonmarg from Srinagar though the chances of roads being open during winters are bleak)
HIGHLIGHTS FROM OUR ROAD TRIP IN KASHMIR
HERE'S A LIST OF SOME OF THE THINGS FROM OUR KASHMIR TOUR BLOG TRIP THAT DEFINITELY LEFT A LASTING IMPRESSION ON OUR MINDS. SO WE HIGHLY SUGGEST YOU SHOULDN'T MISS DOING THESE DURING YOUR TRIP TO KASHMIR IN WINTER.
Our stay at Gulmarg – we could admire the silent beauty of Gulmarg right through the window of our hotel room.
Drives and hikes around Aru Valley and Chandanwaari
Unforgettable smiles of cute Kashmiri kids and warm Kashmiri locals
Kahwa (or Qehwa)! Yum Yum! The flavorsome Kashmiri chai is a soul-warming drink. Just perfect for those cold winter days!
Being treated to eye popping stunning vistas as the snow and the mist veiled and unveiled in front of us during the gondola ride.
Hiking down the Gulmarg Phase 1 on ski bikes when it was still snowing.
OUR WEEK LONG SOJOURN IN THE LAND OF ETHEREAL BEAUTY
GULMARG, KASHMIR
We unwrapped the first gift of nature of Kashmir with our excellent written Kashmir Travel Blog and it was Gulmarg. Yes, we drove to Gulmarg the very first day and were utterly amazed to see the snow-covered beauty! It is a no-brainer to have Gulmarg on your Kashmir Kashmir Tour Blog itinerary as it is the prime hill station to visit during winters.
The Gulmarg biosphere reserves, highest peaks, gondola ride are worth the mention. Sit by the window side and while sipping on steaming hot Kahwah just look at the beauty unfolding at every hour of the day. There were a lot of opportunities for skiing and areas for indulging in snow-shmir.
Much to our dismay, Phase 2 (Gondola goes up to the height of 12293 ft to Aphrawat) wasn't accessible due to heavy snowfall.
DRIVING TIME FROM SRINAGAR TO GULMARG: 2 HOURS (55KMS)
PAHALGAM, KASHMIR
Next, we went to Pahalgam – the Bollywood destination. Pahalgam indeed has a next level charm. It took us about 3 hours to reach Pahalgam from Gulmarg. That too because we took a halt at Avantipora to see the ruined temple and then even the Apple Valley.
Pahalgam is primarily renowned for its alpine treks, nature walks, and lush green grasslands. But during winters, it's just not the same. With the Liddar river flowing in the middle of the valley (partly frozen actually) and huts on the adjacent side of the roads covered with snow – the landscape can leave anyone wonderstruck.
We went to Aru Valley, did sledging, climbed the mountains covered with white blanket and also saw some famous shooting spots as well. Your visit to Pahalgam is incomplete if you don't go to Betaab Valley! This picturesque spot with snow clad scenic views  was indeed very captivating! All we did here was absorb the prettiness.
Driving time from Gulmarg to Pahalgam: 3 hours (95kms)
Stay at Heevans Pahalgam
SRINAGAR, KASHMIR
Known for the oh-so famous Dal lake, this place gave us romantic chills in the winter breeze. This city was mesmerisingly beautiful with an old-world charm and a tincture of historic symbols adorned all over!
Srinagar was engulfed in the local culture, warmth of the natives and sumptuous Kashmiri cuisines. We loved strolling through this city, shopping for crafts like silk and shawls! (yes, I bought a gorgeous pink phiran) The shikara rides, spectacular sunsets  at the boulevard and the colourful aura are the unique selling points of this city.
Driving time from Pahalgam to Srinagar: 3 hours (90kms)
Stay at Clarks Srinagar / Sarovar Portico / Houseboat
SONMARG, KASHMIR
I think for every place in Kashmir that we have mentioned in our Kashmir Travel Blog there is some magic that leaves you spell bounded. It is upsetting that the communal tensions of this state do not let glory take the upper hand yet whoever visits this place cannot stop appreciating it. Just like Gulmarg, Pahalgam and Srinagar, Sonmarg is a quiet place with breathtaking views. But we it was inaccessible due to heavy snowfall.
There maybe over one Lakh words in the dictionary but all of them fall short in front of the splendidness of the Kashmir Travel Blog.
There are certain things that one can consider before going to Kashmir-
BEST TIME TO VISIT KASHMIR
We went to Kashmir during the peak winter season when you could see snow-clad mountains, indulge in adventure sports and feel chilly winds coupled with warmth and hospitality of Kashmiris. I have always said there is no best time so the best time is NOW!
Same way you can explore Kashmir Travel Blog tourist places at any time of the year and can see different colours of the state. If you wish to see blossoming gardens, feel the fresh air then March to October are the perfect months for you but if want to play in the snow, go skiing then the peak winter months (November-February) are perfect.
HOW TO REACH SRINAGAR?
Srinagar is well connected to all the cities of India through rail, road and air! However, people in North India can prefer going via road by taking a bus or a car because of comparatively shorter distance else it is feasible to reach there by train or plane also.
We took a flight from Delhi to Srinagar which took 1 hour exactly and then opted for car rental to drive in and around Kashmir at ease. Be informed – there's no chance to get a self-drive car in Srinagar. You'll have to get a car rented with a driver at tow.
SECURITY CHECK AT SRINAGAR AIRPORT
Unlike other airports checks, regulations at the Srinagar airport are stricter and pretty cumbersome! To ensure hassle-free boarding one has to be prepared for multiple security checks so it's better to reach well in time. Then there will be baggage screening, document checks at more than 4-5 points. This is all for your safety so it's always great to cooperate.
TEA TIME IN KASHMIR
For all the tea lovers, there is the traditional Kashmiri Chai – Kahwa! Its aroma is so enticing, taste so delicious and health benefits 'n' in number. While Kashmir sightseeing, you can get to taste Kahwah endless times! You can never say no to it!
SHOPPING IN KASHMIR
All the shopaholics and people fond of antique pieces – there are umpteen opportunities for you to add exquisite pieces to your collection when you are in Kashmir.
TIPPING IN KASHMIR
You may/may not tip the locals but out of respect for their compassionate and affectionate attitude you won't mind spending a few extra bucks to express gratitude to them.