WOW AIR REVIEW: FRANKFURT TO REYKJAVIK IN THIS TRANSATLANTIC AIRLINE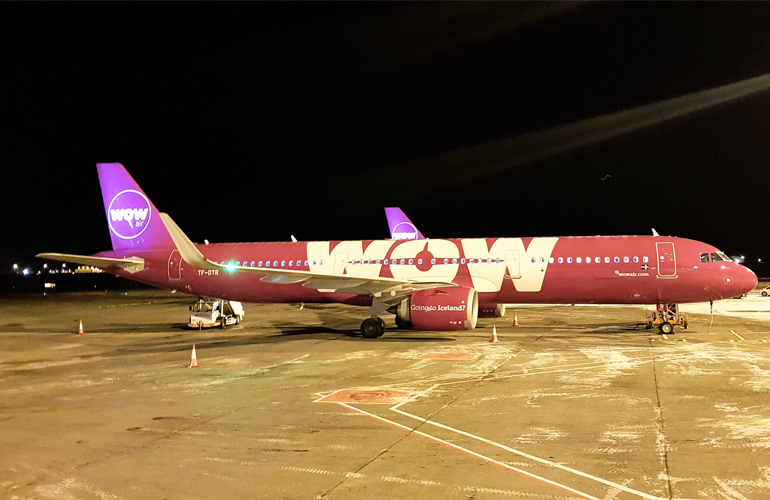 UPDATE: WOW Air are no longer in business. I'll leave my review live as it was, though.
Our mailbox was literally bombarded with messages from so many of you asking us for our honest WOW Air reviews. Is WOW Air good or not? Shall we fly with WOW Air or some other airline? Do we pay for the water, food, etc. etc. These were some of the questions that were being asked repeatedly. So here it goes… Our attempt at honestly reviewing the WOW airline and discussing all the aspects that could help you decide if you should fly with them or not.
When it was time for us to fly from Frankfurt to Reykjavik and vice versa, we wanted to opt for an airline that could give us a no-frills service, coupled with maximum comfort to caress our tired legs. WOW Air seemed like the perfect choice, given it's amazing range of flights to choose from, and the more-than-reasonable prices. Since we like to keep our airline travels non-stop and cozy, we didn't hesitate before hopping on our WOW flight that flies non-stop from Frankfurt to Iceland! Read on for our insights regarding flying with this transatlantic airlines.
WOW FLIGHT FROM FRANKFURT TO REYKJAVIK
The travel time from Frankfurt to Reykjavik is very short – three and a half hours precisely. The airlines, which currently flies to over 36 destinations in Europe, is committed to providing low-cost (rather, the most competitive!) flights to and from popular travel destinations in Europe. WOW Air isn't just for the backpackers and weekend travelers, but for just about anyone who wishes to fly smart and fly stylishly.
WOW Air currently provides it's services for a reasonable bargain: you might have to forgo in-flight meals and overloaded check-in and hand luggage to travel via WOW Air. However, in our experience, it was the best way forward for travelers who really don't overpack. This brings us to talk about the baggage policy for more clarity of which category you should choose while booking.
WOW AIR REVIEW: BAGGAGE POLICY
Most of the people have been asking me questions about the baggage policy of WOW Air. So now that totally depends on the kind of fare option you have picked during the booking process.
While some of you might be averse to booking this airline for the fact that it charges for any additional bag and even a check-in bag but the deal is fair if you ask me.
If you are paying for the 'Big' airlines that offer free check-in bag and other amenities then indirectly you are paying big moolah in the original price itself. Here you have the option – travel light and save or pay more and get all the benefits. It still will be quite competent in the prices when compared to other airlines flying into Reykjavik.
NOW THERE ARE PRIMARILY FOUR CATEGORIES WHEN IT COMES TO BAGGAGE POLICY WHICH ARE AS FOLLOWS:
WOW Basic – This is the most lucrative option for flyers who want to save get the bargain deal on flying with WOW Air. It includes your flight ticket. Also, you are permitted to carry one personal item.
WOW Plus – In this option, you are permitted to take one-check in bag, 1 carry-on and 1 personal item. You also get to reserve your seats (limited to standard ones).
WOW Comfy – This option is similar to WOW Plus. You just get cancellation protection here. Also, better seat reservation prospects.
WOW Premium – Now this option is definitely something that will cost higher than the other categories but then if you are luxury travelers, like us, go for this one. Here you can carry along 1 personal item, 1 carry-on, 1 check-in bag, and priority boarding on all airport. Not just that you also get the big seats and in-flight meals. Of course, it also comes with cancellation protection. This option is a real treat for travelers who do not want to compromise on their luxury and still book the most competent airfare.
A small personal item could be your laptop back, backpack or even a camera bag. Size: 42x32x25cm/ 10kgs.
A carry-on bag should be 56x45x25cm/ 12kgs (inclusive of handles and wheels).
A check-in bag shouldn't be more than 158 cm / 20kgs.
Make sure that you have purchased baggage allowance well in advance from them online. The amount you'll pay to buy additional baggage allowance at the airport would be 100% higher than what you would pay online.
WOW AIR REVIEW: CABIN DESIGN
Something that pleasantly surprised us, however, was the plush interior of the WOW Airline, which was painted the same purple that was on the outside of the airplane. The seats looked super comfy and we could barely wait to cozy up and take a short nap whilst we flew to Reykjavik! However, upon being seated, we found ourselves busy fiddling with the window, air vents, and overhead lighting, and couldn't stop but sheepishly play around with the luxe seating.
The seats we were on gave us ample leg space, while also allowing us some space to relax without fearing bumping into each other's space!
BIG SEAT
There is no business class in WOW Air. But there are big seats. And these seats offer all the comfort that you desire for and more. These seats pitch up to 47 inches – so more luxury and more comfort! To get the Big Seats, you can either choose the WOW Premium option while booking or simply upgrade your seats. It will be worth the extra bucks!
Get an idea about all the seats WOW Air has at offer, here. Make an informed decision!
WOW AIR CREW AND SERVICES
The entire crew looked sharp and dapper in their purple suits. Welcoming us with a big warm smile, they were more than ready to have us on board. From the littlest of things to the big stuff that mattered, the cabin crew made sure we were having an amazing time flying with them.
While we hadn't anticipated this, we did begin to feel a little hungry even on our short flight! So we rummaged through the pages of the in-flight service menu, and found, much to our surprise, a wide range of culinary delights waiting to be served to us! The food was all served piping hot just what we needed to satisfy our cravings. It was visibly fresh and great quality. We could travel again and again with WOW Air for that tasty Pizza Margherita and Veggie on Rolls. We dare you – try those and you'll be addicted. No wonder we ordered them again on our return flight.
The crew's prompt service made it all the more enjoyable for us to ask for whatever we needed, and the crew responded with sincerity and a big smile on their faces! Finally- someone who loves their job!
So the question – Do you pay for food and water onboard? Well yes, if you want to eat during the flight, you need to pay for that. You'll even have to pay for water.
WOW AIR FLEET
The airline, which earlier primarily flew Airbus 320, Airbus 330, and Airbus 321 has added new airplanes to its fleet in the last few years. Prior to this, the Airbus 320 flew only to destinations in Europe, while the bigger planes flew across the Atlantic to North America. The Airbus 321, which flies to destinations outside Europe, is known for being a cost-efficient model as it's overhead maintenance cost is minimal. It also uses lesser fuel compared to its counterparts.
Thanks to it's cutting-edge technology and efficient technology systems, WOW Air's fleet has been hailed as one of the most energy efficient airplanes. The entire fleet has been named uniquely – there is a TF-MOM, whose sobriquet was derived from the Freyja, the Nordic Goddess of love. The TF-DAD, named after the Nordic God of Wisdom, Óðinn, followed suit. Similarly, the entire fleet was named to resemble a big family, speaking of which, we are reminded of none other than the amazing WOW Air cabin crew.
WOW AIR REVIEW – TO FLY OR NOT TO FLY
Despite what you might hear, WOW Air is the way to go! Since we have traveled with WOW Air not once but twice now (without facing a single issue), it wouldn't be wrong to say that we will fly with them again. On both the instances, the flight was on time. This transatlantic airline is paving the way for new low-cost airlines to make their mark on the aviation industry. And is redefining flying experience by providing world-class services to every flyer!
Feel free to share your WOW Air flight experiences in the comments section below.
*****