REYKJAVIK ICELAND EXPERIENCES THAT WILL LEAVE YOU SPEECHLESS
Are you daring enough to travel to Iceland during the winter? While you may think this is the craziest idea you've had, you might be pleasantly surprised to know that Iceland attracts probably the largest numbers during its long winter months. It isn't too shocking, however, if you've been to Reykjavik in December: as the wintry spirit takes over the city and festivities adorn every public building, you might feel you're in a stimulated Disneyland.
Nothing seems ever so exciting as touring the cozy city when it is most lit up for the oncoming festivities, and when the warm fairy lights stringing the city die out, you might be lucky enough to see a stunning dancing sky with the Northern Lights giving you enough light for the crispy, cold winter nights. If you're still a little unsure of what to do in Reykjavik, you might want to check out a couple of offbeat places where tourists rarely step foot in. But a quiet and cozy Christmas aside, you can't miss Reykjavik's biggest attractions!
[toc]
WALK AROUND REYKJAVIK
Reykjavik is a very pedestrian friendly city, so make sure you capitalize on the gorgeous roads and the ease of movement. Explore the city by foot and you'll find yourself falling in love with un-touristy things. If you do tire out, hop on a bus and you'll have the best of both worlds!
Alternatively, you can sign up for a free Reykjavik walking tour and get an insight into the culture and way of life of Icelanders. Local guides ensure that you have a great time exploring some of the overlooked parts of Reykjavik.
THE ICONIC HALLGRIMSKIRKJA CHURCH!
Reykjavik's biggest and most iconic church can be seen from nearly every point in the city! Designed in 1937, the church was only started to be constructed in 1945, a long and trying endeavor that finally resulted in the gorgeous "kirk" in 1986.
Featuring some modern iconic designs, the church is a must visit. Look out for special choir timings during the winter and brace yourselves for the performance of a lifetime!
 SHOPPING AT LAUGAVEGUR STREET
This is Reykjavik's prime and most happening shopping street. Mark my words – you can spend an entire day traversing this chic promenade. As the street is packed with not just nice shopping stores but also jazz bars, cool cafes and cozy restaurants, no wonders it is buzzing with so much life at all the times. Make a quick stop at JS Watch Company (Gilbert Watch Store) – Iceland's only watch manufacturer.
THE NORTHERN LIGHTS SHOW!
This might not be surprising, but we'll leave most of it to your imagination. Just know that it is pointless to visit Reykjavik and miss the Northern Lights! Sign up for a Northern Lights tour which starts from Reykjavik and takes about 4-5 hours in totality. We saw Northern Lights on two instances – once on a group trip that we signed up for, about 2 hours away from Reykjavik, in a highly active volcano zone, and another during our visit to the South Coast.
You know it is best you choose to stay in hotels in Iceland where you can actually see the Northern Lights.
WALK BY THE SEA
Little do people know that the icy shores of Reykjavik harbor some of its greatest secrets. These cool blue waters are rarely, if ever, tempestuous, and are the perfect place for an evening stroll. Make sure you carry a light snack to keep your conversations interesting! Walk down to the iconic steel boat sculpture by the sea as this is where you'll find the crowds queuing up for some pictures in the evening. It might also be a good idea to hire a bike and ride down the pier if walking isn't your thing.

FUN IN THERMAL POOLS!
What do the fun-loving residents of Reykjavik do in the winter, apart from everything Christmassy? They go to Icelandic thermal pools! True to their reputation, Icelanders love a good bath. Join them for a hot dip- you have an array of pools to pick from! So we were staying in the suburb of Breiðholt and the best option for us turned out to be Breidholtslaug thermal pool.
We visited Breidholtslaug on the 31st early morning and it was nothing like anything. This family friendly thermal pool was such a respite from the frosty weather and we really wanted to be there for longer. Since it was the last year of the day, the thermal pool was shut by noon time.
Just in case you wish to visit this thermal pool in Reykjavik but are located centrally, just take bus 12 or 17 to get to Austurberg.
MEETING ICELANDIC HORSES
Icelandic horses are adorable and really friendly. Make sure you head to a horse stable for a (not so quiet) afternoon. Animal lover or not, you're sure to have your heart melted!
So as we were staying in the Austurberg area, we decided to go for a long walk from our Airbnb one afternoon and simply show up at an Icelandic horse stable (Checkout this post just in case you are looking for nice Airbnb recommendations in and around Reykjavik).
What a great decision. We got an opportunity to meet the horses and their owners up close. Remember you'll be welcomed with open arms and the locals would be more than inviting to hold up a conversation and tell you more about Icelandic horses. It will be an intimate experience and if you have more time you can even go for a riding session!
 FIREWORKS DISPLAY AT THE NEW YEAR'S EVE
New Years' Eve in Reykjavik is as fascinating as any other festival in the city. Hordes of people gather to celebrate the coming of a new year and a new beginning. No matter where you are in the city, it is nearly impossible to miss the dozens of fireworks that take over the sky as the church clock strikes midnight. It might be worth scouring your area to look for places that can give you the best view! Glad we decided to stay near the Hallgrimskirkja Church as Icelandic locals put a spectacular show on display just minutes before the New Year. It is such an amazing experience to stand in the crowd in front of a stunning church and experiencing the sky looking all shades of green, blue, red, and orange. Icelanders definitely go crazy with the fireworks show and it is worth a mention.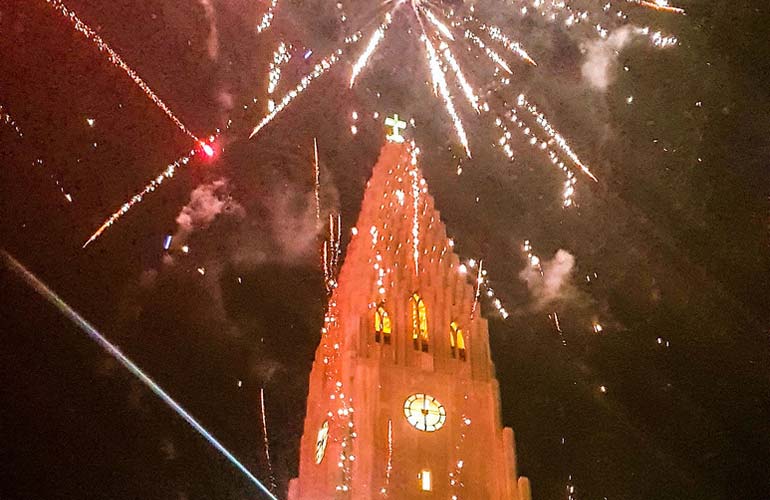 WHERE TO PARTY IN REYKJAVIK: STEP OUT AT NIGHT
If you're wondering what to do in Reykjavik in December, or generally round the year, one of them is antithetical to what you might have thought. Instead of cozying up at night, it might help to step out and experience Iceland's dynamic nightlife! Grab yourself a hot toddy and warm up for unending dance parties!
Here are some of our personal favorites we explored during our visit to Reykjavik in December:
LEBOWSKI BAR
Locals love the Lebowski Bar and now we know why. We spent some real nice time at this bar during the New Years and it was worth all the hype. The interiors are quite classy and the beer is really good, though a bit overpriced. Expect the dance floor to be completely packed during the festive time.
Address: Laugavegur 20a, 101 Reykjavík, Iceland
LE BISTRO
Le Bistro is a popular french wine bistro just steps away from the Hallgrimskirkja church. It is a perfect escape from the harsh Icelandic winter climate. The bistro is beautifully decorated and offers you the taste of France in the Northern most capital of the world. Hit the bistro's upper room and try the chocolate fondue prepared in quintessential Swiss style.
Address: Laugavegur 12, 101 Reykjavík, Iceland
HÚRRA
Looking forward to a delightful night in Reykjavik, being in an atmospheric bar that is quirky and fun at the same time? You need to checkout Húrra. It hosts jazz concerts from time to time and sometimes even stand-ups so you can never expect a dull moment at this bar. Plus
Address: Tryggvagata 22, 101 Reykjavík, Iceland
A NICE HANGOUT IN REYKJAVIK: CAFE BABALÚ
You vegetarians out there! We've found the perfect hangout for you in Reykjavik which is an eclectic gem of the city – Cafe Babalú. I was so impressed by the eccentric yet not so typical orange and turquoise building that I had to enter and experience it first-hand. There are some nice vegan and vegetarian options at this cafe but I'd recommend you to try their lasagna and chilli carrot cake. Also, try home brewed chai latte at this cozy cafe.
Address: 22, Skólavörðustígur, 101 Reykjavík, Iceland
WHAT YOU MUST KNOW BEFORE YOUR VISIT TO REYKJAVIK?
Wear good walking shoes as you'll have to walk a lot.
You do not need to carry a lot of cash as a credit card pretty much works everywhere.
Dress in layers as the weather can be really nasty and unpredictable.
The only grocery stores you need to look for in Reykjavik are Bonus, Kronan and Netto. 10-11 is the most expensive grocery store in the city!
Pre-book all your day trips well in advance if you are visiting Reykjavik in December or say winter time. A lot of people will tell you that it's okay to go with the flow as it is a low season time. Mark my words – the winter time is going to be as packed as the summer time with the huge tourist influx lately so the tours are ought to sell out sooner than you would think. Book in advance.
Don't forget to have fun and strike conversations with Icelandic people. You'll be beyond happy to learn about their folklore and culture. They are warm and really friendly.
·   DO YOU NEED A REYKJAVIK CITY CARD?
A Reykjavik card could be your ticket to exploring everything you want to in the quaint, yet modern city of Reykjavik. You could simply purchase one online and have it delivered to your doorstep, or pick one up when you're in town from the tourist centre!
The card allows you to explore Reykjavikwhilst at your own pace. Investing in this card means unlimited travel on buses, and free entry into thermal pools & museums. Hassle-free, convenient, and super easy to get, a Reykjavik card should be on your must-have if you plan to do fun things in Reykjavik in December or any other month!
*****
We would like to thank Visit Reykjavik for supporting us with our trip and helping us explore the city in our own way using Reykjavik City Cards. Our opinions as always are unbiased and 100% genuine!