OFFBEAT TRIP ITINERARY FROM DELHI TO NALDHERA AND JIBHI
Of the many ambiguities the Covid-19 pandemic has birthed, the protocol for countywide travel is quite perplexing. Different Indian states have their own distinctive rules for allowing outsiders in. For the travel enthusiasts, Himachal Pradesh opening its doors to tourists has been quite a euphoric event. People can now visit the Queen of Hill Stations – Shimla – and bask in its scenic splendor, with just an e-pass and some indomitable wanderlust.
If considering such a trip to Shimla, Naldehra, Jibhi, or Himachal in short, it is important to note that allowances alone do not make a journey desirous. Even with e-passes granting visitors entry, there are many other logistical arrangements that need to be carefully planned. Also, the threat of exposure to the potentially lethal virus is something to think about. Afterall, the state government welcoming tourists is not equitable to visitors being immune to Covid-19.
To put it in a nutshell, Shimla is now accessible to travelers who wish to explore its majestic mountains and valleys. But a trip to the city needs to be planned to the 'T', unlike the good old days when you could just pick up your bags and go. With the threat of the virus looming fairly large, whether to undertake such a trip or not is a tricky decision, so think on! Here's our Delhi to Naldhera itinerary and Jibhi as well.
DELHI TO NALDEHRA ITINERARY DETAILS
That feel of misty mountains, the look of the cleaner and greener hills, and the melody of the gushing stream – no one can resist the charm of Himachal Pradesh. It wasn't our first visit to Shimla. However, it did feel like our maiden trip. Due to Covid, this time we were looking at all these hills through a different perspective. So, our plan was to travel from Delhi to Naldehra that falls in Shimla district, and then Jibhi in Kullu district.
We made booking for our Jibhi stay much later as we weren't certain if traveling freely would be possible in Himachal or not. Guess what, we were right! With travel opening slowly and steadily in Himachal, there's no certainty of which district would let you in and which not. Like when we had to enter Shimla, we needed to show an e-pass and Covid report. But when we came back after a week, Himachal had removed the restrictions and made entry free. Anyway, if you are planning to visit Himachal soon, I'd definitely recommend you to take the offbeat route, ditch the ordinary, and travel a bit further.
We decided not to spend time in Shimla and rather visit Naldehra. We had booked an amazing stay at a luxurious property, tucked far away in a secluded corner of Himachal Pradesh.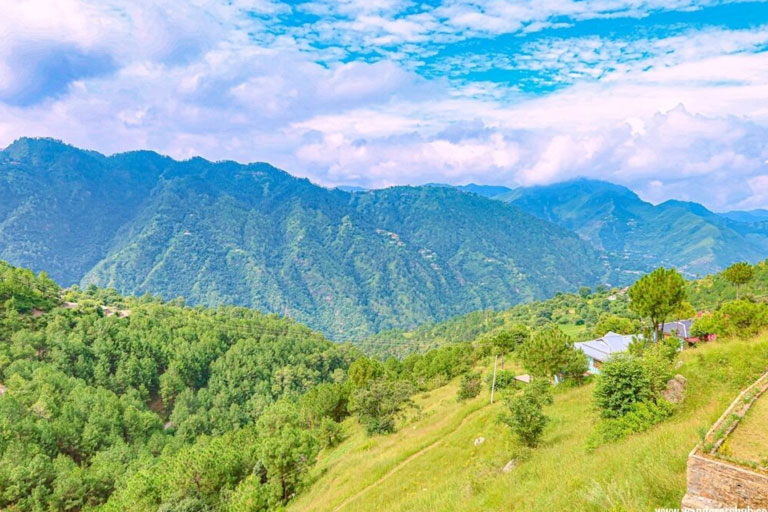 The serene beauty of Naldhera from our AIRBNB
AN ULTRA-LUXURY HIMALAYAN HIDEAWAY – AURAMAH VALLEY, NALDEHRA, SHIMLA
Naldehra is about 23 kms away from Shimla. It is a nature lover's paradise and a blissful hill station adorned with cedar forest, gigantic pine trees and green rolling mountains. No way, we had imagined to spend our first post-covid trip here. We had never imagined Naldehra to be the kind of hill station that would enchant us at the first go. But it did. Sometimes, you don't set expectations only to realise later that it was better you never did. And now all we can say is no way, you can't unseen Naldehra if you are seeking a blissful sojourn in Himachal in the near future.
DELHI TO NALDHERA ITINERARY – STAY AT AURAMAH VALLEY
I did all the ground work of finding some of the most luxurious condo apartments in Naldehra on Airbnb. No, I am not talking about the hyped Naldehra Chalets. I am talking about ultra-luxe residential apartments, spread across 100 acres, which give you the feel of countryside living! Something we both enjoy a lot. Here, in this Himalayan haven, you are promised inviting outdoors, magnanimous 270° vistas from the balconies and natural light in abundance.
As luck would have it, Auramah Valley turned out to be a blessing in disguise. This apartment is still a bit of a hidden treasure as it hasn't been promoted for rental properties yet. But, we found a great property on Airbnb and surprisingly the owner was happy to rent it to us for a total of 5 days. Nestled amidst the soaring mountain ranges and fringed by cedar trees, this apartment could be reached only after a wee bit adventurous drive through the curvy turvy roads! Yeah, we got a bit worked out with all the driving and not so well made road but it was worth all the effort. The entry gate was gigantic and we got too excited imagining what lay ahead.
Stay at Aurumah Valley on your Delhi to Naldhera Itinerary
WHAT TO EXPECT AT AURAMAH VALLEY, NALDEHRA?
The famous Naldehra Golf Course is just about 10-minute walk from Auramah Valley. Our duplex chalet looked inspired by striking Swiss architecture, and all the rooms overlook beautiful views, independently. You can easily spend a few days in these chalets simply relaxing in solitude. Or, you can also head to Mashobra for adventure tours and activities, like we did. Other than that, you can also do the following:
Picnic in a stunning apple orchard.
Enjoy a game of golf at Naldehra Golf Course.
Pray at an Old Church.
Auramah Valley is well connected via road and railway. You can easily reach there on your Delhi to Naldhera itinerary. You even get the privilege of flying to and fro from Auramah Valley on a helicopter. Yes, there's a helipad.
Our Airbnb owner also provided us with a cook for 600 INR per day and we were happy to provide him everything we had already brought with us from Delhi. Yes, we had stocked up on all supplies and food items in surplus! Our cook was simply amazing and we loved gorging onto scrumptious delicacies round the clock. Wish, we could have packed him up in our suitcase and brought him here with us! Sweetest soul!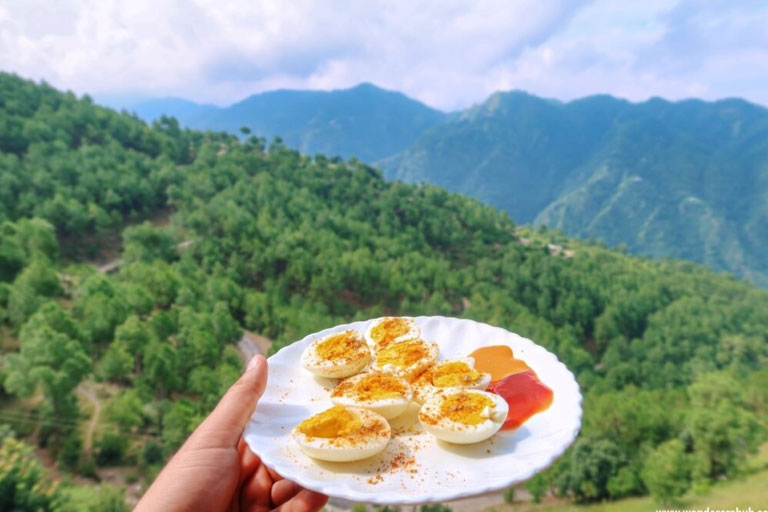 Breakfast with a view
Mornings like this
NALDEHRA TO MASHOBRA
Due to lockdown, we didn't think much about sightseeing or venturing out as we were happy staying indoors. However, we decided to visit Mashobra after two days. It is a picturesque, little village that is 25 minutes drive away from Naldehra. We went to Mashobra two years back and witnessed snowy splendour in it's best form. But this time, it was different. We had booked a cycling and camping tour with Raid de Himalayas for 4000 INR per couple. It was also the highpoint of our trip as we enjoyed thoroughly.
We cycled for about 4 Kms before heading back to the starting point and then loaded our bikes on a 4X4 Jeep that took us downhill. It was a dense forested area with no one to be seen around. Randeep, our tour guide set up the tent for us and created a mini kitchen in the woods. It was fun making our own 'Pahad Wali Maggi'. Finally, it was time for us to pack up and get back to our gorgeous adobe in Naldehra.
A sunny day out in Mashobra, Himachal Pradesh
Mashobra, oh you, beauty!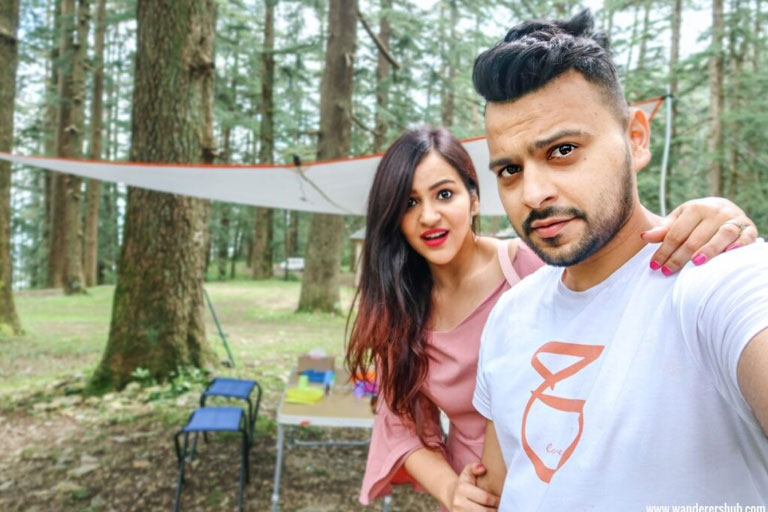 Camping amidst wilderness in Mashbora, Himachal Pradesh
NALDEHRA TO JIBHI
After spending good 4-5 days in Naldehra, it was time for us to move to our next base. After Delhi to Naldhera itinerary, add Jibhi to your list. We had initially planned to go to Chitkul from Naldehra but then that didn't work out due to travel restrictions in that area. It was then after a lot of research, we figured out Jibhi. It is still a relatively offbeat hill station in Kullu district that doesn't get the kind of attention it deserves. This magical hamlet is popular for endless dense fields, lakeside picnics and forest hikes. The 6 hours drive from Naldehra to Jibhi, winding through precarious twists, is an adventure to say the least. This hill station is a great base for enjoying the outdoors and other activities. We arrived at our cottages picturing a lazy week with nothing on our agenda.
What a beautiful journey from Naldhera to Jibhi
STAYING AT MAPLE OUTHOMES JIBHI
To get to Maple Outhomes in Jibhi, we had to drive on a treacherous road for about 20 minutes after reaching the town. And then further 5 minutes steep downhill risky ride to get to this beautiful adobe. It is a perfect spot for anyone planning a luxury staycation far away from the chaotic city life. You get to stay in nicely done up cottage amidst age-old trees and a river. The gurgling streams can be heard at all times from your room, and it felt like music to our ears, honestly. However, people who like pindrop silence should take their chance wisely.
At Maple Outhomes, we got every amenity that one could think of, including WiFi, scrumptious meals cooked by in-house chef, laptop friendly workspace, tea/coffee, and hot water. All four days we stayed there, we enjoyed bonfire, swimming in the river, dining at the cozy cafe, and playing indoor and outdoor games. I can never gorget the taste of pizza they prepared using fresh, local produce. You could spend your day unwinding with a book in the cafe or by going for nature walk.
Our mornings at Maple Outhomes mostly meant wolfing down omelettes, sandwiches, curd and aloo paranthas along with 'Ghar ka achar'. Not to forget, endless cups of coffee and tea.
Whiling away time in the best possible manner at Maples Outhome
THINGS TO DO IN JIBHI, HIMACHAL PRADESH
Now there's a lot of things to do in and around Jibhi. From camping to hiking, fishing and bird watching, the scope is endless. However, due to Covid issues, we were given strict instructions to not leave our host's property at any cost. We were happy to abide as we were cautious about our well-being and didn't wish to take any chance. Anyway, if you are heading to Jibhi post Covid, I'd recommend you to checkout these cafes:
Hari Om Cafe
Jibhi Delight Cafe
Cafe Jungle Valley
I Feel Himalayas Cafe
Chill by the lakeside or better take a dip. Don't worry about the cold water. It won't bite
SOME PLACES YOU CAN VISIT IN JIBHI
Shaily Peak
Tirthan Valley
Jibhi Waterfall
Kogi Mata Temple
Tattapani
Serolsar Lake
Chaini Fort
SOME TIPS TO REDUCE YOUR RISK OF CORONA VIRUS DURING TRAVELING
Carry alcohol-based sanitiser and practice good hand hygiene while traveling.
The most important measure to contain the risk is hand washing multiple times a day. Wash your hands for at least 20 seconds especially after assisting anybody who is sick.
When traveling, always prefer drinking bottled water and be particularly cautious of any sort of food contamination.
Avoid touching your eyes, nose and mouth frequently, especially with unwashed hands.
Always wear a mask particularly when visiting public areas.
Hope this Delhi to Naldhera itinerary and further to Jibhi will help you cover more base other than Shimla. This itinerary can be easily covered in a week at a slow pace. So, you can plan accordingly.