'SPAIN-SMITTEN' – IBIZA HOLIDAYS AND PLANNING
A Spanish poet once said, "In Spain, the dead are more alive than the dead of any other country in the world." Spain is just so incredibly exciting. The people, the culture, the cities, and towns – everything has a unique, festive quality to it. Have you ever met a person who is always optimistic and so fun to be around? Spain is the country form of that positive spirit!
Let me be really honest with you all – I was absolutely Spain smitten, like many others, when I saw the handsome boys taking their bachelors' trip in one of the most loved movies of all-time, Zindagi Na Milegi Doobara.
Ever since I saw that movie, I was sure, I wanted to visit Spain and self-drive on the surreal roads, to know, if it actually feels like it was portrayed in the movie. And let me tell you frankly, there's something enigmatic about Spain that leaves you craving for more. Freshness in the air, visually scenic corners, and positivity around– Spain is just so gorgeous!
The best part of the trip was exploring the non-touristy aspects of Spain. Of course, we did visit all the major sites and they were great, but we wanted to dig deeper. What I came to realize by the end of the trip was that this is a land of great diversity. There is a room of any and all kinds of lifestyles, interests, and pursuits here. People, cultures, and attitudes mingle and merge here, producing the lovely mayhem we typically associate with the Spanish. And being on my honeymoon, traveling across its boundaries with my love, reveling in its craziness, it was simply a perfect idea to visit Spain.
To Spain, with love!
PLANNING
We always like to travel slow – quite like the attitude Spanish people exhibit. Unlike people who prefer exploring more cities in a single go, we prefer to explore one place at a time. This offers us a chance to revel in the beauties of a particular city completely and understand the culture well. As we were finalizing cities for our honeymoon in Spain, we definitely wanted one to be more of a touristy one and the other to be laid back!
Thankfully, it was not high season in Ibiza and we included the city in our Spain holidays list. And other one had to be Barcelona – the Catalan capital of Spain – the city that is so lively and energetic! We were initially willing on exploring Valencia and Madrid too, but I guess some cities will have to wait for us! 🙂
IBIZA HOLIDAYS
Ibiza was one of the places I was really looking forward to visiting. Everyone talks of the legendary nightlife of Ibiza and honestly, I was quite curious. And let me tell you, it's as good as rumored, if not better.
The Ibiza club culture on the little Mediterranean island is just so glamorous! Celebrity DJ playing here, some superstar partying there! There's always something going on.
During the evenings, the town is full of energy, people set to party and bar deals to entice customers.
In the mornings, the laidback lifestyle comes into play. That's when the beaches, shopping places, and local foods were sampled. I munched on so many flaons here (a local pastry-based specialty) – I'm sure I must have packed on some weight just thanks to them!
But Ibiza was where we went all out, so it's okay. We just danced the night away, slept in late, ate lavish brunches and then lounged on the beach. True story! If you plan to visit Spain, you must include Ibiza in your itinerary!
FACTS ABOUT IBIZA
Almost everyone is aware of the famous party scene of Ibiza clubs and the happening nightlife, but there's more to this clubber's paradise.
Its total population is 132,637 and it welcomes six-million-odd-tourists each year.
Ibiza has a language of its own. They have a dialect that is a combination of Spanish and Catalan called Eivissenc.
The island is a World Heritage Site – all thanks to its gorgeous architecture and sea life.
GETTING AROUND IN IBIZA
The easiest way to get in and around the streets during Ibiza holidays is by renting a car. Car rental Ibiza is perhaps easy as long as the visitors can show their driving license. As driving around in taxis can be extremely pricey– around €20-30 for a short ride – it is best to opt for car rental Ibiza. We had to take a taxi from the Ibiza airport to reach our Hotel, Aguas de Ibiza Lifestyle & Spa Hotel.  Our hotel was 25 minutes (€35) away from the airport, and the drive was a smooth one!
We made our mind for Ibiza car rental, the very moment we paid €35 for a short ride from the airport. Thankfully, for us, the process of renting a car in Ibiza was an easy one and that is because of the extremely courteous staff of Aguas de Ibiza Lifestyle & Spa Hotel. For different cars, one has to pay different prices. We went for the Fiat Panda Lounge or similar. Group A1, and had to pay €30 each day, which was also inclusive of a GPS instrument. Apart from that, we had to pay additional €300 as the security amount, which of course, was refunded.
STAY AT AGUAS DE IBIZA LIFESTYLE & SPA HOTEL
Undoubtedly one of the best hotels in Ibiza, Aguas de Ibiza was just the perfect pick for our break in the island. Located amidst a breathtaking scenery, this delightful hotel and its friendly staff ensured that all our expectations were met and beyond.
What we enjoyed the most about this Ibiza hotel was its spa center and the various facilities. The Clarins Revival Spa was just fantastic. Apart from that, we spent a major chunk of our time on the rooftop restaurant and the swimming section. You can read more about the hotel, here.
THINGS TO DO IN IBIZA
SANTA EULALIA DEL RIO
The day we arrived, we were pumped up about exploring the beautiful town, Santa Eulalia del Rio and the surrounding areas.
We had purposely booked our hotel in the region as it is ideal for those looking for quieter Ibiza holidays.
The palm-lined promenade that runs parallel to the sandy beach is just ideal for a walk in the evening.
It is a home to popular yacht harbour that is surrounded by cute restaurants and shops. Though we were tired as hell after changing three flights for reaching Ibiza, we did not waste a second to see what the town had in store for us.
There were a few Indian restaurants in Santa Eulalia del Rio area, so ones who do not have a taste for Spanish cuisines should definitely try the 'tadka dal' and 'extra-large naans' at these restaurants.
PLAYA D'EN BOSSA
This area is perhaps the most popular one in Ibiza as it boasts the longest beach on the island as well as famous beach clubs.
We spent most of our time in Playa d'en Bossa during our Ibiza holidays, lazing around the beach, sampling delectable cuisines and enjoying refreshing drinks.
There are water sports', including banana boats, jet skis, and speedboat rides.
It is mostly bustling with tourists and is a popular venue welcoming A-list DJs at Ushuaia Tower, Sankeys, and Hard Rock Hotel. I would strongly recommend everyone to book a hotel located in Playa d'en Bossa.
IBIZA TOWN
This day was all about exploring Ibiza Town that is perhaps the largest city on the island. Ibiza holidays are incomplete without exploring the vibrant and intriguing town.
The brash yet romantic island's capital historical sightseeing, shopping, and bar hopping. When in town, you must explore the ancient walled fortress of Dalt Vila that is a UNESCO World Heritage Listed site. The beautiful cobbled streets, churches, and cathedrals and museums take visitors to the days of old. Wind up your way up the top and gawk at the town from there.
In the evening, we even visited the popular Platja de ses salines that is 10 minutes away from the Dalt Vila. It's an extremely cool beach that is awesome for long adventure walks.
Dalt Vila
SAN ANTONIO
We had kept the boat-party capital, San Antonio for the last day, and indeed the most memorable ones! Your Ibiza holidays are just incomplete if you do not take the much-recommended ferry trip. Initially, we were reluctant on doing a private catamaran trip as it was too expensive (around €800- €1000) but as luck would have it, we got to do it for €400 (still a fair deal).
CATAMARAN TRIP TO CALA CONTA BEACH
We boarded our private ship, Mr. Binguel, from San Antonio harbor, which took us to the Cala Conta Beach.
It was an idyllic beach when we went there – just perfect for relaxing and enjoying Spanish wines by the safe, turquoise waters. We had our lunch in one of the restaurants over there, and made our way back to the ship, for getting back to San Antonia.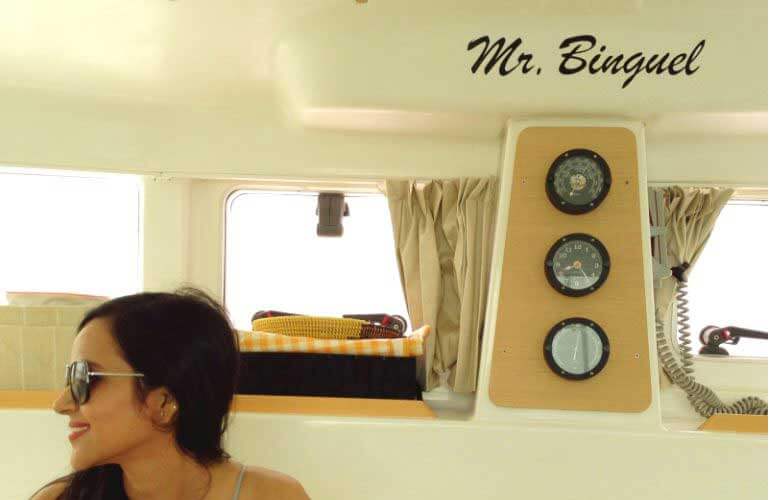 BEST TIME FOR IBIZA HOLIDAYS
The best time is for you to decide, as in what you expect from your Ibiza holidays. If you want to enjoy Ibiza clubs and party scene, it is best to plan your trip anytime from the end of May to the start of June.
With summers settling down in the town by July, it is ideal for visitors to get ready for the sun-kissed skins and a lively atmosphere. In September, visitors can make the most closing parties which are equally brash and sparkling. Other months, the island is just as beautiful but relatively quieter.
If you are planning a trip to Spain, you might also be interested in reading Barcelona Guide. (Opens in new window)