QUICK GUIDE TO SRI LANKA- THE EMERGING TRAVEL DESTINATION
Talk to any traveler in the South Asian region, and Sri Lanka would probably be a place they've visited, or are planning to visit. The island finds itself perched aesthetically on the tranquil waters of the Indian Ocean, with its long shorelines decorated with neatly planted palm trees. An amalgam of culture and sensibility in the midst of an environment that's all too eccentric in its own beautiful way – yes, that's Sri Lanka for you!
WHAT TO KNOW?
Sri Lanka has a profoundly intimate connection with history. Marco Polo's chronicles cheerfully labeled it the finest island of its size anywhere in the world. Since then, it has attracted travelers from across the world, who flocked to the fertile island for its spices and textiles.
Sri Lanka has, since then, been a thriving center for trade, but also of religion and spirituality. The island's Sinhalese civilization has a lot to boast of. But it's civilisational feats apart, the fact that it has remained, to this day, a major center for Buddhism to flourish, offers a lot to tourists with an inclination to spirituality.
ABOUT THE CAPITAL CITY, COLOMBO
Colombo, the island's capital, and its largest city is ironically a sprawling and thriving center. Fish Ambul Thiyal, a popular Sinhalese dish, is a must try while in the capital.
The beaches on the west coast, the most Westernised part of the city, and perhaps, of the island, are a sight to behold! A whole range of resorts on the west coast allows for a taste of the vibrant imported culture of cafes and restaurants along stunning shores.
The south coast shines through with the plethora of Buddhist shrines that dot it, apart from temples. A sense of absolute peace envelopes one in the area, and would make one want to stay on for much longer.
If you love taking detours, you can plan on hiking the Sigiriya Rock that is 3-4 hours drive from Colombo. It sure is well worth the drive.
A HINT OF WILDLIFE!
The Knuckles Range trek is one of the most exciting and rewarding we would love to undertake in the island. A whole variety of flora and fauna, hitherto unseen, awaits trekkers with a keen eye.
Olanka Travels conducts complete as well as specialized tours, by a multilingual and efficient staff. Everything, from air tickets to accommodation, can be managed by Sri Lanka's leading destination management company with ease. The website is also thorough and up to date, and the travel agents are extremely responsive.
You can opt for an elephant safari in Sri Lanka which has lately become quite popular amongst tourists traveling from different parts of the world.
Here are 5 Benefits of taking a safari trip once in a lifetime for sure.
Tickle Your Taste Buds 
Unawatuna beach in Galle is a must visit, for its pretty shacks that dot the coastline. Spending an entire day here in the sun is a rewarding experience. Head for some local cuisine afterward- the seafood is fresh and cooked with local spices. A strong flavor of coconut curries and spices overwhelm one!
Lamprais, a popular dish, is the result of the Dutch influence on the local cuisine. The dish is prepared using meat, rice and a chili sauce, and is served wrapped in a banana leaf. Head to Colombo Fort Cafe for a scrumptious lamprais.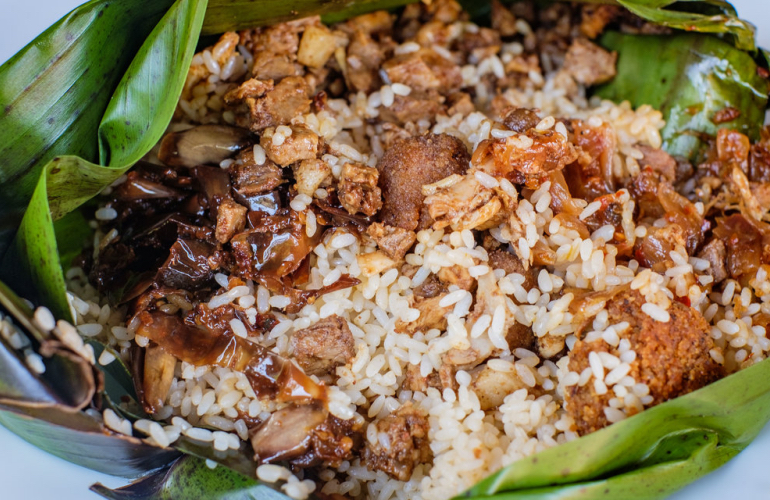 Where to Head for a Good Dose of History
Dambulla Cave Temple is a World Heritage Site a few hours' drive away from Colombo. It is worth a day's visit.
2 Gangaramaya Temple is more than a Buddhist haven – the temple is furnished with a library and a museum in its beautiful complex. The museum displays some precious relics worth seeing that devotees have donated to the Temple over its long history!
Olanka Travels is a renowned tour operator that can make your visit to Sri Lanka seamlessly fun-filled! Apart from thoughtfully planned tours, the network of hotels and resorts, the corporation deals with is just awesome. From the East Coast to the West, Olanka is dedicated to delivering unforgettable vacations! So, you can contact them without thinking twice to plan a quick tour to Sri Lanka.
Is this enough to get you excited about visiting Sri Lanka? 
Connect with us on Facebook | Twitter | Pinterest | Instagram for awesome travel stories from different parts of the world.
~~~~~~~~~~~~~~~~~~~~~~~~~~~~~~~~~~~~~~~~~~~~~~~~~~~~~~~~~~~~~~~~~~~~~~~
This is a guest post written in collab with Olanka Travels.