TREKKING TALES FROM KHEERGANGA: THE FIRST HIGH
Pine trees and picturesque rolling hills surrounded us. Somewhere while trekking the treacherous hills a cute boy, must be 5 or 6 years old, hopped to the middle of the rugged path – we stopped as he approached us for buying apples that came straight from the tall trees. With an endearing yet mischievous smile, he convinced us to buy the yummiest apples of Himachal (had to be) :).
Anyone gripped with wanderlust is always on a lookout for offbeat places where new experiences await. One such place is Kheerganga which is quite possibly, Himachal's best-kept secret. Getting to it entails an exhilarating trek which is completely worth the effort (can vouch for that now).
The unique beauty of the hilly wilderness will leave you mesmerized and desiring for more. But that's not all; Kheerganga has countless alluring charms which will push it to the top of your travel list right this moment.
We both finally materialized our first plan to go to Kheerganga – a mystical place in Kullu conducive for an uphill trek. If you want to go to a faraway destination in a gorgeous corner of India – peppered with scenic beauty at every step, to sample yummy apples on the go and meet cutest red-cheeked kids – go for Kheerganga trek in Himachal Pradesh.
Is there anything cuter than Himachali Kids?
We love magnificent peaks, expansive green meadows, as well as striking blue skies. The high altitude terrains tucked in the Himalayas help break the monotony and rejuvenate one's senses. This time, we really wanted to sink our teeth in and apprise ourselves with Himachal Pradesh's charming landscapes up close and personal. CHECK THAT IN OUR VIDEO: 
THE LOGISTICS OF BOOKING A TOUR
The decision to get onboard with a group for our first trek was taken in the last minutes before the departure. The package we booked included transfers, food, accommodation, and a walk through the 14-kilometer walking trail. It also included a DJ night and a short visit to Kasol – the land of hash!
After weighing all the pros and cons, we eventually decided to go with a group called 'Travel Syrup', which had deftly organized a 2N/3D Kheerganga trek Himachal Pradesh. The coordinators were friendly and they did manage to answer all our queries dexterously. Here I must add, the tour organizers were quite prompt and attentive to needs of all the group members, which overall made for a happily successful trek! 🙂 Cheers!
THE JOURNEY
On a rather pleasant note, let's regale the tales from our first trekking experience. 😉
As we sat in the semi sleeper Volvo, reserved for our group, it was about twilight, and we didn't even know at what time we dozed off. When we woke up the next morning, we were near our hotel, certainly quite high on excitement quotient.
As we reached, I started examining the floors, ceilings, and reception of the hotel, pretty sure about the fact that I had been there before. 'Mashoo Resort' – Yes, I had stayed there with my parents during New Years 2013 and I even recalled the amazing valley view from the terrace of the hotel. It was a long drive so we quickly had our meals and after introductions with some like-minded travelers, we went to our rooms.
The gorgeous terrace at the hotel – terrace with a view!
After a short nap, we got dressed up to visit the hippie destination 'Kasol' that is famous for Marijuana. Travel Syrup had organized our visit in their 'Innova' and we with 7 other members went for an evening out. It was a 45 minutes car drive from the hotel, and once we reached there, we were left awestruck by the unabashed bohemianism of the quaint township.
Once we got back, a DJ party at the terrace of the hotel awaited us. We spent some fun moments with the group, had drinks, shook our booties a bit, and interacted with each other. All-in-all, everything was well organized and the day went by quite well.
Early next morning, we got up to sunlight glinting through windows of our room and the tender chirping of birds. We had our breakfast with the other group members and quickly got ready for the Kheerganga trek.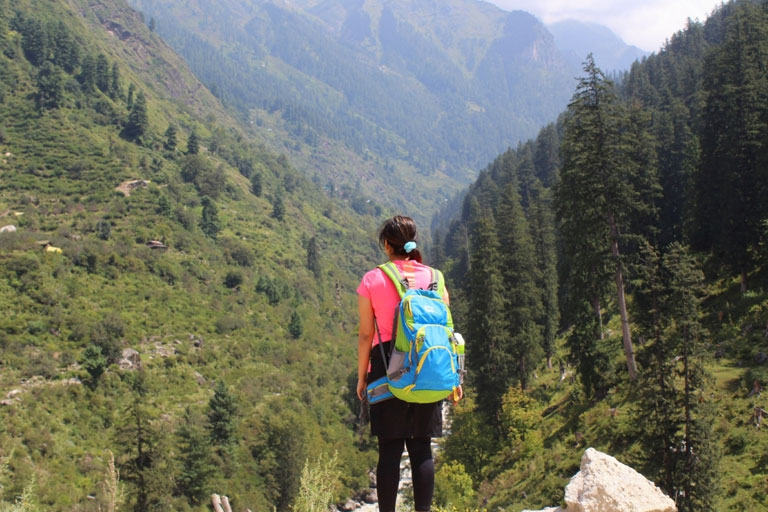 Ready for Trek – Hell! I am super excited! 🙂
HOW TO REACH KHEERGANGA TREK'S STARTING POINT?
After grabbing our backpacks, water bottles and lots of sugary food items, we hopped into our bus, which dropped us at Manikaran.
Everything about a trip to Kheerganga is an adventure unto itself. Even reaching the base Barshaini will most likely involve a journey with multiple modes of transport, meeting all kinds of people and fun-filled rides through the Himalayan countryside.
Now if this doesn't excite you, what will? Well, we were taken to Barshaini in a Sumo, and I must say the way was extremely coarse and bumpy. It wasn't cold at that time and we felt comfortable in a half-sleeve T-shirt and lowers.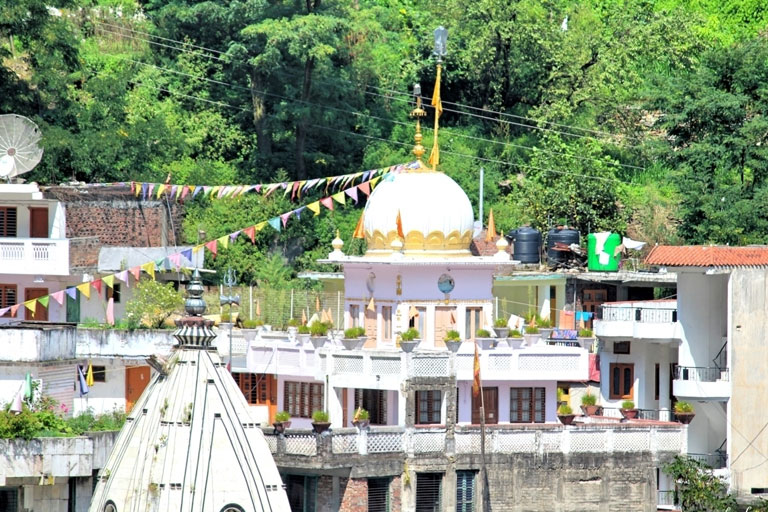 Bus dropped us at Manikaran – rest of the journey was done in a SUMO
Be prepared for a bumpy ride till Barshani
The walk through the desolate hinterland is long but easy. It is full of uphill hikes, jagged forest trails, and so much more. Within 3-4kms of a trek from Barshaini, there's a beautiful village called Kalga wherein one can relax and enjoy scrumptious food at cheap price. After a few more kilometers is another little, rustic village called Rudra Naag, which is marked for its temple and waterfall.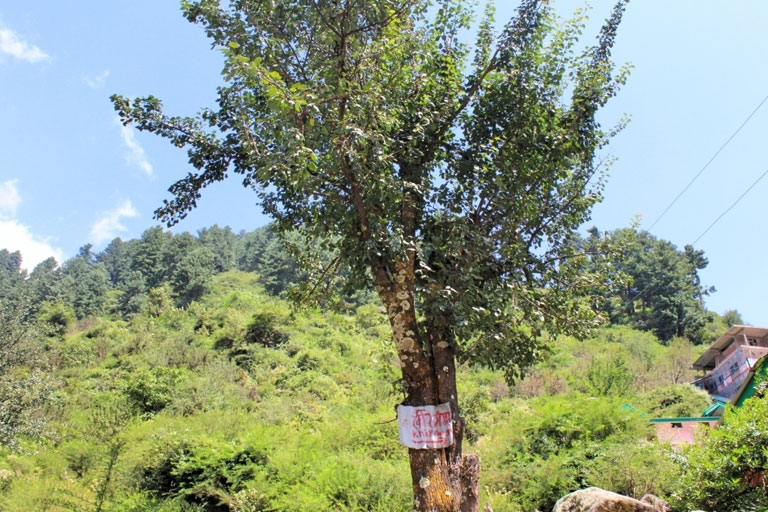 Starting point – gorgeous views abound
You are not far from creature comforts when trekking to Kheerganga
The stunning landscape urges me to trek more!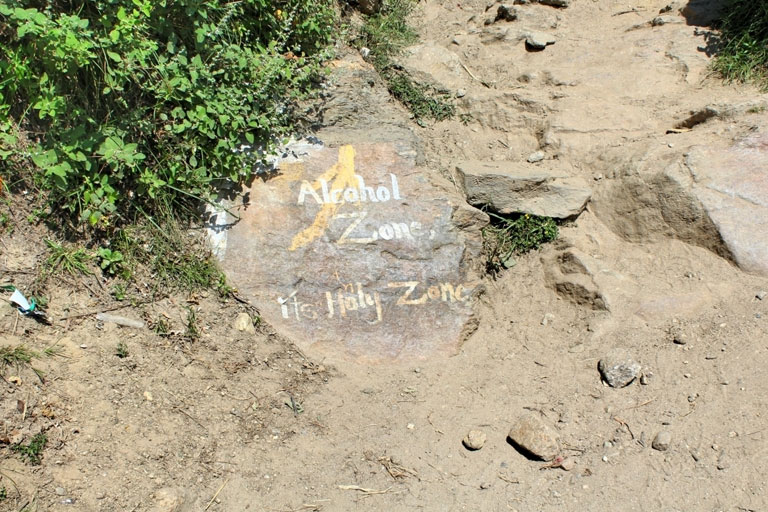 The Himalayas have its own zones for drinking and boozing 🙂
Mind having an adobe right here – I don't! 🙂
And finally the Rudra Naag Temple.. Such a respite! Om Namah Shivaay!
Hiking, climbing, and more waterfalls – this trek is super entertaining!
The moment we saw Rudra Naag temple, we were ecstatic as the exquisite waterfalls made us feel like we were in an altogether different world. We took a break at that very point and found a little corner to enjoy some peacetime and sensational panoramas from the valley. After 20 minutes, we got up and started our trek again.
After trekking past plenty of rivers and rolling hills, we were really devoid of energy. Moreover, it kept getting difficult as the waterfalls made the narrow paths extremely slippery. The slopes kept getting steeper and the roads got blocked by huge rocks, leaving no place for us to walk.
Please be nice to the mountains. They keep us alive.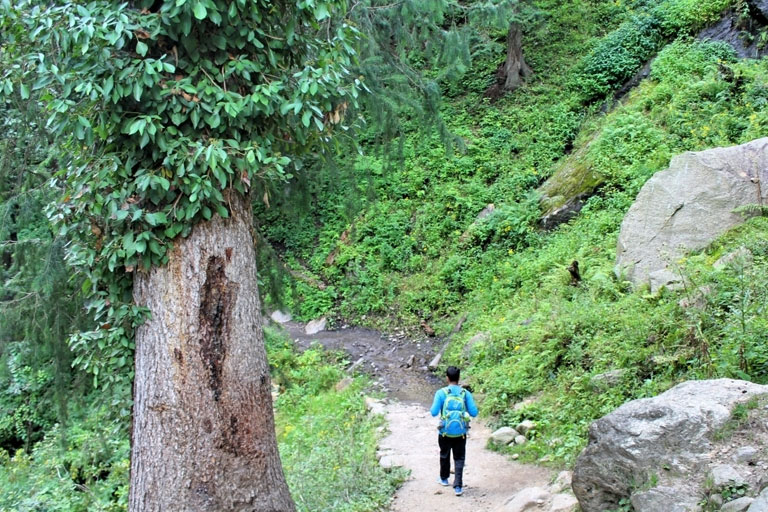 It involved lots of hiking and walking through gorgeous backdrops
Can never say 'NO' to this bowl of happiness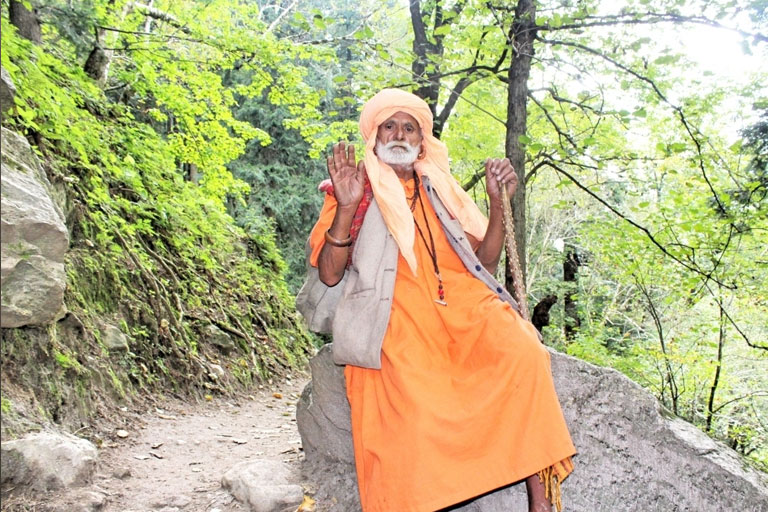 You're sure going to meet many saints during this trek! One photograph, please? Oh, Sure!
We reached Kheerganga after ascending through thick pine forests, a meadow, whose claim to fame is meditation done by Lord Shiva for 3000 years. It is a temporary village which remains operating for a period of 6 months, and during the remaining 6 months (off-season), it gets clad in snow and thus the locals shift their base to villages on lower altitudes.
If you stay over at a local home or in tented accommodation, of course, you'll try some hilly gastronomic specialties. And as you trek further and reach the top, you'll come across stalls selling familiar junk food including Maggie, biscuits, tea, coffee and more. Sometimes, these simple (and rather unhealthy) indulgences can be wonderfully satisfying.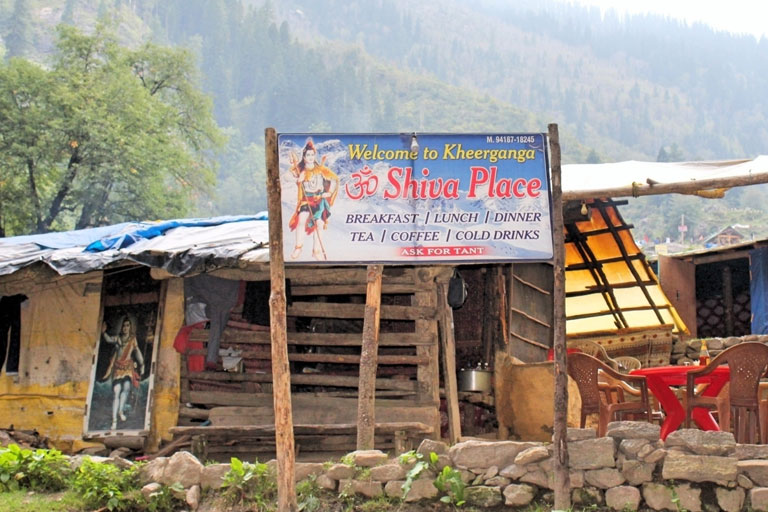 Trek accomplished within 4 hours! I'm all smiling 🙂
FIRST GLANCE OF KHEERGANGA
Once you reach the summit and are finally one with Kheerganga, the magnificence of the panorama beyond will render you speechless.
So we walk towards the dramatic landscape of Kheerganga, the sun has almost gone, and I get hopeful that it doesn't appear again to take away the much-needed respite.
What I don't realize is that I haven't packed any woolens and it gets really cold when the sun goes down. 🙂
You are welcome to Kheerganga's expansive grassland where shepherds are tending to their cows. It looks like something straight out of a storybook just the ones we read during our school days. I feel really cold so I seek accommodation in my tent quickly. Thankfully, both Harsh and I could manage to reach to the top within 3:30 hours timeframe 🙂
Though the eyes are shutting, I clutch the tea cup with frail hands and with a calm demeanor, once again look at the gorgeous panoramas that Kheerganga behold. Solitude, greenery and the soft chirps of woodland creatures all around. Most visitors develop a new bond with Mother Nature here; the pull of the wilderness is truly strong at Kheerganga!
Stunning views welcome you the valley!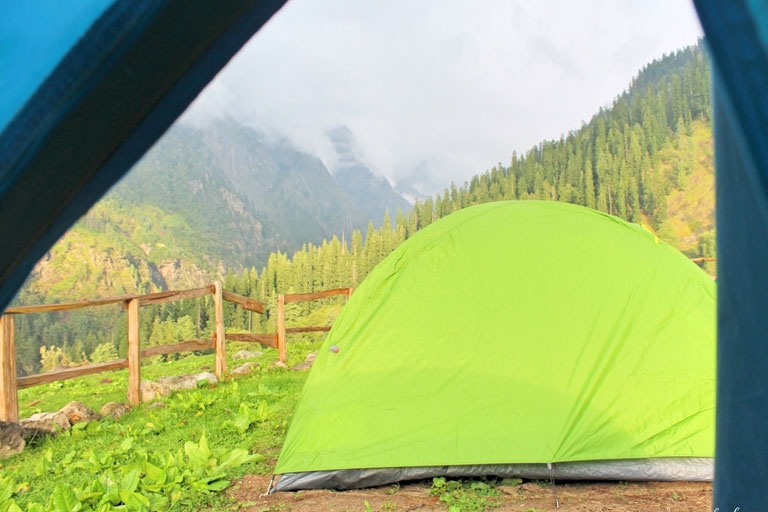 Didn't take me long to get comfortable with my accommodation 😀
Meet my new friend here; say hello to this munchkin :*
HIKE TO THE HOT NATURAL SPRING
I was almost drained out of energy at this point, feeling a bit feverish, but the urge to go further up to check out Hot Springs was real strong.
And after a session of 'Yes' and 'No', I finally picked my costume and got all charged up to take a dip in the hot, holy water spring (the prime attraction of Kheerganga). As it turns out, this is one of the most pleasurable parts of all.
Ever imagined bathing in the open, atop a mountain is warm, cozy pond? Well, that's what you get to enjoy if you make it to the top. So anyone who gets tired after the hard trek – think about bathing in the hot spring; it's an instant motivator! It remains occupied most of the time and remains shut between 8 PM and 6 AM.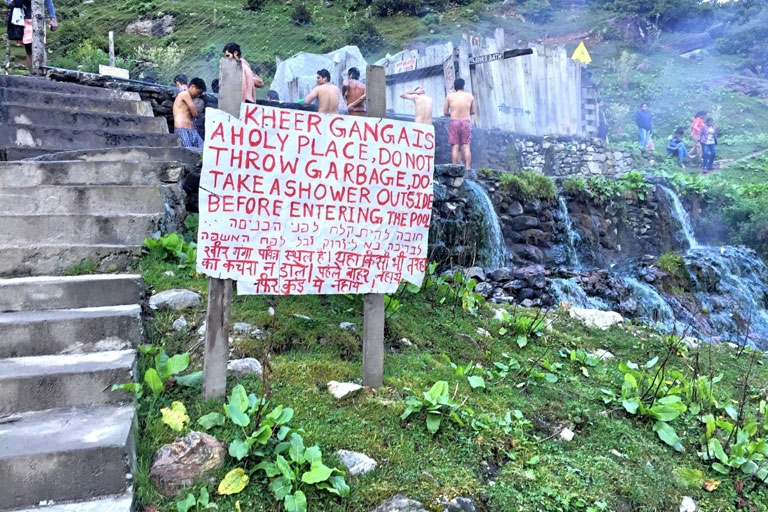 Holy water spring – The prime attraction of Kheerganga
The best time perhaps for a dip in the hot spring is the early morning hours. 
PS– Don't forget to take your costumes and towels along with you as there are two separate pools for men and women. Isn't that awesome? Well, it was an experience like no other – bathing in hot spring in open and that too at an altitude of almost 2,960m. Ah! Himachal – You beauty!
CAFES IN KHEERGANGA
After coming back from our royal bath, we spent some time in the local cafes set amidst the wilderness. Nature can surprise you in more than one ways! There was Lonely Planet's tented accommodation available as well, which ascertained the fact that they are suckers of everything surreal and gorgeous.
While we were peeking through the cafes, one of them really draw my attention and I quickly went inside to get seated on a lovely hammock. That more than made up for the pain in my legs!
Rather amusing to find 'Lonely Planet' at such a remote location
For us, Travel Syrup had already made arrangements for the Kheerganga trek Himachal Pradesh, which were just about good. There were English toilets in the wilderness; we were served English breakfast (eggs and bread) with mouthwatering chai; evening snacks were tasty; the bonfire party was just what was needed. To us, at
There were English toilets in the wilderness; we were served English breakfast (eggs and bread) with mouthwatering chai; evening snacks were tasty; the bonfire party was just what was needed. To us, at Wanderers Hub, it was just perfect!
Our group at the camp base – a lot of fun was had!
Note: There are two ways to trek up the hill (Kheerganga) and come down, of which one we have already mentioned. The other one, which we took to come down to Barshani, was a bit longer one, but for me, it was a better one. With the lesser crowd, more shade, though more challenges, the second way we took was much easier to descent down.
We could hear the roar of Parvati River echoing in the forest while we made our way down through the Parvati Valley. On this way, we met a few Israelis – some going uphill and some coming down. The return was indeed quick.
Looks cute – but cross it carefully!