WHAT TO EXPECT ON PHI PHI ISLAND PHUKET TOUR?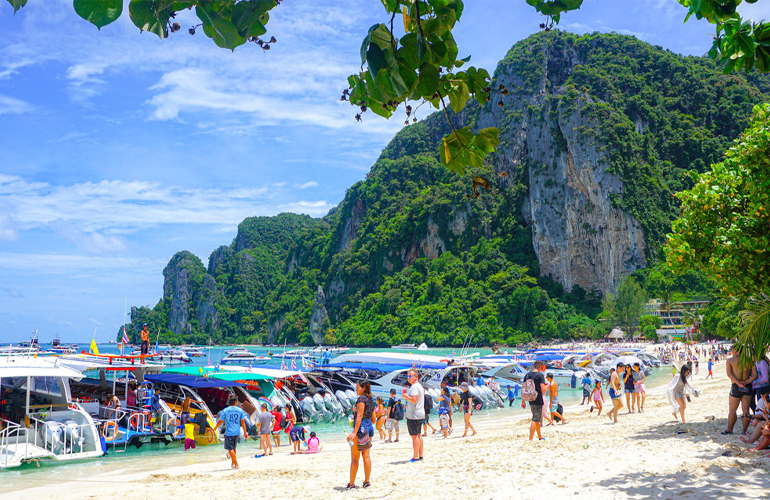 "It was finally time for some beach bliss after our stay at the luxury resorts – Swissotel Patong and Novotel Phuket. We were ready for an action-packed adventure after having booked a last-minute Phi-Phi island tour with the help of a local Thai friend."
With marvelous, curvy beaches, and mesmerizing tropical interiors, Phi Phi Don and Phi Phi Leh – together known as Ko Phi Phi – are one of the most attractive destinations among tourists in Phuket, Thailand. The trip that we undertook to Phi Phi island Phuket was a bit hit and miss for us. The awe-inspiring beauty that Phi Phi island possesses is undoubtedly a sight to behold. But the over-crowded tourist situation even during the low-season time definitely deterred our zest a bit.
Tip: Kindly lower your expectations! Now I don't want to be a downer but trust me – with the pack of tourists doing the same itinerary as yours – you cannot expect rosy moments of bliss at the beaches. The hoards of people cannot be avoided at any cost and that makes Phi Phi tour a bit disappointing.
HOW MUCH DOES PHI PHI ISLAND PHUKET TOUR COST?
Phi Phi Island group tour can cost you anything between 1500 THB to 2200 THB. It totally depends on your bargaining skills. We were lucky to have booked it for 950 THB with the help of an amazing localite that we befriended there. You can find a lot of tour operators selling Phi Phi Island tours in local Patong market. In fact they are at every nook and corner of Patong shopping street. So, you can look through their pamphlets and decide if you want to do the tour or not.
PHI PHI ISLAND TRAVEL AND TOURS – WHAT TO EXPECT
Containing our excitement was bit of a struggle when it was time to set out for the excursion. The Phi Phi island tours are typically group tours that usually start at 10 AM. You can opt for private Phi Phi tours as well but they are pricier when compared to the group tours.
We were picked up from our hotel in Karon – Novotel at around 9 AM and it took about 45 minutes to reach the pier. Frankly, the pick-up process was a tad too boring. Nonetheless, once we reached the pier, we were back to our peppy selves, all set to hop aboard this Phi Phi Island tour.
Our group leader was as interesting and entertaining as the trip appeared to be. The entire trip was well planned, 40-45 minutes were allocated to every stop; I know that's awfully less. The weather was quite lovely though; apart from the high tides, everything else was totally in our favor. A pleasant sunny day with a crystal clear sky ameliorated our island hopping experience. I was looking forward to Phi Phi island snorkeling activity the most.
PHI PHI ISLAND PHUKET: FIRST IMPRESSIONS
One can't help but marvel at the surreal aqua waters that fuse with the pristine sands off the coast in Koh Phi Phi. This idyllic island has a magnificent picturesque location imbued with nature's glory. The dreamlike union of majestic turquoise waters, golden sands, and idyllic seascapes makes for a perfect setting of a movie or a dreamy vacay.
The island also provides an array of activities which can be performed by the adventure-seekers and the beach lovers.
It more of less seemed like a mini-version of Palawan, Philippines? We really enjoyed the sea life and beaches in El Nido and Coron a lot more than here. That also may be because Palawan isn't suffering from over-tourism yet. It is still secluded and that retains its charm.
FIRST TWO STOPS: PHI PHI LEH AND MAYA BAY
Phi Phi Leh – this area of natural beauty boasts of naturally built craggy cliffs touching the turquoise waters. The area offers silent and peaceful atmosphere as it has not been occupied by civilization. The moment we put ourselves at an ease and could absorb the beauty around, it was time for us to leave. We just TOUCHED this area, barely stayed there for 5 minutes, and moved onto the next stop. Well, that might also be because of high tidal activity in the month of August. The famous movie, The Beach, starring Leonardo DiCaprio was shot in Phi Phi Le and the location obviously gained a lot of popularity after the movie. Somehow I found it a lot over-hyped.
Another spot that left us spellbound was – Maya bay !
Maya Bay's extensive beauty explains all the popularity that it harbors. The mountains that curl around the bay just add to its charm. Sadly, it Maya Bay was shut down in 2019 for tourists so it wasn't possible to get down there.
VIKING CAVES: HISTORY, ART & NATURE
Situated at the northeastern island, Viking caves reflect ethereal beauty, paintings of boats have been beautifully carved on the inner walls of the caves and some parts are dyed with chalk. These spectacular historic drawings are believed to be the performance of pirates as they date back thousand years. This mixture of history, art, and nature's grace would definitely stimulate your curiosity to explore the place more.
It's a pity that the boat does not halt at Maya Bay and Viking Caves, both the spots are demonstrated by the guide from afar. In short, the first few hours into the Phi Phi island tour and you are still on the boat.
MONKEY BEACH – SOME FUN TIME
At the Monkey Beach, we could not stop ourselves from having some fun time with adorable monkeys there. It gave us the much needed break from all the admiring we were doing only from our speedboat till now. Its popularity attracts a lot of tourists – (sadly) the crowd made it very difficult for to take pictures here. Nonetheless, the friendly monkeys who often come down from the trees entertained us. Along with that, the powder white sand beaches and wonderful diving opportunities make it a favorite spot for many.

PHI PHI DON – LUNCH BREAK
It is a luxury in itself to be able to have lunch at a place surrounded by immense beauty all around you. Our next stop was Phi Phi Don where we had our delicious Thai lunch. It made us happy when we found out that there was a separate section for vegetarians, and that we could actually eat something. Afterwards we enjoyed some leisure time at the island.
PILEY BAY: SNORKELING TIME
This secluded region of Thai paradise is located on the eastern side of the island. We were amazed to see its scenic beauty, an attempt at describing it would be a wasted effort, it is just INEFFABLE. It accommodates surreal limestone cliffs brimmed with abundant flora around the jeweled green water and the water is luminous turquoise in its clarity. The pleasant sea makes it a favored spot for swimming and snorkeling. We totally utilized our opportunity to swim and snorkel in Thailand's crystal clear waters and explored the incredible underwater sphere.
The speedboats halt nearby Pileh cove, if you are a beginner and considering your first snorkeling experience then it's absolutely NOT your stop. This can be a great snorkeling spot for good swimmers, though.
LAST STOP: KOH KHAI NOK
It is an ideal spot for snorkeling and contemplating everything that is transpiring around you. We invested our time in snorkeling, sitting, and relaxing here. Soaking up sun while relaxing can definitely soothe your tiredness, and this is what the island did for us! We just lay down on the sand for good 30 minutes after snorkeling. Remember, there are a lot of cafes and food stalls that can be found on this island. But everything is super pricey!
GO PREPARED FOR THE PHI PHI ISLAND TOUR IN PHUKET
There are a few travel essentials that you must carry on your Phi Phi island Phuket tour. Don't forget to carry a spare set of clothing as you'll need it after the snorkeling session. Gently moisturize your skin, apply sunscreen or tan lotion before and after contact with water. Bring along sunhat, sunglasses, GoPro and a towel. If possible, take some medicines for nausea and sea sickness on this trip.
Overall Verdict: We consistently marveled at the unparalleled beauty that is dispersed all over in Phi Phi island; a sight to fall in absolute love with, to say the least! Wish, there were lesser tourists but then you cannot expect any less from the most popular Phi Phi island tour in Phuket.