HOW TO PLAN THE ULTIMATE 3 DAY TRIP TO ROVANIEMI, FINLAND?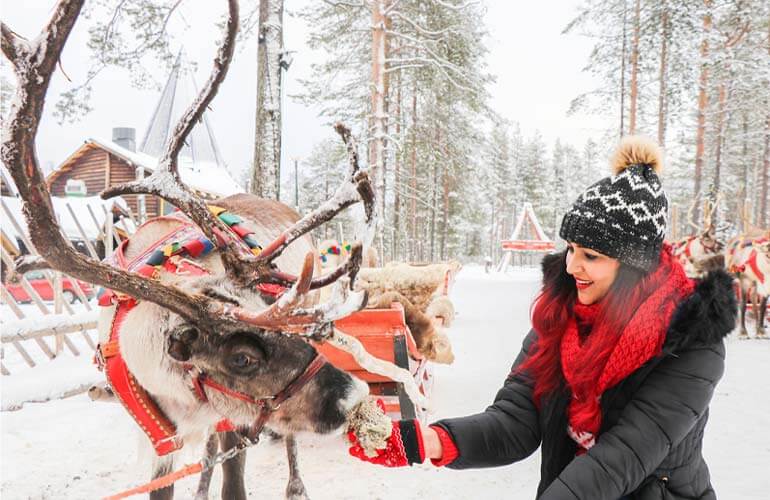 Fairytale cabin houses, glistening pine forests and blue skies as far as the eye can see – Rovaniemi is the glorious Scandinavian winter wonderland. The time is magic here.
The magical town of Rovaniemi exemplifies the spirit of Christmas cheer like nowhere else. Perched on the edge of the Arctic Circle, this quaint little town is (unsurprisingly) the official home of Santa Claus. If snow-clad merriment is your idea of a great travel experience, plan a trip to Rovaniemi, and you'll not regret it.
A FEBRUARY VACATION IN ROVANIEMI
One of the most beautiful times to visit Rovaniemi is around the onset of a New Year. But you need to go well prepared in these months. February is particularly chilly, so you should go fortified with snow gear, warm boots, thick jackets; the works.
The sole reason we could enjoy the Capital of Finnish Lapland to the hilt was because we came well-prepared. If you'll dress well for the harsh weather, you'll make the most of your time here.
You can secure some handsome hotel and flight deals to Rovaniemi on Hotwire.
ROVANIEMI FINLAND ITINERARY
DAY 1 IN ROVANIEMI, FINLAND
The most natural instinct upon reaching Rovaniemi Finland is to nap or generally relax after a fairly long flight. Once you have rested a bit, a good idea would be to explore the city center and absorb the vibe of this winter wonderland.
Getting yourself a Rovaniemi Culture Pass is a good idea. This pass gives you access to three of Rovaniemi's major cultural attractions, which you absolutely can't miss. With this pass, you'll be able to immerse yourself into the history, art, and the nature of the region. The best thing is that the pass is valid for 7 days and you can these three cultural places as many times as you want.
Here's a sneak-peek into what you'll be experiencing with Rovaniemi Culture Pass:
MUSEUM & SCIENCE CENTER ARKTIKUM
The Arktikum exhibitions introduce you to the history and culture of Lapland and the Arctic regions. You can expect to enjoy an adventure with a distinctive Finnish flavor.
To that extent, the Museum & Science Center Arktikum provides a befitting initiation of your visit to Rovaniemi. We had fun exploring this museum and it definitely helped us learn a lot about the history of Rovaniemi.
CULTURE HOUSE KORUNDI
Korundi is where you can soak up on the artistic vein of northern Europe. Between the stupendous sights of the Rovaniemi Art Museum, and the scintillating melodies at the Lapland Chamber Orchestra, all senses are coddled at Korundi. It's a great place to learn more about contemporary Finnish and Northern art.
SCIENCE CENTER PILKE
Plike is a sweet haven for nature-lovers who are passionate about the Northern forests and their future. It has a wide variety of exhibitions, each offering a different theme and experience. On the one hand, you get an insight into current forest issues.
On the other hand, you can enjoy a multitude of exciting experiences such as operating a forestry machine, exploring a bird house, singing Karaoke on an ant hill, and so much more. The Pilke is a great place for those curious folk who enjoy experimental art and activity-based sightseeing.
This day in your Rovaniemi Finland itinerary will be all about soaking in the Arctic goodness. The city center is lively and small enough to cover by foot or on a cycle.
HIGHLIGHTS OF  DAY 1 IN ROVANIEMI
Your introduction to life in Arctic region.
A taste of Nordic life and culture.
White winter experience and walk to the city centre.
Intermingling with the Finns.
DAY 2 IN ROVANIEMI, FINLAND
When you're in a wintry wonderland like Rovaniemi, it is natural to get into a snowy Christmas mood. And when the Santa Claus Village is a stone's throw away, it's time for a fun-filled Claus-y adventure. Yes, most travelers come to Rovaniemi Finland for specifically one reason : Meeting the Santa.
So, on the second day of your trip to Rovaniemi, head over to the Santa Claus Village, which is no more than 8 kilometers away from the city. You could either take a bus (Line number 8) which runs between the Railway Station and the Santa Claus Village or simply sign up for a private tour with Visit Rovaniemi like we did.
It was a lot of fun to interact with our friendly guide, Annukka, who showed us the Santa Claus Village Rovaniemi and told us so much about the life in the North. We were picked up at 9 AM in the morning in a plush Santa's Mercedes which set the start of our trip right for us. It set the start of our trip right and we waited with a glee in our eyes to see what lay ahead.
You're probably wondering what the Santa Claus Village is all about. The simplest explanation is that it's a Santa Claus themed amusement park. But as someone who has been there, I can safely claim that this very special location – 66° 33′ 39′′ – is truly a magical place. The official home of Santa Claus, this well-frequented Lapland attraction has been visited by tourists from all over the world since the 1950s.
There are several must-see spots in Santa Claus Village Rovaniemi, and here's the detail:
MEET THE GOODWILL AMBASSADOR, SANTA CLAUS
The Santa Claus Village Rovaniemi is the one place on Earth where you can meet Santa Claus at the Arctic Circle on any day of the year. The very first stop of the tour will be Santa Claus's Office. Yes, you'll meet Father Christmas and take my word, you'll be swept up in the magic of the big man.
We reached early at the opening hours to avoid the long queues and it definitely worked well in our favor. Our excitement knew no bounds when it was time for us to spend a few personal moments with our beloved Santa. He spends time at his office to spread the message of peace and love across the world.
A few pictures and a short conversation later we were taken to the elves workshop where we could print our pictures taken with Santa Claus. One HD picture with Santa Claus will cost you 32 Euros. You can also digitally download your photos and videos with Santa Claus, here.
Note: You are not allowed to take personal pictures from your camera or mobile with Santa Claus.
CROSS THE ARCTIC CIRCLE LINE
Fun fact – the Arctic Circle (as per it's position in 1865), passes through the Santa Claus Village and is marked by a white line. This makes for an exciting photo-op, marking visitors' official entry into the Arctic region.
So, after your rendezvous with Santa Claus, come to the Arctic line and take as many pictures as you want. Don't forget to collect your certificate as you are an arctic crosser now!
SEND GREETINGS TO LOVED ONES FROM SANTA'S POST OFFICE
You can also visit Santa's main post office, which is in fact, an official center for receiving mail sent to Santa. It receives over half a million letters addressed to Santa annually.
The best part is, all cards or letters sent from this fantastical-seeming post office are stamped with a special Arctic Circle postmark. Isn't that fascinating? Also, you can see a wide selection of different types of stamps (Finnish and otherwise) and intriguing philatelic goodies.
SLEIGH IT LIKE SANTA
Next Stop: Santa's Reindeer. The Village is home to the Santa Claus Reindeer Park, where you enjoy watching those majestic horned creatures and their many antics. Outside of the park, you might happen to sight a reindeer even in Rovaniemi since the region has more of the animal than humans. But keep in mind that it is only in the Santa Claus Village that you may feed the reindeer and observe them at close call.
Just hop onto the reindeer sleigh and get ready to experience the wilderness on frosty trails. Our reindeer, Vieli, was gentle, and he went about a route that he was well aware of. We had an exhilarating time going through the arctic route and taking pictures with our new furry friend.
A ROMANTIC LUNCH AT THE SNOWMAN'S WORLD
It's now time to take a break from all the fun activities and experience fine dining in the only ice restaurant located on the Arctic Circle. For an authentic experience of icy merriment, make sure to visit Snowman World Ice Restaurant & Ice Bar. This frozen world of snow and ice offers fresh winter breeze, lots of flaky snow, glittering ice, and so much else. You can meet the friendly Snowman here, and admire the strikingly beautiful ice sculptures. Settle down and indulge in a quality Lappish gastronomy. Everything here is made of ice and snow.
Later, don't forget to venture into the winter zone and enjoy a host of snow fun activities like snow tubing and ice skating. It's fun so don't forget to carry your cameras!
Note: Lunch experience at the Snowman's World Rovaniemi can be booked for 49 Euros per person.
HIGHLIGHTS OF YOUR DAY 2 IN ROVANIEMI
Making my childhood dream of meeting Santa, true.
Wide-eyed with wonder, crossing the Arctic Circle.
Riding the reindeer on a sleigh – an exhilarating way of enjoying the snow.
Indulging in a host of snow activities and lunching at the Snowman's World.
Sending special Arctic stamped postcards to our loved ones from Santa's Post Office.
DAY 3 IN ROVANIEMI, FINLAND
It would be foolhardy to not watch the Northern Lights when in the Arctic region. One option is to go to North of Lapland for the sighting, like we did. But if you don't want to travel that far, you can certainly book yourself on a Northern Lights tour on the final evening of your stay in Rovaniemi Finland.
In the daytime, you can simply walk around Rovaniemi and enjoy the city sights, or even visit the local church. In the afternoon, you can sign-up for Ice Floating Activity with Safartica.
Ice Floating Acitivity With SAFARTICA
This exclusive frozen adventure entails packing on a high-quality protection suit and floating in an ice hole between ice blocks. You would think that this is the kind of adventure that could chill you to the bone, but that's not what happens. Well-insulated neoprene suit (survival suit) allows you to float in icy waters and enjoy the gentle lapping of your ice-prone body.
We decided to do this ice floating tour with Safartica and it was so worth it. Our tour guide, Rachel, drove us 20 minutes away from the Rovaniemi centre, to a secluded corner of the city. There she took us inside a cottage that was situated next to an iced lake. Cherry on the top – It was snowing. Inside the cottage, we were instructed as how to wear the survival suit and how exactly to float in the frozen lake.
We got a lot of time to be there in the water and admire the stunning landscape around. And once we were done with the activity, we went inside a Teepee where Rachel made a fire and we enjoyed hot juice and marshmallows. It was a relaxing afternoon, well spent, indulging in an activity like no other.
CHASE THE NORTHERN LIGHTS
If you follow this fun-filled day with Rovaniemi's spectacular astral show in the evening – you'll have done it all. This spellbinding display, based on the amazing Aurora Borealis aka Northern Lights phenomenon, can witnessed from around mid-August to early April.
HIGHLIGHTS OF YOUR DAY 3 IN ROVANIEMI
Sipping hot juice and roasting marshmallows over a fire in a cozy teepee.
Picturing cottony pine trees, red and yellow huts, as well as the icy lakes.
Swimming in a frozen lake with a backdrop worth a million dollar.
WANDERERS HUB'S SUGGESTIONS
If you're on a longer trip and wondering what else you may do in the area, here are some suggestions:
Winter intertwines magic in Rovaniemi, Finland. One by one, we ticked off all our bucket list boxes – tête-à-tête with Father Christmas, a white winter, chasing the Northern Lights and dipping in an icy lake. I'm sure our first visit to Rovaniemi is definitely not going to be our last!
[stextbox id='info' bgcolor='ffffd9′ bgcolorto='ffffbf']
PLANNING YOUR ROVANIEMI TRIP (ESSENTIALS)
GETTING THERE:
Finnair runs direct flights from New Delhi to Helsinki four times a week, and the frequency is going to increase, come Summer time. It'll operate 7 times a week. You could fly directly to Rovaniemi from Helsinki (flight time – 1 Hour, 15 minutes), and upon reaching Rovaniemi, Finland, opt for a shuttle service from the airport.
There's an alternate option for travelers who'd not like to fly. There is a direct train connectivity from Helsinki to Rovaniemi and the journey takes about 8 hours 22 minutes. You can also opt for bus transfers and book your tickets at Matkahuolto.
Visa: Indians need Schengen visa to enter Finland. Visa processing takes about 14 days, so apply accordingly.
STAY IN ROVANIEMI, LAPLAND
There are some magical resorts and glass cabin options for accommodation available in Rovaniemi. If you wish to splurge on luxury hotels, we'd recommend staying in Hotel Santa Claus or Arctic Light Hotel. But if you want to make the most of your time in Rovaniemi, better book an Airbnb and save some money to spend on some activities afterward.
We stayed in an Airbnb located in the centre and I believe, it was the best decision of our lives. The Airbnb was cozy and spacious. We loved coming back to our temporary nest after the whole day of exploration, and cooking ourselves some vegetable curries, simply to reflect on the entire day, and plan our next day's itinerary. Book well – even in advance – especially if you are traveling to Rovaniemi during the peak winter time.