THIS UNIQUE ICE STUPA IN LADAKH IS SOMETHING EVERYONE NEEDS TO SEE
Some places, some people, and some stories can hold you in absolute awe! I'm about to share one such story that left us speechless during our visit to the Ladakh region in April this year. On the 2nd day of our visit, we had planned to take it a little slow to acclimatize, while still checking out some local attractions! Meanwhile, our friendly host at the Silver Cloud Hotel had understood by then that we were on a lookout for off-beat sights in Leh Ladakh. Stanzin (our host and a friend now) smiled mysteriously as he told us that we should do a day trip to see the popular Ice Stupa in Ladakh's Shara village!
ICE STUPA? WE WERE INTRIGUED INDEED! WE FINISHED OUR BREAKFAST EARLY AND WERE INFORMED THAT LOBZANG, OUR DRIVER-CUM-GUIDE, WAS WAITING AT THE GATE FOR US.
Lobzang greeted us with a Julley and his trademark crinkly-eyed smile. His smile was infectious, and when we saw our ride, we smiled back broader than expected! Lobzang was standing in style next to a really macho-looking Mahindra XUV! Now, this sturdy vehicle is the workhorse that survives the difficult terrain that is typical in Ladakh! We were as excited as little children out on an adventure to see the Ice Stupa in Ladakh!
We started up for our first stop, Hemis monastery, and as expected the route to the monastery as well as the monastery itself was breathtaking. However, this particular story is about the journey we embarked upon after having seen the Hemis Monastery.
DRIVE TO THE ICE STUPA IN SHARA VILLAGE
The road till then had been fairly straight but as we progressed, we could see that there seemed to be no habitation for as far as we could see. The land was stark and barren and somehow held us spellbound. And then, Lobzang left the main road and went on to a dirt track that was actually full of boulders! Even the big, Macho, Mahindra XUV was bobbing about like a ship on high seas!
It was unbelievable how our experienced driver was negotiating this boulder filled road! At times, we felt we would have to get down and walk, but Lobzang managed to drive on for about 20 km till the road got un-motorable. We then got down and walked for around 20 minutes when… suddenly before us loomed this gigantic Ice cone or stupa that looked like a part of the Antarctic had just been air-lifted and dropped down on the village of Shara! We could not believe our eyes!
A MAN-MADE ICE STUPA IN LEH LADAKH
What was this thing? Who made it? And why? So many questions popped up in our heads as we stepped out of the XUV to gawk at this enormous ice structure! We were lucky to run into Doma Dorji and his friends. They told us that they had worked hard for 4 long winter months to create this stupa which was actually a project at water conservation! "Really? How?" we asked.
THE ECO-FRIENDLY WATER CONSERVATION PROJECT
THEY TOLD US HOW THEY STARTED WORKING IN NOVEMBER AND COMPLETED THIS PROJECT IN MARCH.
They collected thorny branches of a local bush called buckthorn and also used other materials to slowly create a pile. Under this pile ran an underground pipe that carried water from the mountains and sprayed it from the top to bottom. The water was sprayed at night when temperatures were at -30 degrees or so. This meant that the spray immediately froze and developed icicles around the bushes. Over a period of 4 months, this process created the largest Ice Stupa in Ladakh for 2018-19 with a height of 117 feet! This made them the proud winners of a prize of 5 Lakh Rupees!
The Ice Stupa, because of its geometrical structure will melt slowly to supply water to the village right till the months of June when the region is hit by a severe crisis of water.
Such an amazing competition this was – not only did it include and motivate the villagers to create amazing structures – it helped in solving the water crisis in an Eco-friendly way!
SONAM WANGCHUK'S ICE CAFE IN LADAKH
We were both inspired and amazed as we heard the story. We even braved slowly creeping into the interiors of the Stupa which was cave-like and very slippery! On further inquiry, we also found that the idea was actually propagated by Ladakhi engineer and innovator, Sonam Wangchuk. The man who had inspired the character of Phunsuk Wangdoo played by Aamir Khan in 3 Idiots. Amazing!
Naturally, all this amazement made us a bit hungry and lo and behold, we found a little tent pitched right next to the Stupa. It was like a make-shift café serving hot tea and even maggi! Harsh and I had a very special tea party there – special cause we were having it in a make-shift café at 11,000 feet above sea level – certainly not your everyday happening!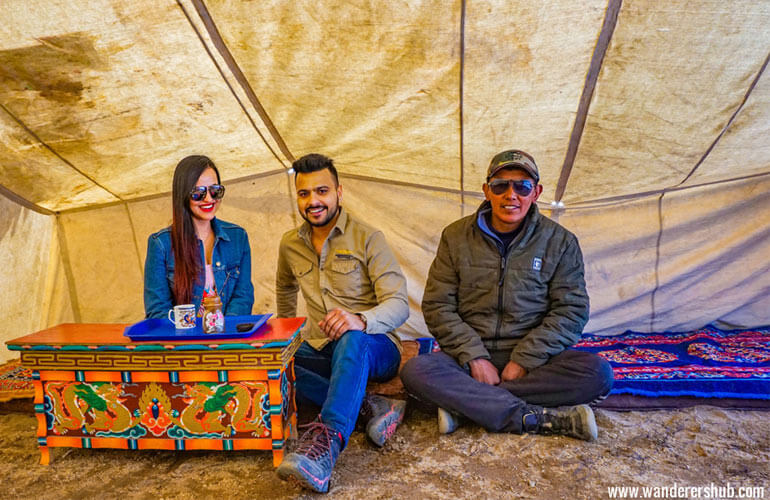 We left the place with a sense of having seen something completely out of the ordinary. And also with Sonam Wangchuk's words that were repeated to us by the locals – "If the people in cities live simply (without wasting water), people in the hills can simply live!" We mulled over this profound thought as we drove back through the barren desert like landscape and decided to spread this story so that we all strive to live a little more simply!
AVOID ALTITUDE SICKNESS WHEN VISITING ICE STUPA IN LADAKH
To avoid getting your Leh Ladakh road trip ruined by Altitude Sickness, follow the tips below.
PLAN AHEAD
Consult a doctor and take Diamox 24 hours before you land in Leh. While in Leh, you can try the garlic soup that is known to be as effective as Diamox.
TAKE IT EASY
Keep your movements easy and relaxed and stay put in Leh for the first day at least. Do not head to higher altitudes. The basic rule is to sleep low and then climb higher. In fact, I'd suggest to be in the Leh region for at least 2 days before heading to see Ice Stupas, which are obviously found on higher altitudes. Altitude sickness is a real thing and it needs to be taken seriously.
STAY HYDRATED – BUT DON'T OVERDO IT!
Well, make sure you carry a small water bottle with you when visiting the Ice Stupa. You'll have to hike a bit so it is best to keep sipping on some water from time to time.