A ROMANTIC SOJOURN IN NUSA LEMBONGAN ISLAND BALI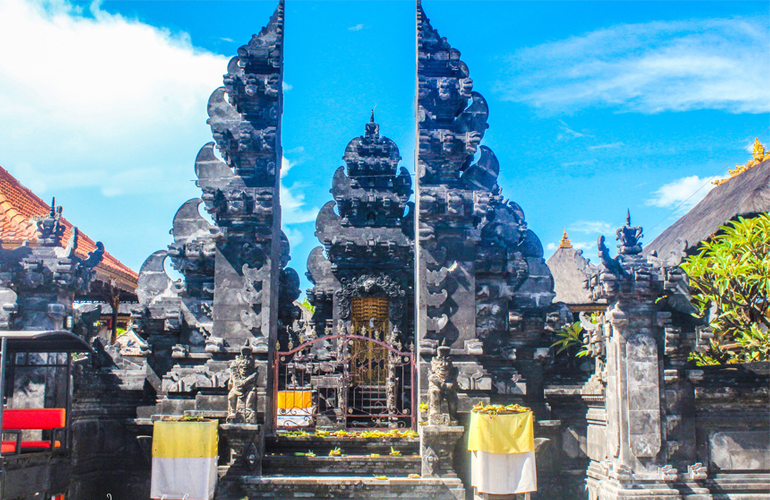 If Plan A Fails, Remember that You Have 25 Letters L eft!
****
Once we were confirmed by our hotel staff that it wasn't easy to cover Gili Islands within 2 days (though possible, not advisable), we were majorly disappointed.
That was when one of the staff members recommended us to visit Nusa Lembongan Island Bali, and oh boy, how did we never think about it in the first place.
NUSA LEMBONGAN ISLAND BALI: OUR JOURNEY
It took us barely 10 minutes to book our trip to Nusa Lembongan (after browsing a bit over the internet) and sharp at 8 A.M the next morning we were there at the Sanur Shore to catch our speed boat which would take us to the other side of Bali.
You can Read our 2 Weeks Bali Itinerary
We quickly took seats on the speed boat and within 5 minutes the captain accelerated the speed. It was literally banging against the water currents and we felt that we were in for a roller-coaster ride of a lifetime.
I see Harsh making his way to the top deck through the stairs on the outside of the cruise, and it looks a bit dodgy to me. I don't put my opinion about it and remain busy in capturing him making his way up to the deck on my Snapchat – captioned, "My bunny manages to reach to the top."
So when I don't hear from him for the next 5 minutes, even I decide to hop over to the top too! **Why should I be left behind** So with all the eyes (of other visitors) glued onto me, I rather climb the staircase with the help of a cruise member who reassures me in a meek voice, "Don't worry, it's safe."
The turquoise blue waters were gushing at us at such an enticing thrust. We thoroughly enjoyed being on the top of the cruise just to get a bit drenched and feel the wildest pitter patter onto ourselves.
YOU ARE PROMISED MESSY HAIR AND TANS HERE AND THERE, BUT ALL SEEMS SO WORTH IT!
Now just imagine being marooned on a big island for a day where you do not see much civilization. Hey, but there's Wi-Fi, surprisingly, or, we should not underestimate Bali.
For us, everything worked just fine. From the weather to the breeze in our face to those cotton candy clouds – everything was just perfect. No wonder we love beach holidays so much.
Nusa Lembongan will definitely inspire you for the next tropical island vacation with family.
The moment we reached ashore, a member of the company with whom we had booked our Lembongan Island trip, greeted us. We took our time to take in the gorgeousness of the landscape and this was a different Bali, for sure!
HOW THE DAY UNFURLS AT NUSA LEMBONGAN
1. RIDE IN A PICKUP TRUCK
Sitting on the pickup truck, I felt like I was on a movie set of 18th century wherein I was playing a drug peddler, going to meet some drug mafia on a secluded island.
Adding to the character were the roads which weren't flat on the Nusa Lembongan island in Bali.
This is a NO car Island. So one has to use pickup trucks or scooters for commutation. It took the truck about 20 minutes to get us to the Mushroom Bay, where Mangrove tour awaited.
2. THE 'DREAMY' MANGROVE TOUR
We hadn't set any expectations about the tour and that is what had set the tone of the entire Lembongan Island tour right!
We both glided quietly over the clean still waters between mangrove trees. Swiftly the local guide rowed the wooden canoe, while I couldn't stop envisioning the most romantic scene from  Nick Cassavetes 'The Notebook'.
Our magical journey brought us a little closer to nature.
Blue water crashing onto the sand, the natural little alleys amidst the mangroves, watching the fishes dancing below us – couldn't have been better!
3. GO SNORKELING
Lose yourself in the wonderful, crystal clear waters of Nusa Lembongan's Bay. Coming face to face with a myriad number of colorful fishes will leave you speechless.
It will be an amazing experience. You wouldn't crave for anything other than lazing on the white beach for some time!
Various daily trips for snorkeling and diving make it easier for you to enjoy the water activities, without having to worry about slots!
4. ENJOY A SCRUMPTIOUS MEAL BY THE BEACHSIDE
Once we were done snorkeling, we came back to the point from where we had started to have our lunch. Our veggie meal was prepared on special request. The sandwiches and beans were actually delectable.
Made from region's fresh produce with tomatoes, cucumbers, and herbs from the garden, those sandwiches were exceptionally filling.
What added to the overall magic of the beach-side lunch at the shack was the sudden rainfall. It was a sight to behold and I just couldn't do anything but soak in the beauty.
5. HIKE TO THE PANORAMA POINT
A perfect photo stop, Panorama Point offers a charming view of orange color houses perched atop the hills.
It's just ideal for stopping by and taking a few pictures while admiring the stunning views. You just need to stay on the main road from Jungut Batu. Then move up a steep hill to get to the Panorama Point.
6. CAPTURE DRAMATIC SWASH AT DEVIL'S TEARS
Devil's Tears is one place that stood out on Lembongan Island for both of us. Well, you might think that the name sounds intimidating, but wait until you discover the site for yourself!
Just don't let this bay fool you with its false sense of composure as it would lose its serenity within seconds. Despite being majestic, the scenery is quite menacing. We were awestruck on watching the daunting showcase of Mother Nature's violent streak; though stunningly beautiful.
The merciless, thundering sound created each time the giant waves hit the narrow limestone cliff gave us all sorts of goosebumps.
7. VISIT THE DREAM BEACH
Witness the fierce force of Indian Ocean here at the Dream Beach in Nusa Lembongan. This beach is a striking narrow strip of white sand and is mostly renowned for big tides.
Harsh couldn't resist the temptation of turquoise blue waters, and without a second thought, he plunged into the pool.
Ah, the big waves! No doubt, it is one of the most favorite hangout spots for the European backpackers!
You can read this Nusa Lembongan and Nusa Ceningan Guide to plan your day trip.
ATM TIPS ON NUSA LEMBONGAN ISLAND
Visit Nusa Lembongan Island with enough money already as getting cash can be bit of a problem. There are around 4 ATM's on this island which are at Lemongrass Restaurant, Hai Tai Beach Resort, Mushroom Beach, and Bunga Bungalow. I've heard some really bad Google reviews about the ATM machine at the Mushroom Beach so better carry cash to Lembongan than rely on these machines.
TIPS FOR PLANNING NUSA LEMBONGAN ISLAND BALI
♣  The best time to plan a visit to Nusa Lembongan Island is between the months of May and September. You should avoid to visit during January & February as the island receives rain during these months.
♣  Nusa Lembongan is an island paradise where neither hawkers nor traffic dampens the gorgeous imagery. You'll be lured by pure aqua blue waters and the slower pace of life – two things you can never get enough of!
Visiting Nusa Lembongan Island Bali is pretty easy and it is just 30 minutes ferry ride away from Sanur.
♣  It is an altogether different side of Bali at the same time dramatically contrasting to its sister island. You can rent a scooter for dirt cheap here and go around exploring the island yourself.
♣ You can get accommodation in a thatched roof beach hut in case you plan on staying for a week or so. The best thing is that you'll be able to book it at around $40 | 2600INR per night.
♣  The authenticity of the island reflects in its people and the community as they indulge in farming, cutting up coconut trees and collecting seaweed to fend for themselves.
Everything moves at a languid pace in Nusa Lembongan Island Bali. There's no worry and no rush in this part of the world. Locals just care about making the ends meet and life is extremely simple here.
If you wish to book a one-day excursion to Nusa Lembongan Island in Bali, contact us as we might help you plan it for a relatively inexpensive price. 
Have you been to Bali? If NOT, let these pictures set the mood for taking a trip to the island nation.
*****