Offbeat 5 Days Kerala Itinerary (An Alternate Guide to Kerala)
Do you want to get teleported from your mundaneness to the extraordinary? Or how about spending a night amidst the waters and the lush greenery? Well, we got you covered with one of the most beautiful places in India. 
We recently went on a trip to Kerala and could not wait to share our incredible 5 days with you. And here we are with the best itinerary of Kerala, God's own land!
5 Days Kerala Itinerary Details:
Day 1
Morning –
We landed at Cochin Airport where we were received in Toyota Crysta by the representative of the hotel we booked in Munnar. We loaded our luggage and started our journey to Munnar which was 110 kms away. 
The 3 hours long journey gave us a beautiful glimpse of how amazing our trip was gonna be! The misty and dense roads, freshness in the flowing cool breeze, and lush green all around, all of it was so dreamy and peaceful. 
On the way to Munnar, we stopped at the stunning Cheeyappara waterfalls. The view of water cascading in 7 steps was magical and surely instagrammable! There were a few street shops near the waterfall selling mangoes with red spice sprinkled over it and man! what a combination! 
We knew we had officially entered and were welcomed in Kerala. Later we reached and checked-in at our lovely hotel for one night. From the balcony of our room, we realized Munnar is a paradise at an altitude.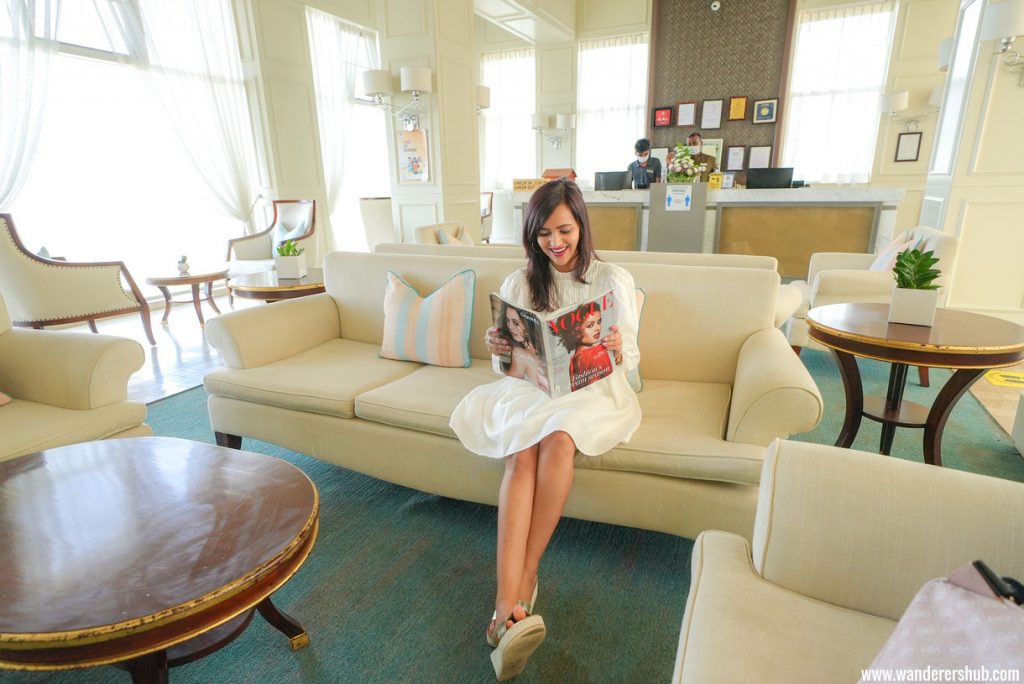 Evening –
Later in the day, we visited the vast tea gardens with all kinds of tea, coffee and original coco plantation. The caretakers of the tea garden helped us know so much about the tea and different plantations in their gardens. 
Attukad waterfalls were another beautiful spot. Watching the water flowing like milk from the top of the mountains was indeed a refreshing sight. It felt like I wanted to spend more time, just feeling the gush of fall and dew in the wind.
Night –
We decided to wile away time by staying in the bed. As we were tired, it did felt like the best plan plus we wanted to prepare ourselves for the fun that was to come the next day. 
Hotel We Stayed in – Fragrant Nature, Munnar
Day 2
Morning –
Our breakfast was served and we were all set to board the Caravan to Vagamon. It is one of the offbeat places and a gorgeous hill station in Idukki district itself which has to be experienced firsthand to know the true beauty of this place. 
When we reached the destination, we could see grassy hills all around us with lawns so fresh and green like velvet. Being in solitude, it was unspoiled from modern influences which made it even more special. We really wondered, would there be any place that could even try to match the surreality that we found here!? 
Evening –
Our luxurious Caravan was like a home on wheels. We could sleep, take a bath or prepare a meal in our Caravan. It was stationed in a park built in the natural surroundings with all the required safety, security and sanitation facilities along with a Wi-fi connection. 
There are several adventure activities for the visitors including paragliding. We planned to go paragliding later in the day, but it started raining so unfortunately, we couldn't. However, we heard about incredible paragliding experiences from Vagamon. So we would recommend you to not miss this chance. It is better to keep a day extra aside your 5 days itinerary in Kerala.
Night –
We had an overnight stay in Caravan and were excited to start our next day. 
Day 3
Morning –
The next bright morning we had breakfast, boarded our cab and left for another adventurous stay at the most awaited Backwaters in Kerala's speciality, Kettuvallam. It is one of the most important things to do in Kerala. It was 88 kms away and took us about two hours to reach our destination. 
Our stay in the Kettuvallam or Kerala houseboats was planned for the next 21 hours where the cruise generally lasts till dusk. As we started sailing, we couldn't believe it was real. 
Evening –
We were spending a splendorous quality time, sailing in the backwaters covered with tall palm trees on the sides, passing through the canals and lakes. Truly, I could not have asked for anything better! We made a small stop at the Coconut Lagoon Hotel Kumarakom to go for a well-planned kayaking experience there. It was fun and we did not leave before having the special tea at Coconut Lagoon at 5 PM.
Night –
At night, the boat moored on the lake while we had a special dinner on the boat with a background music of water lapping on the sides of the boat and a view of twinkling stars and city lights on a distant shore.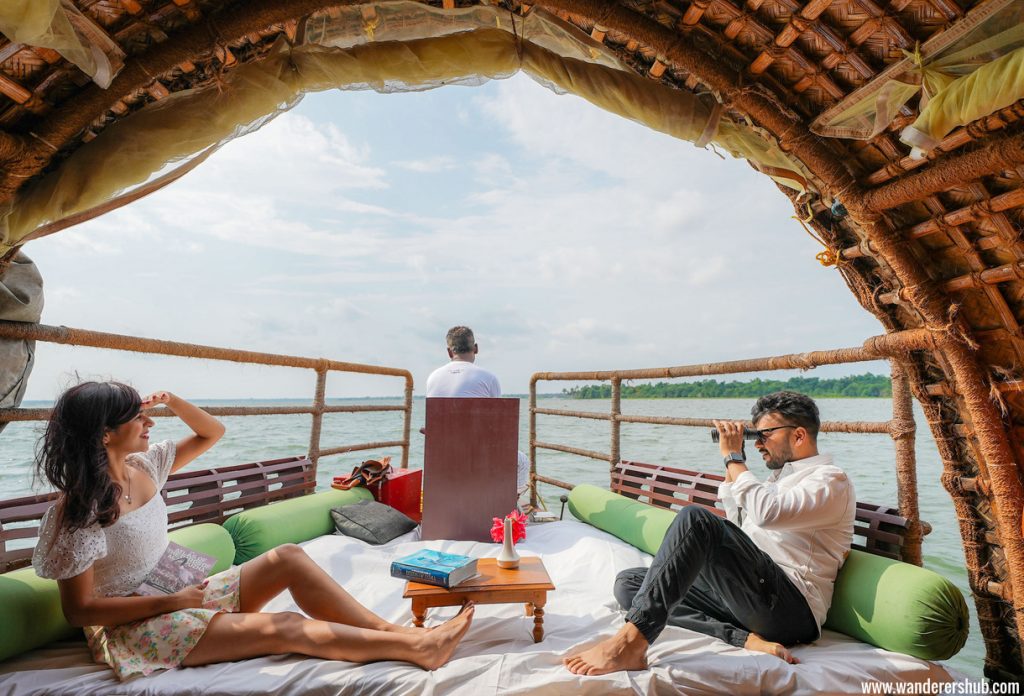 Day 4
Morning –
We had breakfast in the morning and bid a goodbye to our Kettuvallam. We disembarked, and boarded our cab for Kovalam. The 175 kms long journey was quite soothing, the paddy fields on our sides, clean road on our front, blue skies on our top and enthusiasm at our core. 
On our way to Kovalam, we visited the world renowned Jatayu Earth's Center. It is famous for the world's largest bird sculpture, Jatayu, a mythical bird from the Indian epic Ramayana. It rests high up the hill spanning over 65 acres across four hills! The sculpture is so huge and at such a height that it catches your attention from as far as on the way to Chadayamangalam in Kollam district. And if you have had a look, believe me you could not stop yourself from paying a visit to this place. We had a really nice experience riding a cable car which took us to the hilltop from where we saw the majestic sculpture. On top of that, the view from such height was unmatchable. One notable thing about the place was that it was well maintained, clean and a professionally managed place. 
Evening –
Later in the day, we had lunch and reached Kovalam. The word Kovalam means coconut groves and the place truly stands by its meaning. Wherever you go, you'll find it rich in coconut trees, making it the Paradise of the South. It has three crescent like beaches as well namely, LightHouse, Samudra and Hawah beach. These all beaches are closely located but different from each other. 
We went to the top floor of LightHouse for the mesmerizing view of Arabian Sea. We sat down for a while, and enjoyed the waves touching our feet. Samudra beach was simply amazing with less crowd, neat surroundings and greenish blue water. 
Night –
At Hawah beach, we sat down and watched the beautiful sunset. These beaches hit differently on a full moon night with sparkling water, and shining sand.
Day 5
We had our breakfast and we knew it was the last that we got. With unparalleled experience, endless memories and our luggage, we left for the airport, hoping to visit this fabulous place again! So, this was our 5 days Kerala itinerary and hope this helps you plan well.