All about our Trip to Lachung, Sikkim
To everyone who is a sucker of tranquil gaze at an offbeat place, we have got you covered with a place so beautiful and one of its kind, straight from the abode of beauty, Sikkim – Lachung.
It is one of the most picturesque villages of Sikkim with utmost scenic beauty of the serene mountain hamlet in North Sikkim. If you want to go to a secluded place and teleport yourself into repose-fulness, relaxing amidst the beautiful landscape just like us, then scroll down to know it all!
Lachung is perfect for weekend getaway and thus you can plan a trip of 2-3 nights which are quite sufficient to explore the place. To travel in the Lachung and Lachen valleys, foreigners would need Restricted Area Permits and Indians need Police permits. These permits can be obtained from Gangtok.
Places You Must Visit in Lachung
There is so much to do in Lachung that you can either enjoy the peace and the magnificent beauty of the place or you can get your adrenaline rushing to satisfy the adventurer in you!
First Stop: Yumthang Valley
Yumthang Valley is no less than magic of nature. It is a valley full of multi-colored rhododendrons and different flowers creating splendid hues all over the valley. During our visit, the rhododendrons weren't blooming as such still the valley looked spectacular. The place is secluded and offers utmost serenity, so you can relax amidst the ocean of flowers while enjoying the solitude.
There are a number of hot springs too, which can warm you on the freezing days. Not to forget, it is totally insta worthy! Photographers have a good time here. Along with this, you can even enjoy a yak ride here in the valley. There are small quirky shops around from where you can buy souvenirs for your loved ones. The locals are absolutely delightful.
Yumthang is about 1:30 hours drive from Lachung town and you need to show permit once or twice in order to go to the last stop. En route we saw many yaks grazing and it was a delight to capture them all on camera.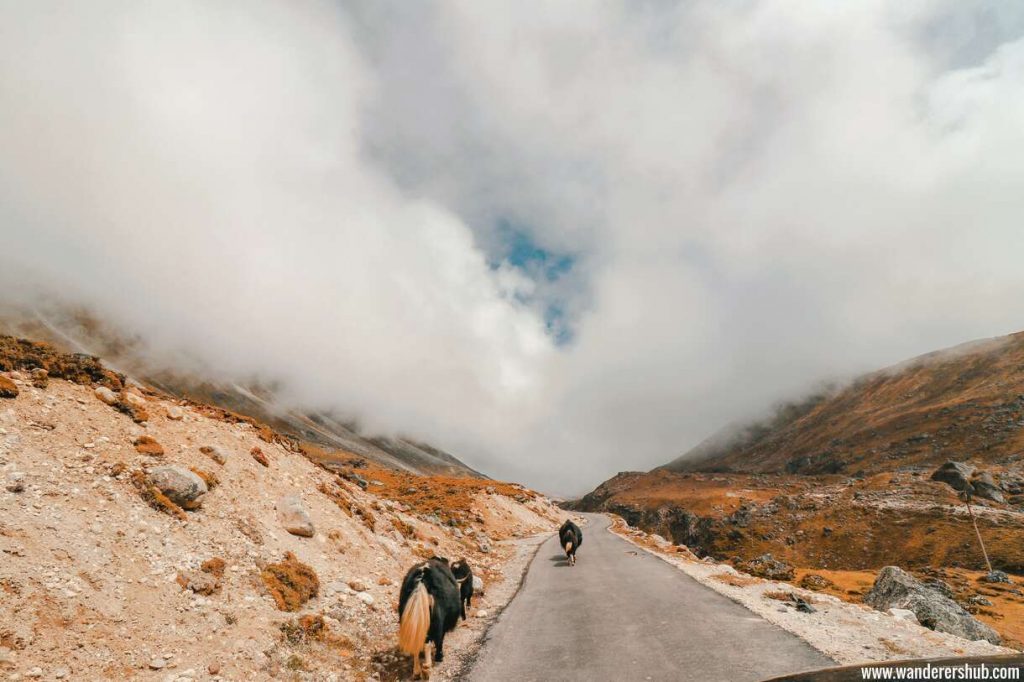 A Heaven Like Nowhere Else: Zero Point Lachung
It took us about 2 hours after multiple stops to reach Zero Point in Lachung, Sikkim at 15,300 ft. For anyone that visits the place, it tops their charts of go to points of Lachung. One the way to zero point, we stopped by a cafe to have our breakfast. It was run by the army who provided the meal at a subsidized rate. We also saw large herds of yaks grazing the vast grasslands on our way.
As we looked above in the sky, there were helicopters flying across the clouds that were kissing the mountain peaks. Wherever our heads could move and eyes could see, it was perfectly mesmerising. We wondered how amazing it would be on the top!
We trekked to the Zero point only to witness things with our eyes and mouth wide open – yes, it was that awe-striking. The view of the frozen lake with huge and white snow-clad Himalayas studded with chimal trees in red, green and yellow hues was truly a breath-taking one.  We couldn't stop admiring the beauty that was too good to be true!
There were a number of small shops and tea stalls here where you can get corns, instant noodles, chickpea salad, etc.  We definitely enjoyed the vastness of landscapes at Zero Point.
A Stopover at Chungthang
Chungthang is a small town at the meeting point of Lachen and Lachung. A very picturesque town with lofty mountains surrounding its lands. It is well known on the historical front as there is a rock with hand and foot prints of Padmasambhava, one of the founders of Tibetan Buddhism who is believed to be a blessing for the place.
The locals of the Chungthang told us how he sprinkled a handful of grains on the land and that land has never been dry since then. The rock has a small opening which has been continuously flowing with mineral water.
Chungthang is dotted with small shops and eateries which allows you to take a refreshment break while on the trip, savoring the local dishes of Lepchas and Buddhists. It takes about 50 minutes to reach the Chungthang Valley from Lachung.
Take Pictures at Shingba Rhododendron Sanctuary
This sanctuary is another striking place with beautiful valleys showcasing spectacular colors of nature. You get to see several amazing species of rhododendron flowers amidst the huge snow covered mountains. The sparkling river flowing near the valley adds to the beauty and I swear! We couldn't get over every ounce of thing that we saw.
It is best if you visit the valley in the spring season in April or May, for you will never want to go away from the place which lets you enjoy the scenic view of snow-capped mountains and colorful vast lands. There were some shacks selling momos and maggi, and souvenir shops near the sanctuary to get something on your way back home.
Here are some of our recommendations for staying in the valleys of Lachung which will enrich your experience to a greater level.
On twin-sharing basis, a night stay in Lachung would set you back by 2500 INR.
Yarlam Resort Lachung
It is one of the most beautiful properties in Lachung with utmost scenic views and close to the tourist spots. The balcony of the room offers you the morning view of clouds moving across the snow-capped mountains.
The staff of the hotel was always readily available for the service. The food at the hotel was also delicious. We had breakfast from the hotel, sitting on the balcony, gazing at the view of the serene beauty.
Summit Lachung
It is another excellent property at a nice location with cleanliness and hygiene as priority. The service was commendable. The rooms had all the facilities one would want.
The chef at the hotel made sure that our meals were as good as our view and stay. We enjoyed our time spent at the hotel. To sum it up, it was cozy and refreshing, picturesque and relaxing!
When to visit Lachung?
Lachung, the jewel of Sikkim is a place which is always pleasant and worth visiting throughout the year.
Winters of Lachung means heavy snowfall and a magical experience for the visitors, while summers mean pleasant weather with everything bright and fine. However, it is preferable if you visit from October to June as you get to see the best of this place with blooming beauties and sparkling nature in these months.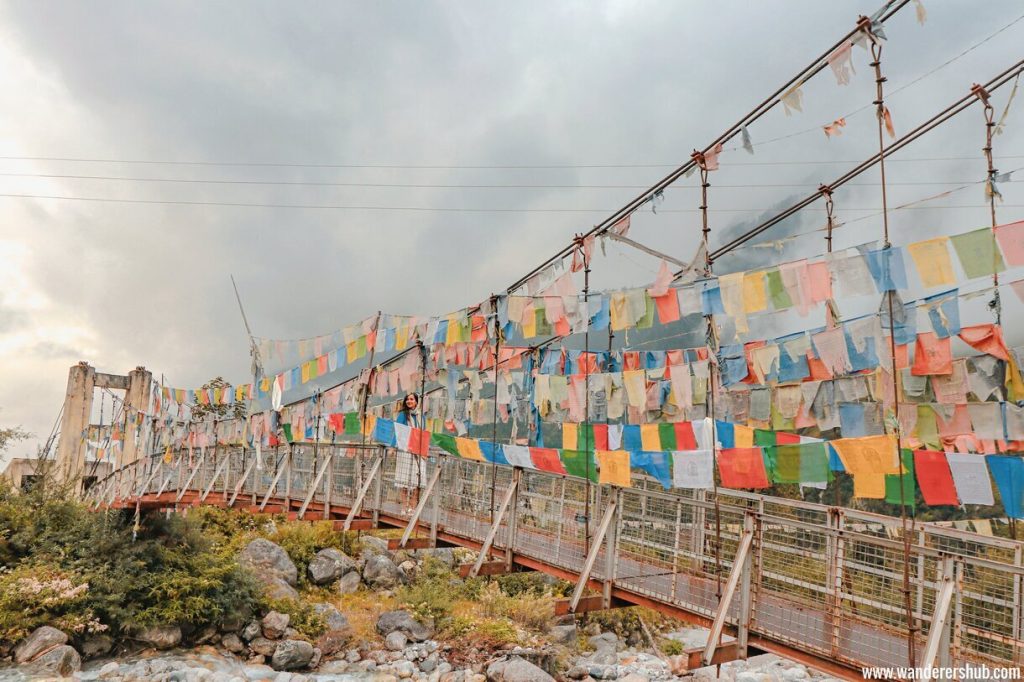 Would We Recommend Shared Taxi Trip?
Definitely, a yes! We traveled all around in our own private vehicle so it was a lot of fun to visit all this region. Otherwise, you'll have to rent a taxi (shared or private) and I'd certainly recommend private trip. I've heard that if you opt for shared taxi, you'll have to fit in with other passengers and it can get a wee little problematic.
But it's a cost-effective idea so if you can get comfortable with it, then perfect. These trip are usually done in Bolero with 9 other passengers.
You can get this booking to Lachung, Sikkim done by a travel agent and he'll sort everything for you including your hotel stay.
Things you Need to Carry for your Visit to Lachung, Sikkim-
Motion sickness tablets
Passport size photographs
Photo ID's
Warm clothes especially a jacket, cap, and gloves
Do not carry plastic bottles at all as it's ban everywhere
Carry reusable water bottles
So when are you planning your weekend to Lachung?