THIS BOUTIQUE RESORT IN MUNNAR KERALA IS THE ROMANTIC HIDEAWAY YOU'VE BEEN LOOKING FOR
Munnar is a place of calm, soothing tea estates on hilly terrain – the naturescapes possessing a natural charm to look at – all while you feel the chill breeze of the hills. We reached Munnar after a two and a half hour drive from Cochin International airport to Chandy's Windy Woods, Munnar and instantly fell in love with this gorgeous resort. It is built along the slopes of a hill in Munnar, looking artistic and is an architectural delight. It wouldn't be an understatement to say that Chandy's Windy is the embodiment of opulence and fine homing. The moment we stepped our foot inside this stunning property, we knew we were up for a whole lot of fun. What enticed us the most was the fact that Chandy's Windy is just perfect choice for honeymooners, corporate events as well as family leisure breaks.
Romantic Dinners under the starlit sky make Chandy's Windy Woods is just perfect for honeymooners
FIRST IMPRESSIONS: BED AND BATH
The rooms were clean and with a stunning view. Since the resort is built on a hill, it feels like heaven just stepping out to the cold air to just look at the clouds passing over the resort. Huge windows are fitted all through the resort if you want to cuddle up in your bed with a book and gaze at the uninterrupted panoramic vistas of tea plantation. The windows also help keep the room bright and airy. Room service response is quick and the room service staff are efficient in keeping the room orderly by the time you have a short outing.
There are four major room categories – Deluxe, Super Deluxe, Suite and Presidential Suite. You can enjoy striking views of mountain peaks undulating into the distance from all four categories, nonetheless. The rooms are elegantly done with tastefully done decor. Balconies open to serene views of lush green ambience that can take you in an altogether different world.
STAFF : ATTENTIVE AND CORDIAL
The staff of Chandy's Windy Woods are simply amazing. It feels wholesome that everybody from the reception to the chef to the spa manager are so welcoming and genuinely want you to relax and have a good time. Their services are offered Kerala style: all-with-smiles! The staff matter a big deal in vacations like these because they are the ones that help you truly lay off steam; cooperative and cheerful staff help you feel like home and the staff at Chandy's Windy Woods Munnar are simply remarkable. They were welcoming from the moment we stepped into the resort till we left. From the spa manager to Executive chef to assistant manager, everyone goes out of their way to help you out. Bijoy was our point of contact for the entire stay and he was just so kind with handling our every little request.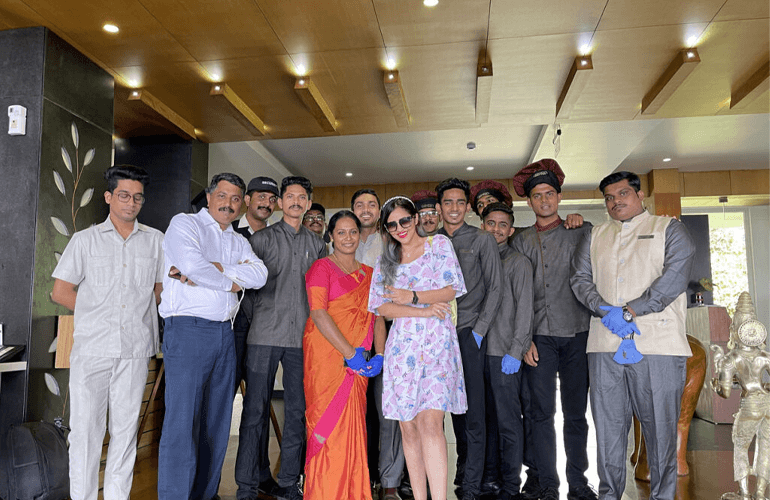 I'd like to thank each and every staff member who made this stay memorable
FOOD AND DRINKS : THE HIGHLIGHT
Let's talk about our favorite part of the entire stay here.
The food was savoury at Chandy's Windy Woods Munnar, and we tried everything from North Indian to South Indian to Continental breakfasts. Those delicious dishes crossed way beyond our expectations and the live counters made the food even more fresh. The lavish continental breakfast of the resort marks a "must try atleast once" on our list for its exceptional service and great attitude. In the afternoon, we had the Kerala style thali with authentic Kerala recipes which were truly mouth watering. Fresh food, both vegetarian and non-vegetarian, with spices from a land producing it since thousands of years takes you to a whole new dimension of flavourful euphoria.
What works as an advantage for the hotel is the fact that the General Manager, Mr. Nibu. He is also an Executive Chef and he is mind-blowing when it comes to preparing any sort of food. 100 marks for presentation! I'd never forget the wholesome South Indian meals we relished here. Let's take you on a culinary fest in the pictures below:

Lavish breakfast spread at the Chandy's Windy Woods, Munnar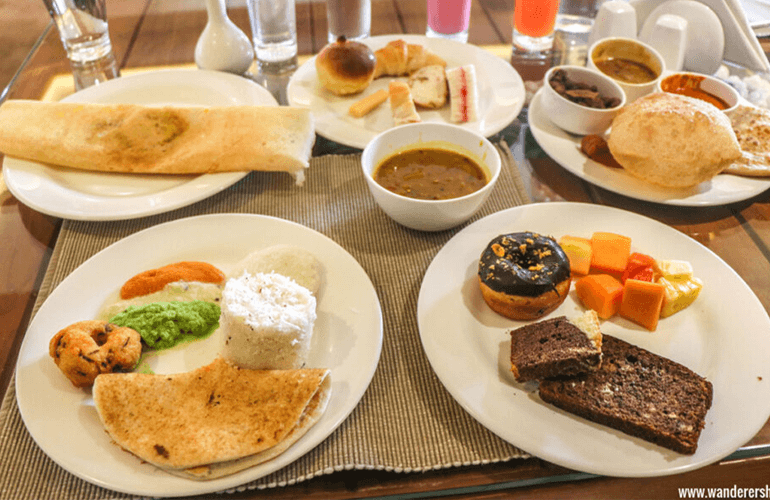 Variety you say, they got it for you
The Traditional Kerala Style Thali really made us weak in the knees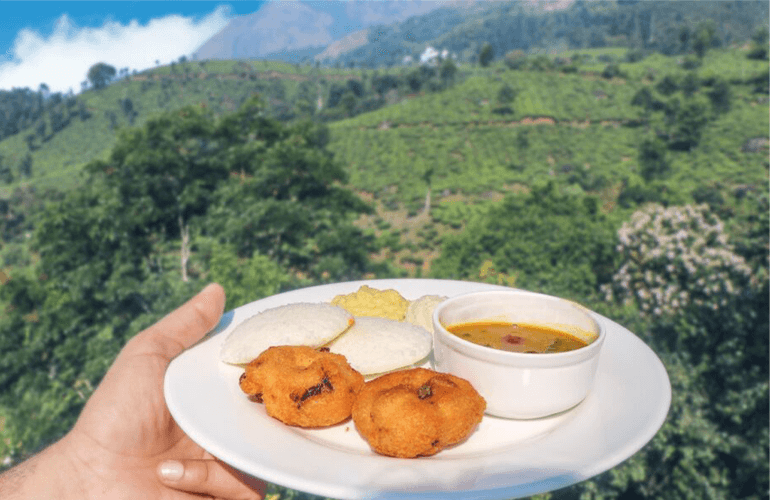 Breakfast with a view you say, they got you

SPA: AUTHENTIC WELLNESS EXPERIENCE
The Nava Spa in Chandy's Windy Woods is a stress reliever. Massages and Ayurvedic therapies help you bust all the tension you carry in your work-filled life to get you that sense of relaxation. They have massage therapists with exceptional knowledge and gentle hands as they know the exact spots to get rid of those knots on your back and neck. They also advise you on Ayurvedic massage treatments if you have any health issues. We had a little conversation about Harsh's persistent back pain with the spa manager and she was quite knowledgable and suggested some preventive measures as well.
I tried their Shirodhara treatment and it was one of the finest spa experiences of my life. My masseuse, Anaga, was quite professional and caring. Overall, my massage session was super calming and deeply stimulating. Harsh just didn't want his session to end.

We'd highly recommend Shirodhara treatment at Chandy's Windy Woods in Munnar
RECREATIONAL ACTIVITIES : AN ENCHANTING HIKE
The resort offers different kinds of recreational activities fit for the hilly terrain of Munnar. You could go trekking or bird-watching around Chandy's Windy Woods, Munnar. You can even choose the Jeep Safari or the Jungle Safari tour with a local guide. Both of them happen in the early hours of dawn, Jungle Safari is on foot and you get to see some birds and animals if you're lucky. In the Jeep Safari. They take you off-road to a sunrise point which is the perfect spot for photographs with the rising sun. There is also an option to go mountain biking, feel free to ask the reception about it.
Take a walk to the tea plantations with one of the staff members at the Chandy's Windy Woods, Munnar. The property has some really polite naturalists who can help you witness the rugged grasslands of Munnar. Watch the sun go down, wind whistling through your face and the humming of numerous birds, all at once.

Chandy's Windy Woods Munnar has their own artificial jungle trek and waterfall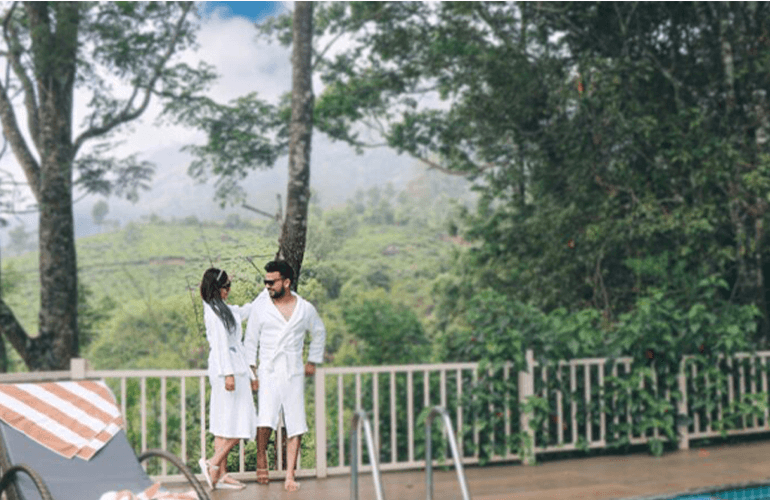 Care to take a dip in the pool then there's no better place than Chandy's Windy Woods, Munnar
WHAT'S THE NEIGHBORHOOD SCENE LIKE?
Munnar is a hill station, so it's all tea estates and waterfalls. Some of them are low flowing cascades and you can dip your legs just to feel the refreshing water energize your feet and legs. There is a tea museum, opened by Tata tea estates in 2005, showcasing the history and legacy of tea cultivation and processing in Munnar. Also, don't forget to visit spice gardens; people have private tours of their botanical collections and sell freshly grown aromatic spices. You can opt for elephant rides and visit the nearby boating center for a laidback day of fun. We'd also recommend the bamboo rafting here as it's simply amazing.
You can add some prominent attractions in Munnar on your itinerary like Mattupetty, Pothamedu, Kanan Devan Hills and Eravikulam National Park.
Nothing better than driving past gorgeous tea plantations in Munnar
FINAL NOTE: IS IT WORTH IT?
Yes, it is definitely worth it. What a chill place to cozy up with your loved one and simply have fun with your family. It is a very popular romantic destination which is also suitable for a nice family vacation. It sometimes snows in late December, one of the very few places in South India to snow, making it the perfect holiday destination. Make sure to avoid the rainy season from June to September if you don't want to be interrupted by showers. If you're into monsoons, it is the quietest time among those lush green foliage. Beyond the hustle of the chaotic city life, soothe your soul and escape the luxurious world of Chandy's Windy Woods, Munnar.
DISCLAIMER: **WE WOULD LIKE TO THANK CHANDY'S WINDY WOODS MUNNAR HOTEL FOR MAKING THIS TRIP POSSIBLE. ALL OPINIONS ARE OUR OWN.**