NEIL ISLAND ANDAMAN: THE BEST SUNSET EXPERIENCE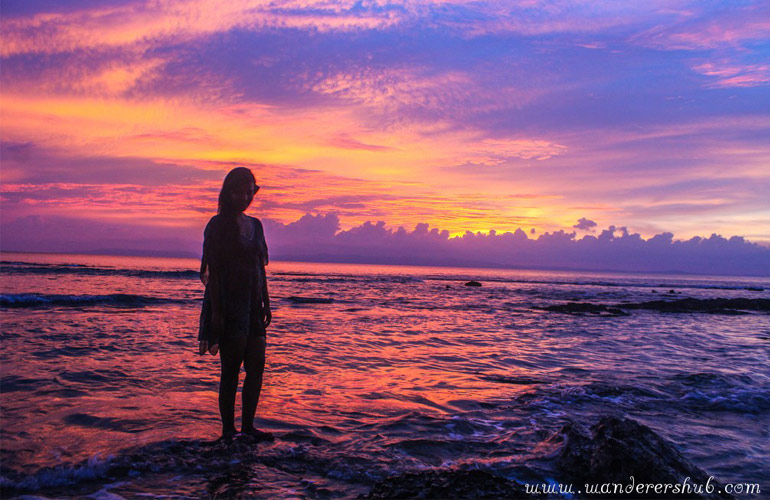 Often we question ourselves – what do we travel for? And the next thing we get to see is a fiery sunset at Neil Island Andaman overlooking the Indian Ocean – from a rocky clifftop – surely the stuff of dreams. Thus, getting the answer to our question!
Well, we chose the perfect time (as we liked to believe) to catch the sunset from Howrah Bridge in Laxmanpur, Neil Island and spend an evening we would remember for a long long time… And all I can say is sure… we would… and we would also not forget the adventure (read trouble) we put ourselves through by choosing the wrong time to be there at the Laxmanpur Beach.
By the time we had arrived at the Beach, it was almost sunset time and the tides were at their full play. We were the last ones to have arrived so you can see there's absolutely no one around. But it was a bit scary as we are not the ones to put our lives in trouble for one Instagramworthy picture. Thank god we had a local guide for assistance.
WANDER AROUND & WATCH THE SUN GO DOWN
The beach is perfect for bumming around during the low tides as you can photograph the rocky formations spread across the area well at that time. However, as they say, "life is a great adventure or nothing". The end result was rather fulfilling for us!
Watching a dazzling sunset at the natural coral reef bridge was an extremely sensory experience. As the sun set, we witnessed the entire landscape bathed in the incandescent harmony of tangerine, burgundy, and blues. We will remember that moment for many years to come.
NEIL ISLAND ANDAMAN SUNSET TIPS
• Do take a guide along with you to see the Natural Bridge (particularly in the evening) as it can get difficult for you to navigate back without breaking your bones during high tidal hours!
• A guide will explain and show different varieties of sea creatures including sea cucumber, starfish, and small crabs. All this for a small price of 100INR (1.5USD). We believe this is only fair as local people need your support. Plus, it's always fun to interact with them and know about their lives.
• Try and visit the bridge only during low tides to enjoy the cool breeze of the stunning sea and lush forests around.
• The access to this bridge is through cut forest passage. Be extremely careful while walking on the muddy and rocky areas!
Found this gorgeous? Then don't forget to Check our Neil Island itinerary here.
Stuck on accommodation in Neil Island Andaman? Read where we stayed!